"Aging in place" is a lifestyle choice for older adults that refers to living the later years of your life in your home, rather than moving to a smaller home, assisted living, or retirement community. This guide covers how to assess a home for safety improvements, opportunities for financial assistance, and common modifications. Let's get started!
Table of Contents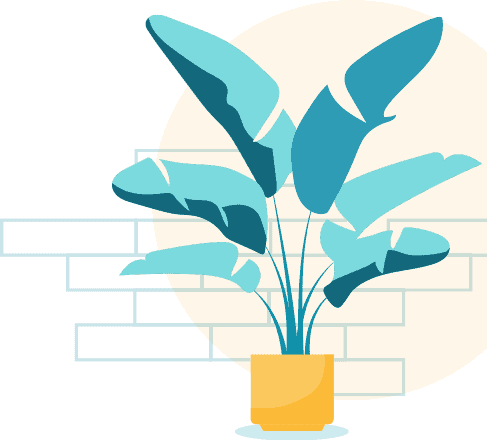 Introduction
For most older adults planning to live their later years in a home where they have raised children or lived their middle-aged years, some degree of home prep is required. Two examples are handles and doorknobs, which the average adult might not pay a second thought to. Best practices require that knobs be switched out for levers or motion sensors. Levers are easier to grip, while knobs are tricky for aging or arthritic hands.
A "minor" case of home prep could look like this: a declutter to get rid of fall hazards, a revamp of the home's lighting system, and the installations of a wheelchair ramp and various grab bars around the home. In a "major" case, prep could amount to an addition of a walk-in tub or a home renovation to install a first-floor bathroom, bedroom, kitchen, and laundry room.
The amount of prep in your situation hinges on finances and how universally designed the home already is. It also depends on your reasons for aging in place. For instance, many seniors stay at home based on personal preference and a strong caregiver support system. Meanwhile, COVID-19 has caused some seniors who planned to move into assisted living to make a different choice or delay. If you plan to age in place for just a few years before assisted living, you might choose a stair lift to navigate stairs instead of building a first-floor bedroom, bathroom, and kitchen to avoid stairs altogether.
Tips from The Senior List Expert Amie Clark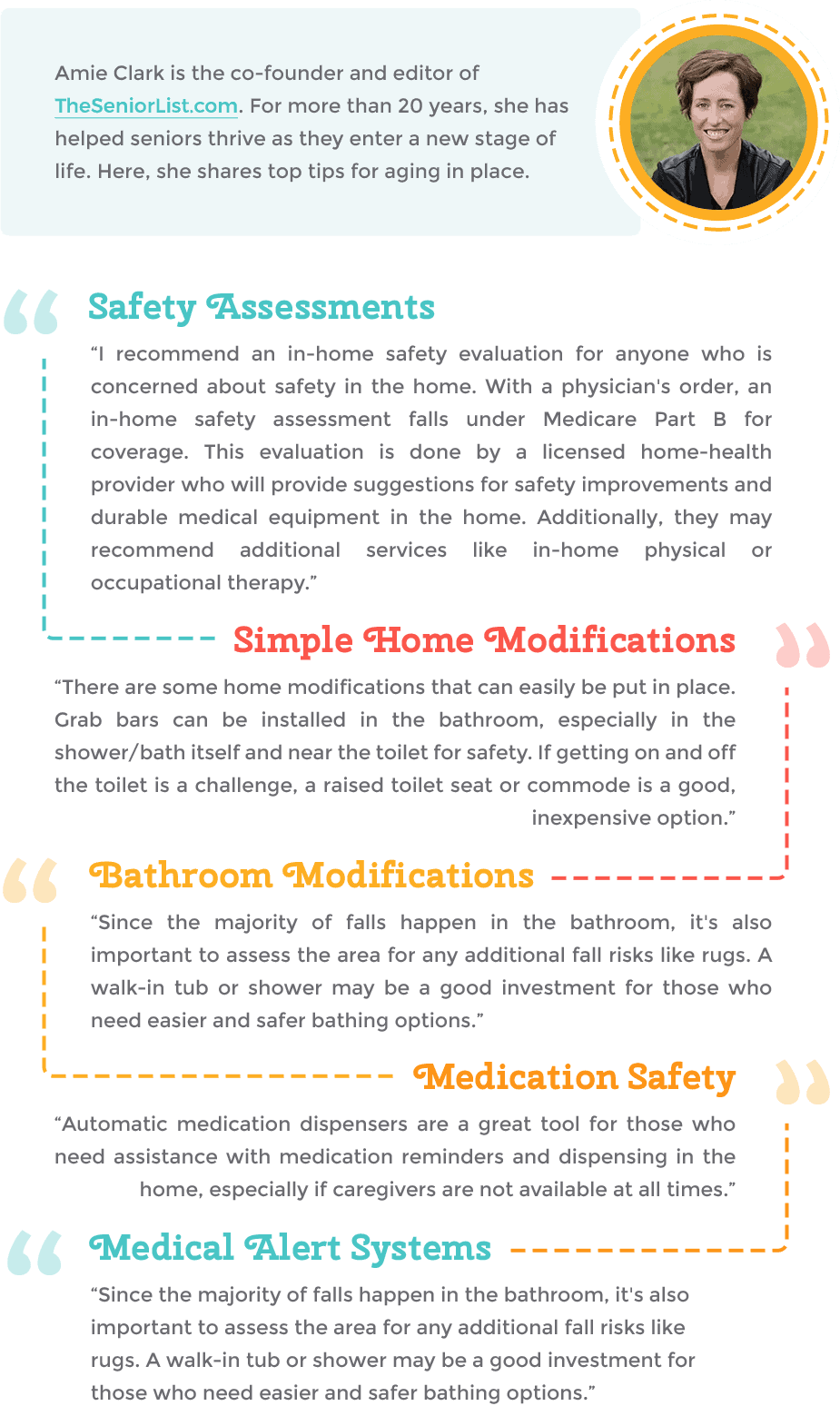 Elements of Aging in Place: Overprepare Rather Than Underprepare
Most people age gradually. They undergo incremental changes in mobility, hearing, sight, and strength that add up in the big picture. In the moment, they may seem the same as always. They're probably not. What's safe one day becomes a tiny bit less so every day until one day, it's downright dangerous.
Take a lack of grab bars in the bathroom. Agile seniors may believe grab bars are not necessary (yet). Perhaps true, but the point is this: Falls are a scourge to seniors, and aging is gradual. Clearly defined stages would be nice, but they don't happen. Overprepare rather than underprepare. Install these grab bars earlier rather than later so they're ready when needed.
In any case, the goal of aging in place is for seniors to live as safely and independently as possible in their chosen home setting. It shouldn't cost seniors their quality of life, nor should it bankrupt families.1 The following steps provide an overview of the home prep process. Many can occur simultaneously or out of order.
Home Prep Process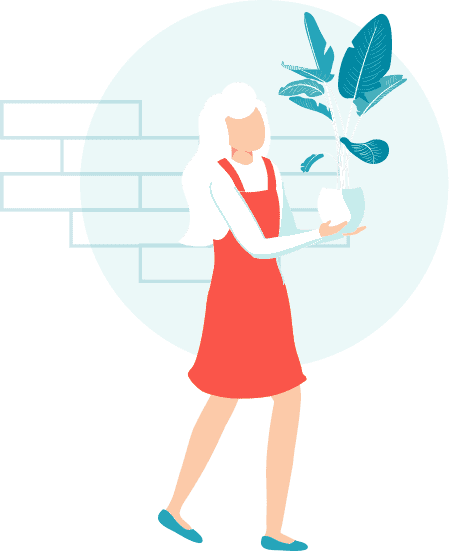 Contact your doctor and your local area office on aging

Get the home assessed for needed modifications and safety devices

Identify areas of priority

Draw up a budget and add wiggle room

Look into government programs and other programs for financial assistance

Start with low-investment, high-payoff modifications such as grab bars and bidets
Buy-in
If you are an adult child wanting to prep your parents' home, it is critical to have their buy-in. For instance, some seniors refuse to use stair handrails installed against their wishes. Meanwhile, adult children may have a difficult time accepting that their parents are getting older. These children might dismiss their parents' concerns about aging in place. Hopefully, everyone in your family is on the same page.
Caregiver Resources
Available caregiver supports are important to consider when prioritizing. Suppose you're a senior who needs bigger-budget improvements such as an adjustable recliner, oven and range, stair lift, and walk-in tub. Having all of them will give you the greatest independence, but funds are not available yet for each. Fortunately, you've been able to arrange for the recliner and stair lift. What about the rest? One option is to find a volunteer or paid caregiver to prep meals so you can get the walk-in tub right away, too. In reality, the stages of prep can depend on the financial assistance you get and when.
COVID-19 & In-Home Modification Safety
COVID-19 means that any workers inside the home can potentially expose seniors to the virus. Fortunately, many folks are getting vaccinated in 2021. Of course, not everyone is a candidate, and these shots are not 100 percent effective. The good news: There's plenty you can do to keep seniors safe while they get in-home modifications.
The Basics: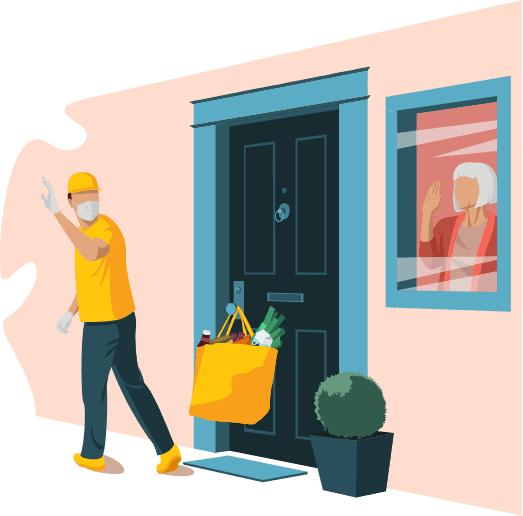 Vet contractors to make sure they prioritize masking, social distancing, contactless payment, and keeping sick workers home. Check out their website and read reviews.
Have everyone in the house wear masks to protect themselves and workers.
Plan ahead for potential issues with bathroom use (more on this in a bit).
Go with fewer workers if the change doesn't delay job completion too much. Fewer workers mean a reduced chance of virus exposure.
Open windows. Run fans and air conditioning to increase ventilation.
Follow social distancing guidelines. Seniors and anyone at high risk of COVID-19 complications shouldn't interact with repair personnel.
Keep high-risk residents away from areas of work up to several hours after job completion, if possible.
Disinfect frequently touched surfaces before, during, and after the job. Keep disinfectant, soap, paper towels, and even clean masks handy.
Have technicians take routes that minimize or eliminate contact with seniors.
Avoid contact between workers and pets.
Take seniors outside (to the park, to the back yard, etc.) while work is done inside
Lower-risk modifications
Roofing, siding, driveway work, water line repair, anything outside (especially if workers won't use bathrooms inside the house)
Higher-risk modifications
Anything inside, particularly bathroom work or work in smaller, enclosed, windowless spaces
To increase ventilation and disperse any virus particles:
Open windows before, during, and after work
Run fans in spaces where the work is being done
To get ahead of bathroom issues:
Plan for outdoor workers to use the bathroom elsewhere, if possible (Porta Potty, nearby store, etc.)
Request that workers keep their masks on while using the bathroom
Take workers to lesser-used bathrooms inside the house
Run fans in the bathroom after use
Avoid letting seniors in the bathroom for as long as possible after a technician uses it; this gives any virus particles more time to disperse
Set out paper towels instead of cloth towels that might accidentally get reused
Disinfect frequently touched surfaces such as the light switch, toilet handle, doorknob, and lock
Senior's Vaccination Status, Necessity of Modification, and Other Considerations
Last but not least, consider issues such as the urgency or importance of the home modification. Is there an alternative that could tide the senior over another year without compromising their independence or quality of life? How high are virus cases in the area? Has the senior been vaccinated and waited the few weeks for immunity to kick in?
Most, if not all, home modifications are essential to foster mobility, independence, and health. Rather than put them off, we recommend minimizing COVID-19 risks through masking, ventilation, and social distancing. Vaccinated seniors are much safer than those who have not been vaccinated, especially if coronavirus case counts have exploded in your area.
How to Pay for Prepping Your Home to Age in Place
As The Senior List's Amie Clark explained, an in-home safety assessment falls under Medicare Part B, as long as it is initiated by a physician's order. It's a start, but many seniors and their families must cover a great deal on their own. Long-term care insurance can disburse money for some things, but much depends on the specifics of the plan.
Your local office on aging can clarify some or even all of the issues that apply in your situation. The office can also identify additional sources of support such as Meals on Wheels, the National Family Caregiver Support Program, or the VA Caregiver Support Line. Care coordination is generally available for a sliding-scale fee based on the senior's income and some monthly expenses. Seniors and their families often turn to sources such as these to pay for home prep:
Medicare and Medicare Advantage
Medicaid and Home and Community Based Services waivers
Veterans programs
Government programs (non-Medicaid)
Nonprofit programs
Low-interest loans
Home improvement grants
Equipment loans such as those for portable wheelchair ramps
Reverse mortgages
Long-term care insurance
Life insurance policy conversions
Let's take a deeper look at Medicare, Medicaid, and long-term care insurance.
Medicare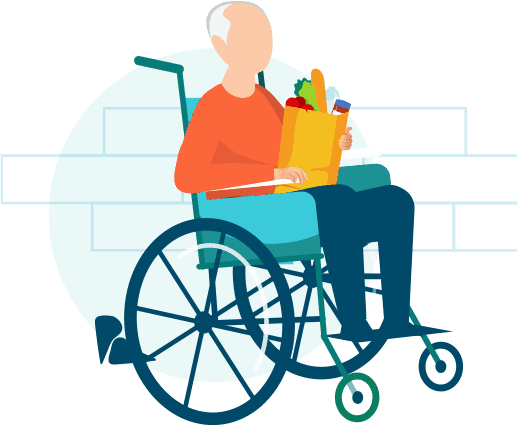 Pays for in-home assessment with doctor's order
May pay for limited amounts of home health care such as physical therapy, occupational therapy, and skilled nursing care
Pays for wheelchairs and scooters in limited cases
Can reimburse larger modifications such as walk-in tubs, but approval is rare
Does not pay for supervision and daily, also known as custodial, care
Some Medicare Advantage plans are more likely than original Medicare to cover walk-in tubs, stair lifts, and the like as necessary home modification expenses.
Wheelchairs and ScootersMedicare Part B pays 80% in limited cases
To qualify, seniors must have their doctor turn in a written order saying that they need a wheelchair or scooter to get around inside their home. Seniors must have limited mobility and meet requirements such as the inability to perform the activities of daily living with a walker, cane, or crutch.
Seniors who meet these requirements must still cover 20% of the cost after paying their Medicare Part B deductible for the year.2
Medicaid
Medicaid is not a single, cohesive program. Rather, it describes several state-run programs with potentially hundreds of rules governing a single modification such as a walk-in tub. Yes, it's confusing. Moreover, seniors in one state may qualify for certain home modifications, while they do not in another state.
Ask your local area agency on aging if your state's Medicaid waivers allow for specific modifications you need. Also, ask about assistive technology, home modifications, medical equipment, and other items that could be covered. The programs in your state might pay for the following: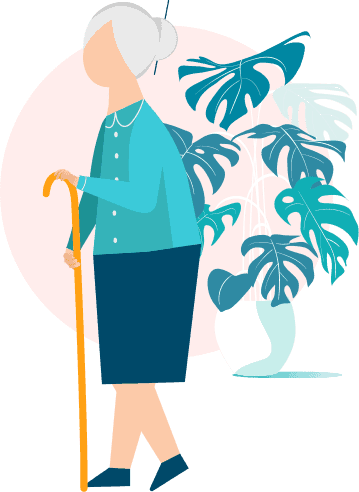 Medically necessary equipment, including some assistive devices and wheelchair ramps
Medically necessary home modifications
Home modifications that increase seniors' independence and that are cheaper than Medicaid paying someone to render a service
Adult day care (and sometimes, transportation to and from day care)
Medical alert systems (that seniors cannot customize unless they use waivers to pay)
Emergency medical transport3
Transportation to medical appointments (no personal appointments covered)
Long-Term Care Insurance
Some long-term care insurance plans feature allowances specifically for home modifications. Others distribute cash benefits with more flexibility. If you want, direct that money toward safety modifications, assistive devices, and other elements of home prep.
To qualify under most long-term care insurance policies, you must require assistance with at least two activities of daily living (eating, bathing, dressing, transferring, continence and toileting). Thus, if you hope to start home prep early, long-term care insurance is unlikely to help.
Home Safety Improvements
The good news first: Low-cost home safety improvements such as decluttering for fall risks and installing grab bars can make a world of difference. Now for the "bad" news: They're probably not enough in the long term. You're likely to need costlier improvements such as walk-in tubs and adjustable beds (if not now, then at some point).
First, this guide looks at fall risks. Second, it examines general improvements such as better lighting, wider doorways, and automatic sprinkler systems. Then it tackles improvements one room at a time. Each improvement is labeled low effort, medium effort, or high effort based on ease and cost.
If you're temporarily aging in place, you may want to focus on low-effort and medium-effort improvements. For instance, installing a stair lift is much easier than renovating a home so it has a first-floor bedroom, bathroom, and kitchen when it did not before. If you plan to age in place for life, focus on all three effort levels.
Fall Risks Low to Medium Effort
Falls are a main focus area for aging-in-place home prep. Throw rugs, pets, stairs, bad lighting, weak chairs, low toilet seats, electronic cords, sidewalk cracks, and uneven driveways have landed plenty of seniors in the hospital. You may not have the money or support system for all of the changes in this guide, but the suggestions that follow are lower intensity and still effective.
Hazards
Put necessities such as clothing, food, dishes, and pans within easy reach.
Toss out high heels, shoes with slippery soles, floppy slippers, and other unsafe footwear.
Replace unsafe shoes with durable, non-skid shoes.
Move boxes, cords, newspapers, coffee tables, plant stands, and magazine racks away from walkways and high-traffic areas.
Fix loose carpeting and floorboards.
Remove loose rugs from the home, or secure them with slip-resistant backing, double-sided tape or tacks.
Keep mops and other cleaning implements accessible for easy cleanup of spilled food and liquid.
Live on one floor of the house to avoid use of stairs.
Pets are a fall hazard that you may not be willing to part with. That's understandable. After all, pets are great for companionship. Fortunately, there are ways to work around the fall risks that pets pose.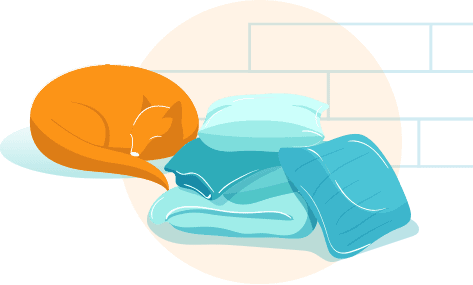 Train pets to not jump on you and others.
Put a loud bell on pets' collars.
Use self-cleaning litter boxes.
Arrange for dog walkers.
Keep toys to a minimum and don't let toys clutter walkways.
Adopt older rather than younger pets.
Assistive Devices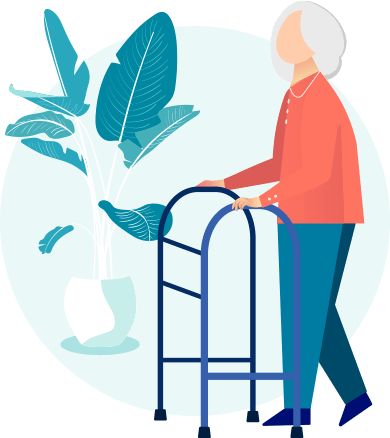 Use walkers and canes.
Add non-slip mats and grab bars to bathtubs and showers.
Use bath seats and hand-held nozzles while showering.
Add a raised toilet seat with one or two armrests.
Lay down non-slip treads on wooden steps.
Lighting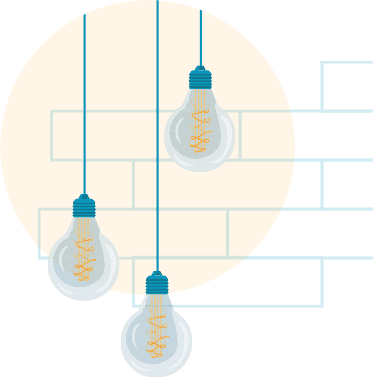 Place a lamp (that's easy to turn on) within reaching distance of the bed.
Plug night lights into bedroom, bathroom, and hallway outlets.
Use illuminated or glow-in-the dark light switches.
Keep flashlights accessible if a power outage occurs.
Turn lights on in advance before going upstairs or downstairs.
If you're tech-oriented, you may enjoy smart lights that you can turn on and off via voice command, tablet or smartphone. Devices such as the Wemo Mini also let you remotely control lamps, fans, and other devices.
General Improvements
Lighting and Light Fixtures Low to Medium Effort
Plan to revamp both your exterior and interior lights. These changes are low effort but make a huge difference in preventing falls.
For exterior lights:
Place sensor-activated lights at or around mailboxes, pathways, stairways, doors, and corners of the home.
Choose lights that are easy for seniors or their caregivers to change.
Shine lights downward to cut down on shadows and tripping risks.
Install frosted light bulbs inside clear glass fixtures (less glare).
For interior lights, including in bathrooms, kitchens and bedrooms: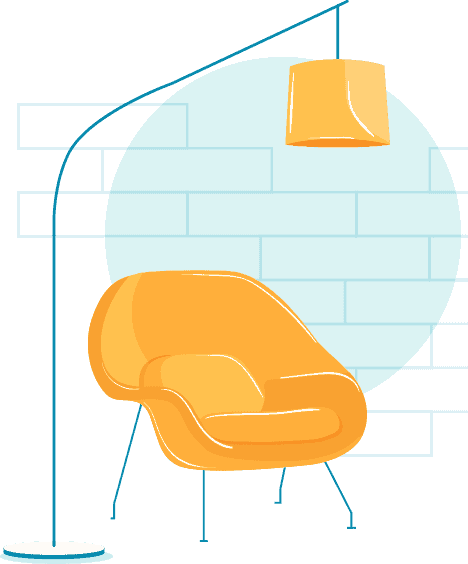 Use sensor lights, lower-placed lights, and vanity lights that are lower on mirrors instead of above them.
Install light switches near doorways and near where seniors sit.
Get automatic light switches; otherwise, go with rocker-type switches.
Install or move electrical outlets as necessary for more light.
Increase the wattage in overhead fixtures.
Choose durable table lamps for extra light and run the cords safely so they don't pose a tripping risk.
Mix natural and artificial light, especially in the kitchen.
Look into recessed, task, track, and under-cabinet lighting to meet kitchen and bathroom needs.
Avoid shiny paint colors and glossy finishes on countertops and cabinets, as they increase glare.
Focus on energy-efficient versus low-wattage bulbs.
Windows Low to Medium Effort
Windows are a method of escape during a fire. They also allow for ventilation and fresh air. In any case, it's important for seniors to quickly and easily open them. Casement windows can be senior-friendly, requiring that users turn a crank to open them. Sliding windows are another option, with seniors pushing sashes aside. They're good for folks who have fine motor issues.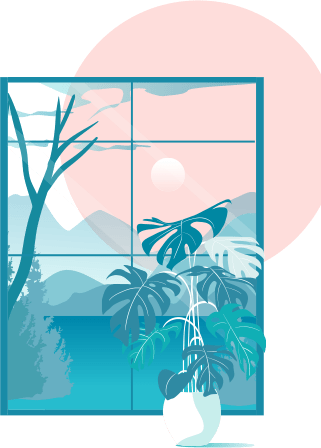 Place secure screens and locks on windows.
Make sure seniors can quickly and easily open windows, especially bedroom windows.
Install windows if more natural light is needed.
Go with lower and taller windows.
Use lever-type handles.
Install motorized or automated blinds or shades.
Faucets and Water Temperature Controls Low to Medium Effort
Add thermostatic, pressure-balanced, or anti-scald controls.
Install pedal-controlled faucets or use lever handles.
Flooring Low to Medium Effort
Much of flooring home prep is low effort. For instance, throw rugs are a huge fall risk, so they need to be thrown out or donated. That's low effort, although it comes at a high emotional price for some seniors.
However, the floors in your home may need to be replaced, which requires more investment. Good floor types for aging in place are vinyl, wood, or linoleum. They're especially wheelchair friendly. If your flooring is a different type, you may still be OK.
Get rid of all rugs, especially throw rugs.
Skip the carpet tape—remove these rugs.
Eliminate speed bumps and door curbs to make entryways flat.
Choose non-slip mats in bathrooms.
Choose non-slip tile or low-pile carpeting in kitchens (no more than ½-inch thick).4
Use non-glare floor coverings.
Add slip prevention texture to tile or stone floors, if needed.
Choose smaller (versus larger) stones and tiles.
Run cords and cables safely out of pathways.
Think twice about carpeting. It's true that heavier or shaggier carpets make for a softer landing BUT you're more likely to fall on them. Go low-pile and thin if you must have carpeting. However, the ideal is hard floors. They pose much less of a tripping risk and are easier to clean. They're also cane-, walker- and wheelchair-friendly.
Heating and Cooling Low to Medium Effort
Install a thermostat in the kitchen for quick cooldown if cooking gets too hot.
Install a window air conditioning unit in the kitchen if the home doesn't have a thermostat or central air conditioning.
Doors, Doorways and Pathways Low to High Effort
The doorways in your home may need widening to accommodate wheelchairs and walkers.
Doorways: At least 36 inches wide
Pathway clearances: At least 42 to 48 inches wide
If you get around well, you might prefer to put off doorway widening to focus on more pressing concerns. An improvement you can make now is to replace regular door handles with lever, loop, or D handles. They're easier to grip. Install them on regular doors as well as appliance and cabinet doors.
Clearance Low to High Effort
Give yourself plenty of space to move around inside rooms and from room to room. Wheelchair users typically need at least 5 feet of space around them to maneuver the chair.
If you walk well, clearance is still important to reduce tripping risks. A basic way to get more clearance is to declutter your home. In rooms such as bathrooms, there may not be much you can do short of renovation.
Outlets Low to Medium Effort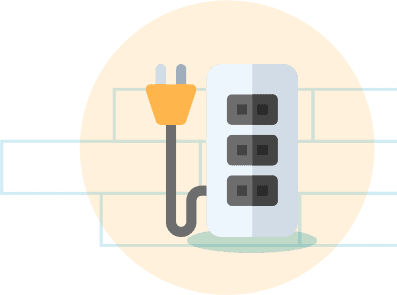 Limit two appliances plugged into any outlet.
Place electrical outlets higher up so seniors don't have to bend.
If your house doesn't have enough outlets, reduce the number of appliances. Alternatively, reorganize outlet and appliance use to optimize space. Never overload outlets due to the fire risks.
Cabinets and Other Storage Options Low to Medium Effort
Upper-level cabinets represent huge falling risks for seniors who must get on stools or ladders to retrieve items. One solution is to not store anything up high. Of course, low cabinets can be a hassle as well, exacerbating back pain in seniors who must bend. Some tips: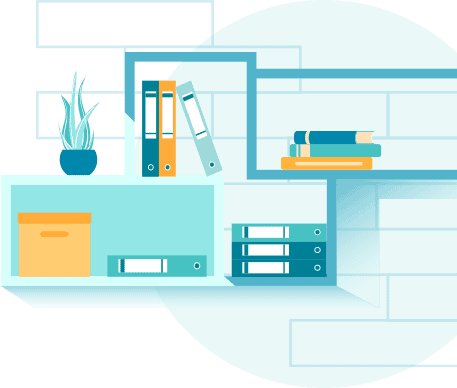 Store the most-used items in the most accessible cabinets.
Store bulky and heavy items in the most accessible cabinets.
Move upper cabinets 3 inches down.
Install pulldown and pullout shelving inserts.
Use pull cabinets for safety and maneuverability.
Furniture Low to Medium Effort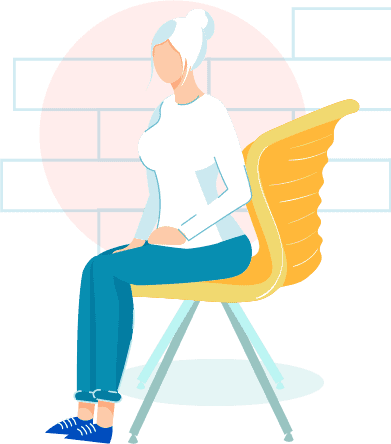 Purchase adjustable recliners that get you to a nearly standing position.
Look for couches featuring extra lift.
Install grab bars around places you often sit.
Mount bookshelves, dressers, wardrobes, and other heavy furniture items to the wall.
Place non-skid pads under furniture.
Not every chair and couch in your home must be elevated with grab bars surrounding it. Rather, each senior in your home should have at least one place where they sit and can easily get up and down from. Meanwhile, grab bars come in various styles and colors. The aesthetic of your living room, office, and other rooms doesn't have to suffer.
Lift Chairs for Staircases Medium to High Effort
Stairways are a fall risk for seniors. Some work around the issue by limiting their living space to one floor. Lift chairs are another option. Their cost varies depending on factors such as whether the chair will travel in a straight line or whether it curves or changes direction. A new, straight stair lift with 14 steps may cost $2,000 to $5,000, with installation and one-year warranty included. A curved lift may cost more than $10,000.5 Outdoor lifts don't cost much more than their interior counterparts.
Overall, lift chairs are worth the investment. They allow seniors to stay right in their home rather than move to another home or apartment, which can bring a whole new set of closing costs and fees.
Non-Tip Ashtrays for Seniors Who Smoke Low Effort
The Centers for Disease Control and Prevention notes that about 8.4% of adults 65 and older smoke.6 Among senior citizens, this activity is particularly risky because of the fire dangers and the possibility of falling asleep with a lit cigarette. If you smoke, add non-tip ashtrays to the list of items you need for home prep.
Automatic Sprinkler System High Effort
The U.S. Fire Administration explains that seniors are at high risk of injury or death in a fire.7 The increased danger is partly due to factors such as diminished hearing (it's harder for seniors to hear smoke alarms when sleeping) and slower mobility (they cannot escape a home as quickly). Cooking mishaps and falling asleep while smoking are also major contributors. Additionally, some seniors live in homes with outdated heating, lighting, and electrical systems.
Seniors should take common measures such as installing smoke alarms in bedrooms and outside sleeping areas. If they have trouble hearing, there are smoke alarms that function as bed shakers or strobe lights.
However, automatic sprinkler systems are literal lifesavers. They give seniors the necessary additional minutes to escape their home during a fire. They cost money in the short term, but in the big picture, they are cost-effective.8
Why Automatic Sprinkler Systems Save Money
Average fire loss in a sprinkler home is $2,166 versus $45,019 in a home without sprinklers
Can save most of your home's possessions during a fire
Reduce fire damage up to 97%
Boost a home's resale value
Reduce home insurance rates
Why Seniors Should Get Sprinkler Systems Despite the Upfront Cost
For new construction, sprinklers cost $1 to $2 per sprinklered square foot. For existing homes to be retrofit, the cost climbs to $2 to $7 per sprinklered square foot.9 Suppose a senior lives in a 1,200-square-foot home and wants it all covered with an automatic sprinkler. The estimate is, say, $4 per foot. That comes out to $4,800. Not exactly cheap but the investment makes sense over the long term.
Aging in place could occur over 20 years, even more. That's plenty of time for a sprinkler system to pay for itself and then some more.
Can't afford one? That's understandable. Just one tip: If you ever move to a different home, search for apartment buildings or houses with existing sprinkler systems.
Room and Area-Specific Improvements
Outside/Exterior of the Home
Wheelchair Ramps,
Staircases and Handrails Medium Effort
Wheelchair ramps are a good idea even for seniors who don't use wheelchairs or electric scooters. Ramps are just easier to navigate than stairs are. However, ramps can be a significant project requiring builders to meet local codes. Have them professionally installed. When explaining the project to contractors, discuss the types of mobility devices you use (wheelchairs, canes, crutches, etc.) and any future changes to consider. Other tips for ramps and stairways: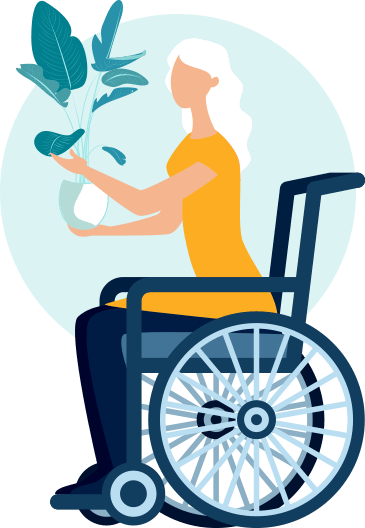 Keep at least one portable wheelchair ramp around the home to give yourself the greatest mobility possible.
Build handrails above wheelchair ramps and stairs. The rails should be round and at least 1 ½ inches in diameter.
Eliminate flowers, trees, shrubs, or bushes that come too close to ramps, stairs, or walkways.
Place tape or nonslip rubber treads on steps to add texture.
Light stairways and ramps. The most important steps for visibility are the top and bottom.
Modify entryway door thresholds so they're lower or are flush with the floor.
If you cannot install wheelchair ramps, see if there's a door that does not have steps. Use that door for entering and exiting.
In some cases, a lift chair serves you better instead of a ramp, for instance, if you must descend a long, steep staircase to get to a boat dock on your property. Platform lifts are available for wheelchair users, as well.
Entryway Modifications Low to Medium Effort
Being rained on could cause seniors to fall if they're rushing to get inside or struggling with an umbrella. A few entryway modifications boost safety and are useful for residents of all ages.
Install a canopy, overhang, or cover to shield folks from inclement weather.
Place non-slip flooring material in entryways.
Use aluminum or fiberglass doors.
Switch to keyless locks or levered door handles (versus round knobs).
Place a table or raised surface near the entryway for quick offload of packages.
Put a chair near the entryway for seniors who need to rest often.
Widen doorways to a minimum of 36 inches to accommodate wheelchairs.
If widening isn't possible, look into getting offset door hinges or even transforming windows into a new doorway.
Miscellaneous Exterior Modifications Low to High Effort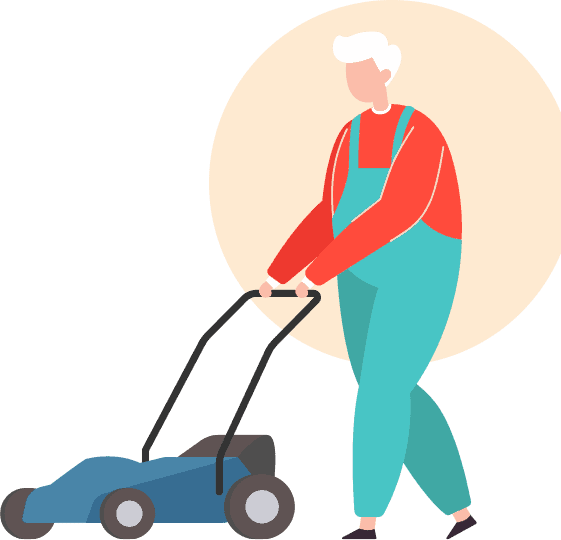 Driveways, sidewalks, and pathways: Smooth out cracks and other uneven surfaces.
Home materials: Replace paint and wood siding with brick or vinyl to reduce the amount of upkeep seniors must do.
Decks and porches: Switch real wood out for resin-based materials.
Gutters: Install gutter covers.
Yard work: Install raised flower beds, automatic sprinklers, and low-maintenance/drought-resistant plants. Think about replacing grass with synthetic turf or with gravel, bark, mulch, or wood chips.
Bathrooms
Seats, Stools, and Benches for Showering and Transferring Low Effort
Seniors may have lots of choices as far as shower/transfer seats, stools and benches go. For instance, some bathtubs have built-in seats. Regardless of how many built-in options you have, it's best to also have portable chairs and benches for showering and transferring. Cover all of your bases that way.
Bidets and Raised Toilet Seats Low Effort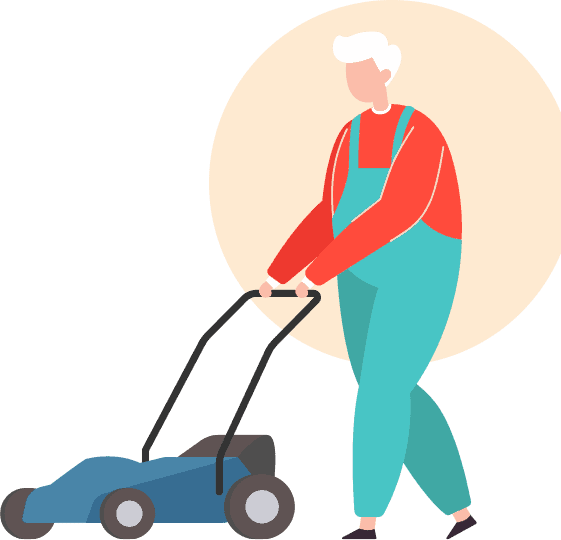 Cleaning yourself after using the bathroom becomes more difficult the older you get. It's also harder to get on and off the toilet. Bidets are a huge help, especially after bowel movements. You can get a good one for about $75 and have someone install it onto your toilet. For several hundred dollars, you can get a bidet with more features.
Raised toilet seats help with getting on and off the toilet. Many have handles and are easy to install.
Grab Bars and Handrails Low Effort
Install grab bars and handrails next to the toilet and in tubs/showers for getting up and down. Mount them into studs for extra security.
Adjustable and Removable Shower Heads Low Effort
Removable shower heads enable seniors to clean themselves more thoroughly. Adjustability is important too, so seniors can control spray type and strength.
Walk-In Tubs Medium Effort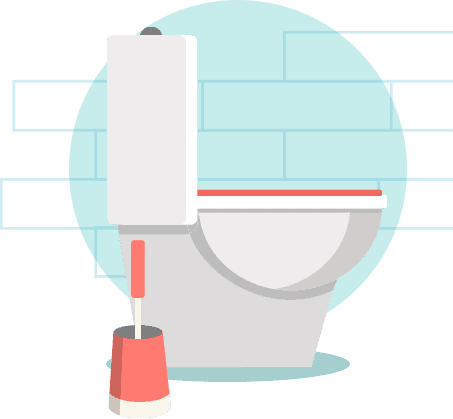 Walk-in tubs are huge mobility aids that empower seniors to continue bathing themselves when they otherwise might not be able to. The tubs also decrease the risk of falling.
Not sure what walk-in tubs are? They're essentially bathtubs featuring watertight doors that seniors use to enter and exit. They don't have to climb into the tub or contort themselves to get in. At the most, seniors lift their feet a few inches to get into the tub.
Once in the tub, seniors sit relatively easily, thanks to raised seats, grab bars, hand grips and/or lifts that move seniors up and down. Many seniors do just fine with a tub costing $2,000 to $4,000. Higher-end tubs costing, say, $7,000, offer additional jets, massage options, and sometimes, enhanced safety features.
Other types of accessible tubs are bariatric walk-in tubs (for people weighing more than 300 pounds) and tubs with raised beds and sliding doors for seated transfers. In fact, there are many types of accessible bathtubs, each with pros and cons.
Curbless showers are another approach, especially if you prefer not to lift your feet at all. These showers run about $2,000 to $5,000 and are easy to clean. You can add grab bars, benches for sitting, and many other safety options.
If you can't make these modifications, invest in nonslip and nonskid floor pads to use in the shower and tub. Install grab bars generously in and around showers and tubs.
Lower Countertops Medium to High Effort
Seniors in wheelchairs need lower countertops for brushing their teeth and washing their hands. Make your countertops low enough so you can reach the back of the counter from your wheelchair. Also, modify shelves, cubbies and the like so they are reachable.
Lower countertops may not be a priority if you are years off from wheelchair use or are temporarily aging in place. However, if you're doing renovations such as installing a first-floor bathroom, add lower countertops right off the bat.
Bedrooms
Adjustable Beds Low to Medium Effort
Adjustable beds are particularly helpful for seniors with health issues such as poor circulation, osteoarthritis, congestive heart failure, back pain, acid reflux, or hypertension, among other conditions. These beds elevate the sleeper's body, allowing for lumbar support, pain relief, and enhanced circulation.
Adding pillows and similar touches to an ordinary flat bed can give seniors some of the benefits of an adjustable bed. However, aging in place requires concrete, long-term solutions when possible. You should be able to get a good-quality split-king adjustable bed with a mattress for about $3,000.
Adjustable beds also make it easier for seniors to watch TV. If their sleeping partner keeps them awake, a split bed minimizes the effect (and each partner gets to control their own elevation!).
Hospital Beds Medium Effort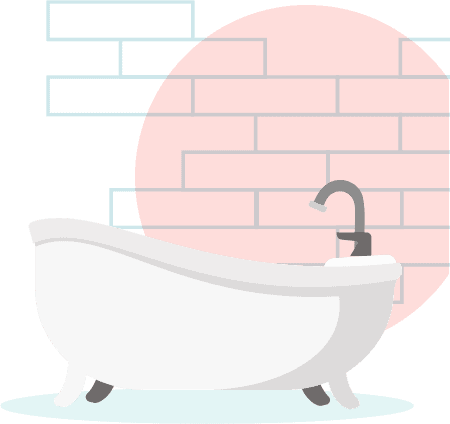 Seniors with high-level medical or mobility issues might be better served with hospital beds rather than adjustable beds. Hospital beds allow for more customization. For instance, a hospital bed can be lowered closer to the floor or ceiling to reduce the chance of injuries and to ease the strain on caregivers' backs.
Miscellaneous Bed Modifications Low Effort
Whether you go adjustable or not, consider these upgrades:
Mattress protectors to help with wetness and odor issues
Fall mats on the side of the bed
Motion-activated under-the-bed lights
Bed rails (some rails adjust for height and length)
Bedding types such as skirts and long comforters that reach the floor pose fall risks, so avoid them. Do not use throw pillows. They're pretty but are a big fall hazard when they end up on the floor.
It's worth mentioning that not all beds work with bed rails. For instance, waterbeds and some Sleep Number beds do not. Further, there are different types of rails such as an assist rail for balance to get out of bed, and a safety rail to prevent falls from the bed.
Sturdy Table or Nightstand near Bed Low Effort
Seniors should keep their cellphone, eyeglasses, hearing aids, walker, and other devices within arm's reach when they sleep. That way, they can quickly use the bathroom during the night or escape if a fire occurs.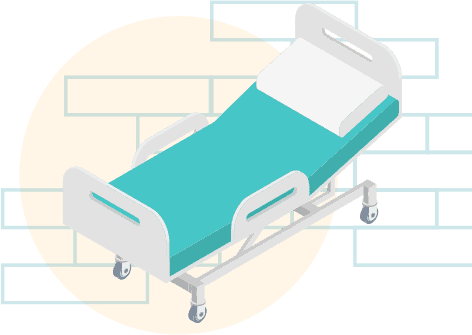 Place a sturdy table or nightstand near the bed.
Use non-skid pads to keep the table or nightstand in place.
Use touch-activated lamps on the bedside table.
Add a digital clock with a large display.
Keep cords, cables, equipment, and medical devices secured so they don't present tripping hazards.
Replace damaged and frayed cords and cables (not just in the bedroom—throughout the house, too).
Closets, Including Bedroom Closet Low Effort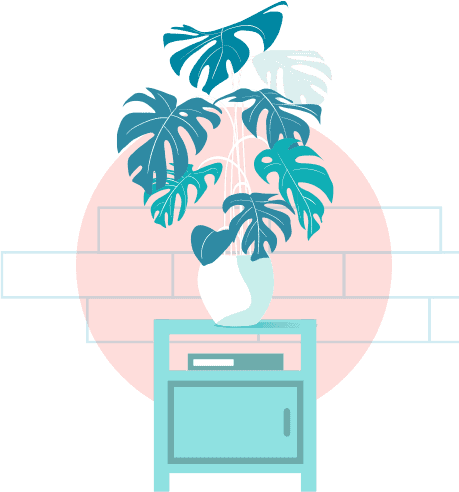 Use sliding, pocket, or foldout doors instead of swing-out doors.
Lower the shelves.
Store items so seniors can easily access them.
Avoid storing heavy items on top shelves.
Add motion sensor lights or ensure that lighting from the bedroom is adequate for the closet.
Widen closet doorways to accommodate wheelchairs, if necessary.
Kitchen
Sinks Medium Effort
Install sinks that are no more than 6 inches deep (to minimize bending down).
Use a pullout sprayer.
Choose a levered or hands-free faucet.
Remember anti-scald guards!
Install a permanent soap dispensary rather than keep individual bottles around.
Refrigerators and Freezers Medium Effort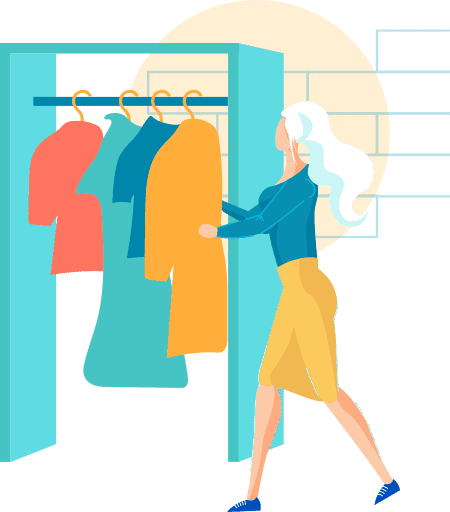 Buy side-by-side fridges and freezers.
Look for doors with generous storage options.
Go with long door handles that are easy to grasp.
Choose see-through, slide-out shelves, if possible.
Stoves, Ovens, Microwaves and Toasters Low to High Effort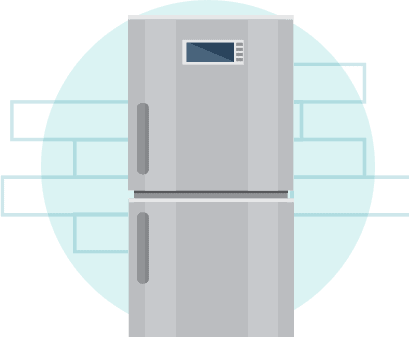 Install a wall oven with adjustable heights, if possible.
Install a pullout counter right below the oven so seniors can immediately set dishes down to cool off.
Choose a cooktop versus a standard range.
Look for cooktops with large displays, front-mounted controls, and self-cleaning modes.
Ensure cooktops have clear color indicators to show what's hot.
Get microwaves with loud beeps and large displays/controls.
Buy toasters with automatic shutoff and large displays.
Countertops Low to Medium Effort
Place grab handles along countertop edges.
Go with multi-level countertops (with levels at 36 and 30 inches) if replacing countertops.
Use rounded corners and edges.
Color code edges to prevent accidents and to clearly illustrate where countertops end.
Kitchen Miscellaneous Low to High Effort
Place the refrigerator, oven, and sink as close to one another as possible.
Decrease upper cabinet heights by at least 3 inches.
Use hard plastic dishware that doesn't break easily.
Go with sharp knives rather than dull knives, which cause more injuries.
Keep a fire extinguisher, smoke detector, and carbon monoxide detector in the kitchen.
Buy universal design jar and bottle openers.
De-clutter the kitchen to make space for easy maneuverability.
Small appliances such as air fryers, toaster ovens, toasters, and food processors are handy, but you don't want too much of a good thing. Crowded kitchens are far from ideal, so you may need to prioritize small appliances as you de-clutter.
Laundry Nooks or Laundry Rooms Low to High Effort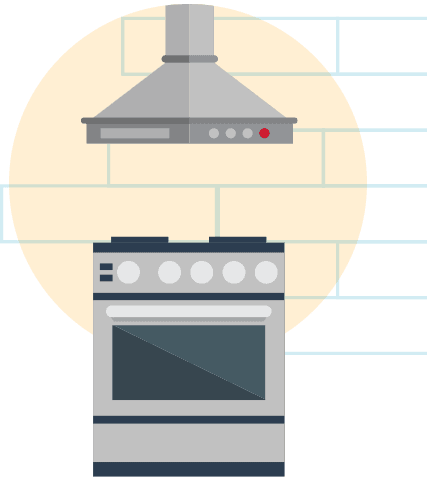 Put laundry facilities on the main living floor to avoid stair use while carrying heavy loads.
Place facilities near the bedroom if there's no main living floor.
Use front-load washers and dryers with pedestals raising the machines to an accessible height.
Ensure that washer and dryer controls are easy to read.
Purchase rolling hampers with removable cloth bags.
Store detergent, other laundry items, clothes hampers, and ironing boards close to the washer and dryer.
Install an ironing board that folds down from the wall.
Add a timer to the outlet where the iron is plugged in (to avoid an accidental fire).
Store items in cabinets and on shelves along the wall away from doors.
Add counter space to help with storing items and folding clothes.
Color code the edges of counters.
Install a ceiling or standalone fan for good ventilation and fresh air.
Use detergent pods instead of regular bottles, or store detergent in bottles with nozzles.
Have an electrician check laundry room outlets to ensure they meet these specifications:
Washing machine: 20-amp, 120-volt circuit
Dryer: Four-pronged plug, dual 120- and 240-volt
Fans, lights, and other devices: 15-amp circuit
If you install a sink, choose one with motion sensors or lever handles. Place the sink away from the door. Leave enough space under it and around it for a wheelchair if you need one in the future.
Garages Low to Medium Effort
Use a keyless entry.
Widen pathways for bringing groceries and other items into the house.
Install fire extinguishers, smoke detectors, and carbon monoxide detectors.
Install hooks and baskets to store items for easy access.
De-clutter with an eye toward eliminating fall hazards and fire risks.
Contact your local waste management department about disposing of hazardous materials.
Check that there is space in the garage for van lifts, if applicable.
Increase the garage door height to at least 9 feet if using a van lift.
Follow the tips for lighting, entryways, stairways, wheelchair ramps, doorknobs, and wider doorframes.
If you need to rework or renovate your garage, consider smart technology that works with voice commands.
First-Floor Home Renovations High Effort
Some homes have a bathroom, kitchen, bedroom, or laundry room only on the second floor or in the basement. That's not safe for seniors. Chair lifts do help, but putting everything on one floor is much safer.
Bathroom: To build a first-floor bathroom, look for spaces that are currently an office, patio, bedroom, or closet. Build the bathroom large and accessible enough for needs such as a wheelchair.
Bedroom: If you don't currently have a first-floor bedroom, you could possibly fashion one from an office or guest bedroom.
Kitchen and laundry facilities: Both need to be on the same floor as a bathroom and bedroom. Customize for lower countertops, higher electrical outlets, accessible cabinetry, and the like.
Safety Devices
Devices such as automatic medication dispensers and medical alert systems help keep seniors safe. Here's a look at them and a few other devices. They are all low effort and easy to introduce into the home.
Automatic Medication Dispensers
Medication is a fact of life for many seniors, and the pills seem to keep increasing. Moreover, each medication comes with its own intricate set of instructions. It's all a lot to remember (no matter your age). Enter automatic medication dispensers. They help seniors remember to take their medications, and many dispensers hold a 90-day supply of pills.
For instance, the Hero dispenser holds 90 days' worth of up to 10 types of pills, regardless of size and shape. Seniors and their caregivers get alerted if a dose is skipped or when the time for a refill is coming up. Hero costs about $30 a month plus a $99 initiation fee. You can do a one-month trial to make sure it's right for you, but other dispenser services may work better for your needs and budget.
Medical Alert Systems
Well-known medical alert companies include Medical Guardian, Bay Alarm Medical, and GreatCall. Some of their systems are for home use only, while others are GPS-based for both home and mobile use. Tech-oriented seniors may enjoy devices such as the Freedom Guardian smartwatch from Medical Guardian and the Jitterbug Smart2 phone from GreatCall.
The Family Guardian from Medical Guardian is a good choice for seniors who need a higher level of monitoring. The system includes three in-home safety sensors that help track seniors' activity levels. Family members can be notified that seniors have woken up, moved around the house, and much more.
Security Cameras
Security cameras serve several purposes. For instance, suppose someone rings the doorbell. You just need to look at your cellphone app to see who it is and speak to the person. That way, you're able to take your time responding rather than rush to the door and risk falling. Security cameras are also good for general peace of mind to know what's going on around your home.
Security cameras can be as simple as a doorbell camera or be part of an elaborate system covering every area of the home. You can even set them up so that your relatives have access. They could talk to you and keep an eye on you from afar. (Some higher-level medical alert systems offer this feature as well.)
Lockboxes
Keep a lockbox outside of your home for emergency responders (in case you sound the alarm on your medical alert system). Responders get to you quicker and won't cause property damage. Lockboxes need not be anything fancy; a key lockbox using a combination code is fine. You can purchase your own or lease one through your medical alert company.
Larger Electronics and Remotes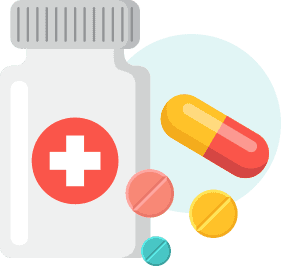 You may get frustrated with cellphones, remote controls, and other pieces of equipment with too-small buttons. Replace these complicated devices with simplified gear featuring larger buttons (and voice commands, if applicable). Universal remotes are good to have!
If you use a lot of technology, you may want larger devices or displays for cellphones, tablets, smartwatches, computers, and TVs.
Detectors and Extinguishers
Keep smoke and carbon monoxide detectors in and right outside of sleeping areas. Also, keep them in kitchens, garages, and laundry rooms (keep fire extinguishers in these places, too). If you live in a multi-level home, ensure each level has at least one fire extinguisher and one smoke and carbon monoxide detector. Use strobe lights or vibrating alarms if you have hearing difficulties.
Mount fire extinguishers in plain sight so you don't have to bend to get one. Definitely don't stuff these extinguishers in closets or hide them behind curtains.
Smart Home Features
It's possible to equip homes with smart thermostats, lighting, refrigeration, security alarm systems, smoke and carbon monoxide alarms, locks, TVs, and…well, much more! These features can hugely benefit seniors. They're not necessary, though. Whether you should use them depends on your budget and comfort level with technology. If you're prepping your parents' home and they're not into technology, proceed with caution. Avoid pushing features onto people who don't want them and who are unlikely to use them.
Prepping Your Home to
Age in Place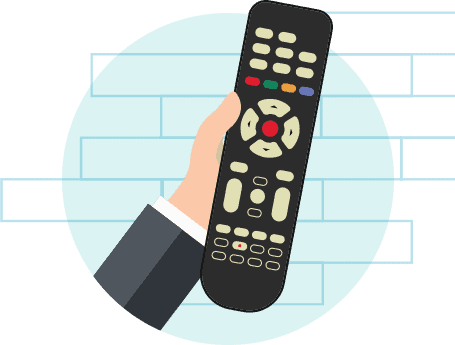 Virtually every home needs some amount of prep for seniors to age in place. Many seniors stay in their own homes, while some move in with relatives. Others move into elder cottages (granny flats) or in-law suites on a relative's property. Whatever the case, home modifications and safety devices make a world of difference.
At a minimum, go through the home to reduce fall risks. Eliminate tripping hazards and make commonly used items more accessible. From there, what you do is usually a matter of priority and finances. Your approach also depends on whether you're aging in place for just a few years or for life. Contact your local office on aging for assistance.
Additional Resources
References and Footnotes
1. Carlson, B. (2018, August 2). Secrets to Successfully Aging in Place. Retrieved April 22, 2020, from https://www.forbes.com/sites/bobcarlson/2018/07/29/secrets-to-successfully-aging-in-place/#4cab3d1a152c
2. Centers for Medicare and Medicaid Services. (Revised 2019, October). Medicare's Wheelchair & Scooter Benefit. Retrieved April 22, 2020, from https://www.medicare.gov/Pubs/pdf/11046-Medicare-Wheelchair-Scooter.pdf
3. Centers for Medicare and Medicaid Services. (n.d.). Let Medicare Give You a Ride. Retrieved April 22, 2020, from https://www.cms.gov/medicare-medicaid-coordination/fraud-prevention/medicaid-integrity-education/downloads/nemt-factsheet.pdf
4. Lewitin, J. (2019, October 22). What Are the Best Flooring Options for Aging in Place? Retrieved April 22, 2020, from https://www.thespruce.com/the-best-flooring-for-senior-citizens-1314944
5. Current Cigarette Smoking Among Adults in the United States. (2019, November 18). Retrieved April 22, 2020, from https://www.cdc.gov/tobacco/data_statistics/fact_sheets/adult_data/cig_smoking/index.htm
6. Fire safety outreach materials for older adults. (2020, March 9). Retrieved April 22, 2020, from https://www.usfa.fema.gov/prevention/outreach/older_adults.html
7. Sell, J. (2016, March 5). Residential sprinkler systems and newer building materials can help make our houses safer from fire. Retrieved April 22, 2020, from https://www.cleveland.com/pdrealestate/plaindealer/2016/03/residential_sprinkler_systems_and_newer_building_materials_can_help_make_our_houses_safer_from_fire.html