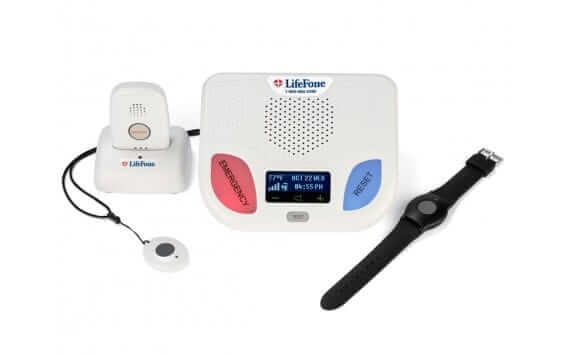 LifeFone Medical Alert System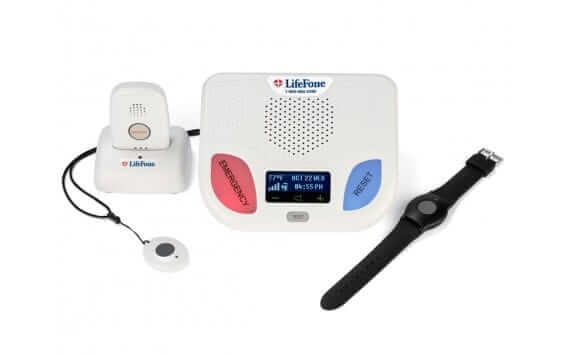 Established in 1976, LifeFone has spent nearly half a century perfecting their personal emergency response systems. Known for affordable subscription plans and unique features such as a lifetime price-lock guarantee and a 30-day risk-free trial, LifeFone provides a great way for adults to age in place. A plethora of add-on features such as medication reminders and fall detection help create additional value.
In this rundown, I will evaluate and discuss LifeFone's pricing, monitoring, and policies regarding their popular medical alert systems. Read on to learn more about LifeFone.
How To Purchase a LifeFone Medical Alert System
LifeFone medical alert systems can be purchased online through the company's website. As I clicked through LifeFone's website, I appreciated that the information and instructions were thorough and easy to follow. If you have moderate to severe vision limitations, it may be easier to go ahead and call to make your purchase. Speaking to a representative may be the best choice, anyhow. That way, you can speak to an expert and learn about which systems may fit you best.
Price-Lock Guarantee
To me, one of the most enticing reasons to purchase a medical alert system from LifeFone is its price-lock guarantee. With this guarantee, the cost I agree to when I initiate my subscription monitoring plan will never go up. I could live another 40 years, and regardless of inflation, my Lifefone price will remain the same.
Shipping, Payment Plans, and Discounts
For those who value discounts as much as I do, you may want to keep in mind that LifeFone commonly promotes seasonal deals, offering lower than usual prices or other freebies or discounts, such as getting your first month free.
When you make your purchase, either the webpage or a customer service agent will present you with three payment plan options for your medical alert system. Your payment choice will then be used to set up an automatic payment plan, unless you tell LifeFone otherwise.
LifeFone Systems
LifeFone offers four personal emergency medical systems, including two home-based options and two choices for my active and on-the-go older adults. Here is an overview of each of LifeFone's alert systems, including their components, costs, their installation, and who each system might be good for.
LifeFone Packages
LifeFone Product
Features
Cost
At-Home Landline
– Two-way base station speaker
– 32-hour back-up battery
– 1,300 foot coverage range
– Emergency trouble indicator
– Remote call answering via help pendant
Starting at $24.95 per month
At-Home Cellular
– Uses AT&T network
– Two-way base station speaker
– 32-hour back-up battery
– 1,300 foot coverage range
-Emergency trouble indicator
Starting at $30.95 per month
At-Home & On-the-Go GPS
– Two-way speaker
-Lighted display with time, date
and ambient temperature
– Back-up battery
– Wearable mobile unit
Starting at $36.95 per month
At-Home & On-the-Go GPS, Voice in Necklace
– Two-way voice pendant
– GPS and WiFi location technology
– 30-day battery
– Uses AT&T or Verizon network
Starting at $39.95 per month
At-Home Landline
Starting at $24.95 a month, this system works with a telephone landline. Perfect for seniors who spend the majority of their time at home, the LifeFone At-Home Landline System includes a base unit, your choice of a help button necklace or wristband, and optional fall detection for $5 more each month. Installation can be done in a matter of minutes.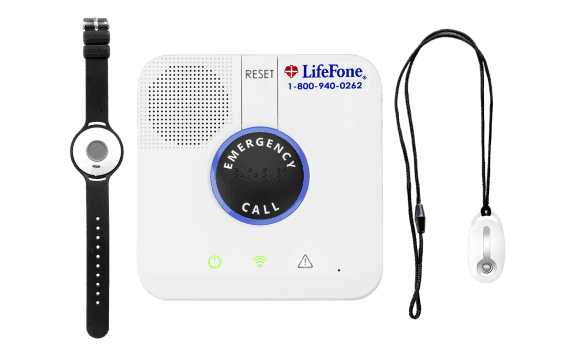 At-Home Cellular
Starting at $30.95 per month, LifeFone's At-Home Cellular System is similar to the At-Home Landline System but works off of AT&T's cellular network. This system, also including a base unit and pendant, requires only a three-step install and has a range of 1,300 feet from the base station. The highly sensitive microphone on the base unit also makes this system ideal for the hard of hearing. Furthermore, the LifeFone's At-Home Cellular option allows you to answer phone calls by pressing a button on your help pendant, and requires you live in an area with strong AT&T coverage.
At-Home and On-The-Go GPS
For more active older adults, the At-Home and On-the-Go GPS System offers both a base station for when you're at home and a mobile device for when you're out. LifeFone touts this system as two for the price of one, starting at $36.95 per month. Both the base station and mobile pedant work on cellular networks, so no landline is needed. To add an optional fall detection pendant to this system, you will be charged $10 extra per month.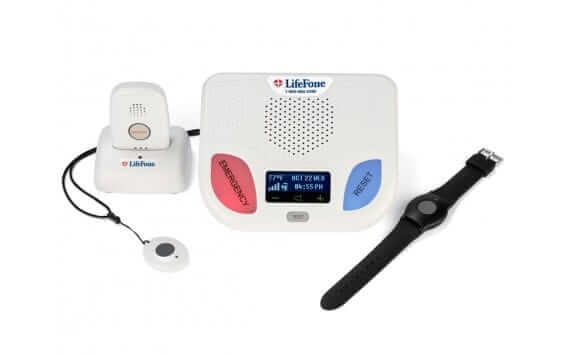 At-Home and On-The-Go GPS Voice in Pendant
With the At-Home and On-The-Go Voice in Pendant, your entire medical alert system exists on your pendant. That means no installation, just put it on. Starting at $39.95 per month, this system works anywhere in the U.S. that's covered by AT&T or Verizon. With a 30-day battery life, you can go several weeks before needing to charge your system. Fall detection can be added to this system for $5 per month.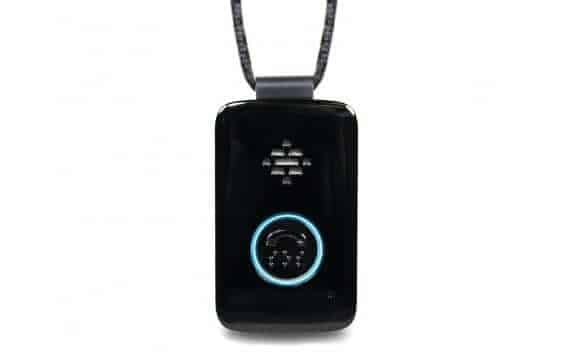 LifeFone Monitoring
At-Home Landline and At-Home Cellular Pricing
| | At Home Landline | At-Home Cellular | At-Home and On-The-Go GPS | At-Home and On-The-Go GPS Voice in Pendant |
| --- | --- | --- | --- | --- |
| Monthly | $29.95/mo | $34.95/mo | $39.95/mo | $43.95/mo |
| Quarterly | $27.95/mo | $32.95/mo | $39.95/mo | $41.95/mo |
| Annually | $24.95/mo | $30.95/mo | $36.95/mo | $39.95/mo |
| Optional Fall Detection | $5/mo | $5/mo | $10/mo | $5/mo |
Tip: Choose a quarterly or annual plan to pay lower rates. This discount is risk-free since LifeFone will prorate your refund for any unused prepaid service.
Subscription monitoring plans with LifeFone cost somewhere between $25 and $40, depending on the system choice you make. Monitoring is the only monthly fee LifeFone charges, unless you choose to add something on. Considered one of the best medical alerts for couples, LifeFone protects spouses at no extra cost to subscribers. I considered this an exceptional deal, as many medical alert systems will charge full price to cover a spouse.
LifeFone uses three monitoring centers, one primary center in White Plains, New York, and two backups, one in Syracuse, New York and the other in Corona, California. LifeFone provides choices within their monitoring as well. For example, you can have the monitoring center call or even text the emergency contacts you've listed prior to requesting first responders. If you sign up for a daily check-in or your caregiver requests Activity Assurance, it's likely you'll be hearing from the monitoring center frequently.
LifeFone Mobile Applications
Mobile Alert App
LifeFone's Mobile Alert application can be used as an alternative to a full medical alert system or in conjunction with one as an extra measure of protection. Available for both iPhone and Android, Mobile Alert providers users 24/7 access to the LifeFone monitoring center. If an emergency occurs, LifeFone can use your GPS coordinates to identify your location. With three alert modes, panic, concern, and medical, Mobile Alert may be a good choice for when those with an in-home system go outside the home. Adding LifeFone's Mobile Alert to a medical alert system plan costs $5.95 per month. New customers, interested in using Mobile Alert on its own, will be charged $7.95 per month.
Family Guard App
For $9.95 and up, caregivers can keep an eye on their favorite older adult as well as their entire family by tracking their location in real-time. As an upgrade option, you may give each member of your family a panic button through their smartphone app. If they find themselves in a scary situation, they can click the panic button and it will connect them to the LifeFone call center. Similar to the Mobile Alert app, the Family Guard app allows for four modes, location, concern, panic, and medical. Soon, this app plans to add user-defined geofencing and teen driving monitoring.
LifeFone Free Trials, Cancellations, and Warranties
Free Trials
All LifeFone systems come with a 30-day money-back guarantee, which begins three days after a system is shipped. Should you decide LifeFone isn't for you, for any reason, within those first 30 days, just let the company know. As long as they receive your system's equipment within 30 days of your cancellation, you will receive a full refund. While this is a fairly good offer, most competitors have comparable incentives. Some even offer more robust trial periods, such as QMedic's 60-day money-back guarantee.
Cancellations
I'd have to say LifeFone's cancellation policy is another one of my favorite things about the brand. You are truly free to cancel at any time, and there are no cancellation fees. If you do need to cancel, remember to send your equipment back. As a subscriber, you're only leasing the medical alert system. The equipment still belongs to LifeFone, and the company will continue to charge you. Once all equipment has been received, LifeFone prorates a refund for the remainder of any amount you have prepaid.
Warranties and Protection Plans
Every LifeFone system is backed by a 100% lifetime warranty for normal wear and tear, including free battery replacement.
For damages beyond normal wear, such as drops or accidents, loss, or theft, LifeFone offers a Protection Plan for its medical alert systems at $5 per month. Instead of paying up to several hundred dollars in charges to fix your medical alert, LifeFone's Protection Plan ensures you receive expedited (2 business days) repairs on equipment. Upon initial review of this protection plan, I thought it sounded like a good deal. After all, I know how clumsy I can be and how easily accidents can happen. I later, however, discovered this LifeFone Protection Plan will only cover the replacement of two help buttons and one base station per 12 month period.
Add-On Services
LifeFone offers far more add-on services than most other personal emergency response brands. Here's an overview.
Activity Assurance Caregiver Tool: With Activity Assurance, the monitoring center will check in on the medical alert every day at a preset time. When a specific tone is played on your base unit each day, you must press a button within 15 minutes to let them know you are safe and at home. If you do not respond, the monitoring center will call to make sure everything is alright. If you do not answer this call, the center will dispatch emergency services. Only At-Home Landline System users are eligible for this service.
Daily Check-In Call: For an additional $19 per month, any LifeFone subscriber can receive a daily call from a live monitoring center agent. This call is customized to fit your needs, whether that's medication reminders, a brief conversation, or something else. While this might sound expensive, a friendly voice checking on my loved one each day might be worth it. After all, older adults are at a higher risk of loneliness and social isolation, issues that are connected to dementia, anxiety, depression, heart disease and more.
Medication Reminders: For $6 per month, all Cellular System Subscribers can receive daily or weekly medication reminders. I know how easy it is for me to forget my morning vitamins, and the older we get, the easier that kind of mistake becomes. In fact, approximately 30% of hospital admissions for older adults are drug-related.
Location Services: Through Location Services, caregivers for all On-The-Go GPS System subscribers can use their mobile device to access a loved one's specific GPS location via the LifeFone Caregiver Portal. This is a service I'd definitely take advantage of if I cared for an individual with memory problems or anyone who enjoyed being out and about alone. Medication reminders plus 30 location requests per calendar month will cost an additional $9 per month.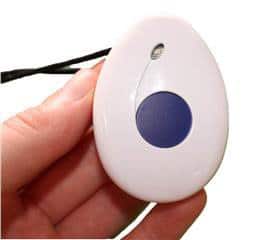 Fall Detection: Depending on which LIfeFone medical alert system you choose, fall detection can be added for $5 to $10 per month. Too many older people suffer serious injuries as a result of a fall. In fact, each year, 3 million older adults are treated in emergency departments for fall injuries. I'm a big advocate for fall detection, especially when it's going to cost as little as $5 a month. Considering what a hospital or even solely emergency room might cost, $60 a year just doesn't seem so bad to me.
Complete Home Package: Any medical alert system added to fire, smoke and carbon monoxide monitoring is considered a Complete Home Package. This add-on option starts at $42.95 per month, including your LifeFone medical alert subscription comment.
Add-On Accessories
Beaded Lanyard: Stay stylish with a handmade, beaded lanyard for your help pendant. Be careful, though, these trendy lanyards aren't waterproof.
Vanity Pendant: One of LifeFone's newest options, the vanity pendant looks like a beautiful tiered necklace of the finest metals. You'd never guess it was a medical alert system. Of course, this fashion statement comes at a high cost, $71.95. However, if it meant that I or my loved one felt more confident wearing a medical alert, I might consider it.
Hanging Master Lockbox: Designed to fit around your doorknob, the $39.95 Hanging Master Lockbox provides quick access to your house keys for first responders or other individuals entering your home during an emergency. Equipped with a password lock, the lockbox ensures only those who you've given your password to will have access to your keys.
LifeFone Hanging Lockbox: Designed to fit securely around the doorknob on your entry door. With the secret, the house key can be retrieved from inside the key safe lock box in an emergency without breaking into your home.
Mobile Device Charging Cradle: Older adults who travel frequently may appreciate having this $39.95 extra charging cradle for their mobile device around.
Leather Carrying Case for Mobile Device: An $18.95 protective carrying case for the mobile device used with On-The-Go systems keeps your out-of-home device in the best condition possible while you aren't wearing it.
Tip: Avoid costly repairs to your front door by purchasing a lock box, which will provide emergency services damage-free entrance into your home. In the U.S., a new door can easily set you back $2,000, with both the purchase of a new door and installation averaging about $1,000 each.
Bottom Line
Overall, LifeFone Medical Alert systems offer top of the line monitoring options along with a wide variety of products and add-ons that can be customized to fit anyone's needs. For those not looking to spend more than $10 per month, LifeFone has apps that support older individuals without breaking the bank. Those in need of additional services, such as fire and carbon monoxide monitoring can also find those through LifeFone. While subscription prices for LifeFone's medical alert systems lean towards the higher end of typical industry prices, for many, its vast amount of accessories and extra services, multiple monitoring centers, and caregiver aids help make LifeFone a personal emergency response system brand worth the cost.
Frequently Asked Questions