Medicare Confusion: Information Overload Makes it Hard to Pick the Right Plan
Though fewer than 10 percent of Medicare recipients intend to adjust their coverage during this AEP, the other 90 percent aren't necessarily happy with their coverage. In fact, 61 percent of enrollees told us that even though their current coverage isn't a great fit, changing their insurance seemed more trouble than it was worth.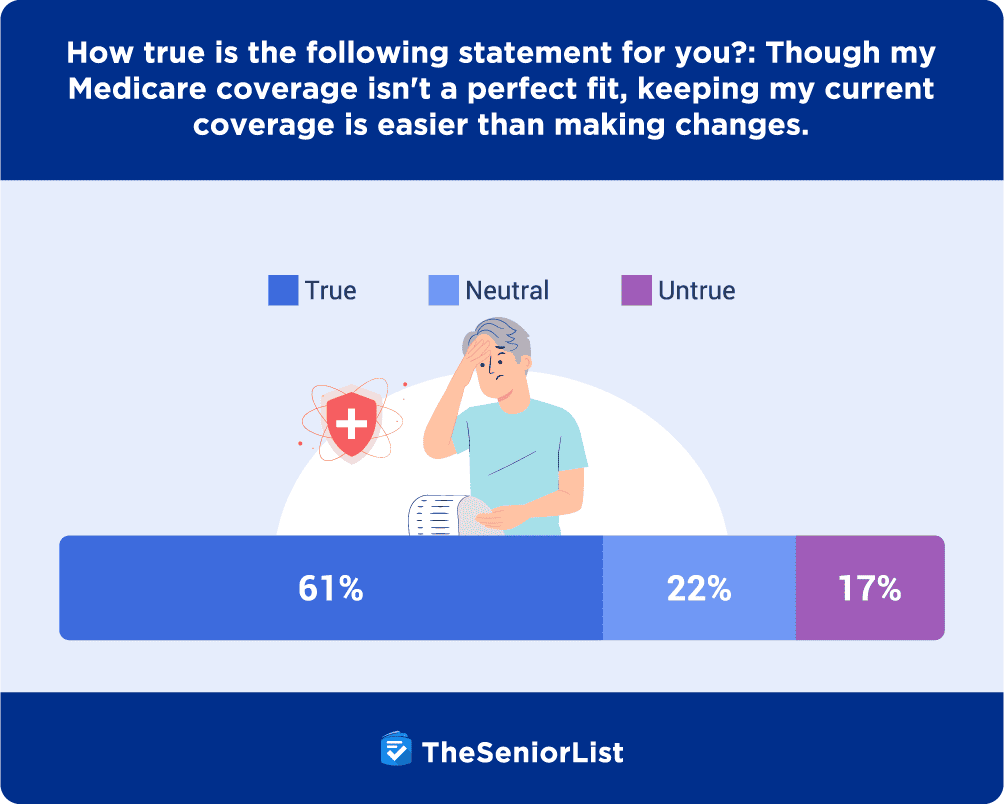 Part of the problem is a lack of clarity regarding Medicare's complicated options and rules. To make informed decisions, recipients require a firm grasp of Medicare provisions, yet too many eligible Americans have misconceptions about the program.
As part of this research, we administered a short quiz about the basic tenets of Medicare (concerning premiums, coverage, providers, and enrollment). Only half of Americans age 65+ answered all Medicare knowledge questions correctly.
| Medicare quiz questions | Correct answer | Percent answering correctly |
| --- | --- | --- |
| True or false: Medicare original has no premiums, deductibles, or copayments. It's free for everyone aged 65 and over. | FALSE | 75% |
| True or false: Medicare Parts B, C, and D have premiums that must be paid. | TRUE | 86% |
| True or false: To get any Medicare coverage, you must go through private insurers. | FALSE | 96% |
| When does Medicare's Annual Enrollment Period (AEP) take place? This is also known as the Medical Annual Election Period. | October-December | 83% |
Just 24 percent of enrollees felt extremely confident that they understood their Medicare benefits. The public needs to be better informed, yet knowing where to turn in an age of aggressive marketing and misinformation can prove challenging.
Competition among private insurers for Medicare business (Advantage, Medigap, Plan D policies) invariably bombards seniors with dubious advertising, further cluttering the matter.
Only 11 percent of recipients trust the unsolicited marketing material received ahead of the AEP. Far more feel indifferent, skeptical, overwhelmed, confused, or frustrated by the deluge.
| How do you feel about the ads, brochures, and information you've received about this year's AEP? | Percent of Medicare beneficiaries |
| --- | --- |
| Indifferent 😐 | 36% |
| Skeptical 🤨 | 26% |
| Overwhelmed 😫 | 24% |
| Curious 🤓 | 22% |
| Confused 😖 | 16% |
| Frustrated 😡 | 16% |
| Trusting 😌 | 11% |
| Relieved 🙂 | 11% |
| Anxious 😨 | 10% |
| Empowered 💪 | 9% |
Note: Respondents could select up to three answer choices
Medicare advertising has become so misleading that the Senate Finance Committee investigated the practices. That inquiry found evidence that "beneficiaries are inundated with aggressive marketing tactics as well as false and misleading information." As a result, the Centers for Medicare & Medicaid Services (CMS) enacted a new rule this year designed to "hold health insurance companies to higher standards…by cracking down on misleading marketing schemes."
These measures should clarify matters, but eligible Americans shouldn't be relying on marketers for their information in the first place.
Scott R. Maibor, LIA, Licensed Insurance Advisor and Managing Director at Senior Benefits Boston, advises enrollees to turn to unbiased information sources like the Medicare.gov website to compare their current coverage with recommendations for the coming year. "If you are uncomfortable doing it alone, get help from a Medicare volunteer or advisor trained to evaluate your needs and compare plans," Maibor added.
Thankfully, most Americans 65+ already take this advice. More than half of respondents cited the government's website as the most trustworthy source for Medicare coverage information.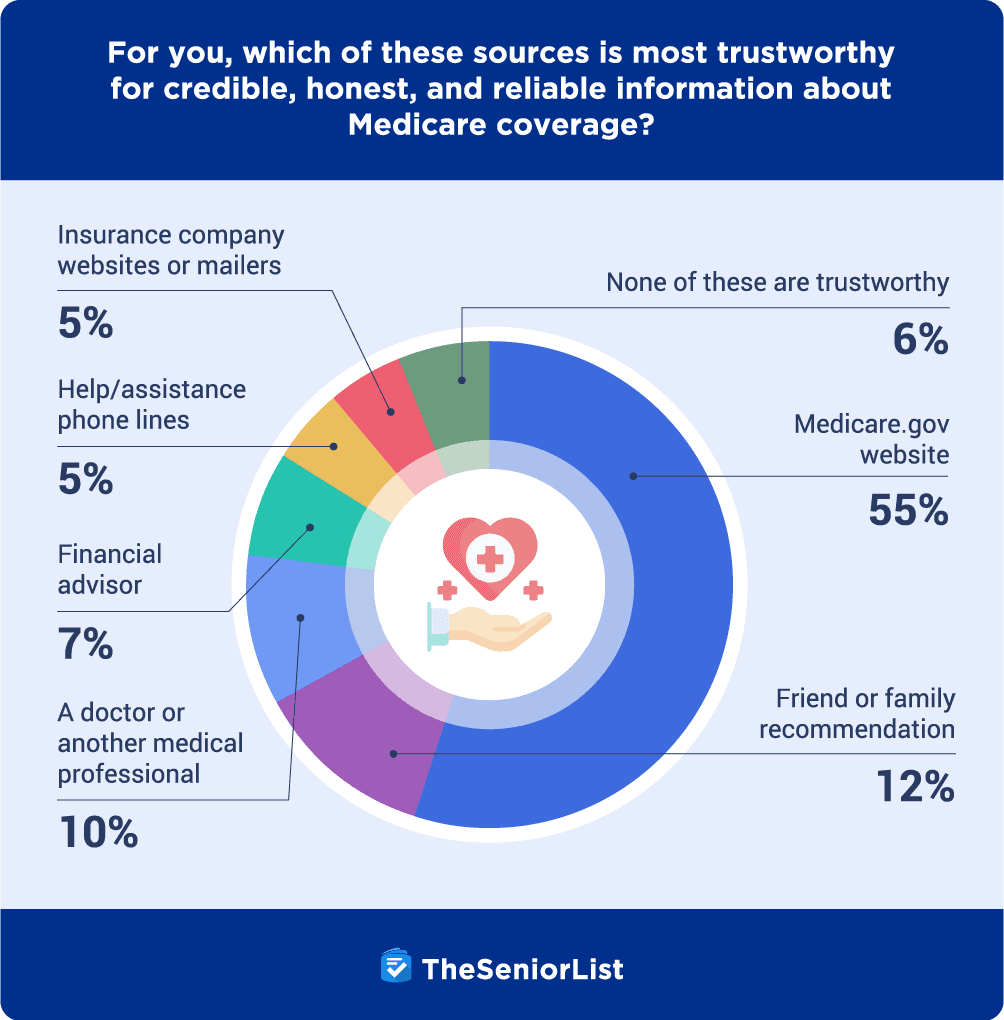 Recommendations from friends and family proved the second most reliable source. While first-hand experience from confidants can be helpful, any word-of-mouth advice should also be confirmed by a medical or coverage authority.
When seeking definitive Medicare info, David Walls of D&D Insurance LLC says, "Get a professional! If an insurance broker does their job correctly, the decision should be easy-to-understand, stress-free, and not too time-consuming." It's important to note that unaffiliated insurance brokers differ from insurance companies or agents representing a single interest.
After being inundated with Medicare information from ad campaigns, many people consult their acquaintances, doctors, and industry insiders. Then, many enrollees do their own homework to make the final decision on Medicare coverage.The average American 65+ invested nine hours of research and analysis before finalizing their insurance coverage.
| Which of these were most influential in helping you choose your Medicare coverage? Select up to three. | Percent of Medicare beneficiaries |
| --- | --- |
| Comparing plan options myself | 52% |
| Medicare website | 32% |
| Spouse, family member, or caregiver helped with the selection | 19% |
| Friend or family recommendation | 18% |
| Doctor or other medical professional | 13% |
| Financial advisor | 11% |
| Help/assistance phone lines | 11% |
| Insurer advertisements or mailers | 11% |
Finally deciding on the best Medicare plan is a relief but should never be considered a final answer. Enrollees need to remain apprised of changes in the law, their insurance coverage, and their health each year.
Terri Swanson, president of Aetna Medicare, said, "Consumers can become comfortable with their plans and may not realize that benefits can change yearly or that they might qualify for additional benefits. It's important to take some time each year to review your plan options to ensure your plan meets your unique and changing needs as you age."
Beneficiaries should review the Annual Notice of Changes sent out for every plan and check in with annual government reports detailing updates in Medicare regulations.
This year's most notable revisions include reduced prescription prices and capped insulin costs (courtesy of the Inflation Reduction Act), expanded mental health outpatient services and chronic pain treatment, elimination of some catastrophic coverage prescription copayments, and free recommended vaccinations.