Today Amazon debuted the new Amazon Echo Show, the next generation Echo that has a 7 inch screen onboard. Staying in-touch with family just got easier…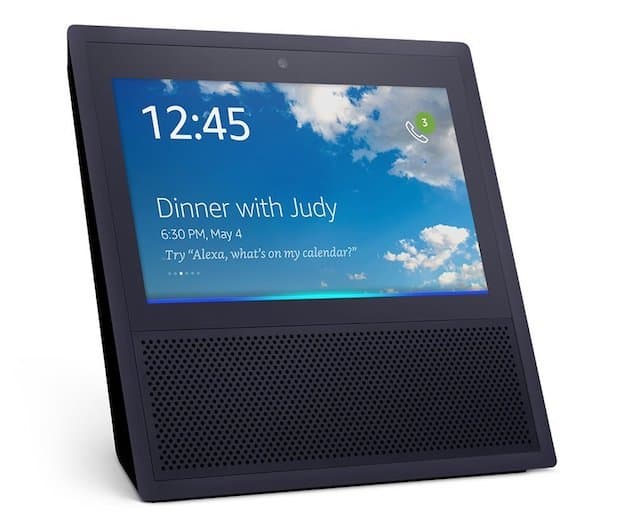 The Amazon Echo Show has the opportunity to be a cornerstone in the connected home.  As far as aging-in-place technology goes, we think this new connectivity wizard takes aging-in-place to a new level. Until we get our hands on one, we'll give you some ideas of it's potential. When we're able to review a production model, we'll provide a full-blown review with our thoughts.
RELATED: AGING-IN-PLACE TECH: BEST MEDICAL ALERT SYSTEMS
The Amazon Echo Show
The Amazon Echo Show lists the following features in it's bio:
The Echo Show brings you everything you love about Alexa, and now she can show you things. Watch video flash briefings and YouTube, see music lyrics, security cameras, photos, weather forecasts, to-do and shopping lists, and more. All hands-free—just ask.

Introducing a new way to be together. Make hands-free video calls to friends and family who have an Echo Show or the Alexa App, and make voice calls to anyone who has an Amazon Echo or Echo Dot.

See lyrics on-screen with Amazon Music. Just ask to play a song, artist or genre, and stream over Wi-Fi. Also, stream music on Pandora, Spotify, TuneIn, iHeartRadio, and more.

Powerful, room-filling speakers with Dolby processing for crisp vocals and extended bass response

Ask Alexa to show you the front door or monitor the baby's room with compatible cameras from Ring and Arlo. Turn on lights, control thermostats and more with WeMo, Philips Hue, ecobee, and other compatible smart home devices.

With eight microphones, beam-forming technology, and noise cancellation, Echo Show hears you from any direction—even while music is playing

Always getting smarter and adding new features, plus thousands of skills like Uber, Allrecipes, CNN, and more
I think there are wonderful implications for the Alexa Drop-In feature. With "Drop In", you can see when your family and/or friends are connected. All you have to say is "Alexa, drop-in on grandma" and poof, the Echo Show rings Grandma!
We'll have more on the Amazon Echo Show, but we'd encourage you to watch the video and think about what this might mean for you and your extended family. We think the future is bright. 🙂