Even as a middle-aged woman without memory loss, sometimes I forget to take medications throughout the day. Let's be honest: most people have a lot going on, and remembering to take that supplement in the early afternoon might not be so easy, especially if you're working or with your grandkids. In this review, I'm testing out a medication dispenser called Hero, which certainly has a lot of advantages over other options I've tried out. In a nutshell, Hero can dispense medications at the correct times that I need to take them, alerting me via an alarm and blinking lights.
In my experience, it really helped me take medications at the correct times and not skip any doses, which made me healthier and stronger. Considering the fact that 54% of adults 65 and up take at least four or more prescriptions a day, pill dispensers can make life easier as well as healthier. But is it too complicated for less tech-savvy older adults? Here's what I found.
Pros and Cons
Right off the bat, there's a lot of things I liked about using the Hero medication dispenser. First of all, it was very simple to use. After I input my medications and the proper times to take them into the Hero app, the dispenser itself sounded and blinked lights at the correct times. For example, right when I woke up, I got an alert to take my multivitamin, a huge help in my always hectic morning routine. From there, all I had to do was push a button and the pill dropped down into a cup. And even if I missed the alert or forgot to push the button, I got alerted through the Hero app, as did any users that I added. Particularly for a senior that lives alone, Hero's app is a great way for caregivers to make sure that older adults are using their medications correctly.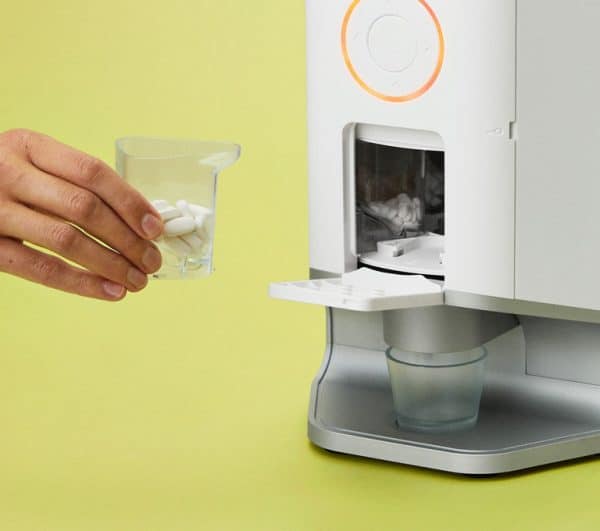 That's not to say that Hero is without its cons. I wasn't thrilled with the fact that technically, I could dispense my medication whenever. While this certainly came in handy when I traveled, I think it could definitely be an issue for older adults with medication abuse issues or memory loss. Another thing to keep in mind is that the Hero dispenser can't hold all types of medications; powders, broken, crushed, or soft tablets and liquids can't go into the device, although I could still add medication alerts to the Hero app. If those cons were enough to sway you away from Hero, check out my list of the best automatic pill dispensers for more tried and tested options.
My Experience with Hero
I started my Hero's journey, pun intended, on their website, which was very straightforward not to mention aesthetically pleasing. There's really not much that was confusing about the website, especially considering they only have one medication dispenser option and one membership plan. Once I clicked join now, I simply had to fill out my shipping and billing information to get the device shipped to my house for free.
Setting Up the Hero Medication Dispenser
A few days later, the Hero arrived on my doorstep. After unboxing it, I plugged it in and downloaded the Hero app on my iPhone, although there's also an Android version available. While the iOS version is called Hero: Medication Manager, the Android version is simply called Hero. Both have ratings of 3.7 and 3.8, respectively, and I agreed with its generally positive reputation; in my experience, the app was intuitive in helping me enter my medications. However, if you don't have a smartphone, you can set the Hero up on a desktop computer. But I'm getting a bit ahead of myself.
Once I downloaded the app, it prompted me to connect the dispenser to my home's Wi-Fi network. From there, I entered all my medications into the Hero app along with the times I was supposed to take them. This process was really easy, as Hero basically gave me instructions as I entered in various medications. As I entered a new medication, I'd fill it into a cartridge within the dispenser. And when I was done taking medication, I simply went into the app and deleted it from my schedule. The dispenser can hold up to 10 different types of medications and depending on the pills' shapes and sizes can last for up to 90 days. Considering I'm going to Hero from a plastic pillbox that I bought from CVS, this was a huge improvement.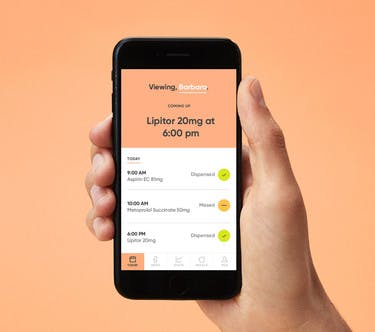 When I needed to take my medications, the device would blink lights as well as play a sound. All I had to do was push a button to get my medications, and if I skipped a dose or was late, the Hero app notified me. While I didn't personally add any caregivers to the app, some older adults may wish to, as you'll have someone making sure you're using the dispenser correctly. I love that Hero lets you add as many caregivers as you want, especially given that 28.5% of those 65 and up live alone. Not to mention that a shockingly high half of older people take medications incorrectly, whether that means not taking it at the right time or skipping a dose. The Hero app makes it easier for family and friends to ensure that the older person in their lives is taking their medications correctly.
Pro Tip: Especially if you live alone, add a caregiver to the Hero app so that they'll be alerted if you miss a dose or take it at the wrong time.
I consider myself to be pretty comfortable with technology, so I was able to take even more advantage of the Hero app. For example, I wanted to make sure that my friend's little kids didn't push the dispenser's buttons when I had them over, so I added a passcode so that only I had access. I also enjoyed seeing a history of my medications within the app and looking up information about each medication to see its side effects, contraindications (times when a drug shouldn't be used like when drinking or driving), and drug interactions. Plus, when I needed help deleting a drug from my schedule, it was really easy to text support right in the app.
Hero Fill
If you're anything like me, then you dislike waiting in long lines for medications, but because of Hero Fill, I never have to do that again. Hero Fill, included with the Everyday Hero membership, meant that my medications were delivered straight to my door. This didn't only apply to my prescribed medications, but also over-the-counter medications like Advil when I had a headache, or even supplements when I wanted to get more vitamins. Not only was delivery included with the membership, but the service also refilled my medications automatically. No more talking to a CVS robot for me!
But the best part was the fact that my co-pays didn't change with Hero Fill. Rather, insurance covered it like usual. If you don't already have your prescriptions delivered, I highly recommend it. I certainly didn't miss waiting 20 minutes to get a refill.
It's clear that the Hero medication dispenser works well and provides a very valuable service. If an older adult takes a medication incorrectly, they could be putting themselves at risk of death or other health complications, as well as pain, both physical and psychological. Of course, everything has a cost, and Hero is no exception.
Membership Costs and Comparing to Competitors
Pricing is where things get a bit dicey for Hero, a device that I rented not purchased. The initiation fee is $99.99, and from there, the Hero membership costs $29.99 a month. After the first 30 days, Hero bills you monthly unless you cancel within the first 12 months. At that point, you'll pay for the remainder of their 12-month commitment period.
The Hero only works with a membership; when I canceled the membership when I was done testing it out, I could only use the Hero for five more days before I had to empty my meds out and send it back. However, when compared to other automatic medication dispensers, Hero is actually pretty affordable, believe it or not.
| Medication Dispenser | Activation Fee | Monthly Fee |
| --- | --- | --- |
| Hero | $99.99 | $29.99 |
| Livi | $130 | $99 |
| MedaCube | $1,499 | $0.00 |
| Philips Lifeline | $99 | $59.95 |
Even though $29.99 a month may seem like a lot of money, it's actually one of the lowest rates I've seen from an automatic medical dispenser company. Livi, for example, charges $99 a month on top of its $130 upfront cost, while Medacube charges a flat rate of $1,499 with no monthly fees. Depending on how long you use it for, Medacube could end up being cheaper, but as far as monthly rates go, Hero is actually on the lower end.
There's only one plan to choose from with Hero, and again, I needed to pay for the membership as long as I used the dispenser. However, keep in mind that Hero does offer a 30-day trial; if you want to return it within the first 30 days, you can do so for free. Since I knew I was returning the Hero, I made sure that I did it within this time period; otherwise, I'd be charged a $399 cancellation fee, a definite drawback of Hero. And only after the first year could I cancel without incurring that pricey fee, minus the initial 30-day trial period.
Once I canceled Hero, I had about five more days while it could still dispense my medications. But when that period was over, I released all of my pills and mailed the dispenser back to Hero, which they covered via a free return label. So although I wish they would get rid of that cancellation fee, if you remember to return the dispenser within 30 days, you can get out of it.
Remember: If you want to return your Hero medication dispenser before the first year is over, be sure to do it within the first 30 days of purchase; otherwise, you'll be charged a $399 cancellation fee.
In general, returning the dispenser was easy. I had the option of either emailing customer support or calling them directly; I opted for email and received that free shipping label within a few days. And because I got it back within 30 days of receiving the device, again, I was able to avoid that cancellation fee. However, if for some reason I got a return label and never sent my device back, I'd be charged $1,500. Clearly, Hero's cancellation fees are a pretty big drawback, especially if you're a forgetful person who's not good at adhering to tight deadlines. But given how well Hero worked for me, I don't think you'll be returning it anytime soon.
Accessories
Aside from the actual dispenser itself, Hero offers a few accessories.
| Product | Price |
| --- | --- |
| Essential Kit | $29.99 |
| 10 Replacement Cartridges | $24.99 |
| 3 Replacement Cups | $14.99 |
| AC Adapter | $34.99 |
Here's a brief overview of each item:
Essential kit: This kit includes three replacement cartridges, a cup for the medication as well as two tools.
3 or 10 replacement cartridges: I'm not exactly sure why or how anyone would lose the cartridges in the Hero, but if you do, you can buy a pack of three or 10 replacements.
AC adapter: Finally, the AC adapter is a good option if you want to put your Hero somewhere far from an outlet. Basically, it's an external battery for the dispenser to get its power from.
Now, personally, I didn't have to buy any of these accessories to use my Hero medication dispenser; they're more replacements of existing parts than accessories aside from the AC adapter, in my opinion. To keep your costs low, I'd just stick to the dispenser on its own as I did.
Customer Support
Although I found the Hero easy to set up and use, I also wanted to know that there was a robust and responsive customer support team available if I needed them. In my experience, I could find most of the answers to my questions on Hero's online FAQ section, which was pretty thorough. But if I couldn't find my answers there, I also had the option of giving them a call, emailing or chatting with them via Hero's website. When I used the live chat feature to ask about the purpose of the accessories, I got a response a few minutes later, but more old-fashioned customers will appreciate the fact that they have a phone line as well. Overall, I was happy with the support I got from Hero, although I didn't need much help to begin with.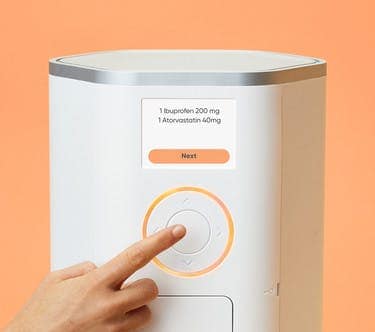 Summary
If you're an older adult who takes multiple medications a day, or if you care for one, the Hero is a great way to stay on top of everything. Even though $29.99 a month may seem a bit expensive for what are essentially medication reminders, the Hero can keep the pills out of the wrong hands via a passcode, as well as alert outside caregivers of the user's activity.
All in all, I would certainly recommend the Hero as your automatic medication dispenser, but it's also not for everyone. Adults that can't be trusted to take their medications correctly should not use the Hero, as they can technically dispense the pills whenever by pushing the button. It's also not a great option if your medications include things like liquids and gummies, which can't fit in the dispenser. Otherwise, Hero makes it easy to take your medications correctly, which could have a huge impact on your overall health.