Multiple studies suggest that continuing to learn as we age helps keep the brain sharp and ultimately, delay cognitive decline.1 Seniors across the country are seeking out ways to acquire new skills as they retire or find that educational opportunities from their employer have slowed. Though some want to get ahead at work, most see lifelong learning as a way to feel more personally fulfilled.
We asked seniors aged 60 and over about lifelong learning to find out more about plans and what they hope to gain. What we found is that many seniors are interested in continuing to learn and grow, and they are ready and willing to pay for education.
Key Findings
Nearly one-third of seniors (31 percent) are interested in continuing their education.
Enjoyment of learning, increase in personal development, and personal fulfillment are top reasons seniors are pursuing education.
More than one-third of seniors (35 percent) interested in continuing their education want to earn degrees, including 20 percent that are interested in a graduate or doctorate degree.
COVID-19 has influenced seniors' thinking. Thirty-eight percent of seniors interested in continuing their education say the pandemic influenced their opinion.
Seniors are open to online learning; just 10 percent say they want "in-person only" education.
Fifty-eight percent of respondents expect to fully fund their educational goals.
Many seniors are lifelong learners and are planning to continue their education
Seniors are not just interested in lifelong learning, many are actively pursuing it. In fact, nearly one-in-five seniors (19 percent) say they have taken an academic course, either online or in person, within the last six months. Thirty-one percent said they have plans to enroll in academic classes at some time in the future, which equates to more than 21 million seniors2, including eight million (12 percent) that are interested in enrolling in the next year.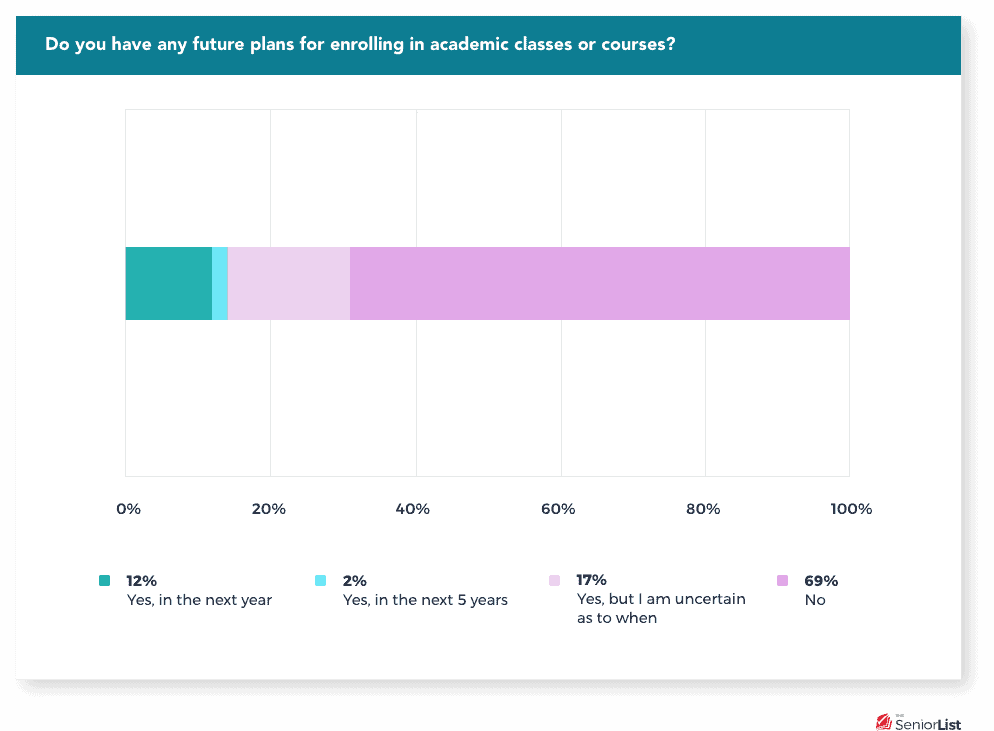 Seniors cite personal development and a love of learning as top reasons to enroll in courses
When asked what is appealing about lifelong learning, the vast majority of those who said they were interested in pursuing academic classes responded that the enjoyment of learning (82 percent), increase in personal development (73 percent), and personal fulfillment (75 percent) were motivators. These personal reasons were much bigger drivers for a continued education than those associated with career goals and earning potential.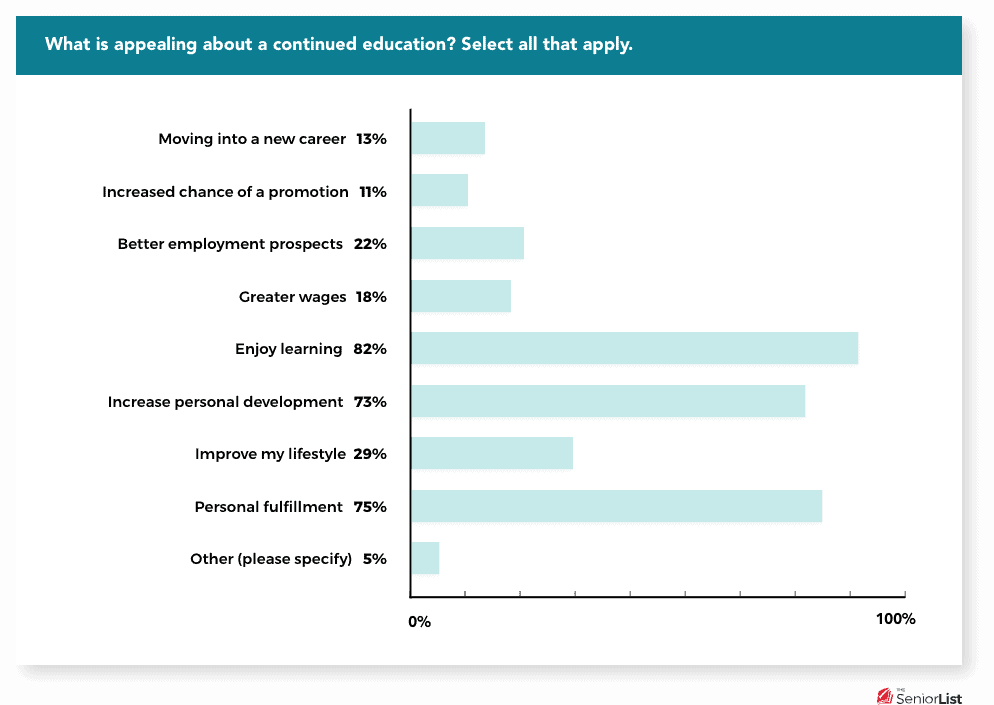 When asked to select what the primary motivation for lifeline learning was, the top three answers were the same and combined for almost two-thirds of all responses: personal fulfillment (27 percent), enjoyment of learning (26 percent), and increase in personal development (21 percent). Likely reflecting the fact that those 60 and older are nearing the end of their careers, the answers of moving into a new career, increased chance of a promotion, better employment prospects, and greater wages all combined to total just under 14 percent of responses.
Some seniors are pursuing higher education degrees
While the majority of those interested in continuing their education say they will pursue non-degree or certificate-based programs, 15 percent want to earn a bachelor's degree, 12 percent a graduate degree, and eight percent are interested in achieving a doctoral degree. Older adults pursuing degrees may be attempting to start a new career, get ahead in their current job, or simply complete a lifelong dream that may have been put on hold.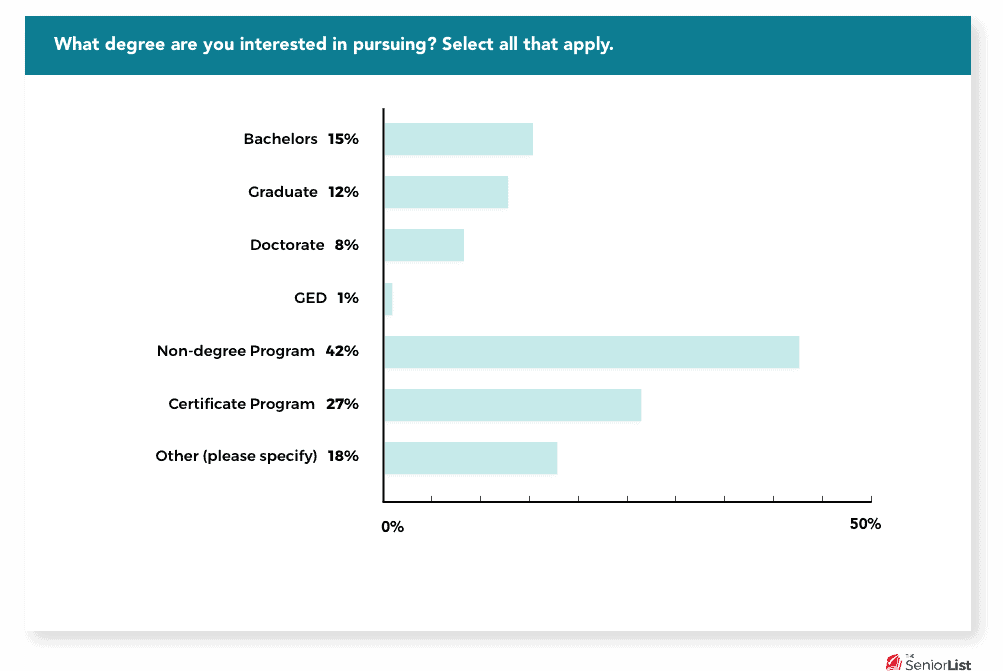 COVID-19 has influenced decisions; Seniors are open to both online and in-person learning
We asked seniors interested in continuing their education if COVID-19 was an influence. Nearly 40 percent said it was.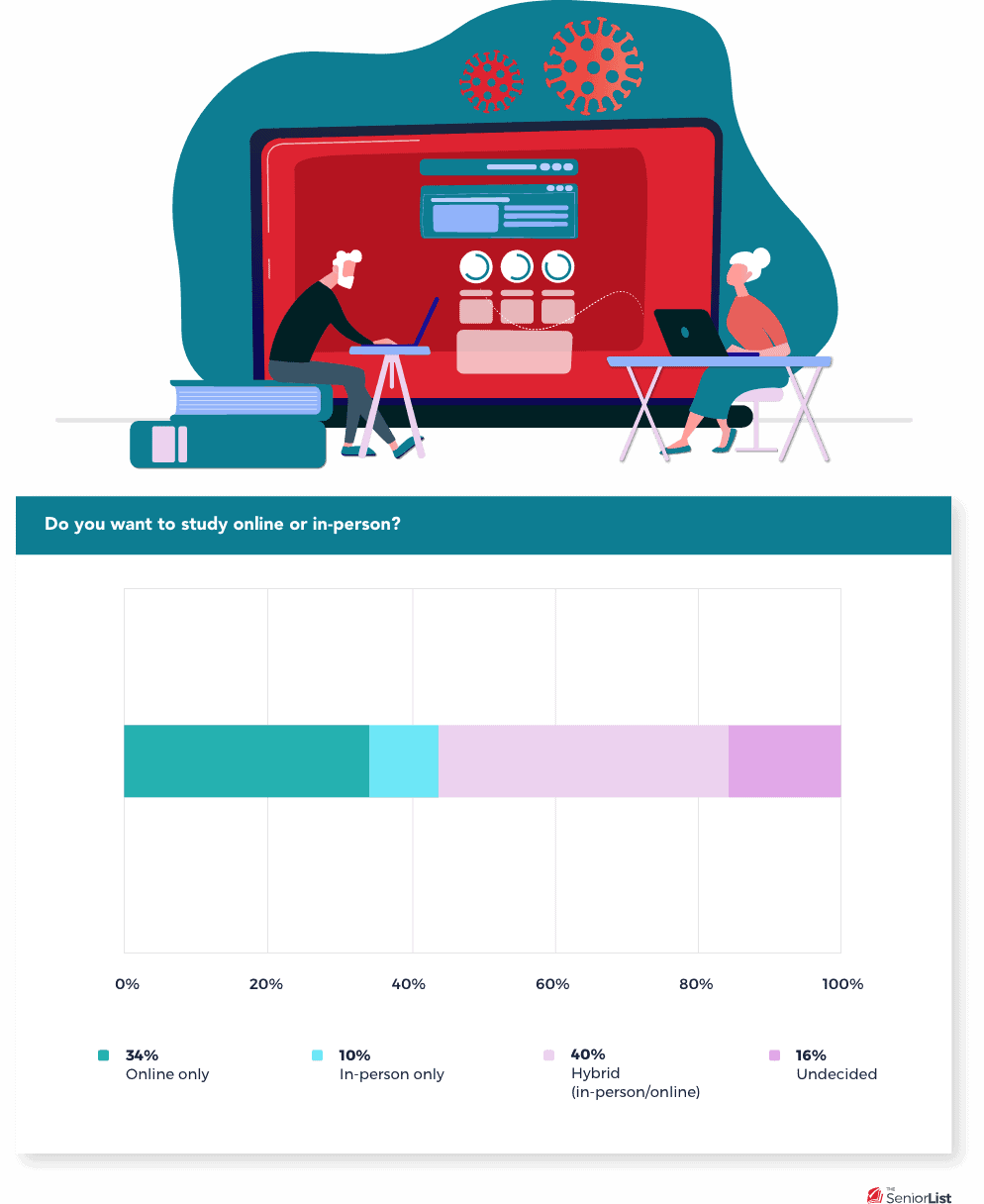 Approximately 10 percent of seniors said that they are interested in in-person only opportunities.
The majority of seniors expect to fully fund their own educational goals
Fifty-seven percent of those interested in taking classes are planning to pay for those classes out of pocket, offering them the greatest amount of options. Twenty-four percent are only interested in enrolling in free programs, and the remaining 19 percent expect to have a scholarship or employer help with costs.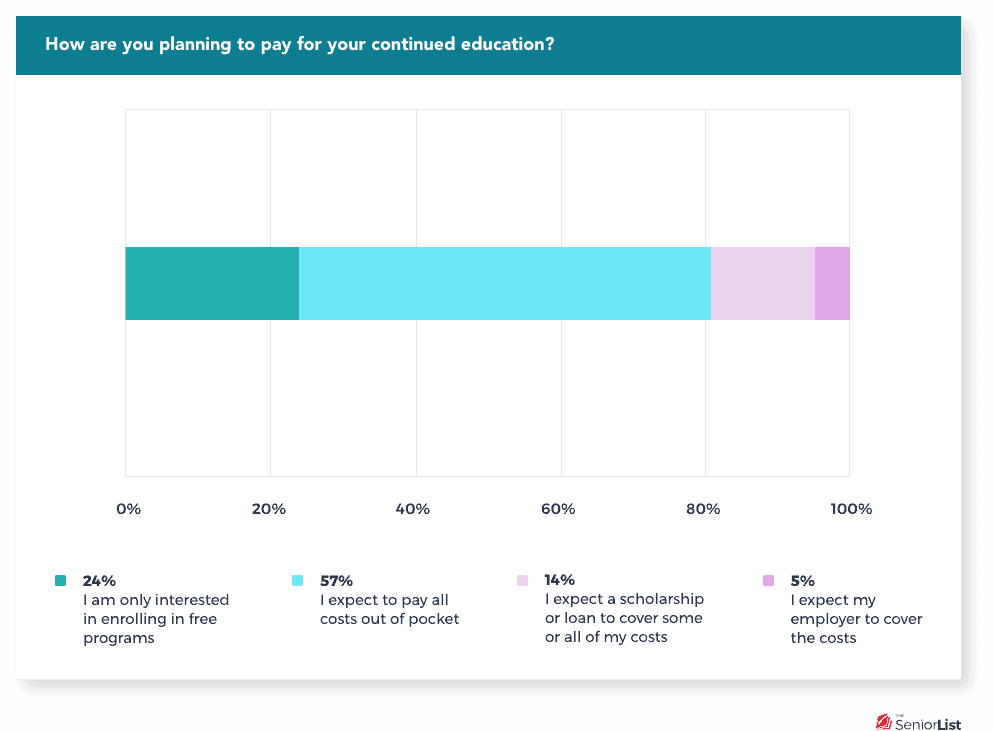 Healthcare & Psychology and Arts & Science are the most popular areas of study
These two subject areas combine to represent a full 43 percent of all seniors pursuing continuing education. The rest of responses were highly fragmented, suggesting a wide variety of interests among seniors.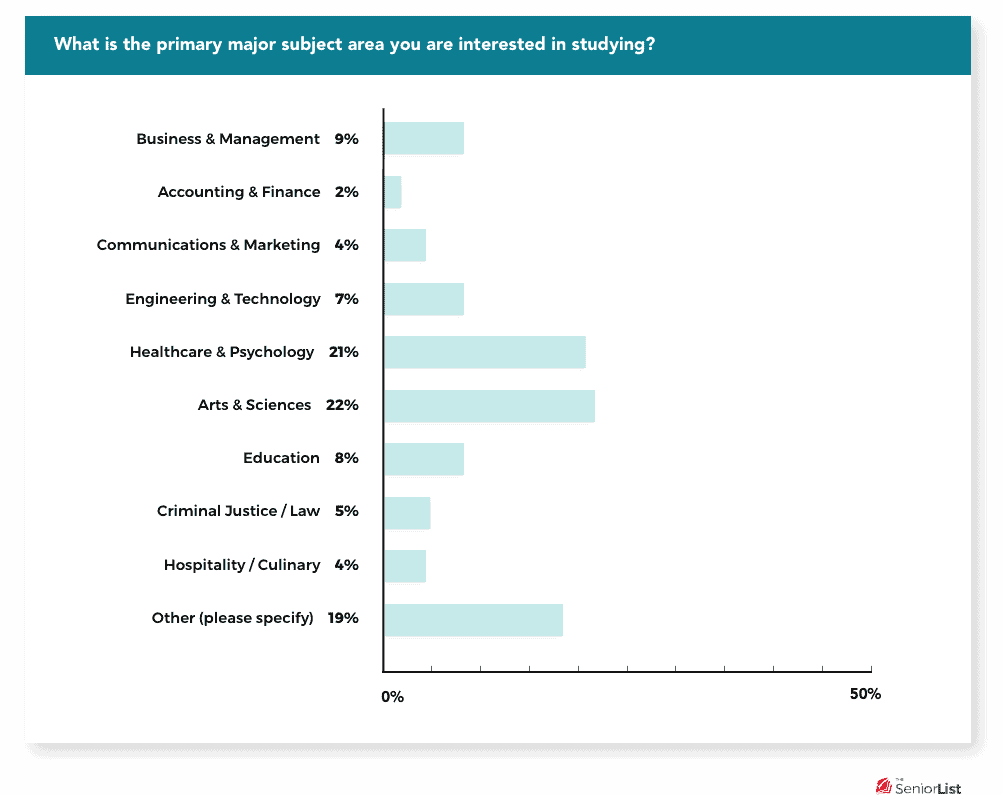 Senior education is a huge market opportunity for schools willing to embrace it. Older Americans are excited about learning and many are ready to jump in when presented with the right opportunity. Mixing socialization with a fulfilling learning environment is an opportunity to help seniors continue their love of learning long past their working years.
Sources: