Updated: July 8, 2018
Did you know that Amtrak offers a senior discount? That's right, the iconic train service serving the US and Canada offers Amtrak senior discounts, and not many people are aware of this perk!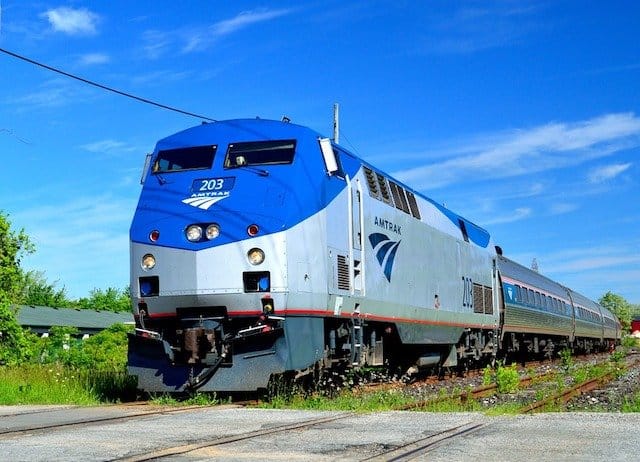 Amtrak serves more than 500 destinations in 46 states and three Canadian provinces, operating more than 300 trains each day over 21,300 miles (34,000 km) of track. Some track sections allow trains to run as fast as 150 mph (240 km/h). – wikipedia
RELATED: BEST LIST OF TRAVEL DISCOUNTS FOR SENIORS
Amtrak Specials for Seniors
In the USA, Amtrak senior discounts are offered to those age 65+ and provide a 10% discount on the lowest available rail fares.  These senior discounts are offered on most Amtrak trains. On cross-border services, (operated jointly by Amtrak and VIA Rail Canada), a 10% Senior discount is applicable to travelers aged 60 and over.
It would be a lot easier if Amtrak and VIA Rail Canada came together and offered a consistent senior discount, but they haven't called to ask The Senior List for help… (yet). 🙂
Amtrak Senior Discount Details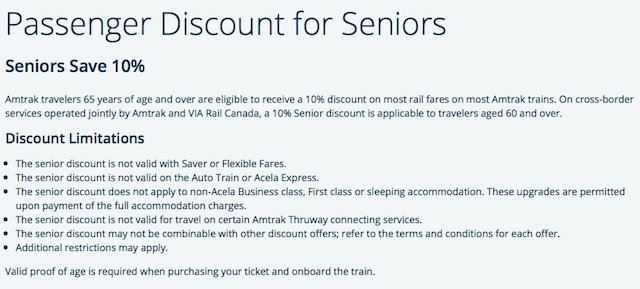 There are Limitations – Here's what Amtrak has to say about their senior discount program:
The senior discount is not valid with Saver Fares.
The senior discount is not valid on the Auto Train.
The senior discount is not valid on weekday Acela Express trains.
The senior discount does not apply to Business class, First class or sleeping accommodation. These upgrades are permitted upon payment of the full accommodation charges.
The senior discount is not valid for travel on certain Amtrak Thruway connecting services.
The senior discount may not be combinable with other discount offers; refer to the terms and conditions for each offer.
Additional restrictions may apply.
Travel by rail is becoming quite popular again. As airports become more and more crowded, and the security lines get longer and longer, people are opting for a more relaxing experience. The train is a great way to go.
If you're into dining out, you should definitely check out our BIG LIST of Restaurant Discounts for Seniors. You'll be glad you did!