When you don't have any mobility issues, it's easy to take a lot of things for granted. But when mobility becomes a struggle, as it does for many seniors, seemingly easy routines can suddenly become dangerous. And as the wettest room in the house, the bathroom is one area that can cause dangerous situations for seniors.
In fact, thousands of people (not only seniors) visit the emergency room each year because of falls in the bathroom. Bathroom conditions are simply ripe for accidents. When you have a senior who is losing mobility, you need to help prevent those accidents. Design a safe and accessible bathroom for the senior in your life with these tips.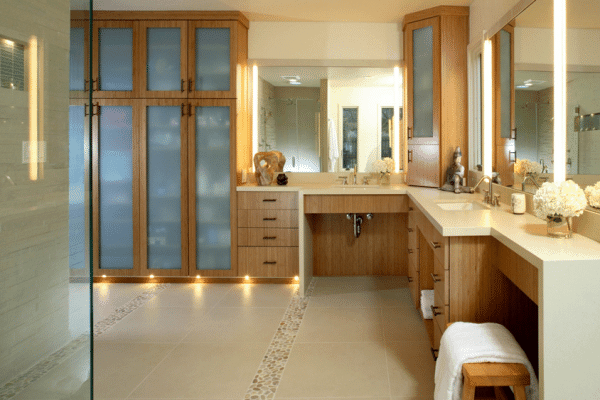 Accessible Bathrooms: Before You Begin
Before you plan an accessible bathroom, make a list of the complications that may be faced in a bathroom with the specific mobility issues encountered by the senior in your life. For example:
Is there medical equipment that needs to be maneuvered throughout the room?
Do you need space for a wheelchair?
Does the user need assistance with any activities?
Will the user's condition remain the same, or deteriorate over time?
Where will the user need grab bars?
Does the user have any vision issues?
Answering these questions will help you make the right decisions in each of the following areas of the bathroom.
Shower/Tub
Remember that stepping over the edge, and lowering oneself down into a tub can be difficult for a senior with mobility issues. Even a small threshold in a shower can be a problem if a senior is in a wheelchair or uses a walker. Consider installing a walk-in bathtub, with a swinging door that allows the user to step inside and then fill up the tub with water.
Or consider a zero-threshold shower. Without a curb, these showers allow for a user to easily walk or wheel into a shower. A shower seat is also a good idea no matter the type of shower, and non-slip flooring is a must. There should also be a grab bar in the shower and/or tub.
During your remodel consider wide doorways, hard floors and accessible, yet attractive, bathrooms.
Bathroom Sink and Vanity
Remove the cabinet below the sink. This will allow for knee space if the user is in a wheelchair. You will, however, need to create another space for easily-accessible storage. Pull-out shelves are a good option if you have space.
The space below the sink in an accessible bathroom should have a 27-inch clearance for knees, and the sink should be no higher than 34 inches. Install a tilted mirror that will allow for a seated person to easily see themselves to get ready.
Movements like grabbing and turning can become difficult with old age, so install a single-handled faucet to remove that frustration. And don't forget to lower the hot water temperature to prevent burns.
Toilet
The toilet in an accessible bathroom should be between 17 and 19 inches high so that transferring to a wheelchair or walker is easier and more comfortable. If you can't replace the toilet, you can purchase a seat extender in a home health care store.
At least one grab bar should be installed near the toilet, but two grab bars on either side of the toilet is an even better set-up. Interestingly enough, you can now find grab bars that are stylish and don't necessarily look like they belong in a hospital room.
Make sure the toilet paper roll can be easily reached, and consider a style that allows for one-handed use. A bidet is also a good option for many seniors.
Lighting
Shadows can be dangerous for a senior navigating a bathroom. Make sure the room has proper lighting, including natural light. Install lighting all throughout the bathroom, and include dimmers so that glares can be controlled. In addition, place the light switches lower than normal so they can easily be reached by someone in a wheelchair. You can even install motion detector lighting that will make the process simpler for the user.
Fortunately, aging in place is possible for many people with some thoughtful adjustments to the layout and use of the bathroom.