Best Walk-In Showers With a Seat
Due to their ease of access, walk-in showers are a great tool to help those with mobility issues safely bathe themselves. They are also popular amongst families with children, pets, and those who prefer them for aesthetic reasons.
Other benefits of walk-in showers include ease of cleaning and the potential to open up your bathroom space. Let's take a closer look at walk-in showers––what styles they come in, what installation looks like, and what prices you can expect.
Who Needs a Walk-In Shower with a Seat?
Walk-in showers have universal appeal. You may find them in high-end resorts as well as senior living communities and single-family homes. Older adults, in particular, should consider installing a walk-in shower with a seat, especially if they are remodeling or looking into a new home.
Not only do walk-in showers create a sense of luxury in the master bathroom, but they also safeguard seniors against slip-and-fall injuries, which can cause critical injuries. According to the CDC, about 235,000 injuries happen in the bathroom each year. In addition to preventing slip-and-fall accidents, including a seat or bench in your walk-in shower adds an extra level of comfort and convenience.
Pro Tip: Investing in a walk-in shower is also an investment in your overall home value. In general, a home with a walk-in shower will sell at a higher price than one without––especially in communities with higher senior populations.
Types of Walk-In Showers
Walk-in showers can take on many shapes and styles. Here are some key styles to look out for.
Open walk-in: A typical style for walk-ins, an open shower has no door and is spacious with a low threshold.
Corner walk-in: If you have limited space for your walk-in, a corner walk-in can provide comfort within your size constraint.
Shower room: For a more spa-like setup, a shower room is a great option. By creating or utilizing an existing enclosing wall, you can opt for a sauna feel with a doorless shower room.
Curved enclosure: If you'd like to add some luxury, you can opt for a half-moon style enclosure for your walk-in shower by utilizing a curved glass enclosure.
Features of a Walk-In Shower
Here are some important features to consider if you're thinking of adding a walk-in shower.
The shower base is arguably the most important feature of a walk-in. This foundational piece can be prefabricated or custom-made. Typical shower bases are made of materials such as acrylic, fiberglass, or tile. High-end shower bases can make use of solid materials such as marble. You should prioritize slip-resistance and low threshold when selecting a shower base, but there is no need to sacrifice style!
While many walk-in showers are doorless for the sake of easy access, you can still choose to install a door if you want more privacy. You'll find most manufacturers offer glass door options, some with towel bar attachments.
Grab bars are essential for your walk-in shower. Installed onto your shower walls vertically, horizontally, or on an angle, grab bars ensure weight support and stability.
As you can imagine, there are hundreds if not thousands of showerheads out there to choose from. However, I personally recommend people select a handheld showerhead or one with a handheld attachment. This will come in handy, especially when you're using your shower seat or are washing hard-to-reach areas.
A shower seat or bench is a walk-in shower essential for seniors. This feature can be either attached to the shower wall or can be purchased separately as a stand-alone piece. There are benefits to both options: a stand-alone piece is a more economic option, while an attached seat will eliminate potential trips or bumps.
Pro Tip: Though lighting may not immediately come to mind when you think of your new shower, a well-lit shower area can help prevent missteps while also improving the general atmosphere. Additionally, you may want to go for a light/exhaust fan hybrid to remove excess moisture from your bathroom
Best Walk-In Showers with a Seat
We've broken down the specifics on three of the more popular walk-in shower manufacturers for a comprehensive look at the process, features, and costs associated with each.
Kohler
An industry standard, Kohler LuxStone walk-in showers are completely customizable and feature a unique crushed stone blend that's sturdy and chip-resistant.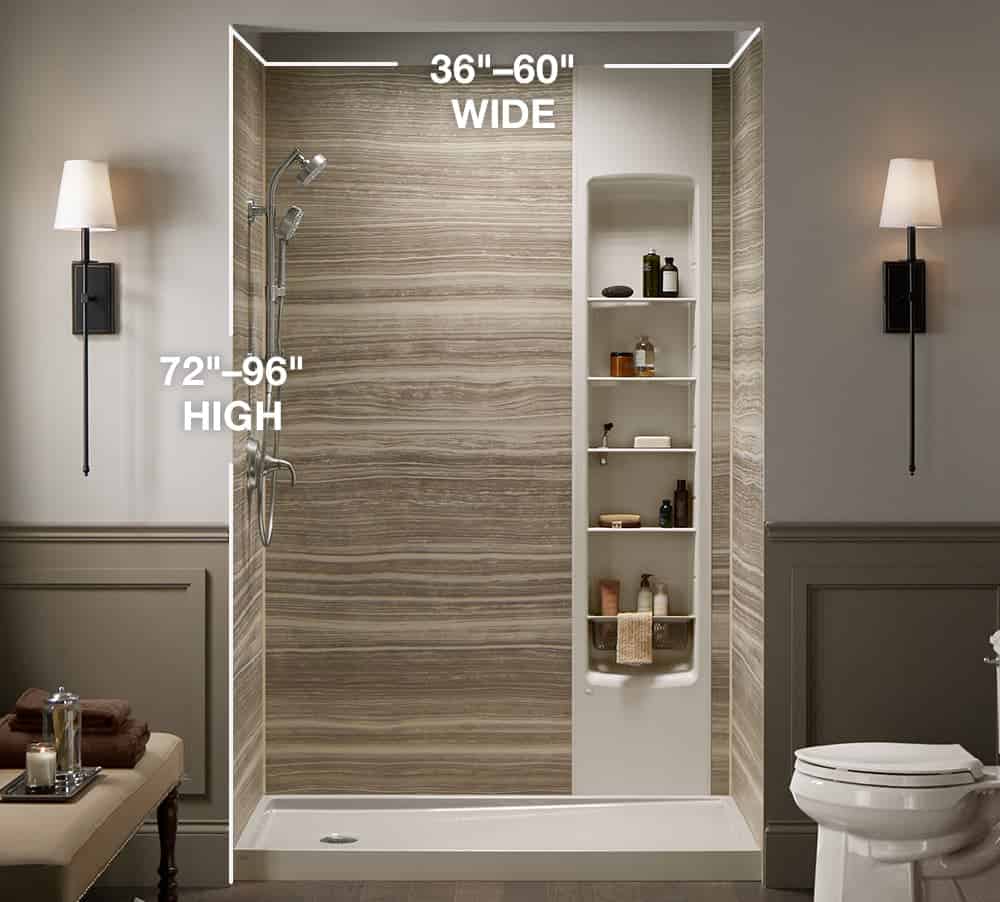 Models: As the Kohler LuxStone is completely customizable, you build your own shower by individually choosing your walls, showerhead, shelving, seating and grab bars.
Safety Features: An industry leader, Kohler is committed to incorporating safety into their designs at every level. This includes slip-resistant surfaces and ergonomic safety bars. With customization, you can select features particular to your [safety needs].
Additional Features: In addition to safety features, Kohler offers extras such as shower hooks and shelving options.
Quotes: You can easily contact Kohler or a Kohler authorized dealer to set up an in-home or virtual consultation. The consultation and quote are free. Quotes are calculated with installation included, and Kohler has a "no surprise fees" policy, so you can expect to pay your given quote and no more.
Installation: Kohler will send a small team to your home to dismantle and discard your old tub, and completely set up your new one (including plumbing and electric) with minimal disruption.
Warranty: Kohler walk-ins come with a lifetime limited warranty covering manufacturing defects and functional issues. Kohler has the largest door opening in the market for easy access and an open-air feel.
Cost Range: Prices widely vary, as each shower is customized to your space. Expect prices to start around $3,500.
Anything Else: Shower bases are all at a comfortable three-inch height, so your shower is easy to step in. Kohler carries ADA-compliant products.
Our Verdict: Kohler is the best option for those who are focused on style. With safety features and the bonus of luxury upgrades and finishes, Kohler is a great manufacturer to consider if you plan to spend a lot of time admiring your new shower.
Safe Step
Safe Step is known in the industry for specializing in walk-in bathtubs and showers with a focus on safety and accessibility.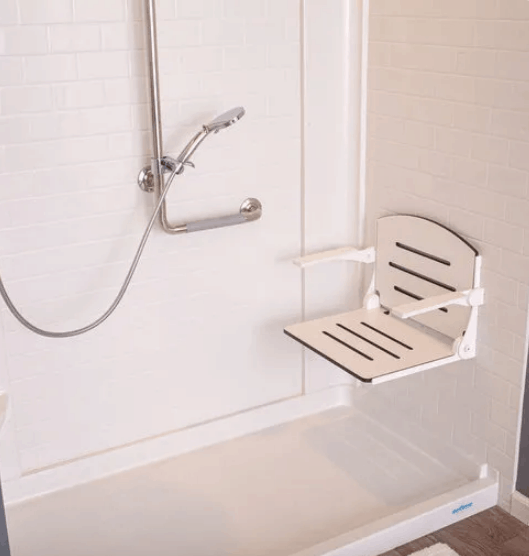 Models: Their walk-in showers all have a standardized white coloring with vinyl tile accents and come in different sizes to fit your space. Some models have upgrades such as metal finishes and glass doors.
Safety Features: Safe Step's first-rate safety features (three-inch thresholds, non-slip flooring, grab bars, balanced temperature and pressure, and hand-held showerheads) come standard with all models. Medical grade seat upgrades are available.
Additional Features: All walk-in showers include variations of shelving and seating. You can opt to upgrade the finish on metal components to chrome, bronze, or nickel finishes. Safe Step also offers optional glass doors.
Quotes: Safe Step will send an expert technician to your home for a free, no-obligation assessment and detailed estimate.
Installation: Industry professionals will take care of the removal of your old shower, complete installation, and clean-up. This process typically takes one to two days.
Warranty: Their walk-in showers boast a lifetime warranty on parts and labor. You can call their hotline for assistance at any time.
Cost Range: Your technician will generate a personalized estimate for your space. Most models start around $4,000.
Anything Else: Safe Step offers senior and veteran discounts. Be sure to discuss your discount options with your technician.
Our Verdict: For those who would like to prioritize safety and comfort, Safe Step is a reliable company with a great reputation for walk-ins and an unbeatable commitment to safety.
American Standard
American Standard is a widely recognized plumbing fixture manufacturer. Though they don't offer full-service custom design and installation, you can handpick from a variety of models and fixtures to be installed by your plumber of choice.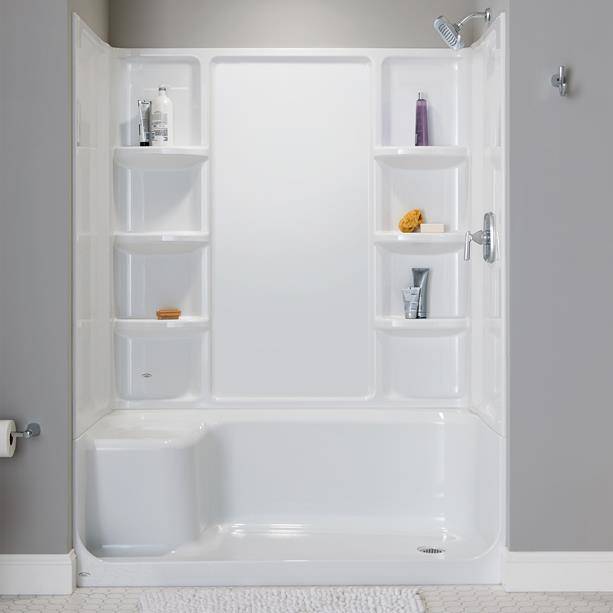 Models: You'll find a wide range of component parts for your walk-in shower, including shower bases, complete shower wall sets, and showerheads.
Safety Features: American Standard offers plenty of safety-conscious options, including ADA complaint anti-scald thermostatic controls and safety shower bases with built-in seats.
Additional Features: You'll find solid surface shower bases that lessen the risk of slip-and-falls.
Quotes: As American Standard doesn't offer full-service design and installation, prices will widely vary. You can use the price filtering tool on their product search to search strictly within your budget.
Installation: If you decide to go with American Standard products for your walk-in-shower, I'd advise that you contact a plumber before making any big decisions or purchases. Your plumber will most likely offer an expert opinion on what would work best for your space and budget.
Warranty: All American Standard products carry either a 1-year, 5-year, 10-year, or lifetime warranty. Warranties cover replacement and repair. You must register your products in order to validate the warranty.
Cost Range: Though prices widely vary depending on your choices of features and fixtures, you should expect to pay a minimum of $2,000 total for shower component parts. Labor costs will be additional and vary by the servicer.
Anything Else: Some American Standard products are available exclusively at Home Depot. They will be labeled as such on their product page.
Our Verdict: American Standard offers all the working parts needed for a standard walk-in shower, but lacks the special features and ease of a custom design. You can still install a great walk-in shower and likely save a few bucks by going this route, but make sure to consult a plumber at the beginning of the process for the sake of efficiency.
Recap
Your shower should be a place where you can slip into relaxation comfortably and safely. For seniors considering upgrades or changes to their homes, walk-in showers offer safety features and adaptability for lifestyle changes in the years ahead.
Frequently Asked Questions
What is a hybrid walk-in?

Hybrid walk-ins combine the features of a walk-in shower and a walk-in tub for a low-threshold, high comfort bathing experience. Hybrid walk-ins are relatively new to the industry and generally carry a higher price tag than a singular shower or tub.

Does Medicare cover walk-in showers?

Original Medicare does not cover the cost of walk-in showers as they are not considered durable medical equipment. However, you may qualify for partial compensation depending on your unique situation, so it never hurts to ask. Additionally, those with Medicare Advantage may have coverage for a shower remodel. This varies by plan and state, so be sure to contact your insurance representative for details.

Are walk-in showers difficult to clean or maintain?

Luckily, walk-in showers are no more difficult to clean or maintain than a standard shower. However, if you opt for a teakwood bench or shower seat, you will need to regularly clean and oil it using special products.