Senior Car Insurance Guide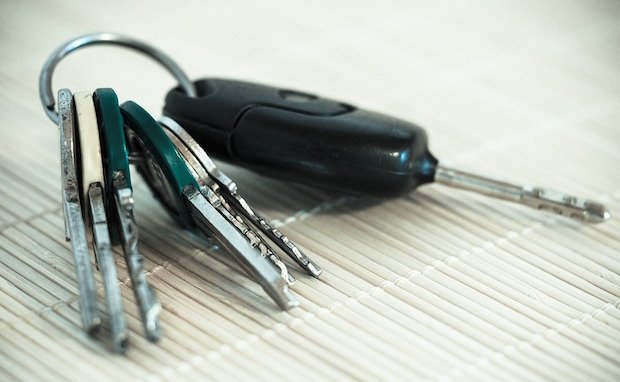 I'm often asked how to keep older adults safe while on the road, and one way to do that is to ensure they have the right insurance. While some companies make it difficult for seniors to obtain affordable rates, there are many providers that provide solid insurance policies to older individuals.
For seniors, the better the driving record, the better the discounts. Many companies offer money for those over the age of 50, with discounts increasing every five years. In this rundown, we'll take a look at some of our favorite car insurance providers and review the ways in which they offer seniors the best deals out there.
How Do Seniors Get Car Insurance?
Older adults go about getting car insurance the same way as everyone else, either through an insurance agent or online. These days, you can go to most insurance websites and get a quote by putting in your zip code, address, and vehicle information.
For those who prefer to purchase insurance over the phone––or those who don't know what exactly they need––you can call or go through a third-party agent. When getting car insurance, it's important to let the agent know you are a senior to get the best rates.
Additionally, if you already have car insurance, and you start driving less, you should call the company that insures you, as this can also impact the price. Usually, the less frequently you drive, the less you'll pay. It's also important to note, however, that age plays a role, so even though you may get a senior discount, as you get older, you could find yourself paying more than you did in your younger years.
Savings Tip: If you start driving less, you may be eligible to pay less for car insurance. Make sure to let your insurance company know if your mileage changes, as this could impact how much you pay.
Average Car Insurance Rates for Seniors
Insurance rates vary from state to state. These are the average prices for older adults living in Florida, a state with one of the largest senior populations.
Companies
60-65 years old
65-70 years old
70-75 years old
AARP Auto Insurance

Average Annual Premium: $1,132
Average Monthly Premium: $111

Average Annual Premium: $1,140
Average Monthly Premium: $111

Average Annual Premium: $1,190
Average Monthly Premium: $115

Geico

Average Annual Premium: $920
Average Monthly Premium: $77

Average Annual Premium: $928
Average Monthly Premium: $77

Average Annual Premium: $977
Average Monthly Premium: $81

USAA

Average Annual Premium: $478
Average Monthly Premium: $40

Average Annual Premium: $501
Average Monthly Premium: $42

Average Annual Premium: $542
Average Monthly Premium: $45

Allstate

Average Annual Premium: $1,752
Average Monthly Premium: $146

Average Annual Premium: $1,816
Average Monthly Premium: $151

Average Annual Premium: $1,833
Average Monthly Premium: $153
FYI: Not all companies offer insurance in all states, and prices vary depending on where you live. When looking for insurance, it's imperative seniors double-check with an agent that there is available coverage in their state.
Licensing Requirements for Seniors
Licensing requirements for seniors vary from state to state, as do the ages at which the added requirements go into effect. While some places ask older adults to take road tests when renewing their licenses, other states simply want adults to renew their licenses more frequently, take a vision test, or renew their license in person at the DMV.
Studies show that stricter licensing requirements among those 55 and older don't make much difference when it comes to driving safety. However, for those who are over 85, there is evidence that having them renew their licenses in person and take vision tests can reduce deadly crashes.
When Should Seniors Stop Driving?
Just because you are getting older doesn't mean you have to hand over your keys to a loved one or caregiver. There is no set age to determine when a senior should stop driving. However, there are definite warning signs that could indicate it's time to no longer drive:
An increased number of close calls when it comes to accidents
An increased number of scrapes or dents on a car without recollection
Difficulty seeing road markers and road signs
Slower reflexes
Getting lost more frequently or forgetting where you are going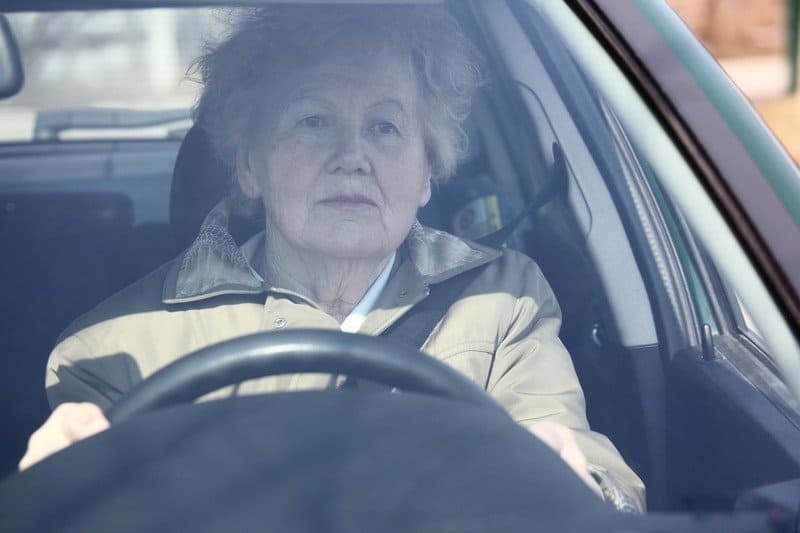 Our Favorite Auto Insurance Providers for Seniors
AARP Auto Insurance
Since 1984, AARP has offered auto insurance to its members through a partnership with The Hartford. The Hartford is a well-known, fortune 500 insurance company known for high-quality customer service.
AARP auto insurance provides a variety of coverage options, including 24/7 roadside assistance, a 24/7 claims hotline, lifetime car repair assurance, and 12-month rate protection. This means you get to keep the premium you start with for a full year, as opposed to six months, which is standard for other providers. There is also a new-car replacement option allowing drivers who total a car within the first 15 months – or 15,000 miles – to get a new car.
While AARP auto insurance isn't the cheapest out there, the company offers bundles for seniors that could lead to significant savings. You can save up to 5% on auto insurance and 20% on condo, renters, or home insurance when you combine the two packages. Some providers allow you to pay your six-month or annual premium in full upfront, and others offer discounts for driving environmentally-friendly cars and having a vehicle with safety features like side airbags.
You Should Know: Older adults can purchase the AARP Advantage Plus policy, which offers first-accident forgiveness. This is nice because it means the first accident you get in won't impact the premiums. That being said, this policy is more expensive than the basic package.
GEICO
Whenever I hear Geico, which was founded in 1936 and considered one of the best insurance companies in the country, I think of the little, green gecko. While the gecko explains that 15 minutes could save 15 percent on car insurance, there are many other ways older adults can save money with Geico.
For example, adults over 50 are eligible for discounts if they complete a defensive driving course, have a 5-year good driving record, or are retired military or government. Geico also has accident forgiveness, another way to possibly save money in the long run.
Additionally, Geico has a Prime Time contract, specifically for adults 50 and over, that offers automatic renewal. In order to be eligible for this contract, drivers must not have anyone under the age of 25 using their car. They must also have a clean driving record for three years prior to enrolling in the program and must not use their car for commercial reasons.
Geico offers some of the lowest rates for seniors while still providing all the basic coverage needs such as roadside assistance, rental reimbursement, mechanical breakdown insurance, and glass coverage.
USAA
USAA is only available to veterans or veteran spouses and is considered one of the best insurance companies in the United States. The company offers all the basic coverage types, like roadside assistance, towing coverage, and rideshare coverage. One of their most unique offerings is payment flexibility, meaning customers can select individualized payment schedules that best suit them.
There are also a variety of discounts for seniors, like the Senior Bonus, a special discount for veterans who remain USAA members for more than 40 years. There are also discounts for drivers who only drive a few miles per month as well as ones for drivers who own cars less than three years old.
Finally, USAA members can bundle insurance packages together, which can result in savings. Bundles can include car, home, renters, life, and boat insurance.
Allstate
For almost a century, Allstate has offered drivers some of the best insurance policies on the market. And when it comes to drivers over the age of 55, the company offers some of the deepest discounts.
Allstate looks at your driving record and will give discounts based on how well you drive. If you use the company's app, called Drivewise, you automatically get a 10% discount. This app looks at driving habits and offers additional discounts based on how well you drive. For example, it monitors adherence to speed limits. These savings can be up to 25% for driving safely. Additionally, retired policyholders who are 55 and over receive a senior discount, as do people who have multiple cars or multiple policies.
Finally, the company offers basic coverage like roadside assistance and new-car replacement, as well as many perks that other companies charge extra for, such as accident forgiveness, deductible rewards, and claim satisfaction guarantee.
Seniors and Driving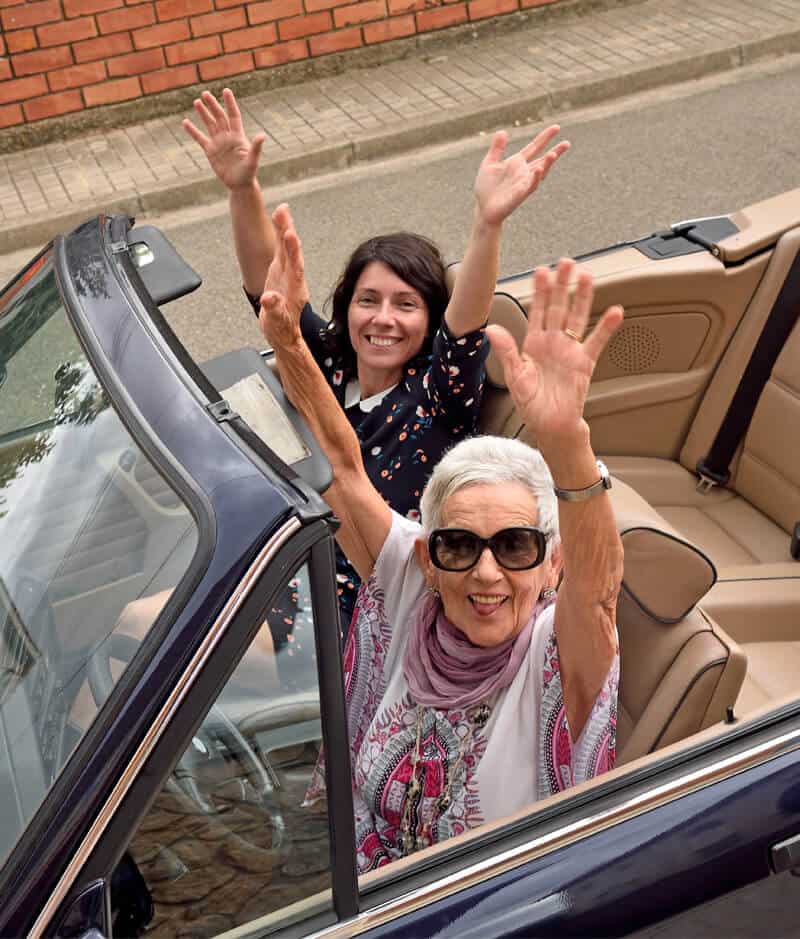 According to the CDC, there are more than 45 million drivers 65 and older. Driving is one of the main activities that keep us feeling independent. Unfortunately, it's also one of the more dangerous activities as we start to age.
With that said, just because someone is older, doesn't mean they need to stop driving; regardless, it's imperative to discuss driver safety to prevent accidents. The fewer accidents one gets into, the easier it is to get insurance.
Factors that Affect Senior Auto Insurance Rates
Generally, insurance companies charge older adults higher premiums because of the increased accident rates among the demographic. In the United States, there are more than 250,000 adults ages 65 and older treated in the emergency room daily as a result of car accidents.
While age may be one of the biggest factors insurance companies look at when determining rates, there are many other variables at work, as well as ways to make sure you or your loved one can get insurance. Here's what to consider:
Driving record: Having a clean driving record plays a huge role in whether an older adult will be able to receive auto insurance. Those with records free of driving violations will have an easier time obtaining better insurance rates. Individuals with a handful of violations or accidents are riskier customers for insurance companies and will thus be charged higher rates.
Vehicle make and model: The kind of vehicle you own plays into how high the insurance will cost. Some cars are more expensive to repair than others, have a higher theft value, and have higher accident rates, which in turn will impact auto insurance costs. For example, if you drive a BMW, your insurance cost is likely to be higher than if you drive a Subaru Outback.
Driving experience: Seniors have a leg up when it comes to driving experience because the longer you've been driving the better your insurance rates can be. New drivers of any age will always pay higher premiums, so seniors with decades of experience driving are definitely at an advantage in the driving experience department, provided their record is relatively clean.
Annual mileage: The less you drive, the less risk you are at of getting into a car accident, and the less insurance will cost you. It's important to let insurance companies know if you start clocking in minimal miles so your rates can reflect that change.
Claims history: You'll likely receive a discount on auto insurance if you are claims-free for at least three years. That being said, if you have had a few accidents, either fender benders or more severe ones, it's likely you will see higher premiums.
Gender: While it's illegal in some states to look at gender when determining insurance coverage, other states take that into consideration. Older men tend to pay more than older women, perhaps because statistics show that men have higher death rates when it comes to crashes.
Location: Where you live and park your car also plays a role in how much you pay for insurance. Many older adults live in homes, apartments, or facilities that have garages or designated parking spots, so this probably won't be a huge concern. However, for those who live in urban areas or places where there are hurricanes or tornadoes, there is a chance your rates will be higher. So, if you're looking to retire to Florida, keep in mind, your car insurance may go up.
Risks of Driving Without Insurance
All states require drivers to show financial responsibility for damages or liability in the event of a car accident, and for most people, that financial responsibility is car insurance. It is illegal to drive without car insurance. If you are pulled over or get into an accident and don't have proof of insurance, there are penalties and consequences. Some of those penalties include:
Tickets
Fines
License suspension
License reinstatement fees
Possible jail time
Frequently Asked Questions
Do seniors have more difficulty getting car insurance compared to other drivers?

While seniors may not have a harder time actually obtaining car insurance compared to other drivers, seniors tend to pay a premium rate because they are considered higher-risk drivers. Therefore, getting car insurance isn't usually an issue, but it will cost more than it does for younger drivers.

How can seniors lower their auto insurance rates?

Seniors can lower their auto insurance rates by driving less frequently, purchasing cars that are cheaper to insure, driving vehicles with safety features like anti-theft devices and airbags, and taking part in driver education courses.

Can I add a senior to my insurance?

Individuals can usually add an older adult to their insurance policy when the driver lives in their household. But it's important to note when adding a driver to your policy, that a driver's age, record, and gender can factor into what you pay for auto insurance and may cause an increase to your premium.