Guide to Portable Oxygen Concentrators
The inability to breathe freely is one of the most restrictive physical limitations that can afflict us as we get older. Whether the result of chronic respiratory pulmonary disorder (COPD), cystic fibrosis, or other respiratory conditions, not getting the oxygen we need into our system can be debilitating to the point where it's a considerable burden to leave the house.
Thankfully, over the past 20 years, technological advancements have revolutionized ways to get more oxygen into our systems. In the past, those that required extra oxygen would need to stay stationary, connected by tubes to cumbersome oxygen tanks. Portable models used to require large oxygen tanks that would need to be wheeled around and could weigh nearly 50 pounds. These days, however, many older adults turn to portable oxygen concentrators, which can provide hours of increased oxygen while being lightweight enough to carry in a small shoulder bag.
In this article, we'll look at some of the questions that you should ask when choosing a portable oxygen concentrator. We'll also break down a few of the leaders in the industry.
What is a Portable Oxygen Concentrator?
Portable oxygen concentrators are pretty remarkable pieces of technology, as they essentially refine the air around us to maximize the oxygen we breathe and absorb into our bloodstream. Air contains 78 percent nitrogen, 21 percent oxygen, and one percent other gasses; an oxygen concentrator draws that air in via an inlet filter and runs it through a compressor. The compressor compresses the air and passes it to the sieve bed, which becomes saturated with nitrogen. A portable oxygen concentrator removes the nitrogen from the air, leaving the oxygen at about 95 percent purity and ready to be breathed in by the user. That oxygen is delivered via a mask or nasal cannula.
Two types of portable oxygen concentrators can be used for different purposes based on how much oxygen the user needs.
Pulse Flow: With a pulse flow unit, the concentrator is activated to coincide with the user's typical breathing patterns instead of providing a steady stream of oxygen. Because the flow isn't continuous, these types of portable oxygen concentrators are better suited for users who may be able to breathe on their own but could use a little extra assistance. Typically pulse flow units are favored by more active users; and, since they aren't constantly operating, they tend to offer better battery life.
Continuous Flow: Continuous flow units provide a consistent, steady stream of oxygen for those who have a greater need—think someone with more severe COPD or sleep apnea. While a pulse flow machine may be recommended for those with an oxygen requirement of two LPM (liters per minute), a continuous flow machine is better suited to handle users that need closer to five LPM.
Note: Choosing the type of portable oxygen concentrator that's best for you should never be done alone. Only your physician knows the best course of treatment when it comes to oxygen levels, so always consult with them first before making any medical decisions.
Where You Can Purchase a Portable Oxygen Concentrator
Purchasing a portable oxygen concentrator can be a different process for different people, and the best course of action is always to consult with a physician. Part of the issue with receiving oxygen therapy is that a user's specific oxygen requirement will be unique to them, and different portable oxygen concentrators are better suited for different oxygen levels, as we mentioned earlier with pulse versus continuous-flow devices. In fact, in most cases, medical-grade portable oxygen concentrators can't be purchased without a prescription from a doctor defining oxygen levels.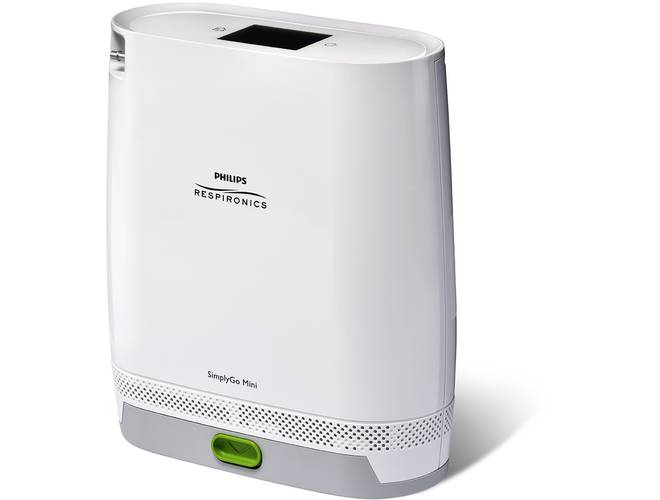 Once a patient has received the necessary consulting and guidance from a physician, the best place to look for purchasing a portable oxygen concentrator is, more often than not, directly from the device manufacturer. While there are a number of after-market sellers that offer portable oxygen concentrators—occasionally at better prices than manufacturers themselves—when a patient decides to buy from the manufacturer, they're typically treated to more reliable customer service and support that can help work with doctors and insurance to offer the lowest possible prices. Since portable oxygen concentrators are considered durable medical equipment, some of them are even covered by Medicare.
Pro Tip: Buying a portable oxygen concentrator can be a costly process and may not be covered by your insurance. However, some manufacturers will offer portable oxygen concentrators on a rental basis, which may make the units eligible for insurance coverage, saving you money in the long run.
The Best Portable Oxygen Concentrators
For better or worse, there isn't a huge selection of portable oxygen concentrators on the market. It's a bit of a shame that there isn't a wider selection to choose from, but thankfully the options available are well-designed, highly effective pieces of portable medical tech. Let's take a quick look at some of the best portable oxygen concentrator options available and for whom they might work the best.
Best in Class: Inogen One G5
For nearly two decades, Inogen has been an innovator in the field of portable and home-based oxygen concentrators. Their flagship model, the Inogen One G3, was the gold standard for pulse flow portable oxygen concentrators until the G5 model's launch, which took what made the G3 great and improved upon it in nearly every way. Now, the Inogen One G5 isn't the cheapest model on the market, and users can expect to pay upwards of $2,500 for the device; but with the price tag comes a host of best-in-class features. Let's take a quick look at some of the high-level features of the device, or for a more in-depth breakdown, check out our Inogen One G5 review.
Six separate flow settings which allow users to control the amount of oxygen they receive.
Thirteen hours of battery life when paired with a double battery (or six hours with a standard battery).
Weighs in at under five pounds.
Pairs with the Inogen Connect app to track device performance.
FAA approved so it can be brought on flights.
Best for Continuous Flow: Philips Respironics SimplyGo
Created by one of the most recognizable names in tech, the SimplyGo from Philips is one of the smallest portable oxygen concentrators on the market capable of offering a continuous flow setting. While users can also set the device to deliver pulse oxygen, the ability to provide continuous flow, even for a short amount of time, can be a game-changer for those who may require varying amounts of oxygen at different points in the day. Let's take a quick look at some of our favorite SimplyGo features.
Weighs in at ten pounds, which is more on the high end of the portable oxygen concentrator spectrum, but still makes it one of the lightest units that offers continuous oxygen flow.
Oxygen concentration levels of 86 to 97 percent, some of the highest in the industry.
More than a dozen separate oxygen settings in both pulse or continuous modes to best regulate the amount of oxygen a user needs.
Altitude rated to 10,000 feet.
Best Lightweight Model: AirSep Focus
While one of the essential qualities we look for in a portable oxygen concentrator is that it can be carried around all day, some devices go above and beyond when it comes to portability. The AirSep Focus weighs in at around two pounds, nearly half the weight of comparable portable oxygen concentrators. Now, this device isn't perfect for all-day usage since its battery longevity limits it. But, for running quick errands or short walks, this pulse flow model is one of the best in class. Here are some of the finer points of the AirSep focus.
Ultra-lightweight; the entire unit weighs in at less than two pounds.
1.5 hours of battery life per battery. But batteries can be swapped out to extend the life of the device.
Two pulse oxygen settings at 90 percent concentration.
Portable Oxygen Concentrator Accessories
In addition to the devices themselves, there are a number of accessories that users can add to their portable oxygen concentrators to make the most of the units. Let's take a quick look at some of the options available.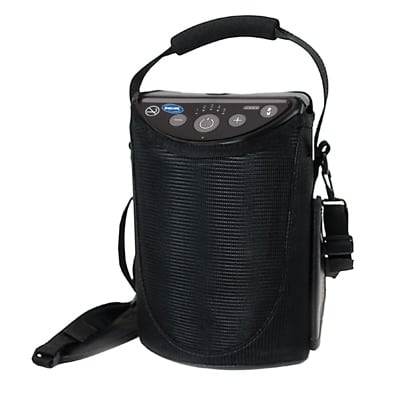 Extended Batteries: Most portable oxygen concentrators offer additional external batteries or batteries with larger capacities that can be swapped out to extend the devices' lives.
Carrying Cases: Because of the portability of the devices, most portable oxygen concentrators feature special carrying cases that can be used to port the units around during the day. Some cases can be a backpack style, while others offer shoulder strap carriers.
Replacement Parts: Portable oxygen concentrators filter air, and as a result, those filters need to be replaced occasionally to ensure the functionality of the unit. Particle filters and column pairs that help power the concentrator can typically be bought separately from the devices themselves.
Masks and Cannulas: Portable oxygen concentrators require some way to deliver oxygen to the user. In most cases, that delivery system is a nasal cannula tube, but sometimes it's a mask.
Recap of Portable Oxygen Concentrators
No matter what circumstances require a person to need extra oxygen, it's great knowing that modern technology has created advancements in portable oxygen concentrators, enabling people to live full, active lives, all while receiving the care they need to breathe free. With more than 1.5 million Americans requiring additional oxygen, this is a problem that won't be going away any time soon. Portable oxygen concentrators are an excellent way for those with respiratory illnesses to keep active, which can aid in the healing process. Hopefully, further iterations of portable oxygen concentrators will lead to even lighter weight models with longer battery lives. Only time will tell.
Portable Oxygen Concentrator Frequently Asked Questions