Inogen revolutionized older adult respiratory care in 2001 when they introduced the first ever portable oxygen concentrator that did not require refills. Instead, this machine takes oxygen from the surrounding environment and purifies it, eliminating the need for bulky oxygen tanks altogether. Roughly 20 years later, Inogen continues to give individuals who use oxygen therapy the confidence, freedom, and independence of an active lifestyle.
In this rundown, I'll be giving you a thorough overview of Inogen. We'll delve into their systems, how they function, what they cost, and their overall value as they relate to older adults. Let's take a closer look.
What Is a Portable Oxygen Concentrator?
Unfortunately, our lung function begins to decline as early as age 35, and that's just a natural part of aging. For many of us, this decline is negligible, capable of being dealt with through medication. For some people, however, especially people with breathing conditions such as COPD, their lungs lose their ability to take in oxygen. Individuals with oxygen saturation levels below 90 percent, nearly half of all COPD patients, typically require supplemental oxygen. That's where a portable oxygen concentrator comes in. With one of these devices, you can fill in the gaps in your oxygen intake.
Products and Pricing
Inogen currently offers four different oxygen concentrators, three of them portable. Base unit prices range from about $1,500 to $2,400, and Inogen provides several package options for each concentrator and its related parts and accessories.
Inogen System Pricing
| Systems | Available Through Insurance | Maximum Oxygen Flow Time* | Weight | Portable | Energy Saving | Base Unit Price |
| --- | --- | --- | --- | --- | --- | --- |
| Inogen At Home | No | n/a | 18 lbs | No | Yes | $1,495 |
| Inogen One G3 | Yes | 10 hours | 4.8 lbs | Yes | No | $2,595 |
| Inogen One G4 | No | 5 hours | 2.8 lbs | Yes | No | $2,295 |
| Inogen One G5 | No | 13 hours | 4.7 lbs | Yes | No | $2,395 |
*refers to maximum flow time with double battery
G3 Inogen System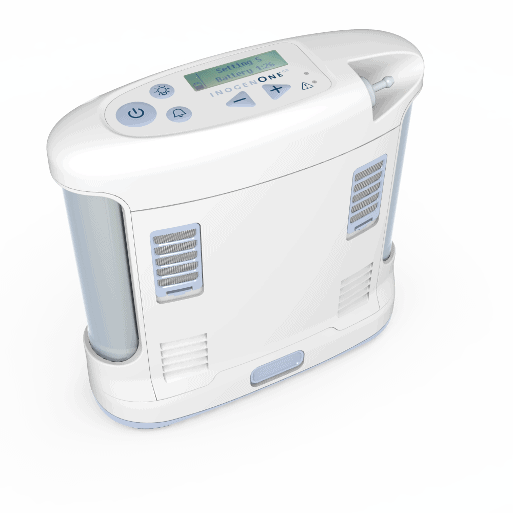 Quiet yet powerful, the G3 system weighs only 4.8 pounds and maintains the same oxygen purity as larger concentrators. It has five flow settings, allowing for a change in conditions over time. The G3 concentrator also meets FAA travel guidelines, which comes in handy for those of us who travel via air. Inogen's Intelligent Delivery Technology ensures the G3 concentrator provides safe delivery of oxygen during rest, exertion, and sleep. No wonder it's clinically validated for 24/7 use.
Available only through Medicare or insurance, Inogen's portable G3 system is ideal for use at home or while on the go. Capable of running up to 10 hours without a recharge, the G3 system, which can also charge via carport, allows for all day independence.
G4 Inogen System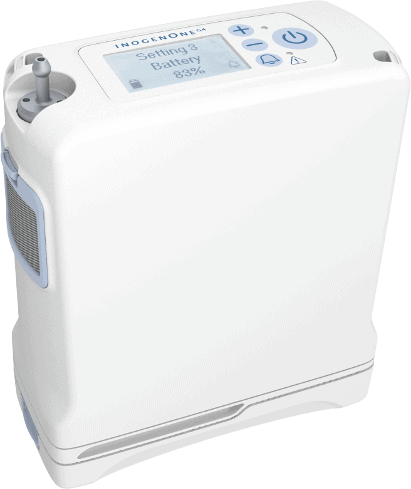 Known specifically for its portability, the G4 is the smallest of Inogen's systems, which makes the FAA-approved device perfect for air travel. Weighing in at only 2.8 pounds, less than an average toaster, the G4 won't hold you back or slow you down like other heavier tanks.
Matching the purity of larger concentrators and clinically validated for 24/7, the G4 base unit, priced at $2,295, includes three flow settings. That's fewer flow settings than its predecessor, which limits its accommodation to prescription changes. Nevertheless, that's a risk I'd be willing to take for such a compact and lightweight system.
The other primary difference with this device is its limited charge. The G4's single battery lasts less than three hours, and its double battery only lasts five hours before needing a charge. This may work just fine for individuals who are not always on the go or who have breaks during their day. However, with batteries sometimes needing several hours to reach a full charge, I'd recommend that anyone purchasing this system should purchase extra batteries.
Of course, the G4 starts to make up for its lack of battery power with the addition of the Inogen Connect app, which helps you monitor battery life, update your system's software, and access customer support.
G5 Inogen System
Delivering the most oxygen per pound or any concentrator on the market, Inogen's portable G5 system ($2,395) offers a 13-hour battery life. Its single G5 battery even lasts up to 6.5 hours, which is a big difference from the G4. Less than five pounds and compact in size, this machine easily fits in a tote bag or backpack. Equally exciting is the longevity of this concentrator's battery, up to 13 hours when operating on a double battery.
Like all of Inogen's other concentrators, the G5 is clinically validated for 24/7 use. Similar to the G4 system, Inogen G5 comes with access to the Inogen Connect app.
Inogen at Home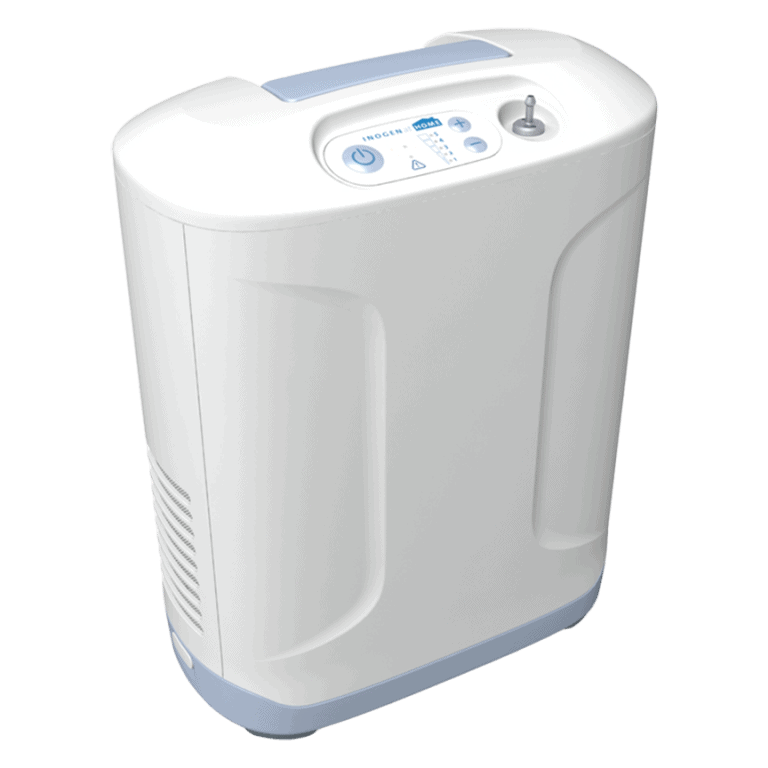 Rather than providing pulses of oxygen, like Inogen's other concentrators, Inogen at Home provides five liters of continuous oxygen. An ultra-quiet and energy-efficient system, Inogen at Home can save you almost $300 each year in utility costs. In fact, Inogen at Home is considered one of the most energy-efficient oxygen concentrators on the market. While most other at-home oxygen concentrators weigh about 40 pounds, Inogen at Home comes in at less than half of that, at 18 pounds.
While it's designed for stationary use, many people like to move their oxygen equipment around their home. Personally, I couldn't comfortably move a 40-pound concentrator around in my home, but an 18-pound device is much more manageable. With five flow settings to select from, this concentrator can make changes easily in response to your condition, circumstances, or prescription.
Tip: With Inogen, you never have to worry about where your system's equipment comes from or what credentials its engineers have. All of Inogen's products are designed and assembled in the United States.
Purchasing from Inogen
To purchase an Inogen oxygen therapy system, you can use Inogen's website or call their sales line. While buying online is faster, speaking to a customer care agent over the phone is a great way to speak to an expert and customize your purchase for your needs. Given the return policy, which I'll get to a bit later, you probably want to buy everything you're interested in during one purchase.
As I reviewed Inogen's website, I was reminded that supplemental oxygen of any kind requires a prescription from your doctor. Make sure you've received a prescription and discussed your needs and concerns with your medical provider before beginning your search for a portable oxygen concentrator. Once you place your order, expect a call from an Inogen specialist, who will record your prescription information.
Parts and Accessories
A variety of accessories are available to help you carry your Inogen oxygen concentrator with comfort and protection. Inogen also offers replacement items, such as power cords and filters, a la carte. Double batteries can be purchased on their own or as part of a Freedom Package, which are available on the Inogen website.
Inogen Accessories
| System/Accessory | G3 | G4 | G5 | Inogen At Home |
| --- | --- | --- | --- | --- |
| Cart | $125 | No | $125 | No |
| Carry Strap | No | $13.95 | No | No |
| Carry Bag | $49 | $24.95 | $59 | No |
| External Battery Charger | $285 | $285 | $285 | No |
| Hip Bag | No | $59 | No | No |
| Backpack | $100 | $100 | $100 | No |
| AC Power Supply | $149 | $79 | $149 | No |
| DC Power Cable | $65 | $65 | $65 | No |
| Single Battery | $325 | $325 | $325 | No |
| Double Battery | $495 | $495 | $495 | No |
| Replacement Column | $99 | $99 | $99 | $149 |
| Particle Filters | $19-$21 | $11.95 | $21 | $27 |
Cart
Specifically tailored to transport your Inogen One G3 or G5, this lightweight cart has two adjustable height levels, 34″ and 41″. The cart fully collapses to less than 18", making for simple transport or storage. Despite weighing only slightly more than three pounds, the cart is durable and fairs well when it rolls over uneven surfaces.
Carry Bag and Strap
Providing a protective cover for your Inogen machine and a convenient handle and shoulder strap, the carry bag is available for both the G3 and G5 systems. The bag also features a small pocket for items such as ID and debit cards.
Backpack
Backpacks are ideal for your oxygen concentrator while you're on the go. Each lightweight backpack has adjustable straps and a main compartment for your Inogen concentrator along with spaces for everything else you might need, like your water bottle, extra batteries and something to keep you warm. The G4 and G5 backpacks include a thermoformed shell that provides extra padding and protection for your concentrator during all your daily adventures.
Hip Bag
A first of its kind, the G4 hip bag includes a strong thermoformed belt, which provides stability and comfort without damaging your oxygen concentrator. There are two pockets for carrying a wallet, personal items, cell phones, or keys. Although the hip bag doesn't leave space for my jacket, I love that I could potentially keep my concentrator at my side without having to wear a large item on my back. Of course, if you're someone who deals with hip problems, this accessory probably isn't the best choice.
Double Battery
Double batteries enable their respective systems to run longer, giving you more time to enjoy life before you need to stop and recharge your concentrator. With the 13 hours a G5 double battery lasts, I'd say a double battery is a must. You may also want to keep in mind that your flow setting will also affect how long your battery lasts.
Did You Know: Taken from the original phrase "innovative oxygen," the name Inogen expresses the company's approach to product development.
Setting up Your Inogen System
Setup for Inogen concentrators is easy and requires no additional tools or expertise. Inogen provides step-by-step setup videos for each of their systems on the support section of their website. The following instructions are for the G3 system setup. With that said, the setup for the other concentrators is very similar to the G3 process.
Inogen Setup Process
When you receive your box in the mail, open it. Unpack all contents and lay everything out on your table.
Read the getting started guide and user manual included in your package.
Remove the concentrator from the carry bag, and ensure both particle filters (mini gray vents at the bottom of the device) are in place.
Place the concentrator back in the carry bag, and verify you can see both intake (bottom) and exhaust (top) vents through the mesh material of the bag. Don't zip the bag yet.
Pick up the battery and slide it into the bottom of the concentrator until the latch returns to the upper position. Then zip up the bag
Locate the AC power supply and ensure the input power cord is connected to the power supply.
Plug the AC power supply into a wall outlet, and connect the other side to the port at top of your concentrator. This will charge your device. Remember, an empty battery may take up to four hours to charge.
Connect the plastic nasal tubing to the metal port on the concentrator.
Use the large power button to turn on the machine.
Change the flow to the setting prescribed by your doctor.
Put nasal tubing on your face and breathe normally.
Returns and Warranties
Returns
Inogen offers customers a 30-day trial period following the purchase of an oxygen therapy system. If you are dissatisfied with your product during this time frame, you may return it for a refund after you have completed an Equipment Return Form (available on the website) and sent your equipment back. Alternatively, you can complete most of your return information over the phone.
If you do choose to return your system, be aware that Inogen will charge you a $99 handling fee, a cost that seemed rather steep to me. Due to Inogen's detailed reprocessing system, it may take up to 10 business days after your product reaches the company for you to receive a refund. Unlike Inogen systems, accessories and parts are not eligible for return unless they were purchased and returned with an eligible Inogen One system.
Warranties
All Inogen machines include a three-year warranty. If you purchase one of the brand's Freedom Packages, it becomes a lifetime warranty. These non-transferable warranties guarantee that within the agreed period of coverage your product is warranted to be free of defects "in materials and workmanship under normal use and service."
Recap
Inogen's portable oxygen concentrators allow oxygen therapy patients to enjoy active and on-the-go lifestyles that were, until recent years, impeded by their need for constant oxygen and heavy refill tanks they had to lug around.
Although I'm more of a discount kind of gal, and unless you qualify to have Medicare or insurance to cover your oxygen therapy, Inogen's systems and accessories will most certainly cost you a pretty penny. I also like that they provide a freedom once thought to be impossible for patients on supplemental oxygen. If you rarely leave your home, Inogen may not be the financially smart answer for oxygen therapy. However, if you've been prescribed oxygen and desire to keep living life to its fullest, in, outside, and around your home, Inogen's portable oxygen concentrators are a solid solution.
Frequently Asked Questions