Walk-in tubs, hospital beds and wheelchair ramps are among the many home modifications and devices keeping seniors safe. Although there were some changes to Medicare for 2021, the improvements listed below were not impacted. They don't come cheap, but government programs such as Medicare and Medicaid can defray the cost.
Medicare is extremely strict about what it covers, but seniors who show medical necessity qualify for up to 80% coverage. Seniors using their hospice care benefit don't have to pay anything for covered equipment. Meanwhile, a few Medicare Advantage plans offer limited support for home modifications. The support truly is limited, but the future could bring expanded coverage.
Medicaid is more flexible, with many programs routinely offering medication dispensers and personal emergency response services. Most states run waiver programs allowing seniors to decide which home modifications to make as long as they are cheaper than assisted living or nursing home care. However, the waitlist for these programs can be long. Here's a look at what Medicare and Medicaid cover around the house.
Table of Contents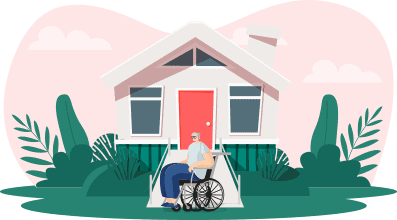 Medicaid: Home and Environmental Accessibility Modifications
Medicaid programs in many states enable seniors to fund or receive home modifications such as these:
Lighting adaptations: For better overall lighting to prevent falls; for task-oriented work such as cooking in the kitchen; for switches and handles easier for seniors to use
Wheelchair ramps: To give seniors more accessibility and to reduce fall risks
Doorway widening: To make room for wheelchairs and other mobility aids
Walk-in bathtubs: To reduce fall risks and enable easier bathing
Shower modifications: For curbless showers, roll-in wheelchairs, hands-free controls, seat installations, and other changes
Bidets and other toilet modifications such as a higher seat To help seniors clean themselves and get up and down better
Lever-style handles: To make doors, cabinets, and drawers easier to open and close
Chair lifts/stair lifts: To help seniors sit up and down, navigate stairs and reduce fall risks
Handrails and grab bars: To reduce fall risks in stairways, bathrooms, living rooms, and other transitional seating areas
Medical alert systems/personal emergency response services (PERS): So seniors can notify someone if they fall or are injured
Medication dispensers: To help seniors track their medications and never miss a dose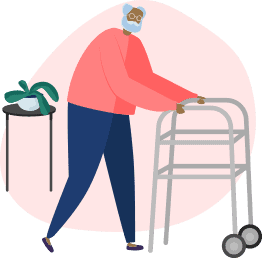 Medicare: Durable Medical Equipment
Medicare (usually Part B) covers or reimburses 80% of the cost of items deemed medically necessary. The program can be a huge help to seniors already sick or injured. It's less helpful to those in good health seeking preventative improvements around the home. In any case, the following pieces of durable medical equipment are covered when medically necessary1:
Canes (except white canes for the blind)
Commode chairs (portable toilets), especially if the senior is confined to the bedroom and cannot use a regular toilet
Continuous passive motion machines (CPM machines) for seniors meeting certain conditions. Seniors with recent knee replacement surgery may qualify for CPM devices in the home for up to 21 days. CPM machines use a motor to bend a joint back and forth according to the number of degrees set.
Diabetes supplies, including blood sugar testing monitors, test strips, blood sugar control solutions, continuous glucose monitors, lancets and lancet devices, insulin, and therapeutic shoes and inserts
Adult self-dialysis equipment and supplies for End-Stage Renal Disease, including dialysis machines, sterile drapes, alcohol, wipes, rubber gloves, and scissors
Hospital beds and accessories such as trapeze equipment, side rails, bed cradles, and replacement mattresses
Nebulizers and some medications
Orthopedic shoes if a necessary part of a leg brace
Ostomy supplies if a colostomy, ileostomy or urinary ostomy applies
Pressure-reducing support surfaces such as air-fluidized beds, mattresses, and mattress overlays
Prosthetic devices including cochlear implants, breast prostheses, and one pair of eyeglasses after cataract surgery
Wheelchairs, including power wheelchairs and scooters (higher bar to meet for power wheelchairs)
Medicare defines durable medical equipment as durable for repeated use, able to last at least three years, for home use, medically necessary, and not of much (or any) benefit to someone who is not sick or injured.
The last two points are worth special attention. They mean Medicare won't cover items around the home if they are preventative in nature. That said, seniors without a history of fall injuries might qualify for a cane or walker for medical reasons such as balance or mobility issues, joint stiffness, or difficulty transitioning from sitting and standing. It's important to tell your doctor or treating practitioner about all of your fears and health concerns. Maximize your chances of coverage.
Medicare: Medically Prescribed Home Modifications
Other modifications such as grab bars fall under the banner of "durable medical equipment" if they are medically prescribed. Walk-in tubs and curbless showers are trickier to get coverage for—but not impossible.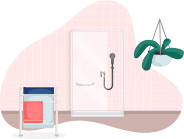 Grab bars: Dr. Robert Mirsky, chief medical officer of Aetna Medicare, gives the theoretical case of 76-year-old Mary who lives alone. She deals with balance issues along with congestive heart failure and hypertension. Her home has obvious fall risks such as throw rugs and step-up thresholds for the bathtub and shower. Mary misses a blood pressure appointment because she cannot get to the doctor. The doctor then refers Mary to a care manager who eventually arranges for grab bars in the bathroom and other basic home modifications.3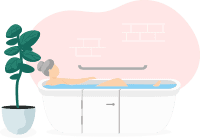 Senior-friendly showers and tubs: Philip Moeller, a journalist specializing in aging and Medicare, was faced with this question from a man named David: "Sooner or later, I will fall again. Prevention includes a shower stall for people like me. Will Medicare help cover the expense of a replacement shower? I am 70."
Moeller's answer: "Shower and other senior 'friendly' bathroom and home modifications may be useful and even lead to reduced falls and injuries. But Medicare usually does not consider such improvements to be medically necessary. So I'm afraid that David would have to pay for such improvements out of his own pocket."4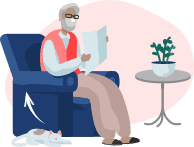 Lift mechanism versus lift chair recliner: A lift mechanism, but not a lift chair recliner, could realistically be covered, says Moeller. Lift mechanisms go atop durable chairs to help seniors get to a standing position.6
How to Prove Medical Necessity
One way to show medical necessity is to have your doctor prescribe an in-home assessment as part of your plan of care for an illness or injury. The evaluator should also look at your abilities to recommend certain modifications as part of the medical intervention.
The American Occupational Therapy Association describes three scenarios and how Medicare is likely to respond to each.6
In the first scenario, a medical provider asks an occupational therapy office to assess a client at home. The client has undergone a recent serious illness that decreased their functional performance. An occupational therapist goes to the home for a functional assessment and home environment review. The therapist makes recommendations for certain home modifications as part of the medical intervention. Medicare covers the evaluation itself and could subsidize the recommended modifications because they're part of the occupational therapy plan of care.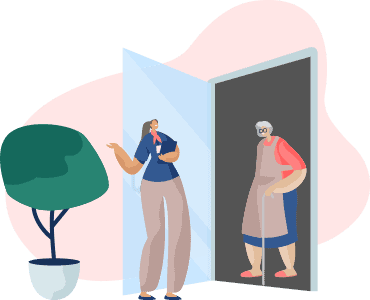 In the second scenario, a senior citizen one year recovered from a stroke asks an occupational therapist to assess their home for modifications to age in place. There's no doctor-prescribed evaluation in the picture. The assessment indicates that the senior has no active medical needs, but the therapist does make several recommendations for aging in place. They include a wheelchair ramp and bathroom grab bars. Medicare is extremely likely to deny coverage of the evaluation and these recommended modifications. However, the occupational therapist should still bill Medicare to protect the client's interests.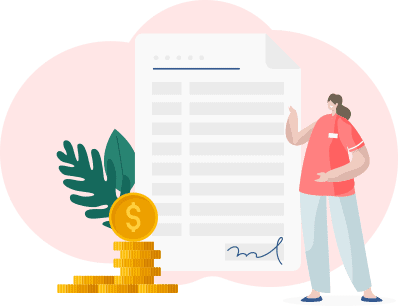 In the third scenario, an occupational therapist hired by a home builder makes recommendations for a senior citizen's home modifications. The therapist does not even attempt to bill Medicare because the client is the home builder. There's no chance of Medicare paying for the evaluation and these modifications and no senior citizen client interest to protect.
Now, suppose you're a senior who feels that a walk-in tub is medically necessary because of an injury or illness you have. Your doctor must document the reasons why in a letter of medical necessity and is likely to prescribe home assessments.
The letter should include:
Diagnosis information
The specific features offered by the particular tub prescribed and how the tub addresses your medical need(s)
The duration of treatment
The specification that alternative treatments cost more, do not exist or do not work as effectively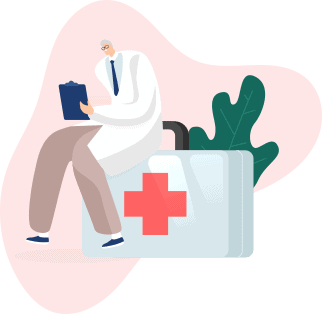 It's possible to get coverage for a condition you expect to have for the rest of your life, but your doctor needs to regularly submit a letter of medical necessity.
Grab bars, handrails, tub transfer benches and other smaller-scale bathroom interventions cost much less than a walk-in tub. That's a big reason Medicare is unlikely to cover tubs, showers and higher-ticket items. However, you can still try for coverage, especially if you have the finances to pay for a modification. For example, suppose your doctor finds that a walk-in tub is medically necessary. The doctor should submit documentation to Medicare while you purchase the tub. Medicare does sometimes end up reimbursing seniors some of the money they spend on new equipment.
Hospice Is Covered 100%, not 80%
As mentioned earlier, Medicare covers 80% of the cost of durable medical equipment, but hospice is the exception. In hospice, any equipment such as a wheelchair is covered 100%. Medicare Part A covers hospice care at home (and elsewhere) if:
Doctors certify you have a life expectancy of less than six months
You choose palliative care instead of treatment for the illness
You choose hospice over other Medicare benefits
You may need to cover a co-payment of no more than $5 per drug prescribed for symptom control and pain relief. If your family members or other caregivers need respite, you might pay 5% toward inpatient respite care in a facility.
The services and equipment you qualify for depend on the plan of care created by the hospice team. The team should clarify charges and billing before you receive care.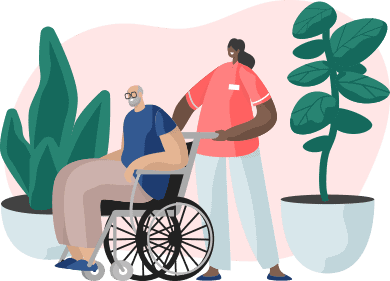 Transitional Care Management
Suppose you're returning home after staying in a hospital or skilled nursing facility. You're nervous and unsure about continuity of care and how well your home environment meets your needs. Fortunately, Medicare pays for transitional care services, with health care personnel identifying necessary durable medical equipment and related services for your home.
More on Paying
You usually pay 20% of the Medicare-approved cost of durable medical equipment. Most times, the item is rented. Other times, it is bought, especially if it is inexpensive (such as with canes) or needs to be customized (such as with power wheelchairs). Both the treating practitioners and suppliers involved with DME must be enrolled and participating in Medicare. Otherwise, Medicare won't pay the claims submitted.
Assignment is an important term to know for DME. As Medicare explains, "Assignment means that your doctor, provider, or supplier agrees (as is required by law) to accept the Medicare-approved amount as full payment for covered services. … If a DME supplier doesn't accept assignment, there's no limit to what they can charge you."7
To find qualifying suppliers, visit medicare.gov/supplier or call 1-800-MEDICARE (1-800-633-4227). The TTY number is 1-877-486-2048.
Medicaid and Qualifying for Home Modifications
Medicaid gives seniors more freedom with home modifications, as touched on above. For instance, it's easier to get coverage for walk-in tubs. However, Medicaid has its share of red tape, too.
For one, it's not a streamlined, cohesive program. Rather, it is multiple programs administered by the states, and each state decides the equipment and services to cover. So, seniors living in one state might not qualify for certain things that seniors do in another state.
The quickest way to find what's what in your region is to contact your local Area Agency on Aging. Explain the home modifications you're hoping to make and whether Medicare, Medicaid or other local, state, federal or grant programs cover them.
Medicaid is unlikely to cover a modification if it exceeds a certain amount of money. For example, in North Dakota, the modification (or group of modifications) cannot cost more than the highest monthly rate in the highest-cost skilled nursing facility in the state.8
A major goal of Medicaid home modifications is to save money compared with caregivers and facilities. Thus, modifications are more likely to pass muster if they are cheaper than a caregiver or facility. Expense is why many Medicaid programs, as a matter of routine, cover medication dispensers and personal emergency response systems. These two device types are inexpensive with an incredible rate of return. They empower seniors and prevent the need for paid caregivers to come into seniors' homes every day to dispense medications and do wellness checks.
To give an example of what is available around the home with Medicaid, seniors in central Washington state can get in-home environmental modifications, assistance with the activities of daily living, personal care and case management, among other services. For an environmental modification to qualify, it must: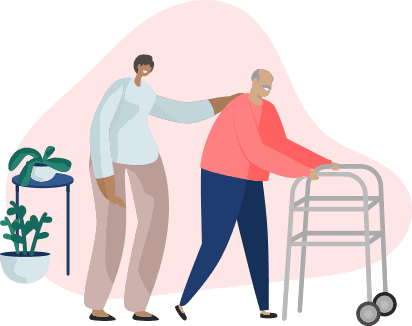 Be necessary for the sake of the senior's health, safety and welfare
Foster greater in-home independence
Have clear, corrective and direct benefit to the client
Help keep the client from going into a facility
Seniors in central Washington also qualify for medication dispensers and PERS.
Medicaid Waiting List for Some Modifications
In many cases, Medicaid's home and environmental accessibility modifications are available via home and community-based services waivers. In some states, you could be on a waiting list for HCBS waivers for several years. You must also demonstrate the functional need for these modifications.
Your doctor submits a comprehensive report explaining your health, your ability to get around and your ability to perform the activities of daily living.
You're unlikely to qualify for HCBS waivers if you're in good enough health that you wouldn't otherwise go to assisted living or a nursing home.
Part of the goal with these waivers is to keep people living at home longer.
Given the waiting list in some states, it can be tempting to apply for waivers before you need them. The logic goes like this: By the time you get to the top of the list, you'll actually need these supports. Unfortunately, it doesn't work like that. You must already show functional need at the time you apply.
Medicare Advantage Plans and Home Modifications
Chronically ill seniors enrolled in certain Medicare Advantage plans could be eligible for better indoor air quality equipment and home modifications such as grab bars, wheelchair ramps, handheld showers, and widened halls and doorways. However, most insurers do not offer this type of coverage. In 2020, only 148 out of the 3,148 Medicare Advantage plans offered some type of in-home support services.9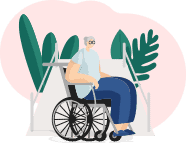 Wheelchair ramps: Philip Moeller, the journalist who specializes in aging and Medicare issues, notes that Medicare is extremely unlikely to cover wheelchair ramps, although it might cover associated physical therapy (for example, if the ramps are needed because of a injury or illness). Medicare Advantage insurers, too, are unlikely to cover a ramp, especially if no chronic condition is involved. However, the future could bring better coverage.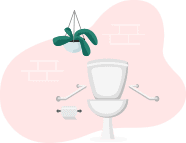 Grab bars: Moeller writes that you "may really want a grab bar in the bathroom because you've been feeling a little unstable, but that's probably not enough to qualify for coverage. According to early interpretations of the rules [starting in 2019 and 2020], you'd need to have already fallen or shown other medically diagnosed signs of instability for your Advantage plan to pick up the tab."10
Home Modifications Covered by Medicare and Medicaid
It's possible for Medicare and/or Medicaid to cover home modifications such as wheelchair ramps, hospital beds, portable toilets and walk-in tubs. Qualifying is the trickiest part. With Medicare, you must show medical necessity and explain why any alternatives are not feasible. Medicaid offers more flexibility, but you may need to spend time on a waiting list. Even then, cost considerations mean you might not get all of the home modifications you want. Still, Medicare and Medicaid do make lower-cost home modifications a lot more feasible.
Additional Resources
References and Footnotes
Centers for Medicare & Medicaid Services PDF. (2020, January). Your Medicare Benefits. Retrieved May 15, 2020, from https://www.medicare.gov/Pubs/pdf/10116-Your-Medicare-Benefits.pdf
Durable Medical Equipment (DME) Coverage. (n.d.). Retrieved May 15, 2020, from https://www.medicare.gov/coverage/durable-medical-equipment-dme-coverage
Joseph, C. (2018, October 16). How Do I Use My Medicare Plan to Care For My Whole Health?: Aetna Medicare. Retrieved May 15, 2020, from https://www.aetnamedicare.com/en/understanding-medicare/use-medicare-plan-whole-health.html
Moeller, P. (2016, September 22). I Keep Falling. Will Medicare Cover a Home Health Aide? Retrieved May 15, 2020, from https://www.pbs.org/newshour/economy/keep-falling-will-medicare-cover-home-health-aide
Moeller, P. (2019, October 29). When Medicare Will Pay for Home Safety Upgrades— and When It Won't. Retrieved May 15, 2020, from https://www.considerable.com/medicare/medicare-advantage/medicare-coverage-home-safety-upgrades/
American Occupational Therapy Association. (n.d.). Retrieved May 15, 2020, from https://www.aota.org/Advocacy-Policy/Federal-Reg-Affairs/News/2020/Home-Modifications-Billing-Medicare.aspx
Centers for Medicare & Medicaid Services PDF. (2019, July). Medicare Coverage of Durable Medical Equipment and Other Devices. Retrieved May 15, 2020, from https://www.medicare.gov/Pubs/pdf/11045-Medicare-Coverage-of-DME.pdf
North Dakota Human Services. (2020, January 1). Application for a 19159(c) Home and Community-Based Services Waiver. Retrieved May 15, 2020, from https://www.nd.gov/dhs/info/pubs/docs/medicaid/waiver-hcbs.pdf
Wilson, L. (2019, December 11). Few Medicare Advantage Plans Add New Benefits for Serious Illness. Retrieved May 15, 2020, from https://www.healthcaredive.com/news/few-medicare-advantage-plans-add-new-benefits-for-serious-illness/568776/
Konrad, W. (2019, October 30). Medicare Advantage Is Expanding Coverage – Find Out If You'll Benefit. Retrieved May 15, 2020, from https://www.considerable.com/medicare/medicare-advantage/medicare-advantage-is-expanding-coverage-but-not-everyone-will-benefit/