As we age, it's common for breathing problems to set in. COPD, cystic fibrosis, and other respiratory issues prevent us from obtaining proper levels of oxygen, keeping us from living our lives to the fullest. Luckily, there are technological devices like portable oxygen concentrators that can help mitigate these conditions.
When they first hit the market, oxygen concentrators were large, bulky devices that could only be used in your home or hospital, thus saddling their users with the burden of remaining in place. After all, who wants to carry around an extra 50 pounds, especially if it's meant to help you breathe better?
In recent years, however, oxygen concentrators have evolved to the point where they can be brought almost anywhere, even on planes Inogen is a popular supplier of portable oxygen concentrators. Their easy-to-use portable oxygen concentrators make it easy to carry oxygen with you wherever you go. In this rundown, we'll take a look at Inogen with particular regard to the cost of their concentrators and where Medicare can alleviate some of the burdens.
Who Needs a Portable Oxygen Concentrator?
For seniors suffering from a chronic lung condition such as COPD or asthma, or those with a short term illness that affects their breathing, a portable oxygen concentrator is a must-have item. The machine draws in air and uses a filter, compressor, and sieve bed to purify it, providing 95% pure oxygen to the user.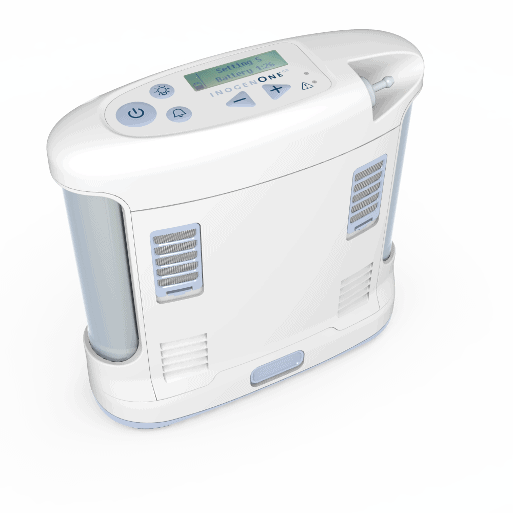 However, the cost of an oxygen concentrator can be prohibitive, with most models costing in the ballpark of $2500. One of the first questions you might ask is – does Medicare cover Inogen portable oxygen concentrators? Unfortunately, the answer might be a little more complicated than you think.
Does Medicare Cover Inogen Portable Oxygen?
The answer to this is, technically, yes. Medicare covers durable medical equipment (DME), and Inogen oxygen concentrators fall into this category that also includes blood sugar monitors, walkers, and infusion pumps.

Did You Know: Due to their relatively high cost, portable oxygen concentrators are often available for rental, a great option for those who only need oxygen therapy in the short term.
Medicare covers the rental (but not purchase) of oxygen equipment. Medicare will generally pay for oxygen if:
Your doctor says you have a severe lung disease or you're not getting enough oxygen.
Your health might improve with oxygen therapy.
Your arterial blood gas level falls within a certain range.
Other alternative measures have failed.
If your paperwork is approved and Medicare agrees to pay for oxygen equipment rental, you pay 20 percent of the Medicare-approved amount, and the Part B deductible applies. Medicare covers rental, not purchase, so you'll rent your equipment from a supplier for 36 months. After that period is up, your supplier must provide oxygen equipment and supplies to you for an additional 24 months for a total of five years, so long as you have a medical need for oxygen. After that, if you still need oxygen, you are free to change the supplier if you wish.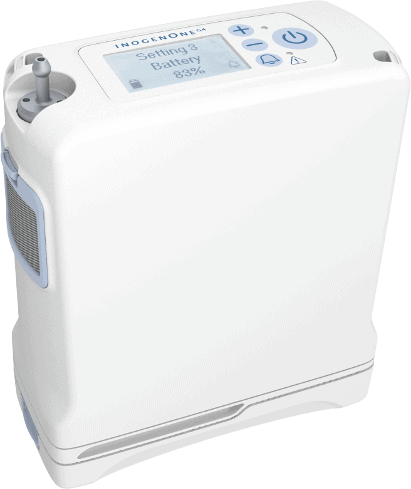 Medicare pays a monthly rental payment to the supplier which covers both the oxygen equipment and accessories such as tubing and a mask or cannula. The payments also cover oxygen machine servicing, maintenance, and repairs.
In theory, this sounds hopeful. However, as many seniors have unfortunately discovered, the reality is a little more complicated.
What's The Reality Of Medicare And Inogen Portable Oxygen?
Although on paper Medicare covers oxygen equipment (including some Inogen models), the reality isn't nearly so straightforward.
Back in 2013, Medicare cut its reimbursement rates by 50%. Essentially that meant that many oxygen equipment suppliers simply couldn't afford their contract with Medicare anymore. The cost of supplying portable oxygen is higher than the reimbursement they get from Medicare, especially when you consider that they have to pay the cost of the equipment upfront and then bill Medicare later.
Medicare also implemented a competitive bidding program, so that companies with the lowest bids got the Medicare contracts. The result of all this? Finding a Medicare-approved oxygen supplier is difficult at best, and nearly impossible in some cases.
Inogen Portable Oxygen Or Another Option?
This situation means that some seniors are looking at alternatives to portable oxygen concentrators. However, for some people, the alternatives just don't work. The main alternative is a traditional oxygen tank. These are cumbersome at best, and if you're paying for the refills yourself, you'll find the cost adds up quickly.
Depending on your exact situation, you might be able to get traditional oxygen or liquid oxygen therapy through Medicare more easily than portable oxygen. However, Inogen portable oxygen has strong advantages over other kinds of therapy:
There are no refills to worry about.
The machines are small and light enough to carry on a daily basis, giving you the freedom to go where you like.
Keeping the unit running is as easy as charging the battery (and it's always a good idea to keep a spare charged battery on hand, too.)
Many portable oxygen concentrators are FAA approved for use on flights.
Cleaning and maintenance is easy.
It's easy to see why Inogen portable oxygen concentrators are a popular choice with seniors. If you know you want an Inogen portable machine for yourself, there are some other ways to cut the cost.
Ways To Save Money On Portable Oxygen Concentrators
There are three main ways to save money on portable oxygen:
Let's take a closer look at each.
Buy a used or reconditioned unit
Now, we're not talking about getting an Inogen portable oxygen concentrator from Craigslist or eBay. In fact, we strongly advise readers against doing so. There's no way to tell for sure what kind of condition the machine is in or how bad the wear and tear really is. In addition, you're unlikely to get a decent warranty buying this way, and a good warranty is key when purchasing a costly piece of medical equipment.
That's the bad news. The good news is that several reputable online sellers (such as Oxygen Concentrator Store) offer used or reconditioned units for sale from time to time. You won't find the same range of units to choose from, but the lower cost might just offset that.
If you choose to buy used or reconditioned, you'll want to call the supplier up and check:
What kind of testing they put the machines through to be sure they're fit for purpose.
What kind of warranty they offer on used or reconditioned machines.
We also recommend checking out online reviews for the supplier. Look for reviews on independent sites – the ones on their own site might be cherry-picked for the best ones.
Renting a portable oxygen concentrator
Some suppliers offer an option to rent rather than buy a portable oxygen concentrator. This can be particularly helpful if you only need the concentrator for a short time, like before or after surgery. Renting isn't usually a good long-term plan, as the cost of renting over a longer period often ends up higher than if you'd bought the machine.
If you choose to buy reconditioned or rent, the best thing is to talk to several suppliers. Find out.
Look for a financing option
You'll find some oxygen suppliers offer a financing option that lets you spread the cost of purchase. This can be a good way to ease the financial burden while still knowing you'll own the equipment once it's paid off. If you want to go for a financing deal, be sure to check the small print and make sure you can comfortably afford the repayments.
Recap
In 2016, it was estimated that 3.17 million deaths were caused by COPD. While there is no known cure for COPD and other lung conditions, a portable oxygen concentrator can do wonders in terms of offsetting these types of symptoms. If you're experiencing these sorts of breathing problems, then oxygen therapy can be an essential tool towards preserving your quality of life.
Unfortunately, it's not usually possible to get an Inogen portable oxygen concentrator through Medicare. However, there are some ways to reduce the cost of portable oxygen to make it a little more budget-friendly. It's always a good idea to shop around and find out what other customers are saying and ask plenty of questions before committing to buy.
Portable Oxygen Concentrator Frequently Asked Questions
How long do portable oxygen concentrators last?

While this varies based on the model and manufacturer, portable oxygen concentrators generally last from four to seven years. If you rent one, however, you won't have to worry about this, as the manufacturer will pay for the costs of repairs and replacements.

Can portable oxygen concentrators work 24/7?

Some models can function around the clock, depending on whether it uses continuous flow or pulse flow. Several models can even last for days on a single charge, perfect for those who travel frequently.

How do I know which type of portable oxygen concentrator is right for me?

This is a question best left to your doctor. When prescribing you portable oxygen, he will inform you of the amount of oxygen you'll require, and he'll likely recommend some specific models that he has experience with.