Inogen Portable Oxygen Concentrator Review
Oxygen concentrators are a reality for a number of people suffering from countless ailments, from COPD and lung disease to post-surgical support. Especially in an era where deadly respiratory viruses like COVID-19 have a disproportionate impact on older adults, having options to help oxygenate the blood can be a lifesaver.
For nearly two decades, Inogen has been blazing trails, especially when it comes to portable devices designed to help older people breathe a little easier. While the company has concentrators that can be used exclusively in the home, I'll mainly be focusing this review on the latest generation of their portable model, the Inogen One G5, a high water mark in the industry. I'll get into some of the pros and cons of the unit, discuss the components that come with the device as well as what can be added, and then talk a bit about the day-to-day use of the device.
The Pros and Cons of the Inogen One G5
Before getting too granular with the details of the system, I'd first like to take a broader view of what I liked and didn't like about the G5. Many of the pros in this section stack the G5 up against previous models of the Inogen One, which was already a standard-bearer in the oxygen concentrator arena.
What I Liked
Six Pulse Flow Settings— One of the distinguishing factors about the G5 as opposed to earlier generations of the Inogen One is that they've added a sixth flow setting to increase the amount of oxygen. While users of lower flow oxygen may not see this as a huge benefit in the short term, the reality is that having more options is always better, especially as ailments worsen or conditions change. For example, someone with a chronic lung condition may be perfectly suited with a three-level flow setting, but the need for oxygenation could increase to a six while exercising.
Expanded Battery Life— If I'm looking for a portable oxygen concentrator, I'm looking for the ones that will provide the most amount of freedom; and a big part of this is battery life. The G5 goes beyond the already-impressive 10 hours offered in previous models, bumping the battery life to 13 hours using a double battery (more on this later). 13 hours offers ample use time outside of the home, which really sets the G5 apart as a heavy hitter in the portable concentrator market.
Relatively Lightweight— You'll notice I didn't say definitively that the G5 is lightweight; the unit weighs in at less than five pounds, which for some people may actually be too heavy to carry around all day. I list its weight as a pro, however, because for the amount of function and features the G5 packs into those five pounds, it really is a compact and lightweight unit.
Perfect for Travel— Between its weight and the amount of battery life it affords, the G5 is already a great portable unit to carry around all day. But, the fact that it's also Federal Aviation Administration (FAA) approved means that it's an excellent option for those looking for an oxygen concentrator they can take when they travel.
Reduced Noise Level— One common complaint people have about oxygen concentrators is their operating volume, which can be noisy enough to impact a good night's sleep. The G5 has improved upon their previous models, quieting the device to 38 decibels on its level two setting, which is one decibel quieter than other Inogen One units. 38 decibels is what audiologists would rank as a soft sound, so it shouldn't impede day-to-day activities too much. While a drop from 39 to 38 obviously isn't a drastic reduction, the difference is noticeable, and it may just help an older user sleep a little easier.
Note: It's imperative to consult your physician to determine the best flow setting for your needs, keeping in mind that settings can change under different circumstances such as exercising or sleeping.
What I Didn't Like As Much
No Continuous Oxygen Flow— This is sort of an unfair critique of the G5 because portable units don't offer continuous oxygen, instead relying on pulse flow (meaning the device only provides oxygen when the user breathes in). There are many reasons this feature isn't available in portable concentrators, power consumption being chief among them, but it's still a negative to the device because it eliminates a large portion of the market of people who require constant oxygen flow.
Price is on the High End— While the basic price for the unit is about the middle of the market for a portable oxygen concentrator, there are certain recommended upgrades, like additional batteries, that make the unit on the higher end in terms of price.
Getting Started With Inogen One G5
Inogen has long been an innovator in the growing industry of oxygen concentrators. When visiting the Inogen website, it can be a bit overwhelming parsing the differences in their systems, especially for someone who doesn't know a whole lot about oxygen concentrators. Thankfully, the company does a good job of drawing distinctions between their four systems, which is a big help for users who may not know where to start.
Comparing the Inogen Systems
As I mentioned, Inogen offers four different oxygen concentrator systems, and each has its own unique purpose. Let's take a quick look at what separates these systems.
Inogen At Home— While Inogen's claim to fame is their work in portable units, they do also offer a device specifically for the home. The At Home device offers a stark difference to the portable units, in that it provides continuous oxygen as opposed to pulse oxygen. The unit is a bit heavier, weighing in at around 20 pounds, though that's still on the lighter side of stationary oxygen concentrators. The unit provides five liters of continuous flow, but what makes it a great option as an in-home system is how it conserves electricity; its power consumption is on par with a 100W light bulb.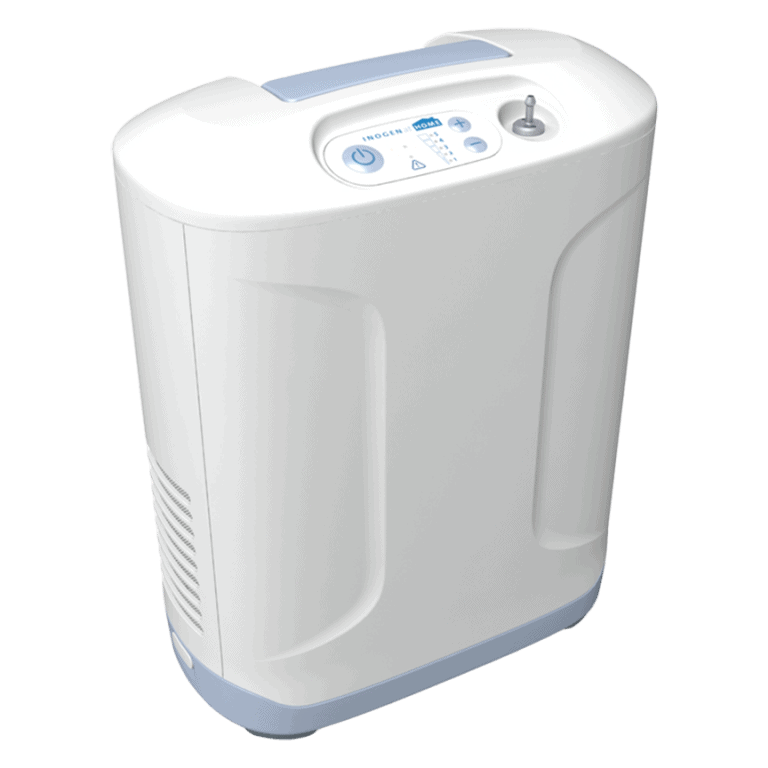 Inogen One G3— The G3 has been Inogen's most popular portable oxygen system, though now the G5 looks to have taken that mantle. This portable system has many of the same positive features we've already highlighted with the G5: it weighs less than five pounds, offers approximately ten hours of battery life on a double battery, has five flow settings, and it's cleared for travel by the FAA. What sets the G3 apart is that it may be eligible to be covered by Medicare or other insurance, so be sure to do a little research before purchasing as you may save some out-of-pocket expenses.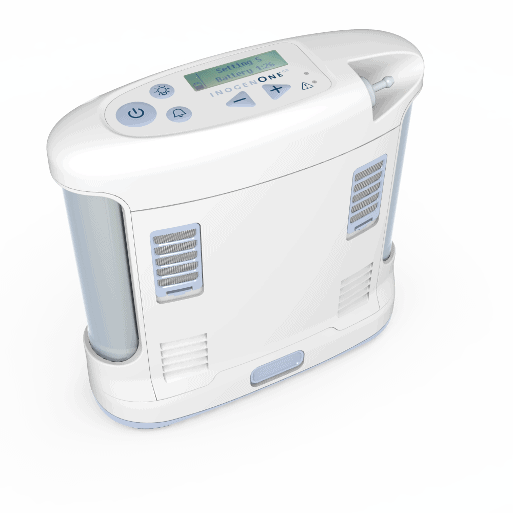 Inogen One G4— Inogen's G4 is a unique product in that it's truly made for the on-the-go user. The system is extremely pared-down, weighing in at less than three pounds. With less weight comes less battery capacity, however, as the device can only run for about five hours per charge. The system also only has three flow settings, which could also present a problem for someone necessitating a wide range of oxygen flows based on their circumstances.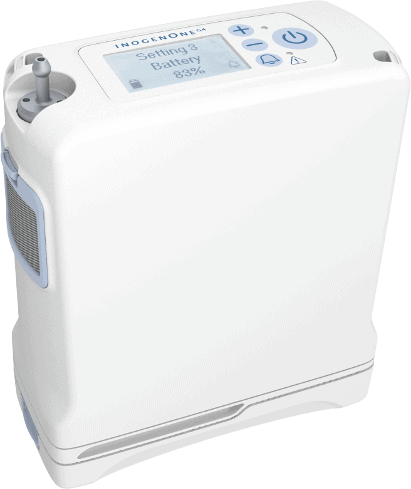 Inogen One G5— The newest addition to Inogen's product offering, the G5 takes everything the G3 did but did it just a little better. The device offers six separate flow settings, has a battery life of 13 hours with a double battery, and also weighs in at less than five pounds. For a portable device that doesn't sacrifice functionality for size, the G5 really is the gold standard.
Take a look at how the systems compare side by side:
| | Available Through Insurance | Oxygen Flow Time | Weight | Portable? | Energy Saving? | Base Unit Price |
| --- | --- | --- | --- | --- | --- | --- |
| Inogen At Home | No | n/a | 18 lbs. | No | Yes | $1,495 |
| Inogen One G3 | Yes | Single battery: 4.7 hours Double battery: 10 hours | 4.8 lbs. | Yes | No | $2,595 |
| Inogen One G4 | No | 5 hours each charge | 2.8 lbs | Yes | No | $2,295 |
| Inogen One G5 | No | Single battery: 6 hours Double battery: 13 hours | 4.7 lbs. | Yes | No | $2,395 |
Up Close and Personal with the Inogen One G5
After looking at the different systems, I decided to take a closer look at the Inogen One G5 because it had outstanding battery life and multiple flow settings that could be adjusted depending on one's conditions. Since exercise requires more oxygen, this device is perfect for those of us who are more active.
When researching the Inogen One G5 system, I ran into a lot of information that I needed to parse to make an educated purchase. The first of which was that there were four different packages to choose from, each offering different battery and accessory options. Let's do a quick comparison of those buying options:
Base Package
Freedom Package 1
Freedom Package 2
Freedom Package 3
Concentrator Included

Yes

Yes

Yes

Yes

Batteries Included
1 Single
3 Single
1 Single
1 Double
2 Double
Warranty
Standard 3-Year
Lifetime
Lifetime
Lifetime
AC/DC Power Supplies

Yes

Yes

Yes

Yes

Yes

Carry Bag

Yes

Yes

Yes

Yes

Bluetooth Capable

Yes

Yes

Yes

Yes

Inogen Connect App Available

Yes

Yes

Yes

Yes

Price
$2,395
$3,295
$3,295
$3,565
Add-On Accessories
At the end of the day, I decided to focus on the standard basic option because it was the most affordable. And, because Inogen offers a robust way to add additional products to a system, users can take more of an a la carte approach to building the package they want at a price with which they are most comfortable. The available add-on accessories were:
G5 Single Battery— The G5 single battery can be carried along with the system and swapped out to add an additional 6.5 hours of battery life on the lowest setting.
G5 Double Battery— The double battery is a huge addition to the basic system, and it's an addition that I would highly recommend. On the lowest flow setting, the double battery can add an impressive 13 hours.
G5 External Battery Charger— The external charger provides on-the-go charging for both single and double batteries.
G5 AC Power Supply— This replacement AC power supply cable is designed specifically for use with the Inogen One G5.
G5 DC Power Cable— The replacement DC power cable can be used with all models of the Inogen One from the G3 to the G5.
G5 Backpack— This lightweight backpack has a protective housing for the Inogen G5 as well as extra space for holding replacement batteries and other essentials. I would also recommend picking up the backpack for anyone who plans on traveling with the Inogen G5.
G5 Carrying Bag— The carrying bag has enough room for the oxygen concentrator, and provides a great way for bringing the unit around throughout the day; however, it doesn't have additional space for extra batteries or other everyday items.
G5 Replacement Column Pair— Sold as a pair, these metal columns contain a sieve bed that helps power the oxygen concentrator by increasing low-oxygen air to a higher oxygen concentration. Depending on the flow level and frequency of use, this column pair may need to be replaced every 18-24 months.
G5 Particle Filter— These eco-friendly particle filters are recommended to be cleaned weekly, but over time could become bent or damaged, in which case it would need to be replaced.
Note: The Inogen One G5 features alert notifications to let you know when you need to replace the column pair.
Here's a quick breakdown of the prices of the add-ons.
Add-On Accessory Pricing Breakdown
| Item | Price |
| --- | --- |
| Single Battery | $227.50 |
| Double Battery | $346.50 |
| Replacement Column Pair | $69.30 |
| Backpack | $70 |
| Carry Bag | $41.30 |
| External Charger | $199.50 |
| Particle Filter | $14.70 |
| AC Power Supply | $104.30 |
| DC Power Cable | $45.50 |
Choosing the Right Battery
Batteries for the Inogen One G5 can be a bit complicated because their lifespans can vary wildly based on the level of oxygen flow the user requires. When selecting your system, you'll want to consider how often you'll wish to use higher flow settings. If you know this will be the case, then a single battery might not cut it if you spend extended periods away from your home. Luckily Inogen offers a double battery that provides auxiliary power.
Here is a breakdown of the battery options and their estimated duration at different settings.
| Oxygen Flow Setting | Output (ml per minute) | Single Battery Life | Double Battery Life |
| --- | --- | --- | --- |
| 1 | 210 | 6:35 | 13:28 |
| 2 | 420 | 5:03 | 10:22 |
| 3 | 630 | 3:27 | 7:01 |
| 4 | 840 | 2:25 | 4:55 |
| 5 | 1,050 | 1:51 | 3:48 |
| 6 | 1,260 | 1:26 | 2:58 |
Using the Inogen One G5
Overall, the process of using the Inogen One G5 is intuitive, modern, and effective. The sleek design and portability of the unit coupled with its excellent set of features make it one of the best oxygen concentrators on the market today.
Getting Started
The setup of the device is incredibly simple, even for those who may struggle a bit with technology.
First, you'll receive the box, which includes everything that you will need to get the G5 up and running, without the need for extra tools or equipment. The packaging also includes multiple instructional guides that are extremely informative in getting to know the device and its components. Also included in the box is the concentrator, the battery (as well as additional double batteries), the requisite power cables, the carrying case, and cannula tubing.
Before I get into the actual setup, I'd like to take a moment and discuss the included carrying case. It has a great build quality that houses the G5 perfectly, and it features multiple access points so you can see the display screen clearly as well as swap out batteries without removing the device. Additionally, there is a mesh covering over the filters so the case doesn't impede airflow, and an additional opening on the charging port so you don't need to remove the device to charge it.
The first step in using the G5 is sliding the battery onto the bottom of the device and plugging it in. It should take about three hours to charge the battery completely from empty. You'll then snap the two-particle filters in place on each side of the device. Once charged and with filters in place, you'll attach the cannula tubing to the metal nozzle on the top of the device. From there, the device should be good to go. All you'll have to do is turn it on, adjust the flow setting using the simple display screen, and put on the cannula tube. Immediately, you'll feel the device working each time you breathe in through your nose.
Day-to-Day Device Use
Overall, the Inogen One G5 is reliable and simple to use throughout the day. Whenever you have cannula tubing in, you'll feel comfortable with the oxygen pulse, and the device has a number of extra features that give you the assurance to know that it's doing its job properly. The first of which is the G5's notification system. If there is a malfunction in the oxygen flow, you'll be alerted by the device.
The other way the device keeps you informed of its functions is through the Inogen Connect app. The G5 features bluetooth connection which reports device activity to the app. With Inogen Connect you can monitor battery life, receive notifications if the column pair needs replacing, and get a status report of the concentrator to make sure it's operating properly.
The battery life is also impressive; on the level two flow setting you'll be able to get about ten hours of constant use. Another great feature of the G5 is that it features a DC car charger, so as you go about your day, you can keep the device plugged in to preserve battery life in the car. At the end of the day, you can plug the device in overnight to charge while you sleep; and it's quiet enough to not disrupt your rest.
Final Thoughts on the Inogen One G5
The Inogen One G5 took an already great device in the G3 and improved upon it in almost every meaningful way. From battery life to operating volume to an extra flow setting, the G5 really is a best-in-class device. While some users may not be able to rely on a portable device because they require constant oxygen flow as opposed to pulse oxygen, for those that can use a portable concentrator, the G5 is about as good as it gets. It's light enough to carry around for the better part of a day, and through notifications and the Inogen Connect app, the unit lets the user feel confident that the device is doing its job. If you're one of the 65 million people around the world with severe COPD or another condition that can benefit from an oxygen concentrator, the Inogen One G5 could be a great option for you.
Frequently Asked Questions