GoodRx and SingleCare, two popular prescription discount cards, offer users steep discounts on medications. An alternative to insurance or Medicare, these companies allow you to search for drugs, download coupons, and present them at a local pharmacy. That said, SingleCare and GoodRx differ in terms of discount prices and the number of participating pharmacies.
In our research, SingleCare offered significantly greater discounts than GoodRx; however, the latter company can be used in nearly twice as many pharmacies.
SingleCare vs. GoodRx: Prices
When choosing a prescription discount card, the most important factor will likely come down to price. Below, you'll find a list of medications commonly prescribed to older adults and their costs when using both SingleCare and GoodRx.
As you can see, with nearly every drug, SingleCare offered a lower price than GoodRx. At best, GoodRx offered the same price as SingleCare.
| Medication | Lowest price with SingleCare* | Lowest price with GoodRx* |
| --- | --- | --- |
| Hydrocodone (10 mg; 90 tablets) | $13.22 | $18.25 |
| Simvastatin (20 mg; 30 tablets) | $4.71 | $5.04 |
| Lisinopril (20 mg; 30 tablets) | $4.00 | $4.00 |
| Levothyroxine (50 mcg; 30 tablets) | $3.89 | $4.00 |
| Amlodipine besylate (10 mg; 30 tablets) | $4.57 | $5.34 |
| Omeprazole (40 mg; 30 capsules) | $5.87 | $7.89 |
| Azithromycin (250 mg; 6 tablets) | $4.75 | $7.99 |
| Metformin (500 mg; 60 tablets) | $4.00 | $4.00 |
| Hydrochlorothiazide (25 mg; 30 tablets) | $2.66 | $4.00 |
| Amoxicillin (500 mg; 30 capsules) | $4.99 | $5.51 |
* Prices were taken from pharmacies in Las Vegas, Nevada, and will vary depending on location.
Another feature offered by SingleCare is their bonus savings feature. When you create an account with SingleCare, you'll initially receive $5 in bonus savings. When you use your SingleCare card to purchase your prescriptions, you'll eventually earn more bonus savings which can be applied to the future purchase of medications.
For example, when we searched for amoxicillin, we were presented with prices of under $1 after our bonus savings were applied.

Since both GoodRx and SingleCare are free to use, it's always a good idea to check the cost of your medications with each service. When you do this, be sure that you enter the dosage and amounts of a medication. Otherwise, you'll receive inaccurate pricing information.
SingleCare vs. GoodRx: Participating Pharmacies
While SingleCare excels when it comes to large medication discounts, GoodRx offers a significantly larger number of participating pharmacies. On their websites, GoodRx claims to be accepted by over 70,000 pharmacies, while SingleCare claims to be available at over 35,000.
While this discrepancy seems huge, in our experience, this difference was mostly negligible. When searching for a drug on either service, we had our choice of nationwide pharmacies, including CVS, Walgreens, Walmart, Rite Aid, Kroger, Publix, and Costco –– among other local pharmacies.
The one notable omission from SingleCare's lineup is Albertsons pharmacies, which did not appear in any of our medication searches. Still, although GoodRx seems to have a greater reach of pharmacies, SingleCare offers plenty of options.
Again, since both services are free to try, it can't hurt to check if their coupons work at your preferred local pharmacy.
SingleCare vs. GoodRx: Extra Features
The main draw of any prescription discount card is the medication discounts; however, both SingleCare and GoodRx offer some additional features such as smartphone apps and medication delivery. In this area, GoodRx excels.
SingleCare's Extra Features
In terms of extra features, SingleCare doesn't offer too much. You can, however, view the history of drug prices and identify pills on either the SingleCare desktop version or mobile app.
Additionally, through their partnership with GeniusRx, SingleCare allows many medications to be delivered. In our experience, the shipping was often included, and their drug prices were among the lowest of all pharmacies.
GoodRx's Extra Features
Similar to SingleCare, GoodRx also has a partnership with GeniusRx that gives you affordable medication delivery. Additionally, their smartphone app allows you to identify pills and check for any potential interactions between drugs.
What really impressed us about GoodRx, however, was its telehealth features. Much like an insurance company, GoodRx features a portal where you can make virtual appointments with doctors for various services, ranging from general consultations to prescription refills. These telehealth visits tended to cost around $20 per visit. Considering that these services required no insurance, these prices were highly affordable.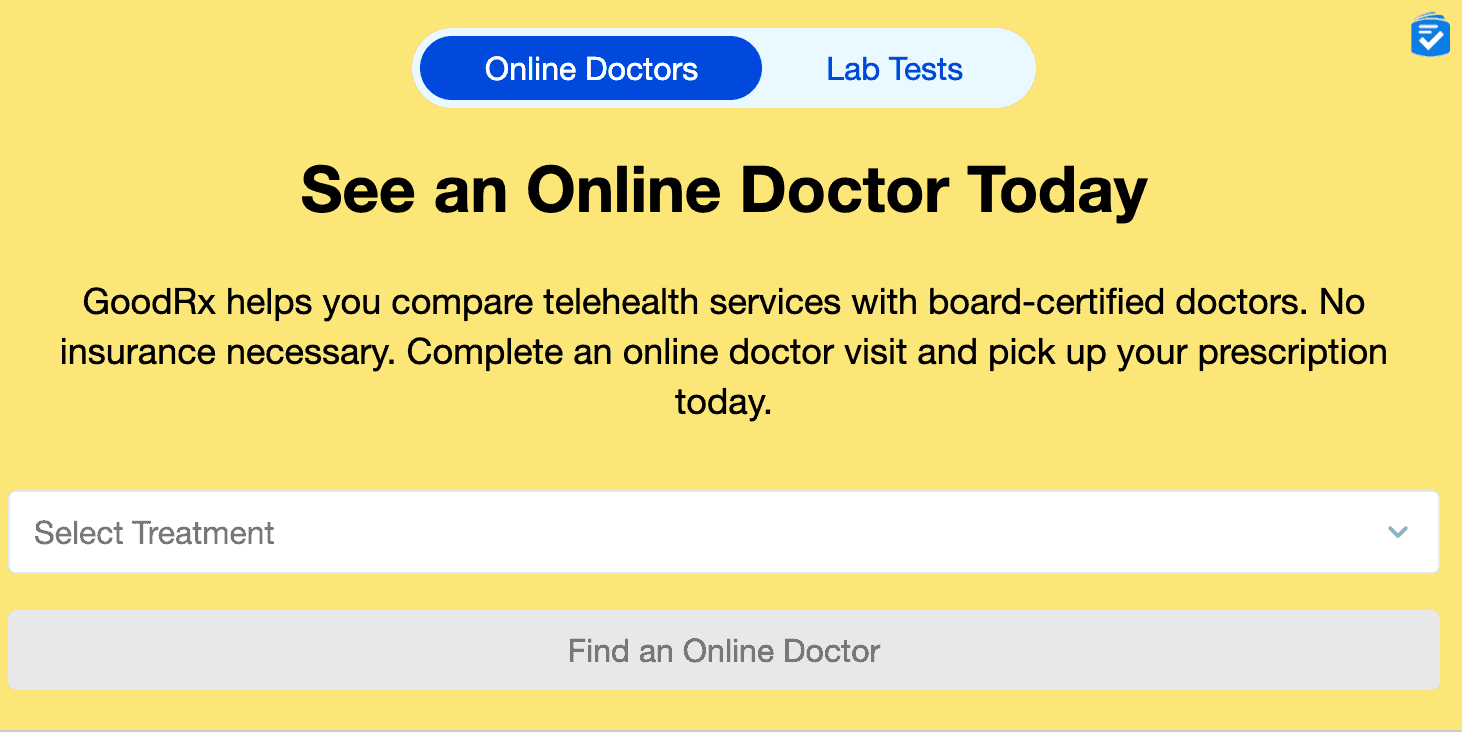 While GoodRx costs nothing to use, they do offer a premium service, GoodRx Gold, which costs $5.99 per month for one user ($9.99 for a family membership). Essentially, this service offers identical features as standard GoodRx but with greater discounts.
For example, a hydrocodone prescription would cost $18.25 with GoodRx. With GoodRx Gold, this price would be lowered to $14.70. Similar discounts apply to GoodRx telehealth visits. Additionally, a GoodRx gold subscription gives you free delivery on qualifying drugs.
Bottom Line
In terms of price, SingleCare beat out GoodRx with nearly every medication we searched for. Even if you were to pay for the GoodRx Gold subscription, SingleCare still often offers the lower price. In terms of availability, GoodRx does work in more pharmacies; however, in our part of the country, SingleCare still had plenty of options.
The main benefit of GoodRx is its telehealth features. If you don't have insurance, a GoodRx telehealth visit would most likely cost you as little as an average insurance copay, making this a highly competitive option.
Ultimately, since neither SingleCare nor GoodRx costs money to use, you might even consider checking the price of your medications on each of their websites. While SingleCare proved to be the cheaper option for us, GoodRx might be cheaper in other regions.
To learn more about prescription discount cards and saving on medication, be sure to check out our guides: