OurTime vs Zoosk: Which Dating Site is Best for Seniors?


Finding someone you can connect with on a deep level and starting a relationship can be challenging no matter what stage of life you are in, but online dating for seniors has opened up a whole world of possibilities and potential matches.
Many older adults are looking for love, connection and friendship. Luckily, there are dating sites designed specifically for a more mature crowd, featuring many profiles of people interested in everything from long-term relationships and simple companionship to flirty flings.
Finding the right dating site for seniors
When you're ready to start dating online, one of the first hurdles is choosing among the best dating sites for seniors. As of 2016, there were more than 1,500 online dating sites — some catering to broad audiences, like Match.com, and others catering to more select groups of people. In fact, dating sites that cater to niche markets are increasing rapidly. There are dating sites for those who want to find their "Soul Geek," sites for people who prefer to find matches based on what they hate rather than what they like, and, yes, dating sites specifically designed for seniors.
Some of the most important factors to consider when you're trying to decide on a dating site include:
Subscription fees: Most sites allow you to set up a profile and browse for free, but require that you pay a subscription fee to be matched with people and to contact them directly, or to take advantage of other features like chatting with members and seeing who has viewed your profile.
Active users: Online dating can expand your ability to find more potential dates, but only if the site has a decent number of active users in your age range and your area. However, sheer volume of user profiles doesn't guarantee you will find a match, so sites that are designed to weed out certain audiences with the goal of making it easier for users to find that special someone are often better than sites with millions of users.
User-friendly interface: Before choosing a dating site, check out how easy it is to set up a profile, search for matches and navigate the app or website. You can often set up a profile for free and browse other user profiles before you subscribe, which can give you a feel for usability.
Dating goals: Some sites cater to people who are interested in short-term hookups, while others aim to match people based on deeper interests for long-term compatibility. It's entirely a matter of preference, but it's important to be on a site with others who share your ultimate goal, so you can find the right match.
Privacy and security: Putting your information out online can come with some risks, and many scammers use online dating sites to find potential victims. It's important to check the site's security features to protect your online information and to ensure the people you meet are authentic.
Ready to get online and find your match? In this guide, we compare two of the most popular dating sites for seniors, OurTime vs. Zoosk, to help you decide which one is the best choice for you.
OurTime
The number of people over the age of 50 signing up for online dating sites has grown significantly, and most don't really want to navigate an online dating world where you have to sort through profiles of people in their 20s and 30s looking for a quick fling. That's where sites like OurTime come in, which cater specifically to a more mature crowd.
The site has close to nine million active monthly users, and proudly boasts about its differences from other dating sites by "recognizing that what people want in their 50s, 60s, and beyond is often very different from what they want in their 30s and 40s, let alone their 20s." It also offers something not many other online dating sites do: the ability to make connections with potential pen pals, travel buddies and others, in case you're interested more in friendship and companionship than a romantic relationship.

How it works: Pros and cons to OurTime
You can get started on OurTime by providing a basic profile that includes your name and some information about you. It's free to post a profile and you can start browsing through the site right away, but they do require a subscription to access any of the features that connect you with other members. Users range from people looking for romance and marriage to those who simply want a friend to travel or connect with. Because of this variety, the site has a more laid-back feel, which is great for someone who's new to online dating.
OurTime usability
OurTime is owned by Match.com, so the user interfaces are pretty similar. Getting started is easy, with step-by-step instructions that even someone who's not tech-savvy could easily follow. You can upload your profile picture, fill out your personality traits, and write a short essay about yourself. Once that's set up, you can use the search features to browse profiles of others on the platform using various criteria like religion, ethnicity, age range, location, body type, children, zodiac sign and more. They will also provide recommendations on people to connect with based on your profile information and preferences. The navigational tools are simple, and it's organized in a way that makes it easy to browse.
If you find someone you want to connect with you can "flirt," send a direct message, send them virtual gifts or live chat if they are online at the same time as you (most of these features are only available with paid subscriptions). The communication tools are straightforward, making it easy to find others and start a conversation.
They also offer dating tips that address some of the unique benefits, challenges and questions people have when they enter the online dating world at a more mature age.
How much does OurTime cost?
Most people begin by creating a free profile on OurTime and browsing through other member profiles, but to use the more in-depth connection and communication features, you need to have a paid membership. Membership options include:
One month standard: $29.96
Six months standard: $90 ($15/month)
Six months value: $107.76 ($17.96/month)
The standard memberships give full access to the mobile app (iOS/Android) and all the search, chat and messaging features. Value memberships provide extras like notifications when someone reads your messages, and profile highlights to make you stand out.
You can also purchase tokens on the site ($0.99 for 25 tokens, up to $9.99 for 280 tokens) and use them for features like:
PromoteMe: Move your profile to the top of search results.
NotifyMe: Get notified when certain members are online.
MatchMe: Show your profile to someone you want to meet.
ConnectMe: Connect via phone and text message without exchanging phone numbers.
ProfilePro: Have a professional writer create a profile that will set you apart.
Virtual Gifts: Send virtual gifts to a recipient.
OurTime privacy and security
Unfortunately, OurTime doesn't verify user profiles, so some users have complained about fake profiles on the site. The site does provide information about how to protect your personal information and avoid scams with online dating sites, as well as safety precautions to take if you plan to meet someone in person for the first time. Their privacy policy has details about the information they collect, how they protect it and how long they retain the information.
The ConnectMe feature allows members to chat via text or on the phone without having to share your personal phone number, giving you peace of mind when you're communicating outside the platform. However, it does require you to purchase tokens at an added cost.
Other considerations
Anyone over the age of 18 can create a profile on OurTime, so there's no way to guarantee everyone you encounter will be over the age of 50. However, you can set your own preferences, so you won't see profiles of anyone under a certain age if you prefer to limit your matches to a certain age range.
Like most other online dating sites, they have features that allow you to block a user or report them for harassment.
Zoosk
Zoosk is one of the most popular dating sites in terms of audience reach, with over 40 million members, and it's been around since 2007 (a long time for a dating app). While it is not exclusive to seniors, it does actively promote its growing membership of people age 50 and over ("Zoosk Seniors") and is a widely used app for online dating for seniors.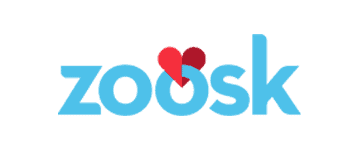 How it works: Pros and cons to Zoosk
Zoosk uses a patented Behavioral Matchmaking algorithm to connect you with people who have similar interests, but you don't necessarily have to spend hours filling out questionnaires to get started, as you would with some other sites. Simply upload a profile picture, put in your current location and answer a few basic questions about yourself.
Answering more of their in-depth questions will give Zoosk more information to provide you with more accurate matches, but you can still browse profiles right away, and fill out your answers later, once you've decided you'd like to invest more time on the platform. It will show you profiles of users they think you may want to see based on posts you interact with and like. As you use the platform, Zoosk will ask for your feedback on posts they are showing you and whether the profiles align with what you're looking for. If they don't, it will update your algorithm and show you new potential matches. The company has been refining its algorithm since it started in 2007, so it's pretty sophisticated and can be a benefit for people who aren't interested in spending a lot of time searching for matches.
The environment overall is pretty low pressure, so you can browse for fun or get more serious in trying to find a good match. The site also includes several features to help you search for people, including:
Online Now: A location services feature that prioritizes people in your area who are actively using the site so you can chat with someone that's also online.
Carousel: A matching feature that shows you profile pictures and asks if you're interested in meeting the person with yes/maybe/no answer options. When both of you say "yes," it shows up in the Connections section of your app.
SmartPick™: An algorithm that learns from your "like/don't like" votes to provide you with better match recommendations in the future. You can also fill out the SmartPick Survey to get better match results.
Super Send: A quick way to introduce yourself to several people at once with a simple message; if someone messages back, you will be connected.
Zoosk usability
The app and desktop site have search features to help you narrow down the profiles you will see with filters like religion, geographic area and age range. It also displays only one profile on the screen at a time, which is great if you find other sites that show multiple matches to be too distracting. It's easy to navigate both on a desktop or through the smartphone app (iOS/Android), and it's great for people of all tech-skill levels. The design is sleek and modern, and the smartphone app has even won awards for being user-friendly.
The simple, straightforward approach is part of what makes Zoosk so popular, especially for someone just starting out in the world of online dating. There are no complicated questionnaires or overwhelming search feeds — just simple tools to view other profiles. You can swipe through profiles and come back to them later or "favorite" someone without any commitments, and easily navigate between profiles without any pressure.
How much does Zoosk cost?
Like most sites, Zoosk allows you to set up a profile and start browsing for free. A subscription allows you to chat with others, use their SmartPick™ introductions feature and see profiles of other people who have viewed you on the platform.
Subscription options include:
One month: $29.95
Three months: $19.98/month
Six months: $12.49/month
The site sometimes offers promo codes for discounts on membership options for first-time users. You can also purchase "Zoosk coins" to unlock features to help you stand out, like virtual gifts to give your matches (flowers, chocolate-covered strawberries, etc.) or the ability to send a special email message. Coin packages range from $19.95 for 180 coins to $99.95 for 1,800 coins.
You can pause your membership if you want to take a break (the app will keep all of your information and history, but you won't show up in searches on the site). It's also easy to deactivate your account if you change your mind about online dating or if you find your ideal match.
Zoosk privacy and security
The company has a privacy policy that outlines the type of information they collect, and how it's used. You will need to activate your smartphone GPS to use features like Online Now, giving the app permission to track your location, so it can match you with others in your area to chat. Zoosk can also connect with your existing social media profiles, such as Facebook or Twitter, and when you connect those profiles, be aware that you give the app permission to access your information on those social networking sites.
The site offers multiple ways to verify your account to show people that you are genuinely who you say you are, which is a nice feature to have. However, their online help site makes it clear that they do not conduct any type of background checks, criminal screenings or other similar verification activities, so it's still important to take measures to protect yourself from potential online predators or scammers.
After experiencing a high volume of users falsely claiming to be members of the U.S. military, Zoosk created Insignia™, a program that verifies military service using a three-step verification process with credentials, personal information and other documentation confirming service.
The platform also has features to block users and report them for harassing behaviors.
Zoosk uses the data it gathers to study users' online and offline dating behaviors, and publishes the information as aggregated data without any identifiers on their Date Mix blog. The data provides a fascinating look into things like how your sports fandom can impact dating (people who mention a favorite NBA team in their profile get 111% more messages than those who don't) or how generational differences impact dating behaviors. It's a little bonus for those who enjoy a little number crunching, even in your dating life. Anyone can read the blog, even if you're not a member.
Other considerations
Zoosk doesn't offer any person-to-person customer support, so if you're struggling to use the platform, you'll need to use their online help section.
OurTime vs. Zoosk: The bottom line
While Zoosk and OurTime both have options for people over the age of 50, they offer different options that will appeal to different people based on what you're hoping to get out of a dating platform. Both offer relatively easy and intuitive platforms and simple sign-up options. Membership costs are comparable, although Zoosk is slightly more affordable if you're on a budget. Each site also has something that sets it apart:
OurTime — caters specifically to people over 50, so you're likely to find a lot of like-minded users to connect with.
Zoosk — has a more advanced matching algorithm, and a very large user base, which can make it easier to find someone without spending a lot of time searching.
Dating at any age can be frustrating, and online dating might seem overwhelming. Fortunately, the stigma of meeting someone online has all but disappeared, and it's often the easiest and most efficient way to find people who share your interests.
There are few things in life more fulfilling than finding a person you care about who you can spend time (or the rest of your life) with, and putting yourself out there online can help you find that special someone.