Baby boomers and their real estate needs are trending in the media. Statistics similar to the below chart are being posted to help identify what generation is buying homes and at what rates. According to the National Association of REALTORS® Home Buyer and Seller Generational Trends Report the Silent Generation makes up only 10 percent of the recent home purchases. Which begs the question, what are the home buying stories behind this small portion of home buyers?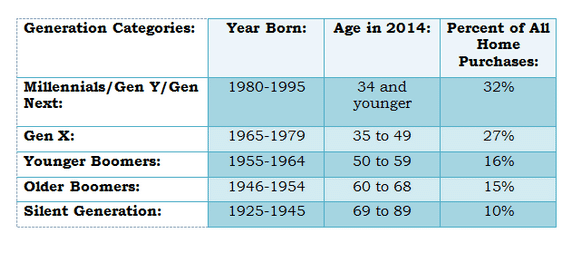 (Chart credit: National Association of REALTORS® annual 2015 Home Buyer and Seller Generational Trends Report
This question led to the interview of a 70 year old woman, Betty*, who is on the younger spectrum of the silent generation, who is currently in the process of purchasing a condo. Her story sheds a personalized light on statistics that can feel abstract to help identify the motivating factors of those purchasing real estate between the ages of 69-89.  She is purchasing her condo with her partner, George*.
Who Are the Seniors Buying Homes Today?
Betty and George are defying the stereotypes of real estate choices past the age of 50 but they are certainly not alone in the path they are paving. Life after 50 is changing as people live healthier, longer lives which reflect directly on the home purchase habits of baby boomers and the silent generation. Betty and George are practical examples of this changing lifestyle model.
Betty (70yrs) and George (late 60's) are not downsizing; they are starting a life together and not starting over in an empty-nester kind of way. They have never shared children or owned a previous home together. They are not married. They are in a committed relationship moving into the realm of co-ownership as they put the final touches on a condo purchase in Chicago, Illinois.
In her interview, Betty does not throw around the buzz words currently trending in the 50+ real estate scene such as "universal design", "aging in place" or "multigenerational living". She shies away from the idea of assisted living and categorizes it as something that would merely be on an "as needed basis". It is perhaps due to her and her partner's good health that assisted living does not seem to be on her radar. But it is not just a fact of independence that deters her from assisted living.
It was clear from her interview, unlike some, age did not enhance a desire to live near people all similar to her and the main fear she associated with assisted living was being surrounded by a homogenous group of people. Assisted living communities tend to be made up of people of relatively the same age and income and she felt living in a condo in a city like Chicago provided the desired diversity as she ages. The city also provided another important factor: walkability.
This was essential as Betty spends her time exploring her neighborhood, spending time with George, working full time, volunteering her time as president of community boards and practicing yoga. It is clear she maintains a very active lifestyle and is still active in her community. She is not alone in this need. According to AARP's Home and Community Preferences Survey, 80 percent of those surveyed felt "strongly or somewhat agree(d)" with the statement: "What I'd really like to do is remain in my local community for as long as possible."
Walkability allows her to be surrounded by an environment that will keep her youthful and allow her to continue to participate in the activities she loves. Her condo purchase was defined by the ability to continue to explore the nature around her community, proximity to shops and restaurants, accessibility to Lake Michigan and large windows that allowed a view even when harsh Chicago winters kept her indoors.
Fear of Commitment: Buy vs. Rent
Alongside age comes wisdom from experience but change is still anxiety provoking and Betty still has the same fears many of us do when it comes to committing to a large life decision, especially when it has financial replications.
Is this the right choice?
A large hesitancy in regards to purchasing her condo came with the fear of the sometimes rigid structure of ownership (especially from condo associations). In the interview, Betty reflects on her past of home ownership and on her shorter period of being a renter. A homeowner since her 20's, being a renter for the past five years allowed more freedom and flexibility; the ability to "shut the door and leave when I wanted to travel…there is something about an apartment that feels temporary and transient no matter how long you live there". To her, home ownership could feel like an anchor in both a positive and a negative sense.
She never thought she'd own a home again and George was a major factor in deciding to buy again. He found it a better financial move and she too found perks in the financial security of owning versus paying rent. It is an empowering feeling to have something that is your "own" with the ability to make structural and cosmetic changes as you please. It provides more sense of control and owning increased her feeling of security which was important to her especially as she aged.
When asked if the process felt different than previous home purchases her response was candid, "Yes, more tiring. We forgot how old we are and took on a lot". However youthful one may feel it is true that a move almost always feels as if you have bitten off more than you can chew.
At the end of the day interviewing Betty and George who are part of the 10 percent of homebuyers (Silent Generation) shows that perhaps real estate decisions are similar for many of us: a search for comfort, community, financial stability, security and happiness.
Betty's last thoughts she shared were maybe the most important as we try to understand this small group of homebuyers: "We feel like we have a lot of life left to live".
*Betty was interviewed by the author of this article. George was never interviewed but was included in the article based on facts provided by Betty. Both wished to remain anonymous and their real names have been replaced with fictitious names.
This post submitted by guest author Laura Davis for the Seniors Real Estate Specialist Council.