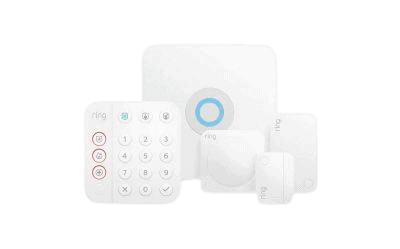 Ring Home Security Review
When most people think of security, they think of companies that have been around for years, like ADT. But recently, a slew of startups have thrown their hats into the market, creating systems with DIY installation, flexible professional monitoring, and no long-term contracts. Ring is a great example of a company that's disrupting the home security industry in the United States. Owned by Amazon, they have a wide variety of security cameras, video doorbells, and security devices to choose from, all controllable through the Ring— Always Home app. I tested out their Ring Alarm security kit to find out if it would be good for the older people I work with. Could such a modern security system work for even the least tech-savvy among us? I'm about to find out.
Ring Alarm 2nd Generation: What's New?
Although I've tested out Ring Alarm before, the company recently came out with a second-generation version of their system, which, by the way, includes a base station, keypad, motion detector, contact sensor, and range extender. I also added on the Ring Stick Up Cam Wired plus the Video Doorbell 2, but for now, let's focus on what's new about the Ring Alarm 2nd generation.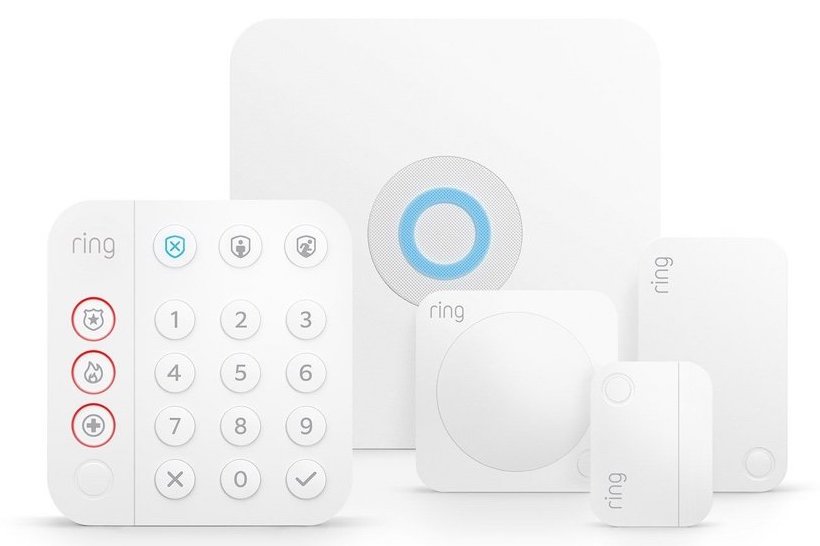 Mainly, its devices are smaller, with an improved look and feel. For someone concerned with aesthetics like me, I appreciated that the Ring Alarm devices weren't so noticeable in my home. But as far as safety goes, Ring definitely upped the ante, particularly with its keypad, where I armed and disarmed my security system. After an improved design, it has three buttons with easily identifiable logos representing the police, the fire department, and the local hospital. All it took was a push of a button to contact these emergency services, so older folks shouldn't have any issues reading small text. Getting help is as simple as pushing the button for 30 seconds.
Ring Alarm's other improvements included adding indicator lights for the motion sensor, contact sensor, and range extender. To be honest, I didn't really notice much of a difference even with the lights on, but those with pets will appreciate that Ring's motion sensor will no longer detect them, seriously cutting down the number of false notifications you'll get. Aside from that, Ring Alarm works the exact same way as before. But let's back up a second.
My Ring Alarm Security Kit (Plus Some Extras)
For those not as familiar with security systems, I want to break down exactly how I used my Ring Alarm system.
Base Station
The base station is the heart of every Ring Alarm system. It connects all the components both to each other as well as to the monitoring center and the Ring app. Even in the worst-case scenario where an intruder smashes the base station, it'll stay connected, and even if the power goes out, it'll stay on for up to 24 hours thanks to its backup battery. If any sensors go off while my system is armed, the base station will sound a 104-decibel siren, which is louder than a handheld drill. Given that hearing loss is common for older adults, I appreciated the volume of the siren in the base station. But if I wanted to add on a second siren, Ring has auxiliary options as well.
Keypad
Like I said, the keypad was where I armed my system when I left for work and disarmed it when I got home. It's also where I could easily contact the police, firefighters, or EMT personnel with the panic buttons.
Motion Detector
A standard part of any security system, the motion detector set the base station off whenever it detected motion when the system was armed. Fortunately, I didn't have any real intrusions during the testing process, but when my kids came home from school and forgot the alarm code, I was alerted immediately via an app notification and called to see what was up. On top of that, since I signed up for a Ring Protect plan, the monitoring team checked in as well, but I let them know that everything was a-okay.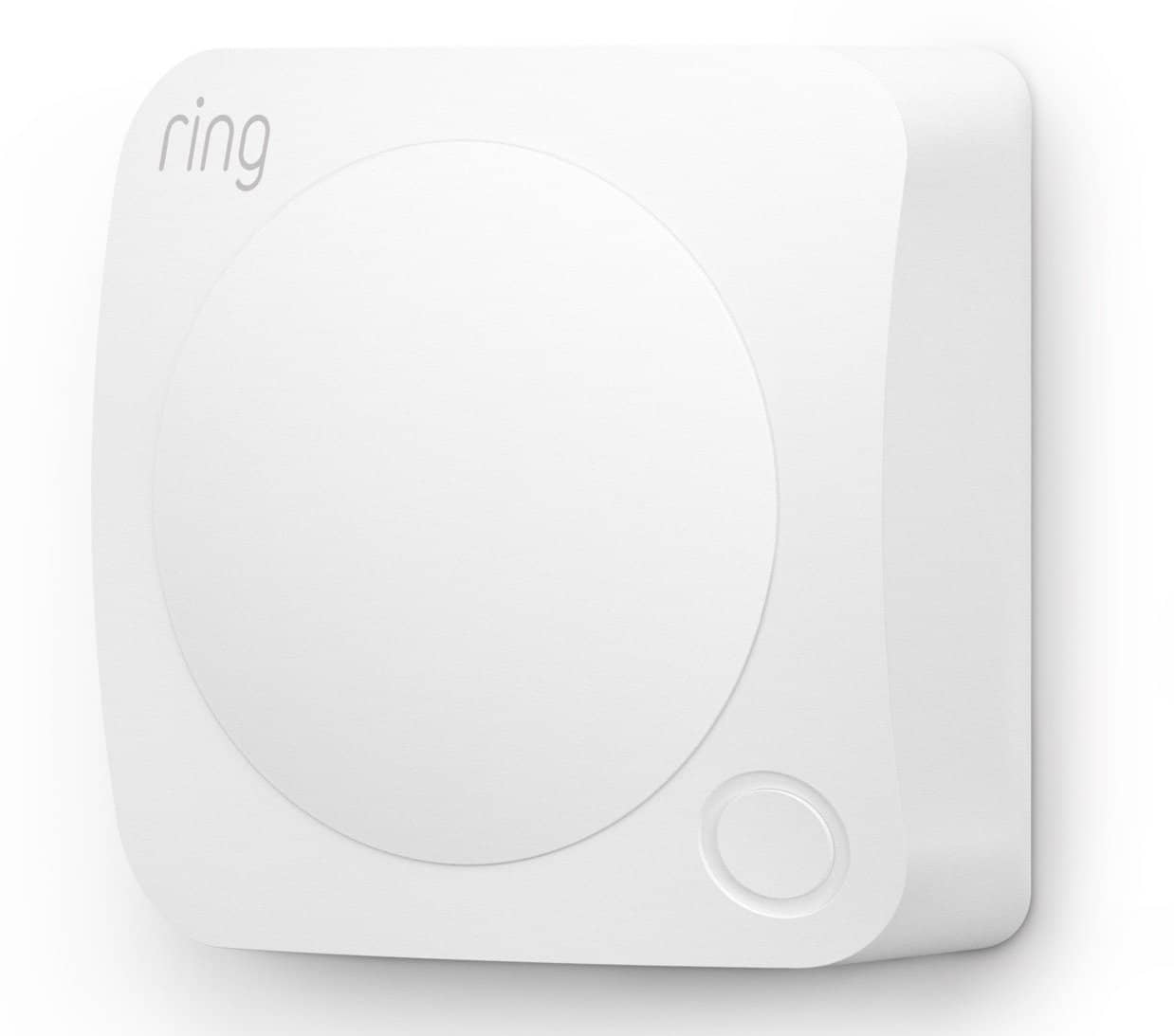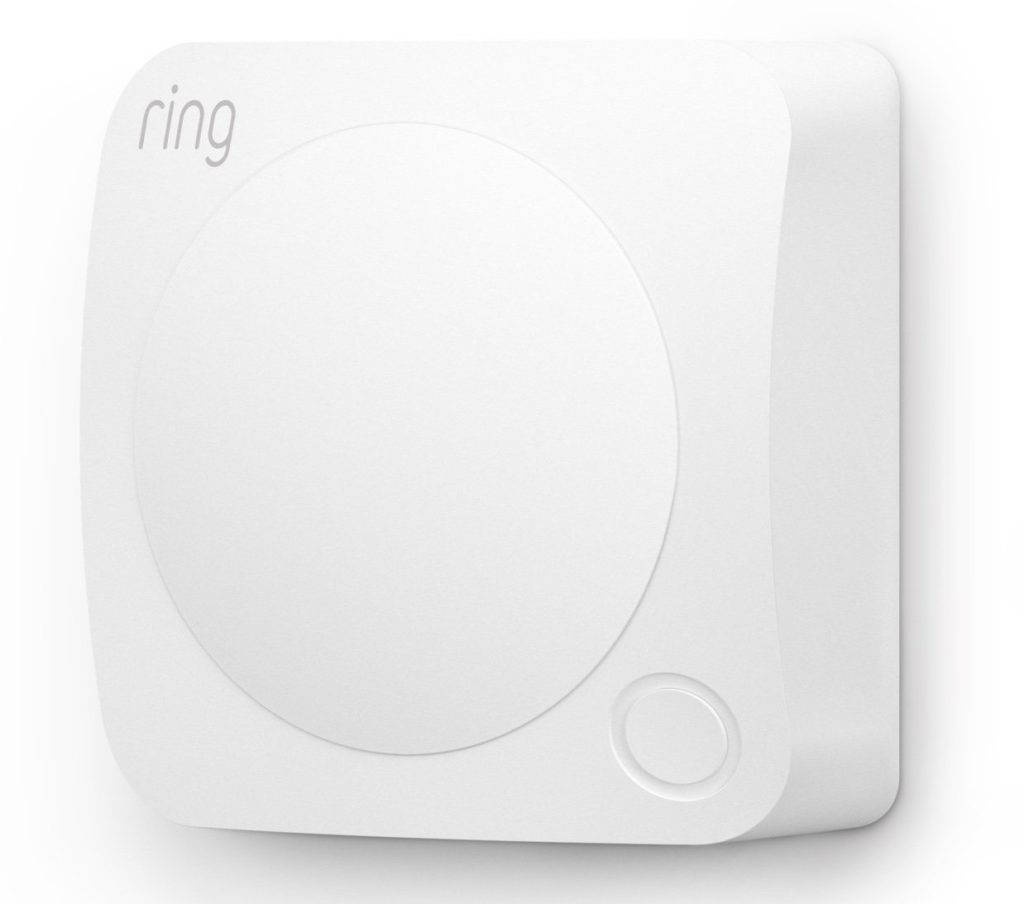 Contact Sensor
The motion sensor wasn't enough to cover my entire ground floor, so I put a contact sensor on the windows facing the street, although you can also put them on second-floor windows if they can be accessed through a tree or balcony. A sensor in two parts, I stuck on part on the window's frame and one on the bottom of the window itself. Whenever the sensors got too far apart when the system was armed, I got notified. Also, keep in mind that in order to communicate with the base station, the contact sensor has to be within 250 feet, which for my small home, was not an issue.
The More You Know: Unlike many other security systems, Ring doesn't offer a glass break sensor, so make sure your motion detector covers all of your doors and windows, as well.
Range Extender
If you're unlike me and have a larger home, the range extender is a way you can, well, extend the range of the base station. I actually ended up using it for my outdoor camera, which I placed more than 250 away from my base station. I simply plugged it into an outdoor outlet, which gave me another 250 feet of range.
Ring Stick Up Cam Wired
Although I was happy with the items included in my Ring Alarm kit, I also wanted to be able to physically see what was happening at home, not just hear about alarms going off. For someone who is a caregiver for an older adult, security cameras are a really easy way to keep up with them. Overall, I was happy with the footage I got from my Ring Stick Up Cam Wired.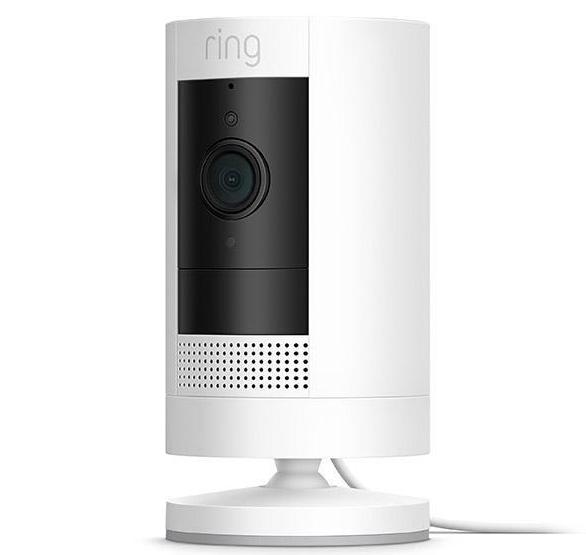 It shot in 1080p HD, which is the standard nowadays, plus, it had two-way audio, so I could actually speak to whoever the camera was on 24/7. Not to mention, with motion detection, I got alerted of any motion the camera saw; however, the camera itself couldn't differentiate between motion from humans, animals, cars, and other moving objects, so expect some false notifications throughout the day. While I wish that Ring offered cameras with person detection and facial recognition like Google Nest does, the lack of AI definitely contributes to Ring's low prices, especially when compared to the pricey IQ cameras from Nest.
Aside from that, the Stick Up Cam Wired had some pretty cool features like infrared night vision, which produced clear, black and white footage even when the sun went down. Storage was all done on Ring's cloud server, part of the Ring Protect Plus plan that I ended up buying ( but more on that later). While the camera doesn't have a slot for a micro-SD card like the Wyze Cam, to backup my footage I just downloaded it from the Ring app and moved it onto an old hard drive I had lying around. Now, if my camera caught someone red-handed, I could actually use my video evidence in a police trial.
Ring Video Doorbell 2
About two-thirds of adults ages 65 and up with disabilities have issues with walking or climbing, which could make answering the door quite the task. While this probably wasn't the intention of Ring when they created the Ring Video Doorbell 2, I think that it could be incredibly useful for adults with mobility issues. Rather than having to trek downstairs to answer the pharmacy delivery man, for example, I actually got notified when he pressed my doorbell. From there, I opened up my Ring app and live-streamed the footage from the Video Doorbell's camera, and since it comes with a speaker and microphone, I could speak to him, as well, telling him to please leave it between the glass and wooden doors of my home.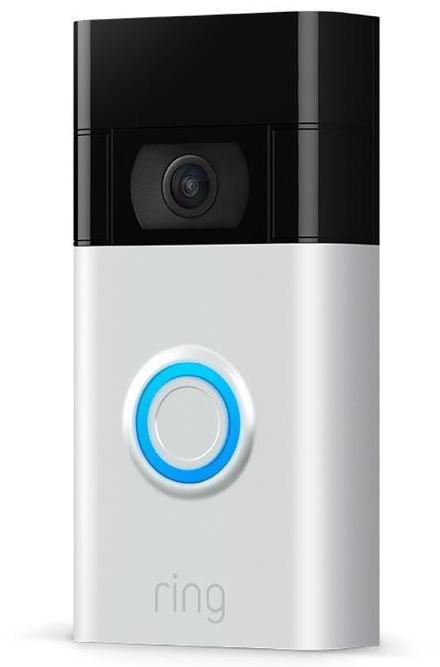 With the same 1080p HD video display I've come to expect from all of Ring's cameras, I could see clearly. But I'm a middle-aged woman with pretty good vision; what about older people with vision loss? You may not know this, but about one in three people have vision loss before they even turn 65, so the small screen of my iPhone may not cut it for everybody. Fortunately, I could also show my Ring Video Doorbell 2's footage on my Fire TV as well as on my Echo Show 8, a smart display pad with an eight-inch screen. It even worked at night, allowing me to see my family as they came home from late-night social engagements. Especially for adults that struggle with mobility, the Ring Video Doorbell 2 can be a godsend.
Ring Protect Plans
Good news for your wallet— after I paid for my Ring equipment, I didn't have to pay another dime. Even without a Ring Protect plan, I could still livestream footage, receive notifications when my alarms went off or when my cameras detected movement, and even control my devices remotely. Many other companies like SimpliSafe charge $24.99 a month for the exact same features, but with Ring, self-monitoring through the Ring app is an option. This would be a great option for families, as you'll be able to check in on your older family member as many times a day as you want.
| | Free | Protect Basic Plan | Protect Plus Plan |
| --- | --- | --- | --- |
| Coverage | No | One Ring Doorbell or Security Camera | All Ring devices at one address |
| Person only mode | No | Yes | Yes |
| Interact with visitors remotely | Yes | Yes | Yes |
| Livestream | Yes | Yes | Yes |
| Warranty | 1 year | 1 year | Extended warranty |
| Length of cloud storage (in days) | No | 60 | 60 |
| Share and save footage | No | Yes | Yes |
| Cellular backup | No | No | Yes |
| Professional Monitoring | No | No | Yes |
| Exclusive Discounts at ring.com | n/a | n/a | 10% off |
| Monthly Price | $0 | $3 | $10 |
| Yearly Price | $0 | $30 | $100 |
| Yearly Savings | $0 | $6 | $20 |
But for the majority of families, it's not possible to be there every time a sensor beeps or whenever the camera spots a person. That's why I sprung for the Ring Protect Plus plan, which included 24/7 professional monitoring as well as cellular backup to keep my system connected in a power outage. Much like the monitoring that comes with all of the top medical alert systems, for security systems, it means that if any of my alarms went off, not only would I be notified, but so would a team of people in a monitoring center. If I didn't respond to the notification or their calls, they'd be able to check-in and verify the emergency before contacting the proper personnel.
While I didn't have any legitimate intrusions during the time I tested out Ring Alarm, my son once came home late one night and, being the teenage boy that he is, completely forgot to put in our passcode to disarm the system, which led to the base station's alarm going off. And because I had put my phone on silent while I caught up on some much-needed sleep, I didn't hear when Ring's monitoring center called my phone. Instead, they spoke directly through the base station, so my son was able to tell them himself that it was a false alarm. Even though this situation wasn't great for obvious reasons mainly relating to my REM cycle, it did teach me that Ring's monitoring is trustworthy and reliable.
Now, if you want to learn more about Ring's costs, check out my pricing page, but to summarize, Ring has the lowest monitoring prices I've seen from a security company. I've already mentioned SimpliSafe, but Ring is even more affordable when I compare it to more traditional and well-known systems like ADT. Although their prices are negotiable, which is scary for someone that hates haggling as much as I do, most of their customers pay around $40 to $60 monthly for ADT, and that's on top of high equipment costs. With Ring, all costs are included in that fee, including 60 days of cloud storage, which companies like Nest charge separately for. All in all, Ring is a great security system for someone on a budget.
Installing Ring Alarm
Since I've taken a look at Ring's first-generation security system, I was excited to see how the installation process would be with their second-generation system, which also relies on the Ring— Always Home app and my existing Ring account. Plus, Bluetooth was already on my phone for my AirPods, so all I had to do was go into the Ring app, click Set Up A Device, and then find the base station. After a quick software update, my station glowed blue. The app prompted me to sign up for a Protect plan, and after that, I installed each device one by one with help from the Ring app. Since most of the components were peel-and-stick, like the motion sensors, the entire process didn't take longer than a half-hour.
Pro Tip: Don't pull each devices' plastic tag all at once; rather, do one after the other to save you some valuable setup time.
Alexa, Arm Ring! How Ring Works with Voice Assistants
Believe it or not, many more older adults use voice assistants like Alexa and Google Assistant than you might think. From 2017 to 2018, one million more older adults in the United States used smart speakers, bringing the total number up to 3.8 million people. And if you didn't already know, Amazon owns Ring Alarm, so naturally, their security system works with their voice assistant Alexa. But it also works with Google's competition, the aptly named Google Assistant. Here are some of my favorite commands that I used with each voice assistant:
Alexa
Alexa, answer the front door.
Alexa, hide the front door.
Alexa, show me the most recent events from the kitchen.
Alexa, arm Ring.
Alexa, disarm Ring.
Alexa, is Ring armed?
There were also a number of other commands I could've done, but they would've required additional equipment from Ring. But that about covered it for my Ring Alarm security system, camera, and a video doorbell.
Google Assistant
Hey Google, talk to Ring about starting a new recording.
Hey Google, talk to Ring about the health of my devices.
Okay Google, talk to Ring about the last time my Doorbell rang.
I wish the Google Assistant action had more capabilities, particularly being able to arm and disarm my system using my voice alone. So especially for adults with issues moving, I'd recommend Ring for those in the Amazon versus the Google smart home ecosystem.
The Ring— Always Home App
Of course, another way of controlling my Ring Alarm system was to do it within the app. Available for both iPhone and Android, I used the app to livestream footage of my home while I was at work, to tell my kids to get to their homework and stop playing video games, and to get alerts if any of my alarms went off.
For an older adult that lives alone, the Ring app could be an awesome way for families to keep them safe without being intrusive. Of course, I don't recommend putting Ring's cameras in any bedrooms or bathrooms, but a camera in a centrally placed hallway or main living room can be a great way to make sure that Dad has started his usual morning routine.
FYI: Nearly a third of older adults who aren't institutionalized lived alone as of 2017; that's why security systems that work with mobile applications are ideal for these older adults.
Ring Recap
Even though Ring may seem like it's complicated, what with its many cameras, video doorbell, and security options, it can be as simple as you want it to be, especially if you sign up for 24/7 professional monitoring as I did. Either for an older adult that lives with someone or lives alone, Ring provides an easy way for them to have someone watching over them, be it the professional monitoring team or simply their family through the Ring app. Although they don't have the 140-year reputation of a company like ADT, I'd definitely recommend Ring Alarm for older adults, especially if they're on a budget.