Written by The Senior List Team | March 26, 2020
Senior living communities are essential to nearly a million residents who rely on them for care needs as they age. At $250 billion, the US senior living industry has a larger economic impact than air transportation. And, with people over 65 projected to double in the US by 20601, the need for medical assistance will continue to grow.
In March, 2020 a nursing home in Washington state became the heart of the COVID-19 outbreak in the US. The senior housing industry has responded quickly with social distancing and visitation restrictions, among other rules (provided at the end of this study).
We asked seniors over 65 and their immediate family about the health safety of senior living and how their perceptions may have changed during the outbreak of COVID-19. We compared the perceptions of those living in senior housing to those that do not live in senior housing.  We also compared residents of Washington state to the rest of the nation.
The current crisis will disrupt the senior housing industry in unforeseen ways and public perception is key to industry growth.
Key Findings:
Seventy-one percent of those living in or who have a loved one living in senior housing believe they provide good or excellent "health safety."
Seniors who do not live in senior housing, and their immediate families, have a lower perception of "health safety", with just 40 percent believing it is good or excellent.
Forty-seven percent of Washington residents say that the COVID-19 outbreak has negatively affected their opinion of senior living vs. 40 percent for the rest of the US
Forty percent of those surveyed say that the current outbreak has not changed their feelings about senior living.
Perceptions of health safety by residents and their families are positive compared to non-residents.
When asked about the healthiness of senior living facilities, the results of our survey point to a general concern among the public for the safety of residents. Only 40 percent responded that they felt senior living provided good or excellent care to seniors, with 40 percent believing care to be adequate and 20 percent feeling it is poor or insufficient.
Among seniors who are currently in senior housing and their family however, the percentage who think they are receiving good or excellent care jumps to 71 percent, with just 7 percent believing they are receiving poor or inadequate care. This disparity is interesting as it shows that the people most familiar with daily care believe it to be of much higher quality than those on the outside. This could point to confirmation-bias for residents wanting to believe they made the best care choice, or it could signal that public perception of nursing home health safety is wrong. Either way, perception looks to be a problem for the industry.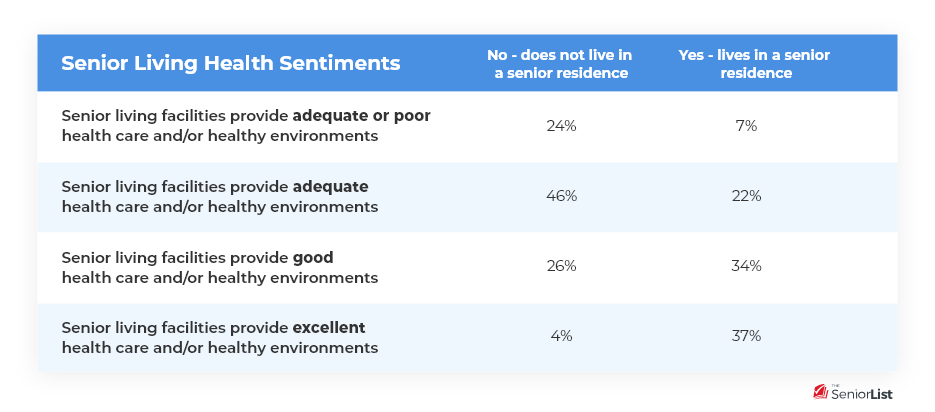 The nursing home COVID-19 outbreak has lowered opinions of senior housing safety in Washington
After asking respondents for opinions on the safety of senior living, we wanted to know if the Washington outbreak has impacted that opinion. Not surprisingly, the majority of respondents reported that this event did affect their opinion about nursing home health and safety. What is surprising is that while 43 percent said their perspective was negatively affected, 14 percent actually now have a more positive opinion than before. One explanation for this is that the reports on seniors living alone who are struggling to get necessities during this time are leading people to believe seniors are better off being cared for in a facility.
Residents of Washington state have seen their perceptions of senior living health safety negatively affected more than respondents from other states. This is not surprising given that the Washington nursing home is regarded as the catalyst for the larger outbreak. For those living in Washington, 47 percent say COVID-19 has negatively impacted their feelings about the safety of senior living residences, vs 40 percent for the rest of the US. Only 9 percent of Washingtonians said their feelings were positively impacted, vs. 19 percent for the rest of the country. For all respondents, 40 percent do not think their opinions have changed due to the viral outbreak.
Senior housing across the country is adapting to keep residents safe
Because seniors are at the highest risk for complications from COVID-192, senior living communities are taking major steps to reduce the virus' spread. Nursing homes have been ordered to stop all visits, group activities, and communal dining, and other types of senior housing are making their own decisions or being directed by the local government.
The CEO of Brookdale, the nation's largest senior living operator, posted in a video message:
"In light of the changing guidelines, Brookdale is tightening up our current policies and protocols. At this time, we are restricting all visitors and non-essential health care personnel to our communities. There is an exception for certain compassionate care situations, such as the end of life, or pursuant to the guidance of public health officials,"
In Ohio, one senior living center has implemented changes we are seeing in many facilities including:
Restricted entry – entry limited to associates and medically necessary personnel
Elimination of communal dining
All food delivered, no pickup
Communal events canceled
Wellness and fitness centers closed
Social distancing (6 ft. +) if leaving the community
Regular maintenance and cleaning checks
Limited points of entry
Limited mail pickup locations
Devotion and prayer services canceled
On March 21st, the CDC released new guidance for retirement communities:
Guidance for Retirement Communities and Independent Living
Preventing the Spread of COVID-19 in Retirement Communities and Independent Living Facilities (Interim Guidance)
Coronavirus disease 2019 (COVID-19) Checklist: Older Persons
Conclusion
This study indicates that Americans have concerns about the safety of seniors in assistance facilities, and the response to this outbreak has the power to quickly shape public perception. While the news so far has been focused on the vulnerabilities of those in senior living, there is potential for the industry to recover lost public trust. If new protocols and precautions start to curb new illnesses, stories may emerge about the dedication of senior living health workers or the plentiful jobs in senior living for those put out of work. When the danger has passed, ultimately the industry will have to show the country they are much better prepared for any future health and safety crises.
References
1. PRB Fact Sheet: Aging in the United States
2. CDC, Coronavirus Disease 2019 (COVID-19)