By Jennifer L. Gaskin | Last Updated April 9, 2020
Whether it's working from home, crafting engaging lessons for children, or finding innovative ways to communicate with family and friends, the coronavirus crisis is forcing Americans to change their daily habits.
For younger people, using technology in new ways is commonplace, but the same isn't usually said for people approaching or past retirement age. While seniors aren't generally known as early adopters, we asked adults aged 60 and over whether they are embracing the use of the internet and other high-tech tools in their day-to-day lives.
Specifically, we asked The Senior List community and Americans aged 60 and over about their use of the internet, apps, and other technology in the two weeks prior to April 6, 2020.
Here are the key findings:
Twenty-four percent ordered groceries or food delivery online.  Compare this with 2019 data showing that just 11 percent of all Americans purchased groceries monthly.
Twenty-eight percent downloaded a new app, and seven percent tried out a new video conferencing tool.
More than two in three older adults shopped online.
Seventy-seven percent made a financial transaction or paid a bill online.
The New Normal?
While it's probably true that most people are doing more of these online activities, the fact that older adults are embracing some of these approaches is particularly notable when considering the historic context.
For example, 70 percent of older adults have shopped online in the past couple of weeks while they deal with stay-at-home orders. By comparison, only about 69 percent of all Americans are typically online shoppers.
Similarly, 24 percent of our survey respondents ordered groceries or food delivery online, which is more than double the rate that all adults reported ordering groceries online at least once a month in a 2019 Gallup survey.
Our survey was conducted online, so it's important to keep in mind that our group of 60-and-older adults likely skewed to the slightly more technology-minded, but if seniors continue expanding their use of these tools, it could be a sign that older generations are more comfortable with technology than they get credit.
And if the full results of our study reveal only one thing it's that change is the order of the day. Less than one in 10 older adults said they hadn't done any of the activities listed in the past two weeks while making online financial transactions or paying bills online was the most common activity.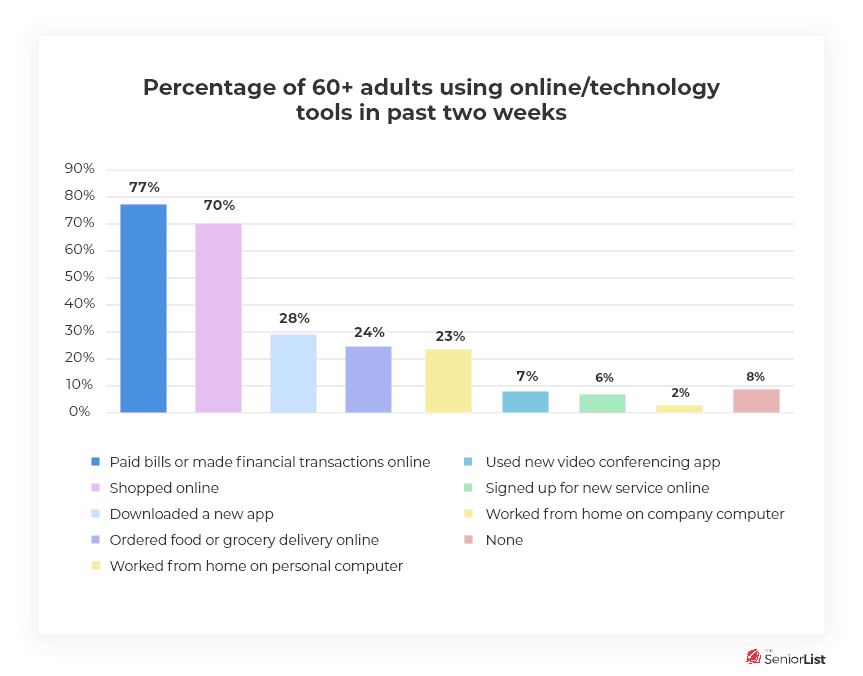 Finally, young whippersnappers may be surprised to discover many of their elders have basic knowledge of digital privacy protection, with many seniors taking actions such as disabling cookies on browsers (25 percent), disabling geolocation data (20 percent), and having up-to-date anti-virus software installed (75 percent).  Only a handful (seven percent) report using the same password for all sites.
About The Senior List Research and Our data
The Senior List's research team actively studies aging in place.  We publish independent content covering social, economic, political, and geographic topics for seniors and partner with non-profit organizations and municipalities on our research agenda. Data for this report comes from two surveys. One was an e-mail sent to tens of thousands of The Senior List readers.  The second surveyed over 260 American adults, aged 60 and older, on their use of online services and opinions and habits with respect to digital privacy.