We continue to have an incredible response to all of our senior discount lists, and thank each of you who has contributed input.  Many of the grocers on our new 2022 list of Senior Discounts For Grocery Stores have been verified. We attempted to reach out to all the Grocers on our list, but some were unresponsive. 
Sadly, the list for senior discounts at grocery stores has shrunk over the years.  Stores are utilizing points and rewards cards these days, and discount programs are being cut as a result (Kroger is a good example of a store that dropped their senior discount program – See below).
Be aware that discount policies change from time to time.  They change at the national level, and they change at the local level. Our best advice for discount shoppers is to ask ahead of time so there are no surprises.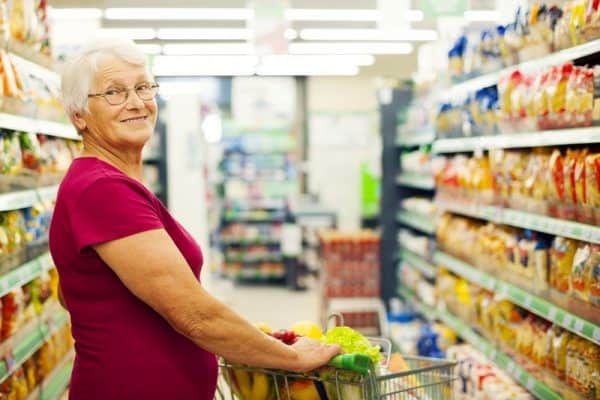 2022 List of Senior Discounts in Grocery
American Discount Stores: 10% off every Monday (62+) verified
Bi-Lo: 5% off every Wednesday (60+) verified
Compare Foods Supermarket: 10% off every Wednesday (60+)
DeCicco Family Markets: 5% off every Wednesday (60+) verified
Fred Meyer senior discount: 10% – 15%, depending on dept., first Tuesday of each month (55+) verified
Fry's Food Stores: 10% off on the first Wednesday of every month (55 +) verified
Related: 2022 Senior Discounts Restaurants
Gristedes Supermarket: 10% off every Tuesday (65+)  verified
Harris Teeter: 5% off every Thursday (60+) verified
Hy-Vee: Says "Yes" (but discount policy varies by locale) verified
Kroger: No senior discounts anymore – Boooo 🙂 verified
New Seasons: 10% off every Wednesday most items (65+), 10% off every Tuesday for military verified
Piggly-Wiggly: 5% every Wednesday (60+) verified
Publix: 5% off every Wednesday ONLY in Tennessee, North Carolina and the northern portions of  Alabama, South Carolina and Georgia (60 +) verified
Uncle Guiseppe's Marketplace: 5% off (65+ on Wednesdays) verified
You might also like:
2022 Senior Discounts Travel and 2022 Senior Discounts Prescriptions