Alternatives to Assisted Living
Assisted living facilities provide an excellent housing option for older adults who require daily assistance but do not need 24/7 skilled nursing care; however, it comes with some drawbacks. Some people simply don't want to move out of their long-term home. Others may struggle to come up with the nearly $52,000 needed to cover the average annual costs of assisted living.
Fortunately, alternatives exist! Some allow older adults to remain in the comfort of their homes, while others are more affordable altogether. Depending on various factors, including your loved one's physical, mental, and emotional health, in addition to their own personal preferences, there are five solid alternatives to assisted living.
Assisted Living Alternatives
There are five common alternatives to assisted living. Ordered from least to most expensive, these are:
| | Assisted Living | Medical Alert Systems | In-Home Care | Adult Day Care | Adult Family Care | Respite Care |
| --- | --- | --- | --- | --- | --- | --- |
| Average Cost in the United States | $4,300 per month | $20-40 per month | $25 per hour | $1,600 per month | $3,000 per month | Varies depending on service |
| Assistance with Daily Activities (ADLs) | Yes | No | Yes | Yes | Yes | Yes |
| Emergency Care | Yes | Yes | Yes | Yes | Yes | Yes |
| Skilled Care 24/7 | No | No | No | No | No | No |
| Staff On-Site 24/7 | Yes | No | No | No | Yes | No |
| Allows Older Adult to Age in Place | No | Yes | Yes | No | No | No |
| Social Interaction | Yes | No | Yes | Yes | Yes | Yes |
Medical Alert Systems
Medical alert systems, also known as personal emergency response systems, are the simplest and most cost-effective tool to protect a loved one. With just the press of a button, these devices can contact emergency responders and a network of caregivers.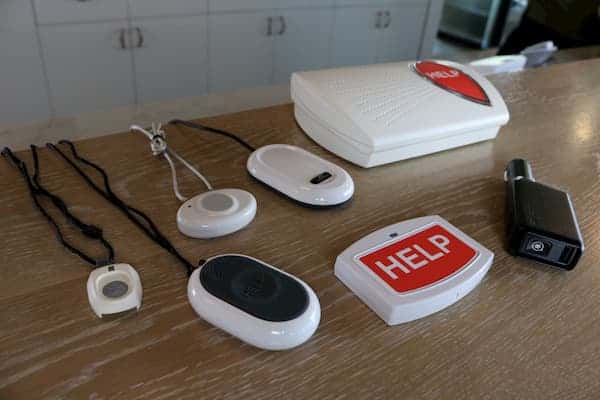 Medical Alert System Costs and Features
The most affordable medical alert systems cost as little as $20 to $30 per month, depending on how elaborate of a system you need. Of course, you may find that costs still add up; many medical devices have additional monthly charges that go beyond their base cost. For example, you may decide you need certain extras, such as fall detection, a feature that alerts your emergency monitoring center if it believes a fall occurs, even if your loved one can't press their emergency button.
Many medical alert devices are available and should be chosen based on the wearer's needs and preferences. Devices include buttons that can be worn around the neck, the wrist, handheld cellular units, and even voice-activated wall buttons.
When a client of mine broke his ankle while walking his dog in the woods, his Medical Guardian proved to be a lifesaver. This GPS-enabled device allowed emergency responders to track his location and send help, preventing further injury.
While medical alerts can be implemented in tandem with other services, those who choose to use medical alerts are largely more independent individuals. After all, medical alert devices are only designed to come to your loved one's aid during an emergency, such as a fall, a heart attack, or a break-in.
These devices won't help you with cleaning, groceries, bathing, or organizing your medication. Nor will they help transport you to the doctor. If your loved one needs daily services like these, you may want to consider a different option.
Pros of Medical Alert Systems
Extremely affordable.
Allows older adults to continue to live in their own home with assistance only a button press away.
Alert systems with GPS protect older adults both in and outside the home.
Provides family and friends with peace of mind about their loved one's well-being.
Cons of Medical Alert Systems
Only provide emergency care.
No opportunity for social interaction.
Users must be willing to wear a device at all times.
False alarms can be costly and time-consuming.
What Is Home Care?
In-home care offers older adults the opportunity to age in place by providing someone who can assist with day-to-day activities or even simply fill a need for companionship. Such "custodial" care does not require a trained healthcare professional. With that said, these caregivers do typically receive some training.
Although in-home care helps your loved one maintain a sense of normalcy in an environment where they are comfortable, this luxury comes at a cost. The national median rate for in-home caregivers is $25 per hour. If you hire someone at this rate part-time, five hours per day, for six days a week, your monthly cost would be roughly $2,500.
The beauty of caregiving is that no two caregivers work exactly the same. Depending on the needs of your loved one, a caregiver might do any of the following:
Household chores (ex: cleaning, laundry, and yard maintenance)
Cooking
Errands (ex: picking up groceries, library books, etc.)
Bathing
Companionship
Pros of In-home Care
Your loved one will remain in familiar surroundings.
One-on-one attention
Custodial care tailored to the needs of your loved one.
Cons of In-Home Care
Generally does not cover overnight care
It can be difficult to find qualified and reliable help.
Costly home modifications are sometimes necessary.
Does Medicare Cover Home Care?
Depending upon the specific type of services entailed, Medicare may be able to cover some of the costs of in-home care. Medicare Part A and Part B can cover part-time skilled nursing care, physical therapy, home health aide services, and medical social services.
Medicare won't cover 24/7 home care, meal delivery, or custodial care. With that said, custodial care is only not covered if this is the only type of care provided by said professional.
Savings Tip: Ensure your loved one's safety and financial well-being by using assisted living alternatives strategically. For example, you might hire someone to provide in-home care during daylight hours while relying on a smartwatch medical alert to notify both you and first responders of any overnight emergencies.
What Is Adult Day Care?
Adult day care centers offer a safe environment where families can send loved ones during the daytime. Specifically, these programs supply social interaction, fun activities, hearty meals, and general supervision. These facilities have become especially popular for families who have loved ones in the early stages of dementia or Alzheimer's.
There are now over 7,500 adult day care facilities across the United States with rates ranging from $25 to $100 per day. These programs can be one of the most cost-effective alternatives to assisted living. Even if you plan to have your loved one attend an average-priced ($70 a day) center 20 days per month, you'll end the month with less than $1,500 in adult care fees, far cheaper than assisted living
FYI: If you're currently caring for your loved one in your own home, adult day care is a great way for you to keep them safe while you're out at work.
Families appreciate the peace of mind provided by adult day care, and older adults enjoy activities with these types of facilities because of their social opportunities, arts and crafts, games, exercises, meals, outings, and more.
Pros of Adult Day Care
Relatively inexpensive and healthy change of scenery for caregivers and older adults
Recreational, social, and wellness activities without live-in costs
Sometimes reimbursable by Medicare
Cons of Adult Day Care
Adult day cares do not offer overnight services.
These services don't offer in-home care or protection.
Adult Family Homes (aka Adult Foster Care or Adult Care Homes)
Adult family homes are small (5-10 residents) residential-style homes that have been remodeled or outfitted to fit older adults' care needs. They tend to provide more personalized care at a lower cost than assisted living communities.
Most fundamentally, the adult care homeowner must provide room and board, daily meals, and laundry services. The cost for these services is typically referred to as a base rate. Running at about half the rate of nursing care, most adult family homes cost somewhere between $2,000 and $7.000 per month, depending on services and geographic location.
Safety Tip: All adult family homes and adult day care centers must be licensed by their state's governing body. As you explore options for your loved one, research the history of each facility you're interested in. How long have they been open? Have they even had issues with license renewal or received a poor inspection? If so, move on to other facilities.
Similar to assisted living, residents at these facilities may receive varying levels of care based on need. However, the majority require assistance with some daily tasks, such as transfers, toileting, dressing, grooming, medication management, or meal preparation. Thus, while the owner of the home may not live on-site, at least one staff member is available around the clock to aid your loved one and their housemates. Although your loved one may have to sacrifice some privacy to live in an adult family home – as they will be assigned a room rather than an apartment unit – many people believe this type of care is worth it.
Some adult care homes are staffed to deal with more advanced health issues than others. For example, a friend of mine found an adult family home that specializes in memory care. This was a perfect option for her mother who has dementia. There are also homes that cater to specific groups of people. For example, one adult care home near me is specifically geared to Asian individuals. Here, staff members speak multiple Chinese dialects and other Asian languages. There are also homes meant exclusively for veterans.
Pros of Adult Family Homes
Far fewer residents
Smaller, home-like setting
More personalized care
Home-cooked meals and snacks
Often less expensive than assisted living
24/7 access to care
Cons of Adult Family Homes
Often more limited transportation options than those provided by assisted living.
No resort-style amenities of some assisted living communities.
Privacy may be limited in comparison to assisted living.
What Is Respite Care?
Respite care serves to give the everyday caregivers a temporary break from the stress of caring for their family members. Doing so should not only contribute to improving the quality of life for all involved but also reduce caregiving mistakes because of fatigue and stress. Depending on the method chosen, respite care can last anywhere from a few hours to several weeks.
Respite care takes several forms, such as bringing a new caregiver into the loved one's home to share caregiving responsibilities, enrolling the senior in a social day group, or relying on emergency respite care. Many assisted living facilities offer respite care. Taking advantage of this option also allows older people to learn about the facility in case it is eventually determined that a long-term ALF would be suitable for them.
As a professional caregiver, I, personally, support respite care for its ability to apply perspective. When you use respite care, you get a break from caregiving responsibility or the tension brewing in your relationship with your loved one. Once you take some time away and feel refreshed, you can make a better, more clear-headed decision about the future of your loved one's care, one you're less likely to regret. If you find respite care makes a powerful enough impact, you may be able to schedule these breaks a few times a year and keep your loved one on their current long-term plan.
Pros of Respite Care
Often the older adult may remain in their home.
No long-term changes in older adults circumstances
Cons of Respite Care
Short-term solution only
If the older adult cannot remain in their home, they must travel to an unfamiliar location every time care is used
Does Medicare Cover Respite Care?
In most cases, Medicare will not cover hospice care. The only instances in which it will are if your loved one is entering hospice care, as this will be covered by the hospice benefit.
Recap
While many assisted living facilities provide exceptional service and employ staff who genuinely care about older adults, I've heard far too many stories about families signing expensive contracts only to learn later that there are other options. Use the information about each assisted living alternative detailed above, and you can enter the care planning process fully informed.