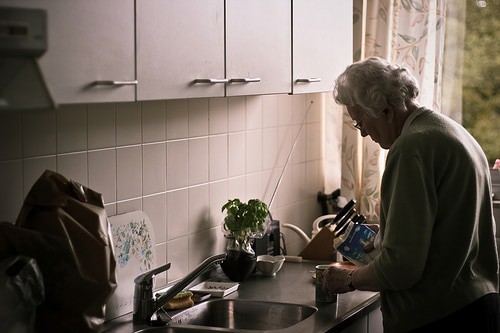 It can be hard to accept the way our bodies change as we get older. Although this varies from person to person, one thing that most seniors have in common is the desire to maintain their independence and the ability to pursue the activities that they love as long as possible. If you have a handicapped or elderly relative living in your home, there are steps you can take to make this easier for them.
In particular, not only do your loved ones want to continue to care for themselves, they also want to feel that they are helping take care of others. One place that this can happen is the kitchen. A good home-cooked dinner often provides the foundation for family interaction and communication. Even something less elaborate like assembling pre-prepared meals or re-heating leftovers can make seniors feel like they are contributing to the general welfare of the household.
When taking on tasks in the kitchen, most seniors face a range of physical challenges. These include:
Reduced mobility

Reduced flexibility, meaning difficulty reaching and bending

Reduced stamina and balance problems

General physical weakness and other symptoms of physical decline
Here are some suggestions for creating a senior friendly kitchen, and making the kitchen a safe environment for your loved ones:
1. Challenges Relating to Mobility
Make sure that important areas of the kitchen are accessible to seniors. Create a "working triangle" that will allow seniors to move through the space comfortably. To ensure that seniors can access important storage areas like kitchen cabinets and pantries, as well as major appliances, find a construction company that focuses on remodeling and retrofitting areas inside the home to make them ADA compliant.
Additionally, for seniors with disabilities — in particular those who use wheelchairs — major appliance manufacturers like General Electric sell ADA-compliant refrigerators, ovens, microwaves, and dishwashers. Making changes to improve ease of access can make using the kitchen more comfortable not only for your older relatives, but for everyone else in the household as well.
2. Challenges Relating to Reduced Flexibility
Because seniors have difficulty both reaching high and bending low, store important items on the shelves in the kitchen cabinets and pantry that are between shoulder and knee level. Smaller and lighter containers or objects (particularly those made of plastic) can go higher, while heavier ones, particularly those made of glass or ceramic, should be placed lower down.
Other strategies to improve accessibility include using pull-down shelves, or even open shelving and eliminating doors entirely. Microwaves should go on counters so that they are easy to reach, with sufficient space for hot food to be put down right away once it is finished cooking.
3. Challenges Relating to Reduced Stamina
It is also difficult for seniors to stand for long periods of time. This is both because seniors grow tired more quickly and because their legs and feet are not as easily able to handle the strain. Make sure that countertops and other surfaces are low enough that seniors can perform tasks like chopping from a seated position.
4. Other Physical Challenges
Seniors need an appropriate level of visibility to ensure that they don't trip or bump into cabinet doors or appliances while moving around the kitchen. Make sure the kitchen is evenly and brightly lit. In addition, because many seniors have hearing issues, any timers or smoke/fire alarms should be set at a frequency and volume that seniors can hear. Electric can openers and special faucets/cabinet hardware/handles can help seniors with arthritis. Because many seniors have strength issues, cabinet hardware that can be pulled is preferable to that requiring twisting.
Are there other challenges that you have confronted when trying to make your kitchen accessible to older relatives? What steps have you taken to deal with them?