This installment presents the 4th in a series we're publishing called "Postcards From The Edge". These postcards are a from a collection which has been cared for by my in-laws up in Western Montana. Rather than keep these hidden away in a box, we thought it would be fun to share some of these with our community members here on The Senior List®. The postcards are circa early 1900′s and are written (mainly) by Francis Clark (1857-1950), my husband's great grandfather. Frank was a railroad conductor and traveled around the country manning routes for The Northern Pacific Railroad.
Postcards were Frank's primary means of communication back to his family back in Tekoa Washington, Kellogg Idaho, and Spokane Washington. They are addressed to his wife Clara, but also to other members of his immediate (and extended) family including his children. There are also several postcards in the collection from other members of the extended family to one another. The postcards a turn-of-the-century "time machine", and take us back to a time time in history when our country was changing ever so rapidly.
Keep in mind back then there were few telephones and very limited communication methods other than by post. I hope you enjoy the series. These postcards are very personal, and we're happy to share them with you. **Note the 1 cent stamps… The actual postmark/stamp… The addresses on the cards (just a name and city in some cases)… And of course the story that each postcard reveals.
Postmark: Detroit Michigan, September 6th, 1939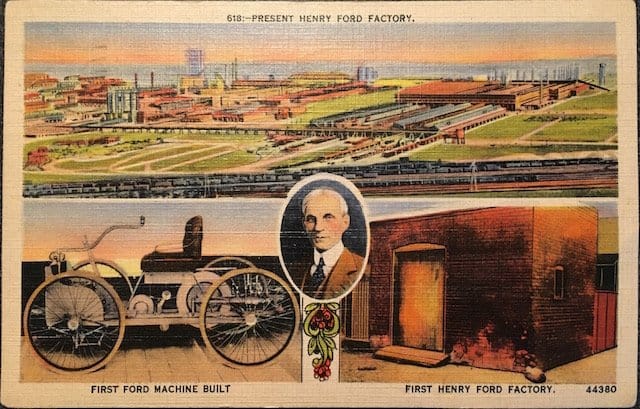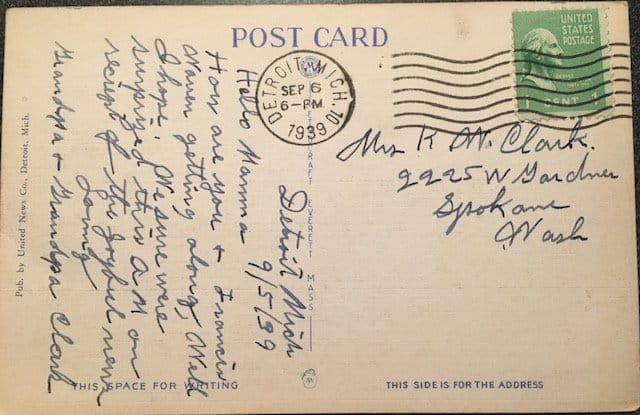 This vintage postcard in reply to the news that Frank had become a new grandfather! Railroad man (Frank Clark) sends back his congratulations…
"Hello Mamma, How are you and Francis Warren getting along, well I hope.We sure were surprised this am on receipt of the joyful news. Loving Grandma & Grandpa Clark" – Francis Clark, 1939
If you enjoyed this and want to see other postcards from Frank's journey across the American Railways – see below: