Audicus Hearing Aid Reviews
As a professional caregiver, I find it distressing that millions of U.S. adults cannot access the hearing support they need because they can't afford to pay for it. Given that the average hearing aid is marked up about 2.5 times its wholesale price, it's no surprise Americans are in this predicament. After discovering this information, I was excited to hear about Audicus, who offers a line of high-quality, affordable hearing aids.
In this review, I'll evaluate the pros and cons of Audicus hearing aids and provide an overview of their free online hearing test, hearing aid models, and payment options. I'll also share my own experience purchasing and testing out Audicus hearing aids. Keep reading to find out more.
Audicus Hearing Aid Pros and Cons
For those short on time, here are my main takeaways from using Audicus hearing aids.
Pros
Leading Technology, Lower Cost: By partnering with a leading manufacturer, buying in bulk, and reducing overhead, such as moving all sales online and eliminating most brick-and-mortar locations, Audicus can provide customers with award-winning hearing aids, comparable to those of the highest-priced sellers at a fraction of the cost.
Rental Memberships and Financing: Understandably, many of us can't afford to purchase hearing aids up front, even at the largely discounted rates Audicus offers. For this group of individuals, Audicus offers two solutions: Rental memberships and financing.

Rental Memberships
Audicus's membership plans allow you to rent their hearing aids for as low as $39 per ear, per month.
Financing through Affirm
Instead of requiring full payment at checkout, Audicus partners with Affirm to let approved customers set up payment plans. For those with great credit, this can mean a full year (or more) of interest-free payments.

Bluetooth and Rechargeable Technology: Two of Audicus's three models, Clara and The Wave, support Bluetooth technology and rechargeable batteries. Bluetooth technology allows users to stream sounds directly from smartphones, computers, and other smart devices.
Cons
No Local Maintenance: When your hearing aid needs adjustments or repairs, local providers can get it done quickly. While reprogramming and repairs are free for all Audicus customers, you may have to go without your hearing aids for longer than you would if you purchased from a brick-and-mortar retailer.
Risk of Missing A Serious Medical Condition: Not all hearing loss is due to aging or loud noise exposure, and although the Audicus hearing test is impressive, it can't replace a visit with a medical professional. Individuals who choose to simply treat their hearing loss without speaking with a physician or another expert risk failing to identify an underlying medical condition for which hearing loss is solely a symptom.
Does Not Accept Insurance: Although Medicare Advantage and some other insurances now offer to pay at least a percentage of the cost for hearing aids, Audicus does not accept insurance. They do provide you with all the information you need to submit to insurance, assuming your insurance will reimburse you for an out-of-network purchase in this area.
Health Tip: Early intervention is critical for hearing loss. Even mild hearing loss, if left untreated, can lead to faster cognitive decline, balance issues, social isolation, and an inability to process speech.
Purchasing Audicus Hearing Aids
Before I purchased my hearing aids online, Audicus wanted to ensure that I actually needed its product. To do this, there were two options: their online hearing test or by submitting my own audiogram results. As a professional caregiver, I wanted to avoid unnecessary human contact during COVID-19, so I selected the online test.
Audicus's Online Hearing Test
It turns out the Audicus team, lead by a neuroscience engineer, spent two years researching, designing, and verifying the science behind the company's online hearing test. After all their research, the team used the assessment they developed to test hundreds of individuals during multiple trials. Today, this scientifically verified test checks both ears against a multitude of sound frequencies at varying decibel volumes and has been used by over 70,000 individuals. Upon its official launch in 2017, the test was the first online assessment accurate enough to program custom hearing aids.
After opening the Audicus Online Hearing Test in any web browser, I was asked to create a profile so my results could be personalized. Since the test required headphones, preferably earbuds, I made sure mine were charged, and then I completed Audicus's 5-10 minutes test. Once I finished, my results were immediately emailed to me, and I was offered a free consultation with Audicus's experts.
Paying for Audicus Hearing Aids
At checkout, I was given the choice of paying for my hearing aids in full, financing them through Affirm, or renting through Audicus Memberships. Since I was purchasing all three models to test them out, I decided to check out with Affirm. After entering some basic information, I was prompted to select a regular monthly plan for either six, 12, or 18 months. Upon choosing six months, I entered my debit card information to pay my monthly bill. Customers can also use online checks or bank transfers. Once my transaction was complete, I was told to expect my hearing aids in the mail within five to seven days, which I thought was fairly quick for free shipping.
Identify Theft Tip: Whether you're purchasing Audicus or any other product online, make sure you're on a private and encrypted network before entering any financial information.
Audicus Hearing Aid Models
| | Dia II | Clara | The Wave |
| --- | --- | --- | --- |
| Purchase Price (per ear/per set) | $499/$1,000 | $699/$1,400 | $899/$1,700 |
| Rental Cost (per ear, per month) | $39 | $49 | $59 |
| Fit | Behind-the-Ear | Receiver-in-Ear | Receiver-in-Ear |
| Processing Channels | 8 | 8 to 12 (12 with Enhanced Clarity Upgrade) | 12 |
| Rechargeable Battery | No | With a $200 upgrade | With a $300 upgrade |
| Decibels | 56 dB | 47 to 57 dB | 111 dB |
| Bluetooth | No | Yes (with upgrade) | Yes |
| Warranty | 1 year | 1 year | 1 year |
| FDA Approved | Yes | Yes | Yes |
| Unlimited Expert Help | Yes | Yes | Yes |
| Colors | Beige, grey, silver | Silver, grey, black, beige | Black, grey, silver, beige |
Ranging from $499 to $899 per ear and $1,000 to $1,700 per pair, all Audicus models are FDA-approved and fall among the lowest costing hearing aids on the market.
The Dia
The Dia II, Audicus's most popular, and most affordable option, at $499 per ear and $1,000 per set, is designed to aid mild to moderate hearing loss. This FDA-approved behind-the-ear hearing aid auto-adapts to your environment to help your ear focus on speech rather than background noise. It reaches a volume of 56 decibels and has up to 140 hours of battery life. With devices in beige, grey, and silver, the Dia II includes eight processing channels and has an IP rating of 68, the highest rating possible for hearing aids.
The Clara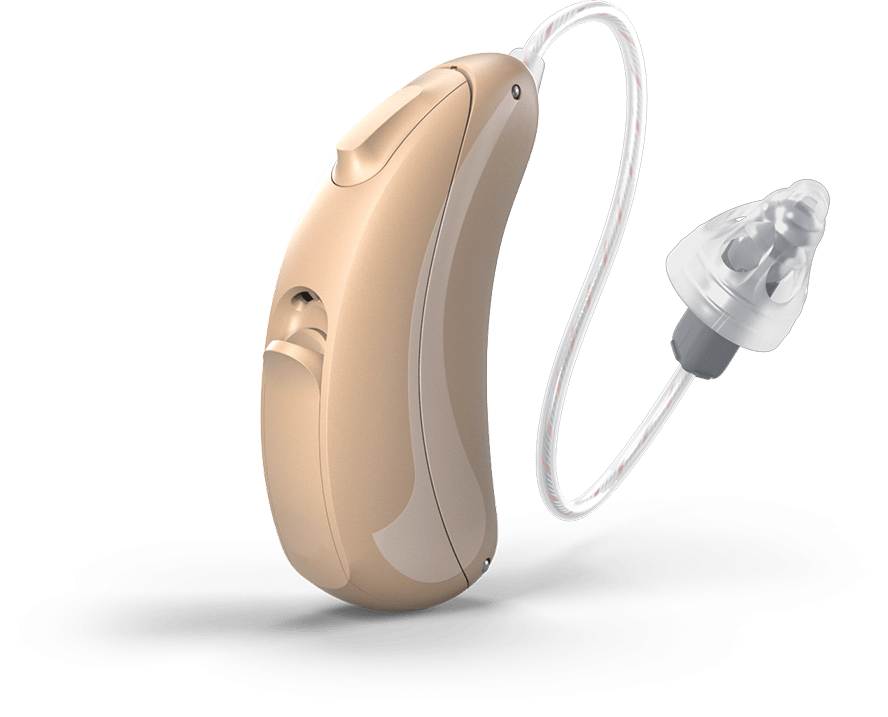 Sleek and discreet, the Audicus Clara's receiver-in-canal hearing aid is essentially invisible from outside the ear. With two directional microphones, in addition to noise and feedback reduction, the Clara delivers between 47 to 57 decibels of amplification for crystal clear hearing in every setting. Designed for individuals with mild to severe hearing loss, the Clara is priced at $699 per ear or $1,400 for a pair. With a few extra accessories, these hearing aids are Bluetooth enabled as well. Add a $200 upgrade per ear, and you get rechargeable batteries, too.
The Wave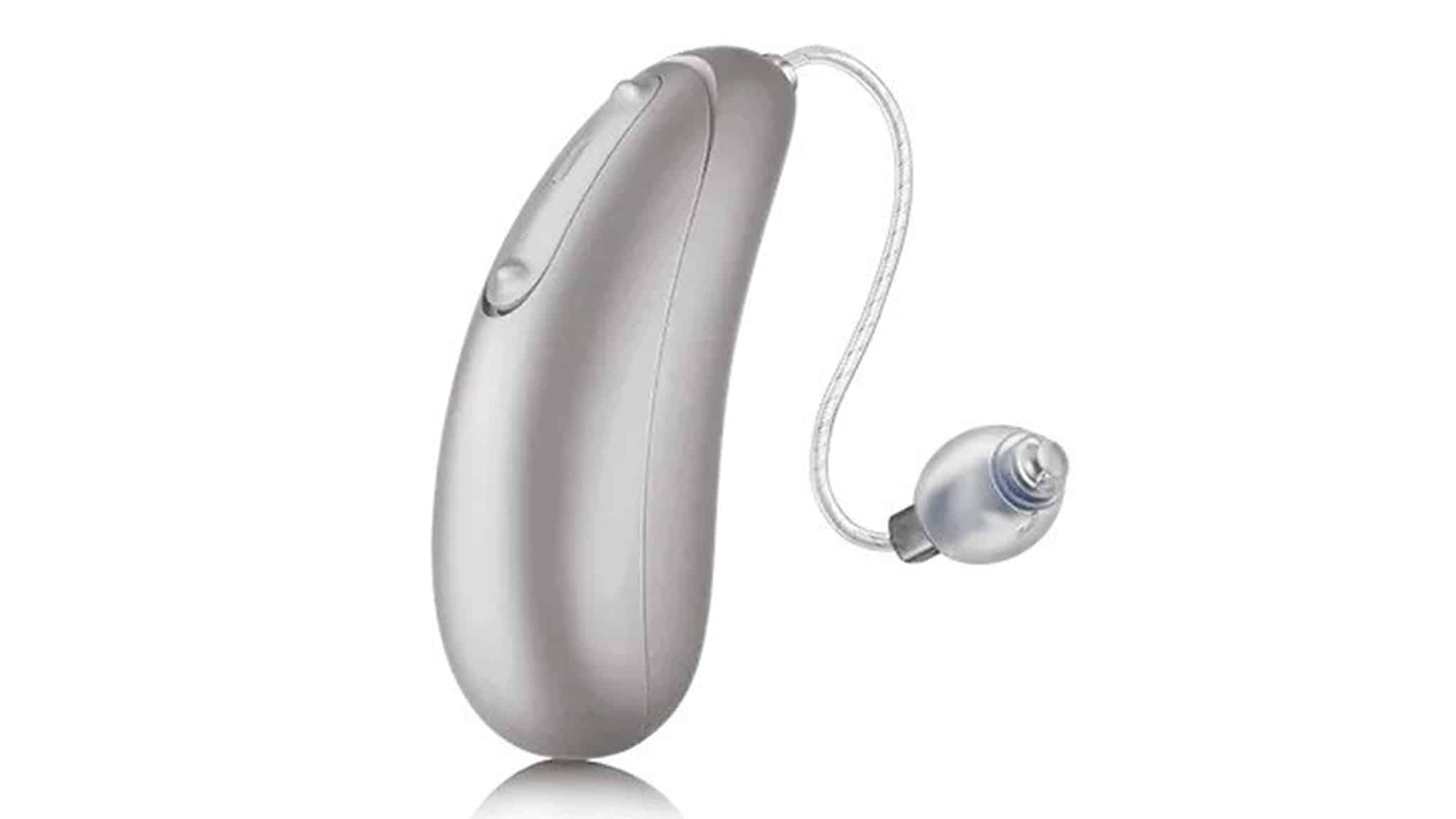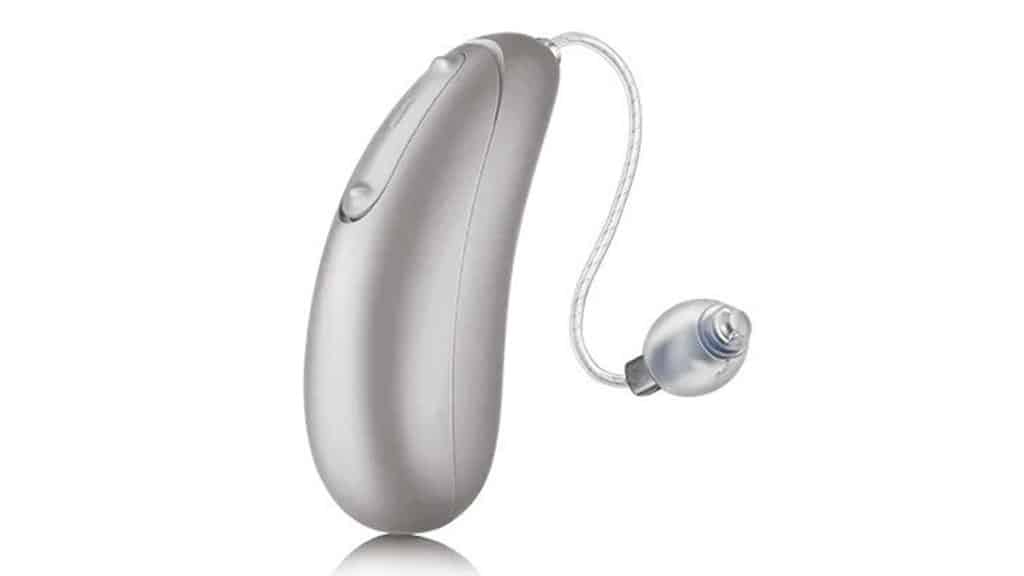 The Wave is Audicus's latest and most high-tech model. It's also one of the industry's most affordable Bluetooth hearing aids. Costing $899 per ear or $1,800 for the pair, The Wave features 12 processing channels and a volume as high as 111 decibels. Also meant for individuals with mild to severe hearing loss, this receiver-in-ear hearing aid is ultra-discreet and almost impossible to spot on a passerby. The Wave comes in your choice of black, grey, silver, and beige, and with a $300 upgrade, you'll have access to rechargeable batteries for these hearing aids well.
Audicus Memberships (Rentals)
Each Audicus membership includes:
A pair of customized hearing aids:

Dia II: $39 per month, per ear
Clara: $49 per month, per ear
The Wave: $59 per month, per ear

Free programming, reprogramming, and unlimited expert support
Audicus Protect: Loss and damage insurance
Audicus Care: New batteries, domes, and ear wax whenever needed
Audicus Refresh: A new pair of hearing aids for free every 18 months
This all totals up to a $6,000 value, yet it requires no contracts or commitment. Customers can cancel anytime. While I disliked fees as much as the next person, the $100 set-up fee charged at the initiation of each membership doesn't actually sound too bad to me, at least not after considering what you get for it each month. After all, the cost for a monthly pair is less than I used to pay for my cable bill.
FYI: A $20 per ear per month upgrade adds rechargeable batteries on Clara or Wave models.
Using My Audicus Hearing Aids
I tested all three Audicus models and kept a journal with each. Here are my observations.
Since I tried out so many sets, I had numerous questions about setting up, fitting, and navigating each hearing aid system. Nevertheless, almost every time, my inquiries were answered promptly by Audicus experts and without complicated or technical language. I found that all three Audicus hearing aids made a difference with my hearing, but of course, they all worked and felt a bit differently.
Other than its price, my favorite thing about the Dia II was its durability. I appreciated that I could go for a jog or attend an outdoor sporting event without worry, as they put up with sweat just fine. Overall, the Dia II's sound quality was solid, and I could keep up with conversations without a strain, experiencing very little feedback. I should note, however, that the Dia II's behind-the-ear fit made me a bit more self-conscious about my hearing aids than the other two models.
In contrast to the Dia II's visibility, the Clara and The Wave models were virtually invisible. Even the colors of these receiver-in-ear hearing aids helped them blend into my look. Of course, it did take some getting used to before I stopped feeling like my ears were always plugged. Upgraded with Enhanced Clarity, the clarity of sound was similar in both the Clara and The Wave, even in a variety of settings, including looped environments. I did find that my Clara required a bit more adjustment, though, and the maximum volume on my Wave hearing aids was certainly louder.
I could have upgraded my Clara to connect with my Bluetooth media using an Audicus Bluetooth remote, but what I enjoyed most was The Wave's built-in Bluetooth compatibility. Streaming sound from my laptop, TV, or smartphone directly to my hearing aids took very little effort, which made Zoom calls with my work team or evening FaceTimes simple. D.
I also selected the $200-$300 rechargeable battery upgrades on my Clara and Wave hearing aids. While it was convenient not to have to change my batteries as often, I recommend waiting on this technology upgrade until they become a bit cheaper, as they were quite pricey and required a lot more charging than I expected.
Audicus Accessories
UV Dry Box
Audicus's UV dry box safely sanitizes and extracts moisture from your hearing aids, which helps to keep them clean and safe to use while also enabling them to function better and last longer. The UV dry box costs only $65, but unfortunately, it's not compatible with Audicus' rechargeable hearing aids.
Bluetooth Remote
To stream sound directly from your smartphone, TV, tablet, or other devices directly to your Clara model hearing aids, you'll need a Bluetooth remote. The Bluetooth remote is what makes your hearing aids Bluetooth compatible. Only available in combination with its charging dock, the Bluetooth remote costs $349.
Classic Remote
Compatible with both the Clara and Dia II hearing aids, the $199 pocket-sized Classic Remote lets you easily adjust volume and settings on your hearing aid. The addition of a Classic Remote also gives you the opportunity to partner with Audicus' audiology team to select custom programs for your unique needs. I choose tinnitus masking since it's something I deal with on occasion and, believe it or not, this condition affects up to 20 percent of people.
Audicus Warranty and Return Policy
In terms of returns and warranties, Audicus has some solid offerings. All Audicus hearing aids can be returned within 45 days of purchase for a full refund. After this period, refunds will be dealt with on a case-by-case basis and likely won't cover the full cost of your devices.
All hearing aids and remotes sold by Audicus include a 12-month manufacturer defect warranty. Unfortunately, accessories are not covered by these protections. I particularly like that the company offers extended warranties, including a one -time loss-replacement service. We all lose items from time to time, me especially, and since tools like hearing aids go with us most places, they're also more likely to be lost or stolen.
Audicus Protection
From my own experience, I definitely recommend adding Audicus Protection, which covers unlimited repairs for your hearing aids, unlimited Clean and Care services, and a one-time loss replacement. Audicus Protection costs $12 per month per ear or $249 every two years. Insuring a set costs $24 per month per pair or $499 every two years.
Recap
Over 70% of U.S. adults over 70 who could benefit from hearing aids have never even used them, likely due to high costs and little insurance aid. Fortunately, Audicus' business model has made it so individuals who need them can now afford to make a hearing aid purchase. Even if $1,000 a pair is too expensive, customers can pay on a monthly basis. I'll admit, I doubted Audicus' claim that they offer high-quality hearing aids at a fraction of the typical cost. However, after having spent time testing out each of their models and doing my research on the company, I say, if money has been the only thing holding you back from treating your hearing loss, Audicus is worth a look.
Frequently Asked Questions