Widex is a hearing aid company based in Denmark that produces high-quality devices. Founded in 1956, Widex does not sell directly to consumers; rather, they offer their products through online retailers. With a wide range of options and models available, Widex is the third largest hearing aid company in the world, offering behind-the-ear, in-ear, and in-the-canal options for mild to profound hearing loss.
Signia is another leading hearing aid company. Owned by the same corporation as Widex, Signia offers a wide range of models for different levels of hearing loss. They also sell a variety of accessories that complement their hearing aid devices. Signia offers an app for smartphones that provides 24/7 support for Signia hearing aid users. Signia devices are sold to customers in over 100 different countries.
FYI: According to AARP, adults aged 50 and older are adopting new technology such as smartphones almost as quickly as younger adults.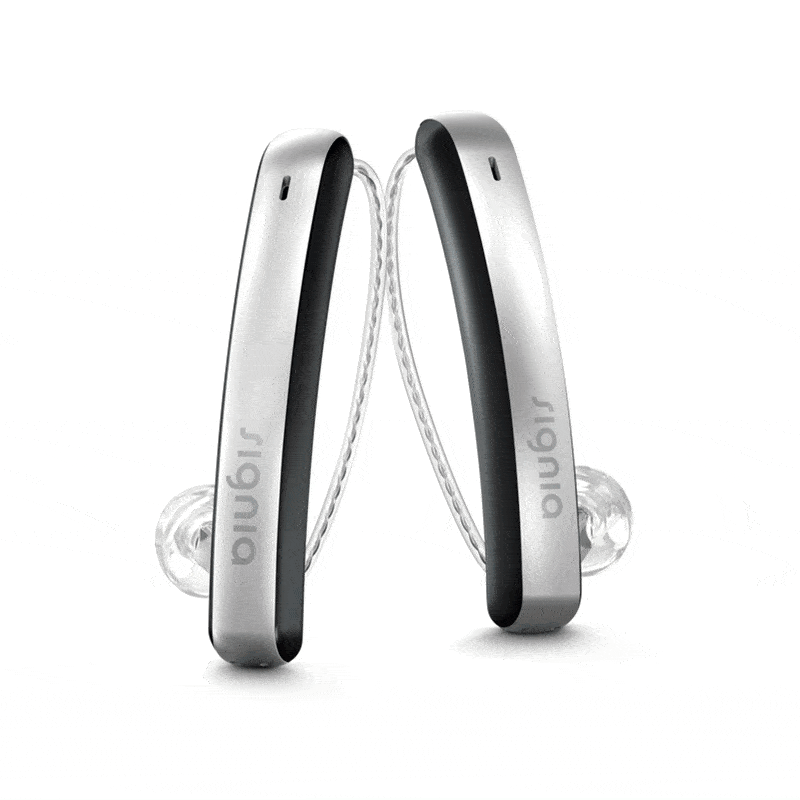 Widex and Signia Accessories
Widex
COM-DEX is a device that connects to Widex hearing aids and allows for Bluetooth streaming. COM-DEX can be connected to two separate phones and allows for up to eight hours of streaming time before needing to be recharged. This accessory can be purchased with the added feature of the COM-DEX Remote Mic which has a range of over 30 feet. The sound can be adjusted from the mic or by using the COM-DEX app, which allows users to adjust volume and programming, choose the direction sound is coming from, and stream music and other sounds to the user's Widex hearing aids.
UNI-DEX is a pendant worn around the neck that can plug into any device with a mini-jack and stream sound to Widex hearing aids. This allows Widex users to easily use their mobile phones, and also connect to other popular technology like iPads. UNI-DEX runs for up to 40 hours on a single hour of charge and is a nice option for talking hands-free while behind the wheel of a car.
CALL-DEX is a device that plugs into the headphone jack of a mobile phone and connects to users' Widex hearing aids. Easy to use, the CALL-DEX can stream up to 80 hours of talk time before needing to be recharged.
PHONE-DEX 2 is a portable home phone that connects to Widex hearing aids. Audio from phone calls streams automatically to both hearing aids at the same time for enhanced understanding. This phone can also work as a regular phone, allowing friends and family members to utilize it, as well. PHONE-DEX 2 has an answering machine, a phone book that can hold up to 150 contacts, and an LED incoming call signal.
FM+DEX is a device that allows Widex hearing aid users to stream from FM receivers, Telecoil, or line-in. With up to 10 hours of streaming time, the FM+DEX allows for enjoyable, effective participation in meetings, at concerts, and at movie theaters.
Signia
StreamLine TV connects the sound from a television directly into Signia hearing aids. If multiple people watching a television program together are using Signia model hearing aids, this device allows for numerous connections at the same time. StreamLine TV can transmit to hearing aids for up to 30 feet and can be controlled through the Signia app.
StreamLine Mic is a single device that allows Signia hearing aids to connect to any Bluetooth device. This includes mobile phones, laptops, and even voice assistant devices like Alexa and Siri. While similar to the Widex COM-Dex, StreamLine Mic works as a remote microphone without purchasing an additional device. Like the StreamLine TV accessory, StreamLine Mic can be controlled through the Signia app.
FYI: Many hearing aid companies offer apps for mobile phones. For tech-savvy seniors that prefer using a smartwatch, the Widex COM-DEX device is also compatible with Apple Watch.
Widex and Signia Special Features
Widex and Signia have many similarities, such as Bluetooth capabilities and high-tech accessories. They each offer top-of-the-line technology to help those with hearing loss enjoy and engage in all facets of life. As both brands are owned by the same corporation, the cost and quality of these products are similar. However, there are some differences to keep in mind while considering the best fit for your lifestyle.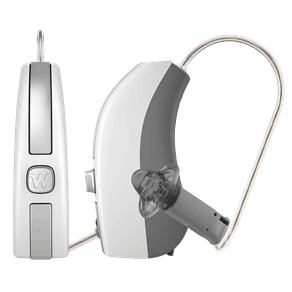 Widex and Signia Differences
Tinnitus
While both Widex and Signia have options available for dealing with tinnitus, they vary in the way they approach this problem. Widex offers Widex Zen Therapy, an app for iPhone and Android that plays an array of comforting sounds to distract from the ringing of tinnitus. They also claim that this therapy is good for solving stress and aiding in sleep for those that suffer from tinnitus.
On the other hand, Signia hearing aids come equipped with built-in Notch Therapy. An audiologist can help you program your Signia hearing aids to utilize this feature if you are suffering from tinnitus. This means you will not need to purchase additional devices or accessories to deal with the ringing in your ears. And, unlike other therapies for this problem, Notch Therapy deals with tinnitus silently. Instead of playing additional sounds to drown out the ringing, the technology in Signia brand hearing aids allows the device to quiet the ringing without creating more noise.
Smartphone apps
The major difference when it comes to the mobile phone apps offered by Widex and Signia is how their numerous features are accessed. Widex offers two different smartphone apps that are compatible with only certain Widex hearing aid models (meaning that different models require the use of different apps). In addition to these, Widex offers the TONELINK app that works with all of their models and can be used to change programs, adjust volume, and adjust the direction your hearing aids are focused all from your phone. As stated above, the Widex Zen Therapy app is also available through Widex, and is compatible with all of their models.
Signia is quite different in that there is one smartphone app, the Signia App, that localizes all of their features and works with all of their models. The Signia App includes a broad and varied range of tools. The Signia Assistant allows users to ask hearing-aid-related questions and get answers 24/7. It also includes a Mask Mode feature that helps those wearing hearing aids to clearly hear and understand someone speaking from behind a mask. This is a new feature designed specifically for the safety standards set by the COVID-19 pandemic. Users can also manage hearing aid direction, connect and manage the numerous Signia accessories, and engage in Hearing Lessons, all from one app on their smartphone.
FYI: According to the Mayo Clinic, tinnitus (a condition where an individual hears ringing in their ears) is experienced by 15-20% of people and can be caused both by age-related hearing loss as well as ear injuries.
Widex and Signia Costs
Neither Widex nor Signia hearing aids can be purchased directly from the company. This means that in order to buy models of either of these brands, you must visit an audiologist. Prices will vary depending on the kind of hearing aid health provider you visit, as well as which model you choose–as both Widex and Signia offer a range of options. Trial periods and warranties may vary in this respect, as well. However, the prices for similar models of Widex and Signia are comparable, with Signia usually being slightly more expensive. You should also consider which of the many accessories offered by each company might benefit your lifestyle, as these come at an additional cost that can add up.
Our Favorite
As Widex and Signia are owned by the same corporation, the quality and cost for the products offered by each are similar. However, there are some things you will want to consider when deciding which is best for you. Those that would like a wide range of options to pick and choose from when it comes to accessories and different smartphone apps might be happier with Widex, while those that are interested in the all-in-one accessibility of the Signia App might be willing to pay the slightly higher price associated with the Signia brand. And hearing aid users that suffer from tinnitus might benefit from Signia's built-in Notch Therapy. It is a good idea to talk with your hearing aid health care provider about your needs when it comes to hearing aid technology, and consider which option will be the best fit for you.