As someone who's worked with seniors as a social worker for over 20 years, I know how important life-saving medical alert systems can be. Sadly, many older adults that live alone actually spend less time with friends and family as they age, making medical alert systems like Alert1 more essential than ever. Alert1 has been in business since 1988, with nationwide service and support for up to 190 different languages. In this review, I'm testing out their On-The-Go Fall Detection system, but I'll also discuss their other packages, monthly costs, and my experience from ordering to testing the system out. I have a ton to share with you, so let's dive in.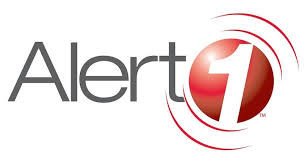 Pros and Cons
After researching and testing Alert1 vigorously, here are some key takeaways that I found:
What I Liked
Optional fall detection: Packages with fall detection only cost about $10 more a month than those without, a reasonable price for added protection.
Wide monthly price range: With so many contract length options, you can pay anywhere from $16.95 to $61.95 for your system's monthly monitoring costs, a wide range that will suit many customers with different needs.
Cellular or landline systems: You don't need a landline to use Alert1's systems, and if you opt for cellular, they even let you choose between AT&T and Verizon.
What I Didn't Like
No app: Alert1 doesn't have mobile applications for iOS and Android, so there's no way to digitally keep track of the user or their activity.
Add-ons could add up: Although the accessories are optional, with so many choices, it's easy to get carried away.
On Alert1's website, I saw that there were five packages to choose from: options for home use, on-the-go use, or both, with or without fall detection. The packages are straightforward, making it easy to pick one out that's right for your needs. But first, let's talk dollars and cents.
Monthly Monitoring Prices
| | Home | Fall Detection | On-the-Go | On-the-Go Fall Detection | On-the-Go and Home Fall Detection |
| --- | --- | --- | --- | --- | --- |
| Landline Required | Yes | No | No | No | Yes |
| Works on-the-go | No | No | Yes | Yes | Yes |
| Fall detection | No | Yes | No | Yes | Yes |
| Speaker in the button | No | No | Yes | Yes | Yes |
| Monthly Rate with 30 Month Plan | $16.95 | $27.95 | $33.95 | $43.95 | $49.95 |
| Monthly Rate with Annual Plan | $19.95 | $30.95 | $36.95 | $46.95 | $52.95 |
| Monthly Rate with Quarterly Plan | $25.95 | $36.95 | $42.95 | $52.95 | $58.95 |
| Monthly Rate with Monthly Plan | $28.95 | $39.95 | $45.95 | $55.95 | $61.95 |
Note that the prices of a medical alert system from Alert1 doesn't include any upfront costs. Rather, the equipment rental costs are built into the monitoring fees, and the contract lengths are pretty flexible. While I signed up for a month, the monthly rates lower as the contract length increases, with options to sign up for 30 months, a year, three months, or monthly. For more information on how much you'll pay for Alert1, check out my pricing overview page on Alert1.
Tip: For the lowest monthly rates, sign up for the 30-month contract.
While the longer contracts have really reasonable monthly payments, ranging from $16.95 to $49.95, if you sign up for a month-to-month plan, the costs become less affordable, starting at $28.95 and going all the way up to $61.95. Still, this is certainly less than Life Alert, which has minimum monthly payments ranging from $49.95 to $89.95 a month. Plus, Life Alert charges activation fees, while Alert1 does not.
Of course, neither system is for you if you want to avoid monthly fees completely (and in that case, I'd recommend reading my list of the best medical alert systems with no monthly fees).
Optional Advantage Plan Pricing
| | Quarterly | Semi-Annually | Annually |
| --- | --- | --- | --- |
| Amount Charged | $24.99 | $49.98 | $116.62 |
If you're on the clumsier side like me, you can pay either monthly, semi-annually or annually for the Advantage Plan, which completely covers repairs and replacements of all medical alert systems. It even covers shipping!
Optional Smoke Detector Monitoring Prices
Finally, Alert1 throws in some environmental monitoring with a smoke detector that costs $10 a month. Even if you don't alert them yourself, if the smoke detector goes off, the monitoring team will be notified and can call the fire department if needed.
More Information on the Alert1 Systems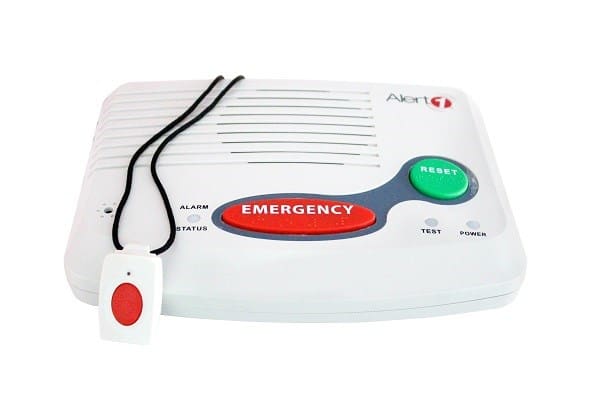 Now you know everything there is to know about how much Alert1's systems cost, but here's what they can do:
Home: For a senior that spends most of their time at home, this package is the best option. However, it lacks fall detection, so the user will have to actually push the button to connect to help. Another disadvantage is that the button itself doesn't have a speaker, so they'll need to be near the base station in order to have a back-and-forth conversation with the emergency personnel. Also note that to use this system in the first place, you'll need a landline.
Fall detection: Adding fall detection onto the home system means that you don't need a landline, opening up the system to many more users. With a base station and an on-the-go pendant, which can be worn as a necklace or bracelet, which has the two-way audio that the regular home device lacks. Given that falls are the most common cause of injuries that lead to being admitted to hospitals for people 65 and up, I definitely recommend shelling out the extra money for fall detection. Like I said, since the device itself can detect when a fall has occurred, the user can reach the monitoring center even if they can't physically press the button.
On-The-Go: For more active seniors, Alert1 offers systems that can be used anywhere in the world, with GPS built-in in case the senior gets lost, useful particularly for Alzheimer's patients, 60% of which tend to wander. Instead of hooking it up to your landline, the On-The-Go system connects to cellular networks, and I was able to choose between AT&T and Verizon based on the best cellular coverage in my area in the Pacific Northwest. Most medical alert companies offer only one cellular network or the other, so the fact that I got to choose was just another feather in Alert1's cap. Of course, this system lacks fall detection, which is why it's the least expensive on-the-go option.

Alert1 On the Go Cellular

On-The-Go Fall Detection: This might seem pretty self-explanatory, but this system is basically the aforementioned on-the-go system except with fall detection built-in. It doesn't require a landline or a phone, as users will be able to speak to the monitoring center through the two-way speaker.
On-The-Go and Home Fall Detection: Finally, for the most protection in and out of the house, get the top-tier On-The-Go and Home Fall Detection package, which doesn't require a landline, works everywhere, and has fall detection along with a two-way speaker.
I opted to get the On-The-Go with Fall Detection, and I'll explain my experience testing it out in a bit, but first, let's check out what other products Alert1 has to offer.
Add-On Equipment
Aside from their systems, Alert1 offers a wide range of accessories that you can add-on, none of which will add to your monthly cost save for the smoke detector that I described above.
Accessory Pricing
| Product | Price |
| --- | --- |
| Fall protection package | $200 |
| Medication reminder and organizer | $149.95 |
| Voice extender | $99 |
| Mobile fall detection pendant | $46.95 |
| Emergency lock box | $39.95 |
| Wall-mounted emergency button | $39.95 |
| Medical ID bracelet | $34.95 |
| Fall detection pendant | $30.95 |
| PAX plus classic wristband | $29.95 |
| Alarm bracelet | $19.95 |
| Alert pendant | $19.95 |
| Surge guard | $19.95 |
| Beaded necklace | $19.95 |
| Kelsi protective case and belt adapter | $9.95 |
| Silicone wristband | $9.95 |
As you can see, the add-ons are at a very large price range, costing only $9.95 all the way up to $200. While none of these are essential, you may want to increase your peace of mind by throwing a few in with your medical alert system.
What Does Each Accessory Do?
From reminding you to take your medication to letting emergency medical technicians into your home in the event of an emergency, Alert1 has all the add-ons I'd expect for a medical alert company, including:
Medication reminder and organizer: With a large LED display, this device is perfect for a senior that may forget to take their medications throughout the day. You can program it to remind them to take their meds up to four times per day via an 85-decibel alarm, about as loud as a snowblower. Plus, the device is tamper-proof, so the user can only take their medications at the appropriate times and can't go back if they miss a dose. This is a device I haven't seen from any other medical alert system so far, and it seems really useful, especially considering that the average elderly patient in the United States takes more than five pills a day.
FYI: If the senior in your life has trouble remembering to take medications, the medication reminder and organizer is a fantastic option, as it'll alert them at the exact times they need to take their meds.
Voice extender: If you have a large house and can't speak to the base station from every room, I recommend buying a voice extender, which requires a landline.
Fall protection package: More of a bundle than a single accessory, this package includes two wall-mount buttons, two motion-sensing night lights, 18 adhesive strips for the bathtub, and 12 corner guards.
Mobile fall detection pendant: If you already have the fall detection feature, you can add on another pendant to your system to call for help; this one has a speaker and doesn't require a landline. Plus, it's showerproof!
Emergency lockbox: One issue that you may have not considered is how the EMTs, police officers, or firefighters are going to get into your house if you have an emergency, but don't worry, Alert1 has got you covered. Simply place their lockbox on your front doorknob and they'll be able to get inside via code, with up to five keys stored in the lockbox itself.
Wall-mounted emergency button: Some people may not want to wear their pendant around their home, which is why it's important to put wall-mounted emergency buttons in high-risk areas like the stairs or bathrooms from up to 600 feet away from the base unit. Make sure the buttons are placed low to the ground so you can reach them in the event of a fall; with two-year battery lives and two-way speakers, you'll be able to speak directly to the monitoring center through the buttons themselves. Plus, as the buttons are waterproof, you can even place one inside the shower!
Fall detection pendant: Anyone with a system that includes fall detection can add on another medical alert pendant necklace, which has a 400-foot range from the base unit, two-way voice plus a two-year battery life. It's showerproof, like all of Alert1's devices, and requires a landline to use.
PAX plus classic wristband: For someone that prefers wearing a bracelet to a necklace, this silicone, waterproof option includes a medical alert button. It works for up to 300 feet from the base unit, but there's no fall detection or two-way voice; that remains in the base unit.
Alarm bracelet: Another waterproof medical alert wristband, this device also doesn't have fall detection, but it's range is twice of the PAX Plus at 600 feet from the base unit. Note that only users with landlines can use the alarm bracelet to get connected with the Command Center.
Alert pendant: A medical alert button in the form of a necklace, the alert pendant is waterproof with a range from the base unit of 600 feet. It requires a landline and doesn't include fall detection.
Surge guard: On a slightly different note, Alert1 also offers surge guards to make sure that your phone line isn't affected by a power surge , which would cut off your connection to the monitoring center if it's connected through your landline.
Monitored smoke detector: If you don't already have a smoke detector in your home, Alert1 offers one for $10 a month that'll be connected to the monitoring center. Even if you aren't home, if your smoke detector goes off, Alert1's emergency personnel can send for help. Plus, the device has a three-year battery life and a 95-decibel siren, about as loud as a food processor. For someone hard of hearing, that may not be loud enough, but that's where the monitoring center kicks in.
Kelsi protective case and belt adapter: This case protects the Kelsi and Kelsi Pro On-The-Go systems and even has a Velcro attachment so you could clip it onto your belt.
Silicone Wristbands: Available in gray, blue, or purple, these waterproof silicone wristbands worked with all of Alert1's emergency buttons for the home without fall detection.
Medical ID bracelets: Sold in sizes small and large, the medical ID bracelets contain a panel that has space for the user's medical information, if they do have a medical emergency. The bracelets also come with wallet cards for more information like their blood type, emergency contact, and more.
Fall alert beaded necklaces: With options in stained glass, elegant onyx, and treasure pearls, you can use these necklaces with any medical alarm pendant necklace to jazz it up. I really appreciated the necklaces' magnetic clasps, which made putting them on a breeze (although you shouldn't use them if you have a Pacemaker).
There you have it, all of the products that Alert1 has to offer (which is a lot)!
Using Alert1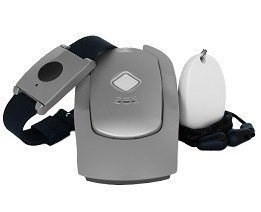 Choosing a system on Alert1's website was very simple. After picking out my On-The-Go Fall Detection system, I was able to complete the transaction online, meaning I didn't have to deal with any pushy salespeople. Shipping was free, and I received my box in about three business days. Once I got the package, I tore the box open and found the Kelsi Unit Plus its charger. I plugged the charger in and connected the charging cable and charging port, making its status lights flash red and blue. After the Kelsi charged for a few hours, I noticed that the light switched to blue only, meaning it was fully charged.
Time to test it out! I held down the call button and was immediately connected to the operator, who was ready to help me. However, I explained that this was just a test and got off the line. All in all, the process only took about ten minutes, not counting the three hours the Kelsi took to charge (think of it like bake time if we were making cookies).
Would I Recommend Alert1 Overall?
It should be no surprise that I would definitely recommend Alert1 as your medical alert system. Not only do they have landline and cellular options for in-home and on-the-go use, with optional fall detection, but they also offer many different contract lengths and a plethora of add-on accessories. I've tested out a lot of medical alert systems in my day, and I'm hard-pressed to find one that's more flexible than Alert1. Of course, it's not ideal for everyone who's looking, so I would not recommend Alert1 if you want a mobile application or monthly contracting. If you wanted to check in on someone without calling them, I'd check out GreatCall or Bay Alarm Medical, both of which have apps and monthly contracts. If you still have questions about Alert1, check out or FAQ's section below or contact me and I'll help you the best that I can.