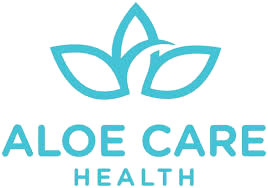 Aloe Care Health Review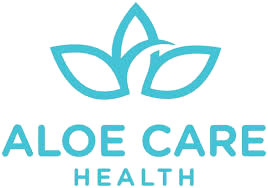 As we get older, continuing to live in our homes can prove difficult, especially for those without a partner or roommate. Unsurprisingly, nearly 90 percent of those over 65 want to age in place, that is, remain in their current living situations for as long as possible. This becomes a problem, however, when you consider the risks entailed in living in a traditional home. Social isolation, transportation issues, and falls each pose risks to those who forego moving to alternative senior housing options. Thankfully, there are devices such as medical alert systems that help to mitigate these risks.
In this review, we'll be taking a look at Aloe Care Health, a relative newcomer in the world of medical alert technology. Their wireless system keeps users safe through a combination of 24/7 professional monitoring, wearable emergency buttons, and a family app that allows caretakers to keep track of their loved one. What's more, Aloe Care even has features such as temperature sensors, motion detectors, and voice commands, giving this system a modern twist on a tried-and-true formula.
Just how well does Aloe Care Health's system stack up to similar devices? More importantly, how well can it protect you or your loved ones? Let's dive in.
Aloe Care Health Pros and Cons
For those of you short on time, here are my main takeaways from using my Aloe Care Health medical alert system.
What We Like About Aloe Care Health
Voice Commands: Among its many innovative features for a medical alert system (motion and air quality sensors, for example), Aloe Care's systems also feature the ability to make calls simply through using your voice. In the event of someone not having their emergency button on hand, this feature could be a lifesaver.
Caregiver Features: These days, it's pretty standard for medical alert systems to include some form of a caregiver app or dashboard. Aloe Care's app, however, goes several steps further. When logged in to this app, loved ones can track a user's mobility, keep tabs on calls, and be contacted for check-ins themselves.
Check-In System: Rather than contacting the emergency response center by default, your Aloe Care system gives you the option of contacting either your primary caregiver or all of your caregivers for a check-in. This is a great way to avoid emergency calls and to keep nearby loved ones in the loop for non-emergency situations.
What We Didn't Like About Aloe Care Health
Higher Up-Front Costs: Rather than allowing you to rent their medical alert systems, Aloe Care requires you to buy their equipment outright. So while their subscription costs are about average for the industry, the startup costs will be a bit higher than those of other manufacturers.
Ordering from Aloe Care Health
To begin my process with Aloe Care, I took a look at their website. There I found their two different systems: Essentials and Total Care, both of which could be easily purchased online using a credit card.
Here is an overview of their respective costs. Unlike other manufacturers such as Medical Guardian, that require you to rent their equipment, Aloe Care systems must be purchased. In the chart below, you'll see this cost represented under the Startup Cost column.
Aloe Care Medical Alert System Cost
| System | Startup Cost | Monthly Cost |
| --- | --- | --- |
| Essentials | $149.99 | $29.99 |
| Total Care | $249.99 | $39.99 |
Choosing Between Aloe Care Systems
At their core, both of Aloe Care's systems operate in the same way. Each system includes a hub, a care button, and both lanyard and wristband attachments for the care button. With that said, there are some key differences between these systems that will impact your decision as to which one best suits you.
Aloe Care Essentials
The Aloe Care Essentials package features a smart hub and a care button (worn either as a wristband or lanyard). While simple in terms of its number of devices, this system gives you everything you need to keep your loved one connected to both you and Aloe Care's professional monitoring center. This system also operates on a 4G wireless connection, meaning that you don't need Wi-Fi in your home in order to take advantage of its features.
Aloe Care Total Care
Aloe Care's other option is the Total Care system. This package includes a smart hub, a care button, a smart fall sensor, and two motion sensors. In terms of general functionality, this system works just like the Essentials system. In the event of an emergency, a user can press their care button (or one of the buttons on the smart hub) in order to be connected with either the Aloe Care monitoring center or one of their pre-selected caregivers.
In terms of differences, the Total Care system features automatic fall detection. This makes it a great option for seniors who are more prone to mobility and balance issues. Most medical alert systems with fall detection accomplish this through additional pendants. Aloe Care's fall detection, however, uses a standalone device that does not require the user to wear anything in order to function. Because of this device (and the additional motion sensors), the Total Care package requires Wi-Fi in order to function as intended.
FYI: Both of Aloe Care's systems include built-in backup batteries to ensure that your system can continue regular function, even in the event of a power outage.
Aloe Care Packages
| Aloe Care System | Mobile Companion | Essentials | Essentials Plus | Total Care |
| --- | --- | --- | --- | --- |
| Monthly Cost | $24.99 | $29.99 | $39.99 | $49.99 |
| 24/7 Professional Monitoring | Yes | Yes | Yes | Yes |
| Voice Activated Calls | Yes | Yes | Yes | Yes |
| Aloe Care App | Yes | Yes | Yes | Yes |
| Mobile Companion | Yes | No | Yes | Yes |
| Requires Wi-Fi | No | No | No | Yes |
| Automatic Fall Detection | Yes | No | Yes | Yes |
| Additional Motion Sensors | No | No | No | Yes |
Aloe Care Health Installation
Once my Essentials system arrived, I was excited to begin the setup process. Inside the box, I found my Aloe Care smart hub, power cord, care button, wristband, lanyard, and several instructional guides.
The first step was to place my smart hub in a room where I spend the majority of my time. I chose an end table in my living room, directly beside a wall outlet. Once I plugged in the smart hub, it made a chiming noise and then began pulsing with a blue light. Since this unit operates entirely with a 4G cellular connection, I didn't even have to hook it up to my in-home Wi-Fi network. I simply pressed the black button in the center of the smart hub to confirm my connection.
Once I established that my device was connected, all I had to do was remove the wrapping from my care button and decide whether I wanted to wear it as a lanyard or a wristband. In total, the setup process took less than five minutes, as quick as I've seen with any medical alert system.
In-Home Protection: Both of Aloe Care's systems are designed to be used only in the home. If you're interested in a mobile unit, then check out one of the on-the-go options from MobileHelp.
Using My Aloe Care System
To use your Aloe Care system, you'll want to start by downloading their app, available on both iOS and Android devices. From here, the primary caregiver can add others to the app's caregiver network. Anytime a distress call is made from the Aloe Care system, all of these people will be notified. They can even respond by making direct calls to the user via the smart hub. According to the Pew Research Center, less than half of seniors own smartphones, so I appreciated how my smart hub could be used to make direct voice calls in addition to distress calls of a more urgent nature.
When making calls to Aloe Care's monitoring center, I received consistently prompt responses each time. In under 20 seconds, my calls were fielded by caring agents who took the time to assess my situation and plan an appropriate response, whether that meant contacting emergency services or someone in my caregiver network. I made distress calls using both the smart hub's assistance button and my personal help button, in addition to making voice commands by saying the word, emergency. Even from a different room, my Aloe Care system could pick up my voice and facilitate communication with the monitoring center.
Aloe Care Health Video Review
If you want to see my Aloe Care system in action, check out my video review below. In it, we'll take a look at its features and see how they work in practice.
Aloe Care Features
Smart Hub
Similar to other medical alert systems, the Aloe Care Smart Hub serves as the base station of your system. It connects all of your devices, in addition to serving as the microphone and speaker for all communication.
About the size of a smoke detector, this device features some handy buttons on its face. The large, black assistance button can be pressed to connect to the Aloe Care response team. The primary caregiver button, when pressed, will notify your designated primary caregiver through their smartphone and allow them to engage in a phone call with you. The all caregivers button accomplishes the same function but with everyone in your caregiver circle. This is a great feature for those with several nearby loved ones, as it keeps them in the loop on the wellbeing of their loved one.
Additionally, most of these functions can be accomplished through voice commands. To contact the Aloe Care response team, I simply said emergency. To contact my caregiver circle, I said call my family.
The smart hub also features motion sensors. These will not only activate the device's built-in nightlight, but they will also be used to report activity levels through the Aloe Care app. When I went long periods without moving, my caregivers were notified. My smart hub also reported on air quality and temperature, providing both metrics through the app.
Care Button
Worn as either a lanyard or wristband, the care button allows you to remotely contact the Aloe Care response team. When activated, it glows green. The green light will also let you know that your device's battery is still working.
Smart Fall Sensor
Another way in which Aloe Care takes a different approach is through its smart fall sensor. Whereas most medical alert systems use additional pendants for automatic fall detection, Aloe Care utilizes a standalone device designed for stationary use in one's bathroom.
Using radio waves to create a 3D map of your bathroom, this device can identify your position within the room and alert the monitoring center in the event that you've fallen. In our tests, this device accurately detected falls to an impressive degree. The downside is that this stationary device can only protect you in one room. With that said, a large majority of falls occur in bathrooms, so this might not prove to be an issue.
Motion Sensors
Augmenting the motion-sensing functionality of the smart hub, the Total Care package's motion sensors can be used to provide movement updates on the caregiver app. If no motion is detected for extended periods, your caregivers will be notified and can respond accordingly.
Motion Sensor Tip: Regarding the Aloe Care system, I'd recommend placing motion sensors in your bedroom and kitchen, as these are commonly used places in most homes. If no motion is detected here, it's likely something could be wrong.
Recap
What I appreciate most about Aloe Care Health is the way in which it prioritizes a network of local caregivers. Of course, their response team will come in handy for emergency situations; however, the core of their medical alert systems is the family created through the Aloe Care app.
For those with family and loved ones nearby, Aloe Care is the perfect way for them to stay in touch and keep track of your well-being. Aging in place isn't always easy, but a system from Aloe Care can make it significantly easier and safer.
Aloe Care Frequently Asked Questions