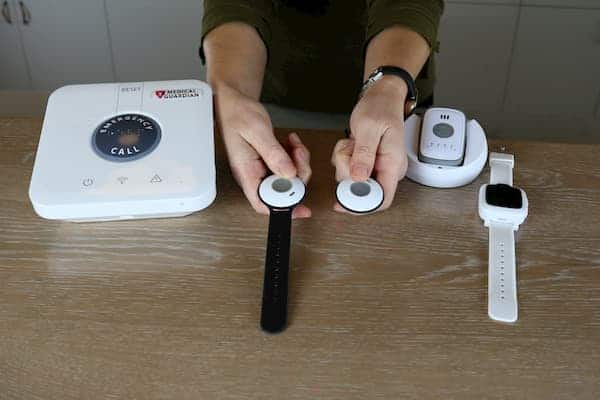 Active Guardian Review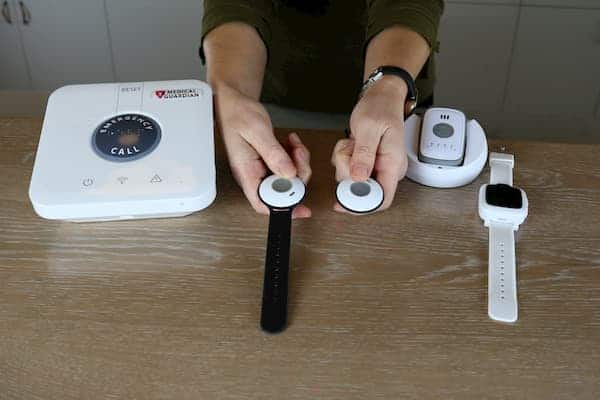 The modern medical alert system landscape is replete with options for every type of older adult. For people who may be primarily bound to their homes or care facilities, there are cellular or landline-based units with ranges that can cover large areas, allowing for emergency response in a crisis. And for older adults that want the freedom to live their lives on-the-go while still having a direct line to care in an emergency, there are countless mobile options.
Medical Guardian has staked their claim as the vanguard of both types of medical alert systems, but have really proven themselves as industry leaders in the mobile monitoring space. Their marquee system, the Active Guardian gives older adults the freedom they need to live their lives to the fullest while knowing help is just a button press away.
In this review, I'll be looking at what makes the Active Guardian system such a great option for mobile medical alerts. I'll tell you everything about my experience with the product and take a broader look at Medical Guardian, helping you determine what sets them apart from the pack.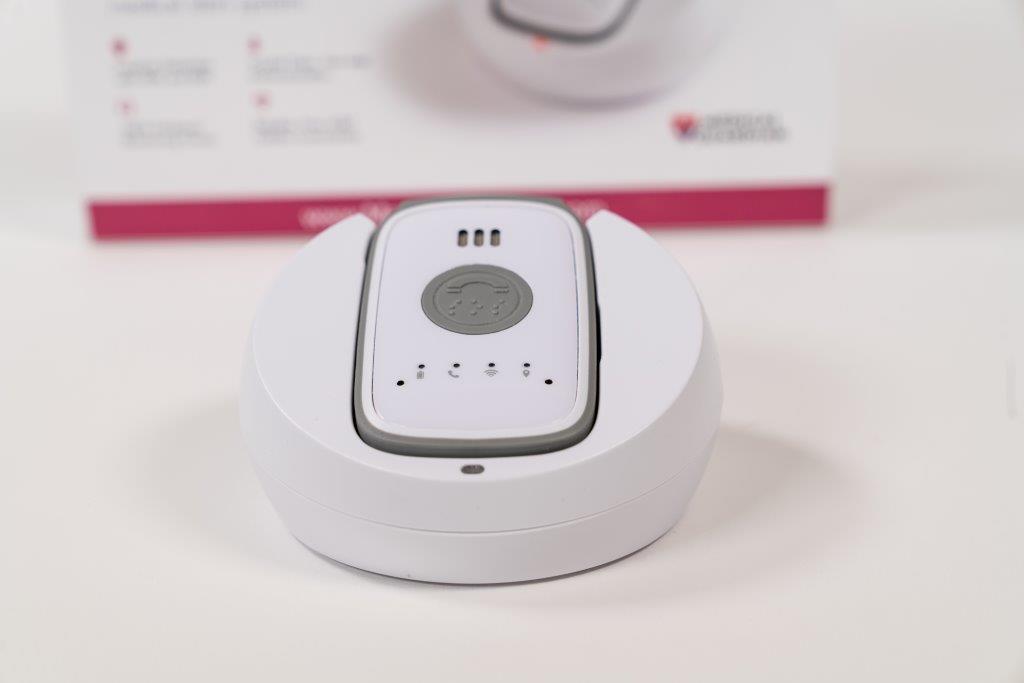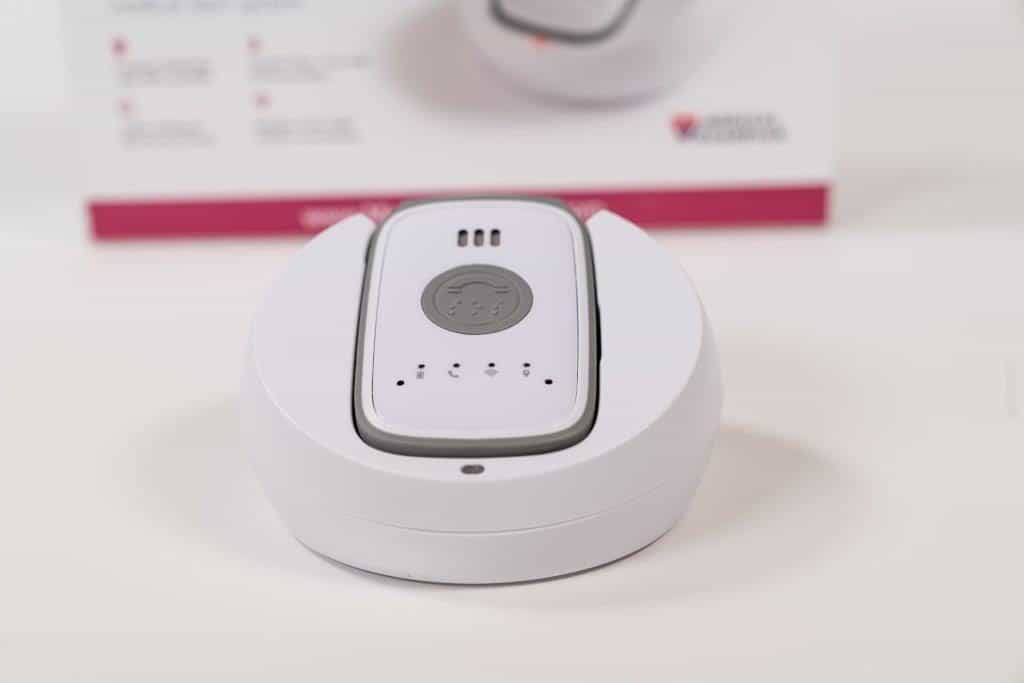 Looking at the Pros and Cons of the Active Guardian
If you didn't already know, Active Guardian is one of the best cellular medical alert systems on the market. Before I get into exactly why this is, let's first take a long view of the Active Guardian and pinpoint some of the things I liked most and some things I wish were a little bit different about the device.
The Pros
It's an All-in-One Device: With some mobile alert devices, the communicator is separate from the activation button, which can add unnecessary complications in an emergency. The Active Guardian is a self-contained unit, with a two-way speaker and activation button all in one device. I liked how sleek and functional the design was; it made communicating in a difficult situation as seamless as possible.
GPS Capabilities: If an older person becomes unresponsive in an emergency, it can be impossible for them to receive the care they need without communicating their location. The Active Guardian has built-in Wi-Fi and GPS, which were able to transmit my location to operators and enable them to dispatch appropriate emergency response personnel.
Five-Day Battery Life: I was not only impressed with the fact that the Active Guardian could run for five days on a single charge, but also that the unit could be fully charged in just three hours.
Waterproof for Shower Safety: It's estimated that upwards of 80% of falls occur in the bathroom, which means waterproof devices are key for protecting older adults. The Active Guardian is totally waterproof, which means it didn't present any issues when used in the shower.
Fall Detection in the Same Unit: The Active Guardian also has automatic fall detection capabilities, which is another reason why it's a great option for older adults looking to maintain an active lifestyle without worry that a fall could go unnoticed.
Quick Tip: The Active Guardian is capable of fall detection, but it is an additional monthly service that can be added onto the device (which I highly recommend!).
Some Negatives of the Active Guardian
Higher Price Point: While the Active Guardian is the gold standard in mobile medical alerts, it comes at a premium price. Even compared to comparable systems like Bay Alarm Medical, Active Guardian service costs can run at least $10 a month more. Granted, Medical Guardian doesn't require long-term contracts or commitments, but I found their monthly fees on the high side compared to others in the market.
Add-ons Are All Monthly Charges: This is sort of a small quibble, but accessories and add-on services for the Active Guardian are all billed monthly. Even a lockbox, which typically runs about $40 when bought outright is charged on a monthly basis. For someone like me who looks for customizable, complete systems, these add-on services can add up.
Getting Hands-on With the Active Guardian
One of the strongest elements of Medical Guardian is how well they work to inform their customers. As a company with a wide array of products and flexible plans, as a first-time customer or someone not totally comfortable with medical alert system technology it could all be a bit overwhelming. Thankfully, I've always found Medical Guardian to be one of the most customer-focused options on the market, offering a wealth of buyer's guides, product comparison materials, and detailed product information that made me feel confident I was making the right purchase.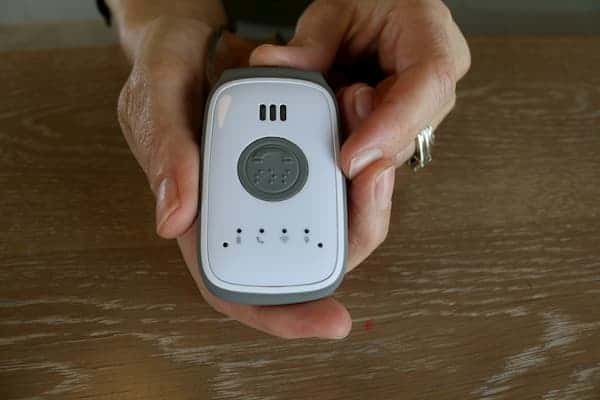 Additionally, the company offers a number of support materials and customer service contact points that have been invaluable in learning about their products. Not only do they feature prominent contact phone numbers, but they offer detailed FAQs, contact forms, live chats and an entire MyGuardian customer care portal where I was able to access product manuals and other educational documents. In short, their customer service is bar-none.
The Purchasing Process
Also in the name of customer service, Medical Guardian's buying process is transparent and simple, which I always appreciate. Even if I don't fully agree with some of their pricing practices (as I stated above, monthly costs for certain add-ons strikes me as a bit onerous), I never feel like I'm being hit with hidden fees or that the company is trying to take advantage of customers.
When I decided to purchase the Active Guardian, the next step was choosing the type of plan I was looking for. There are four options based on how long I was expecting to need the device, and each plan limit had its own pluses and minuses. One great thing about Medical Guardian is that they don't require long-term contract commitments for their products, and customers like myself who were only looking for a shorter-term plan can opt for month-to-month service.
Here's a comparison of the plan options.
| | Monthly | Quarterly | Semi-Annual | Annual |
| --- | --- | --- | --- | --- |
| Charge/Per Billing Period | $44.95/mo. | $134.85/3 mos. | $269.70/6 mos. | $494.45/yr. |
| Daily Cost | $1.45 | $1.45 | $1.45 | $1.35 |
| Free Equipment | Yes | Yes | Yes | Yes |
| Free Shipping | No | No | Yes | Yes |
| Free Month of Service | No | No | No | Yes |
| Free Lockbox | No | No | No | Yes |
A Couple Add-Ons
There are some add-on services that I would highly recommend when purchasing the Active Guardian. First and foremost, the fall detection feature is an additional $10 per month on top of the plan, but it's money well spent, especially for an older adult that has mobility issues but still plans on using a medical alert device on the go. The great part about fall detection with the Active Guardian is that it doesn't require an additional sensor; the unit itself has fall detection capabilities built right in.
Note: While fall detection is a great feature, it isn't 100% effective in every case of a fall. If the person who's suffered a fall is able to press the button, it's recommended to do so, even if the unit has registered the fall.
Medical Guardian doesn't require their customers to purchase the hardware for their medical alert systems, so in reality, it's more of equipment rental. To that end, when I purchased the Active Guardian I didn't actually own the device. The benefit of this pricing model is that the company is able to keep its upfront prices low; the downside is that the customer is liable for any damages to the hardware. To help defray out-of-pocket costs for lost or damaged devices, Medical Guardian offers an equipment protection plan for $6.99 per month, which I would also recommend to avoid more expensive fees down the line.
Setting Up and Using the Active Guardian
When I received the Active Guardian, I was immediately impressed by the design and economy of the device. Sometimes when dealing with medical alert systems, units can look like a company stopped evolving in the early 2000s, but the Active Guardian feels like a modern piece of technology with sleek packaging to match. In the box was the device itself complete with the neck lanyard for all-day wear, the charging docks, as well as invaluable product manuals and getting started guides.
The first step to using the Active Guardian is to charge the unit. It was recommended to initially charge the device close to a window which helped enable the device to pick up on cellular signals more easily. The device can reach a full charge in just three hours and can last five days on a single charge, which is unrivaled in the market. Even though the device could go much longer, I felt most comfortable keeping the charging dock on my nightstand so I could leave it to charge overnight and it would always have a full battery as I began each day.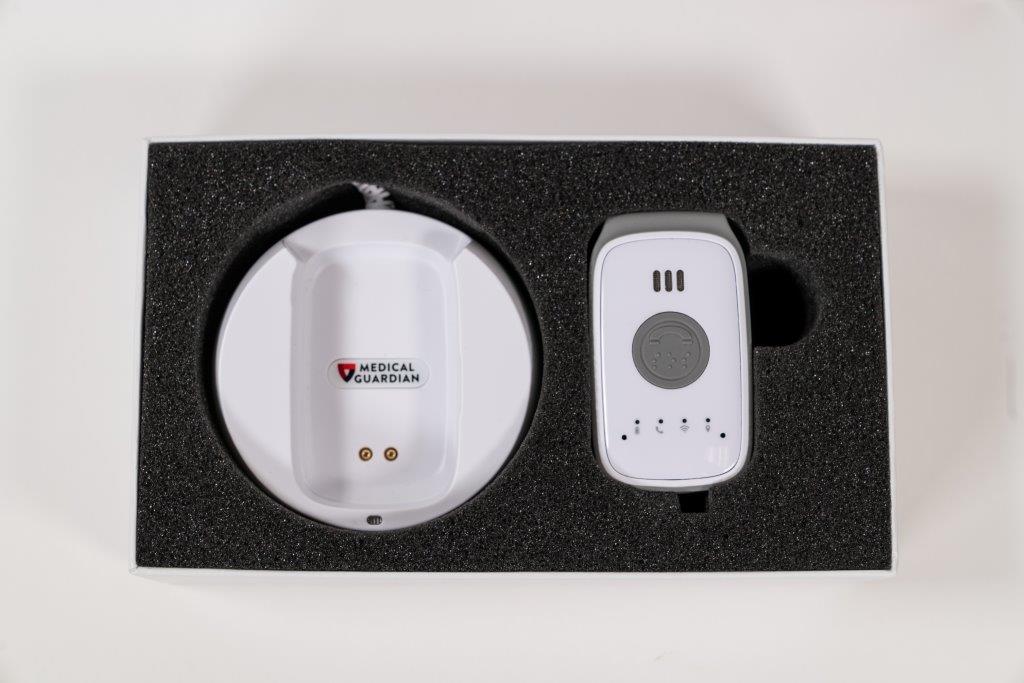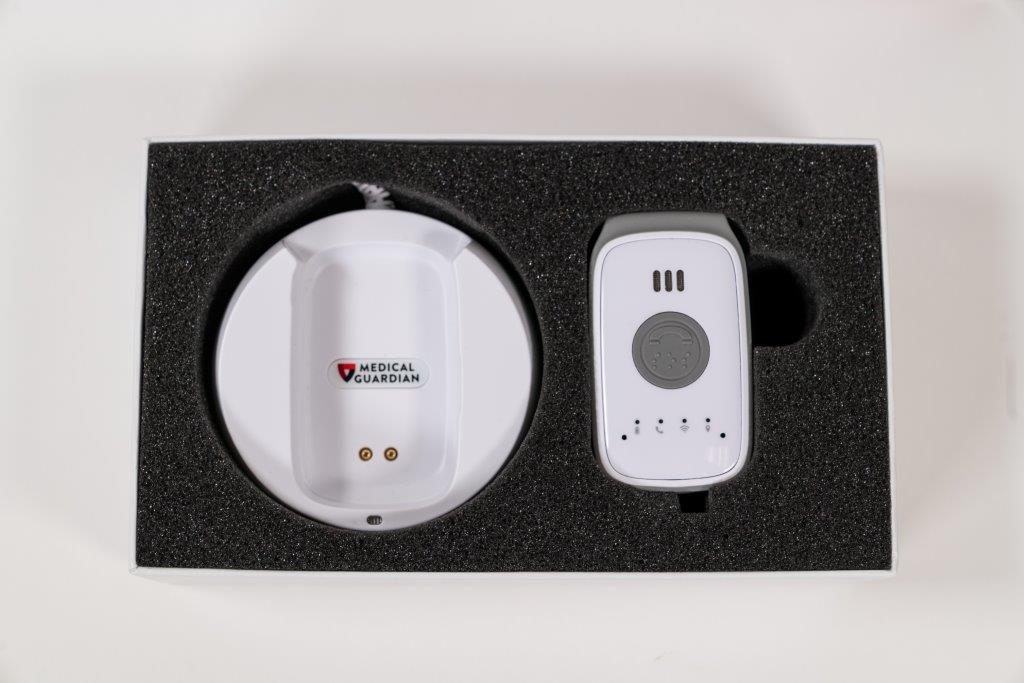 The charging dock has an LED light that glows to indicate that it's receiving power, and the unit itself has a notification light indicating that it's receiving power, which was both beneficial for taking any guesswork out of knowing that the device was getting the charge it needed.
Once my device was charged, I was instructed to call Medical Guardian's operators to complete the activation process. In all of my interactions with Medical Guardian's team, I found them to be friendly and professional, which always makes the experience better. The activation process took a matter of minutes, and I confirmed some basic information with the operator and tested the unit for its sound function. I was thoroughly impressed with the volume and clarity of the operator; even though the device was worn around my neck, I felt that I could be clearly understood from across the room.
All-Day Wear
Once the Active Guardian was live and charged, I tested the unit for all-day wear. In my experience, the unit was lightweight and unobtrusive enough to be worn throughout the day without becoming burdensome, though I will say for an older adult that has trouble with even a little added weight to carry, the Active Guardian could present some issues compared to the simple activation pendants of more basic in-home units.
Another great thing about the Active Guardian is its coverage. Because the device runs on the AT&T cellular network, it's able to function almost anywhere in the United States. For customers that live in more rural areas, it could be good to verify coverage, but generally speaking, AT&T has one of the more expansive networks around.
When testing the device on-the-go, I simply pressed the call button which activated the unit. After about 15 seconds I was connected with one of Medical Guardian's operators who talked me through the situation. The company's operators are highly trained, and all of their call centers have the highest certifications including UL, FM, TMA, and ESA. Since I only called as a test, I once again verified my personal information, including location, which the operator was able to pinpoint using GPS.
A Quick Note: It's recommended to test your device once a month to ensure that it's operating properly.
Overall, I was impressed with the quality of service Medical Guardian offers, and the general wearability and durability of the device.
Comparing the Medical Guardian Systems
As I previously stated, Medical Guardian has one of the most expansive product lines of any medical alert system provider. Of their six distinct offerings, three are designed for on-the-go use and three are made for use in the home. Let's take a quick overview of what else Medical Guardian offers and how Active Guardian compares.
Classic Guardian: The Classic Guardian is Medical Guardian's lowest-cost in-home alert system, coming in at less than $1 a day for service. The activation button has a 1,300-foot range from the base unit, which makes it more than capable of covering even large homes. The device runs on a landline, so it's best for customers that have in-home telephone service.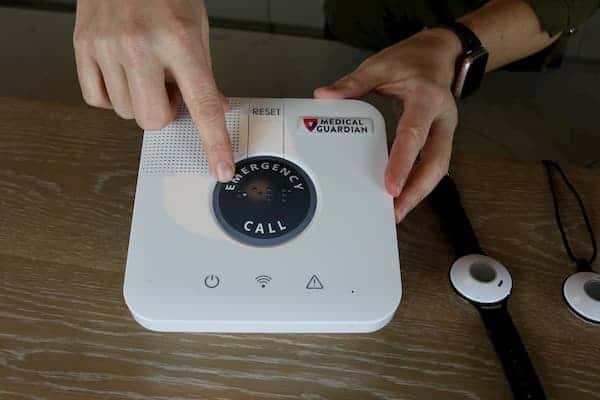 Home Guardian: The Home Guardian takes the in-home service of the Classic Guardian, but removes the need for a landline. The device runs on a cellular network and has a 600-foot coverage to accommodate most homes.
Family Guardian: The Family Guardian is similar to the Home Guardian in that it's a home-based unit that doesn't require a landline. What separates this system, however, is its addition of activity trackers that can be placed throughout an older adult's home which can be used by family members and caregivers to check on the older person's activities using the Family Guardian app.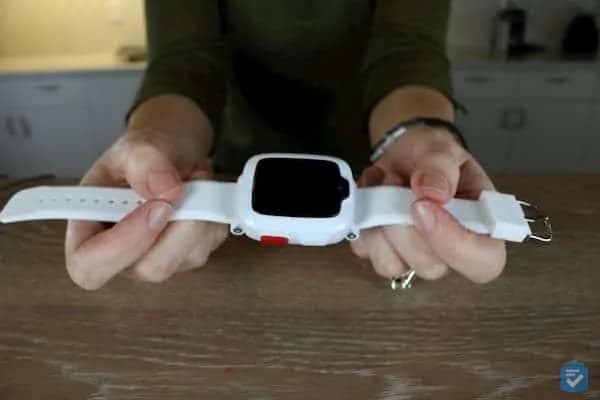 Freedom Guardian: The Freedom Guardian is a unique addition to the Medical Guardian product family. This smartwatch has advanced location tracking, weather alerts and more, in addition to its function as a medical alert system.
Mobile Guardian: The Mobile Guardian is an on-the-go medical alert system, but it isn't a singular unit. Instead, there is an activation button like you'd expect in an at-home system and a receiver with two-way communication. The activation button has a 350-foot range from the base unit, and the entire system runs on the AT&T cellular network.
Active Guardian: The Active Guardian takes the best parts of the Mobile Guardian, but combines it into one self-contained unit. Medical Guardian's most-popular mobile alert system, this device is essentially a single-purpose cell phone, putting older adults in touch with the monitoring center in the event of an emergency, bolstered by GPS, Wi-Fi and cellular networks for maximum response efficacy.
Now that we know what the systems are all about, let's take a look at how they compare.
| | Classic Guardian | Home Guardian | Family Guardian | Freedom Guardian | Mobile Guardian | Active Guardian |
| --- | --- | --- | --- | --- | --- | --- |
| At-Home Device | Yes | Yes | Yes | No | No | No |
| On-the-Go Device | No | No | No | Yes | Yes | Yes |
| Cellular Connectivity | No | Yes | Yes | Yes | Yes | Yes |
| Coverage Area | 1,300 ft. | 600 ft. | 1,300 ft. | n/a | 350 ft. | n/a |
| Battery Life | n/a | n/a | n/a | 2 Days | 1 Day | 5 Days |
| GPS Location Tracking | No | No | No | Yes | Yes | Yes |
| Wi-Fi Location Tracking | No | No | No | Yes | No | Yes |
| Fall Detection | Yes | Yes | Yes | No | Yes | Yes |
| Requires Equipment Purchase | No | No | No | Yes | No | No |
| Monthly Price | $29.95 | $34.95 | $79.95 | $44.95 | $49.95 | $44.95 |
Wrapping It All Up
With about 10,000 people in the U.S. turning 65 every day, the need for medical alert systems is set to grow substantially in the coming years. And, with a younger aging population, medical alert systems built for on-the-go use are going to be a more significant part of the equation. These mobile systems enable older adults to live their lives to the fullest while offering the peace of mind they need, knowing that help is just the press of a button away.
The Active Guardian is a best-in-class device that combines all of the robust features you'd expect from a mobile alert system: reliable cellular coverage, fall detection ability, location tracking, and two-way communication all in one device. Of course, this type of comprehensive service comes at a price that's near the top of the market. But, with the quality of product and customer care offered by Medical Guardian, that price is well worth it.