Find out which medical alert system is best for you…
1)
Who are you shopping for?
You may or may not be aware that Costco carries medical alert systems.  Costco used to carry just one – The MediPendant, which is an adequate (traditional) medical alert system that offered good value (due to the Costco offering).  Fast forward to today, and you'll notice that Costco now carries Medical Guardian as it's one and only preferred medical alert system.
We are thrilled to learn that Medical Guardian is the new medical alert partner of Costco. Medical Guardian has been on our list of highly recommended medical alert systems for some time now.
Current Medical Guardian Costco Offering
Costco carries the Active Guardian Plus GPS medical alert system from Medical Guardian. Active Guardian is a convenient go-anywhere medic alert that can be worn by seniors inside and outside of the home.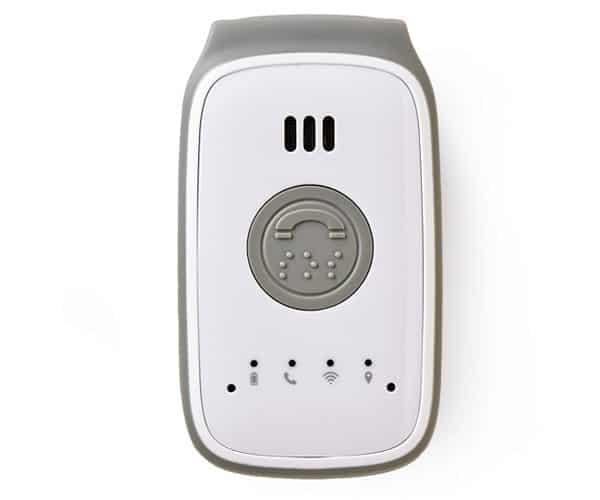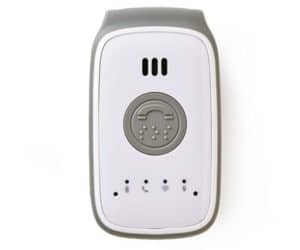 Active Guardian is an all-in-one device that is easy to wear when out and about. Two-way communication is via the easy-to-use pendant device. Fall detection is included as standard, so there's no need to wear a second device for fall detection purposes.
We like what Medical Guardian has done with this device, creating an all-in-one solution for seniors both indoors and out in the community.
For seniors who are homebodies, Active Guardian provides added peace of mind in the home. However, the device really comes into its own for seniors who are active in their local communities.
Now they can go out to see friends or family, walk the dog or go for a drive, attend local events or go for a meal, or simply go out to enjoy the sunshine, knowing that if they need help it's only a button press away.
How Does Active Guardian Medical Alert Work?
Active Guardian, like most mobile medical alert systems, uses cellular phone networks (in this case AT&T) to provide service both in the home and out of doors. However, unlike most mobile medical alert devices which rely solely on GPS, Active Guardian uses a combination of GPS and Wi-Fi hotspots to accurately pinpoint the location of the wearer.
No matter where the wearer is, Active Guardian's technology searches for the nearest hotspots to provide seamless service. That also means that users can benefit from Active Guardian's protection with no need to rely on a cell phone network.
If the wearer needs assistance, all they have to do is press the button. Their wearable device immediately connects them to the Active Guardian call center where operators offer support and reassurance, assess the situation, and dispatch help as needed.
We especially like that callers can request help from the people they've listed on their account as contacts, such as a nearby family member, friend or caregiver.
Medical Guardian understands that calling the EMTs isn't always the right answer. Sometimes a trusted person who lives close is the best person to offer assistance. We think users will appreciate the flexibility.
What's In The Box?
We're particularly impressed with the extras that come as standard with this package. Many medical alerts include automatic fall detection or a lockbox as an extra, with an extra fee to match, too. With Active Guardian, both are included with the price. Let's take a look at what's inside the box:
Active Guardian
This is a lightweight, wearable device with an adjustable lanyard. The device is watertight, making it safe for use in the bathroom, which is important as many falls happen in the tub or shower.
Automatic fall detection
There's no need to pay extra or wear a separate pendant. Every Active Guardian comes with automatic fall detection as standard. The device uses accelerometer technology to sense sudden or unusual movements and sends an automatic call to the center.
Charging cradle
Most mobile medical alerts only work from one to three days on one charge. Active Guardian runs for an impressive five days on just one charge. We love how convenient this is – charge once and have peace of mind for most of the following week!
Lockbox
Many seniors worry about what would happen if EMTs needed to access their home in an emergency. After all, no one wants to deal with a broken lock on top of everything else.
A lockbox is mounted on the porch or outside the home and the user sets a pin code which they only share with the call center (it's completely confidential).
In the event of EMTs needing access to the home, the call center lets them know the pin so they can access the key and enter without breaking the lock. Some medical alert systems include a lockbox as an added extra, but with Active Guardian, it comes as standard.
Protection plan
To protect the wearer from out-of-pocket expenses from lost, damaged or stolen equipment.
User manual and quick activation guide
To get new customers up and running in no time.
Medical Guardian at Costco: Our View
Active Guardian is an exclusive online offer for Costco, but this isn't the first time we've talked about the parent company, Medical Guardian. You can read our review of Medical Guardian here. Overall, we like how reliable Medical Guardian is, and how many options they offer their customers.
What Users Are Saying
We've gone through the on-site reviews so you don't have to, and here's what we found.
The good:
Lots of users commented on the professional, kind service – a must for any medical alert system. Whether calling for help or responding to a false alarm, it appears from reviews that the call center is wonderful to deal with.
We also noticed a lot of comments on how clear and easy communication is with the center.
Active Guardian is easy to use. Just one button touch summons help and charging is as simple as putting the device in its charging cradle for a few hours. Ease of use is a must for elderly medic alert users, and it seems that Active Guardian delivers.
We also noted a lot of praise for Active Guardian's speed in dispatching help when needed. It's reassuring for caregivers to know that if they can't be there, help can be with their loved one in minutes.
The bad:
The main complaint we spotted about Active Guardian is the tendency for false alarms from the fall detection technology. This is a common problem with all fall detection enabled pendants, no matter who makes them. It seems that some users have remedied the problem by adjusting the length of the lanyard so the device sits closer to the wearer and doesn't swing as much. We can understand the frustration, but we're firmly of the opinion that it's better to have fall detection and risk the occasional false alarm, than not to have it.
Some wearers find the device a little bulky. This is also a common complaint we've noticed with mobile medical alerts. Active Guardian is designed to be lightweight and easy to wear but even so, some people find it uncomfortable. As there are no long term contracts it might be worthwhile to give it a try for a while and see if you can get used to it.
A few people have had cell coverage issues. If this is the case for you, Active Guardian makes it easy to return the unit.
No medical alert service is perfect, so we're not surprised to see there have been a few snags for some users. However, the overwhelming majority of reviews are very positive indeed and it seems that Active Guardian has been well received and provided reassurance and assistance to many people.
What Does It Cost?
The system, including the medical alert device, fall detection, and lockbox, costs $129.99 from Costco online. This also includes shipping and handling, and three months of service.
Ongoing service starts at $49.95 (according to Medical Guardian's website), but Costco offers monthly savings for people who buy through them. We spotted one review that mentioned saving $10 a month off the list price!
We really like this latest offering from Medical Guardian. It's got everything seniors need to stay safe inside and outside the home, and is packed with useful features. Plus it's from a company we know are reliable, and there are no long term contracts.
Past Medical Alert Systems of Costco
Connect America is a company that has been working hard to build back it's reputation in the medical alert arena.  In the past, you didn't have to look far to find a rash of critical reviews of their medical alert products/services.  Even on our site, we noticed quite a few less-than-satisfied-customers of Connect America.
Recently, however, the company assigned a customer service representative to monitor complaints on The Senior List so they could rectify them.  This means a lot to us, and we're happy to be a change agent whereby consumers can feel good about the service providers they trust to take care of them (long-term).  If we continue to see Connect America "connect" with customers to provide exemplary service, they might make our list of recommended medical alert providers in the future!
The MediPendant Alert System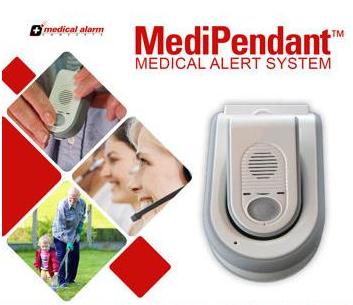 The MediPendant Alert System (cost is $109.99) also includes 6 months of service (call center monitoring) which saves the user around $120-$150 depending on the contract term.  Here's what you can expect in the box when it arrives at your door:

Voice speakerphone pendant
A small base station (to hold the pendant when you are not wearing it
Easy to follow 10-step set-up guide/instructions en Espanol
1 battery installed (lasts 2 years)
Belt, neck, and armband attachments
1 phone connection kit
1 power supply
Lifetime replacement warranty for the pendant to the original user
Additional 'spare' battery for the pendant
Battery replacement tool
Lockbox – so medical personnel/family/friends can enter your home if you cannot get to the door
The MobileAlert from Connect America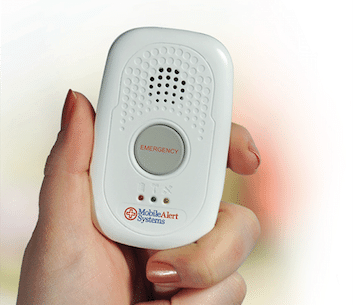 The MobileAlert from Connect America (cost is $139.99) provides 2 options.  One is the traditional medical alert system (like the MediPendant above) and the other is the MobileAlert with fall detection (cost is $129.99 with $20 off coupon).  The medical alert with fall detection will alert when a person has fallen, and cannot depress the pendant button.  Both products include 6 months of service, which can provide some savings over the life of the service contract.  Here's what you can expect in the box when the traditional unit arrives at your door: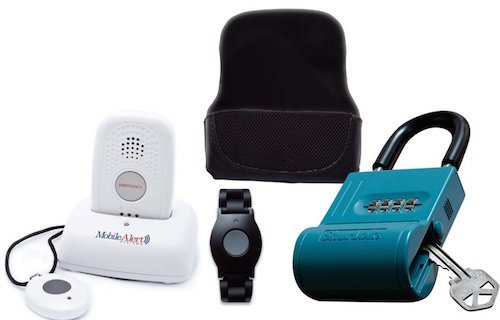 Speakerphone Unit
Neck Pendant
Wrist Pendant
Charging Cradle
Emergency Lockbox
It goes beyond saying that you should do your research before taking the plunge into the medical alert world.  Here are some things you should know BEFORE buying a medical alert system, and here are some of our recommended suppliers.  We're always looking for new blood in this arena, with a keen eye out for high-quality service and innovative products that make a difference.
A few tips for the first-time buyer:
Make sure you take the time to make a good decision – don't rush it.
Make sure you understand the "fine print".
Don't sign long-term agreements that you cannot cancel at any time.