There are many great medical alert systems out there, it can feel daunting to decide which is best for your particular needs. Let's take a look at two of our favorites: MobileHelp and Life Alert.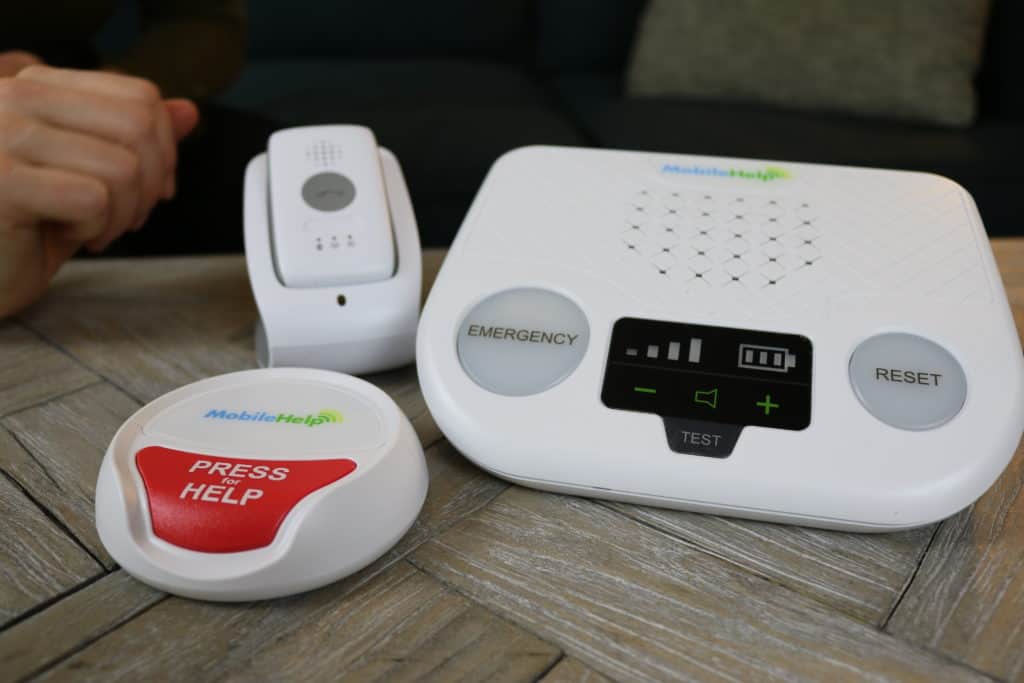 When it comes to how the systems work, both MobileHelp and Life Alert have base units that connect to a central hub where representatives are there in case of any emergency. Customers push a button on a pendant when they need help and are quickly connected to trained response agents who will contact the appropriate emergency responders.
That being said, there are some key differences between the two systems, most notably regarding pricing and add-on features. Before we get further into each company, let's compare them side by side.
Life Alert Overview
When thinking about medical alert systems, Life Alert is one of the first companies that comes to people's minds, likely due to its catchy slogan, "I've fallen and I can't get up!" Life Alert is headquartered in Encinitas, California, and was founded in 1987 as a company to help older adults contact emergency services. Since its creation, Life Alert has prevented hundreds of thousands of people from experiencing life-threatening outcomes as a result of an emergency. Life Alert prides itself on its quick response times, saving one life every eleven minutes.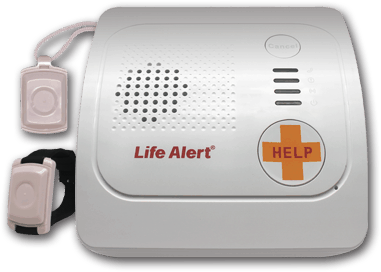 With the population of older adults rapidly growing as a result of the aging baby boomer population, medical alert systems, also known as personal emergency response systems (PERS) are one of the more necessary medical devices needed. Life Alert offers four different systems based on your lifestyle. Here are the options:
Life Alert Systems
| System | Monthly Starting Cost | Connection | To Be Used | Best For |
| --- | --- | --- | --- | --- |
| In-Home | $49.95 | Landline | At home | This is ideal for those who spend most of their time at home and have a landline for connection. |
| In-Home Cellular | $59.95 | Cellular | At home | This is ideal for those who spend most of their time at home but don't have a landline. This system is connected through the customer's cellular plan. |
| In-Home with Help Button | $69.95 | Cellular | At home | This is ideal for those who spend most of their time at home and want additional protection. The help button gives users the ability to reach someone in the event they aren't near the main unit. |
| In-Home and Mobile | $89.95 | Cellular | Out and about (on-the-go) | This is ideal for someone who is out of the house and wants a medical device system that is mobile and works wherever they go. |
There are a handful of features I love about Life Alert and some that don't stack up to the other systems on the market. First, let's look at my favorite features.
What We Love About Life Alert
In-home and mobile options: Lifeline offers devices that keep those who stay home connected to emergency personnel as well as those who live a more active life.
Long battery life: Life Alert has one of the longest-lasting batteries out of any mobile system on the market.
Smartphone App: Medical alert systems with a smartphone app rank high in my book because most of us have our phones on us at all times.
Professional Installation: For many people, setting up technological devices is not their forte. So having a professional installer set up the Life Alert medical system is a big bonus.
No automatic fall detection: Life Alert systems don't support automatic fall detection, which is a big turnoff when it comes to features.
High costs: The systems cost a lot of money and are priced higher than many others on the market.
Long contract requirements: Unlike companies like ADT, which offers monthly contracting, Life Alert requires customers to sign a three-year contract.
Keep In Mind: Life Alert devices don't come with automatic fall detection and the feature is not offered as an add-on option.
MobileHelp Overview
Founded in 2008, MobileHelp is one of the newer medical alert systems on the market. MobileHelp is located in Boca Raton, Florida, and is one of the first companies to offer mobile in-home medical systems. That means MobileHelp systems don't require you to have landlines.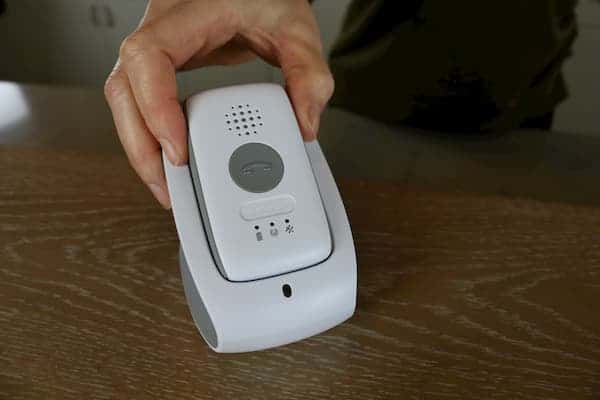 The FDA-registered company is known for quick response times and affordable prices. MobileHelp has a handful of systems depending on your needs. Here's a glance at the different options:
MobileHelp Systems
| System | Monthly Starting Cost | Connection | To Be Used | Best For |
| --- | --- | --- | --- | --- |
| MobileHelp Classic | $19.95 | Mobile | At home | This is ideal for those who are on a budget and who spend a lot of time at home. |
| MobileHelp Wired Home | $24.95 | Landline | At home | This is ideal for those who spend most of their time at home and doesn't get great cell reception. |
| MobileHelp Duo | $41.95 | Mobile | At home and on the go | This is ideal for those who spend time and home and outside of their homes and want a portable system. |
| MobileHelp Solo | $37.95 | Mobile | At home and on the go | This is ideal for those who spend time both at home and who are out and about. |
What We Love About MobileHelp
Automatic Fall Detection: MobileHelp offers automatic fall detection as an added feature for an extra $10 a month. In my opinion, fall detection is one of the most important features.
Mobile connection: The majority of MobileHelps systems hook up to a cellular connection and don't require landlines. It keeps track of your whereabouts through its GPS technology.
Free lockboxes: MobileHelp gives each customer a free lockbox with the purchase of any subscription. A lockbox is a way for caregivers or emergency personal to get access to a home key in the event of an emergency.
Monthly contracts: MobileHelp doesn't require customers to sign long-term contracts, instead of allowing customers to pay month to month.
No professional installation: Customers are responsible for setting up their MobileHelp systems as there is no professional installation option.
FYI: You don't need a landline to use MobileHelp medical alert systems. Almost all of their systems connect to cellular and are mobile, hence the company's name.
Life Alert and MobileHelp Similarities
Life Alert and MobileHelp have additional similarities. Those include:
Waterproof pendants
Wall-mounted help buttons
30-day risk-free trial
24/7 U.S-based monitoring centers
Leased equipment
Keep in Mind: Both medical alert systems offer a free 30-day, risk-free trial. That means you can order the system, test it out and if it doesn't live up to your expectations you can send it back no questions asked within the 30-day window.
MobileHelp and Life Alert Differences
While MobileHelp and Life Alert systems have similar features there are some key differences to keep in mind when considering which to purchase.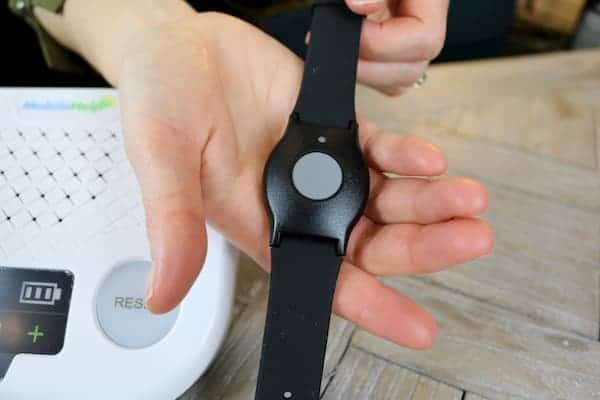 Fall Detection
The biggest difference is the automatic fall detection. MobileHelp systems have the option to add on fall detection for an extra $10 a month, which is something I strongly suggest. I always recommend fall detection because one out of four older adults falls each year and the automatic fall detection will alert the response center even if you aren't able to push the button. Unlike MobileHelp, Life Alert doesn't offer automatic fall detection for any of their systems. Since fall detection is so important, I've also compiled a list of the best medical alert systems with fall detection.
Emergency Response & Call Centers
Because MobileHelp works off cellular signal and GPS, emergency response teams can locate the customer anywhere they go like the grocery store. On the flip side, Life Alert only has one system that works with GPS, making it a questionable choice for older adults who spend a lot of time out of the house.
Our Favorite
After looking at both systems, my favorite is MobileHelp for a few reasons. First and foremost, the lack of automatic fall detection knocks a lot of points off Life Alert. I feel strongly about having that as an option for medical alert systems, otherwise, you are only able to use the device by manually pushing a button and you are out of luck if you fall and are left unconscious or unable to push a button.
Second, the price point is much more affordable than Life Alert's and this is not a case where you get more for what you pay for as Life Alert has far fewer features than MobileHelp. Finally, LifeAlert requires you to commit to the company with a three-year contract while MobileHelp allows for month-to-month options. I am not a fan of long-term contracts, which is another reason why MobileHelp is my favorite system out of these two choices and is also our top choice out of all medical device systems with no monthly fees.