Both MobileHelp and LifeStation personal emergency response brands supply customers with quality medical alerts known for their affordability.
With each company offering no-contract service, multiple connection types, and a variety of add-ons, these brands seem notably similar. However, if you take a more in-depth look, it's clear these two medical alert systems have some considerable differences.
MobileHelp Overview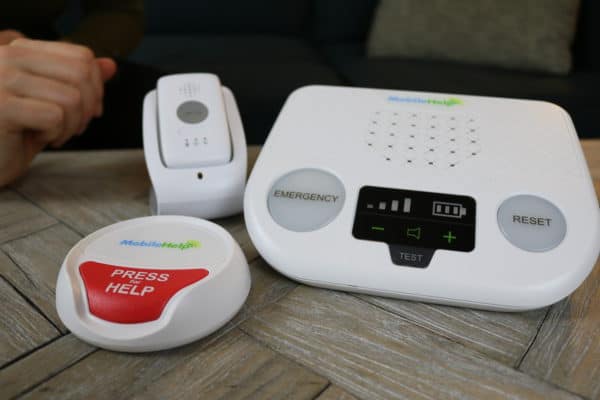 Florida-headquartered MobileHelp allows seniors to select from six unique medical alert systems, and they boast that the brand answers a call for help every 7.5 minutes. MobileHelp prices start as low as $19.95, making them one of the most affordable medical alerts.
Offering a plethora of exciting features and add-ons –– such as Amazon Alexa integration, medication reminders, and daily activity tracking –– MobileHelp excels in many areas. Nevertheless, the company lags behind on technology for its mobile devices, still only developing on-the-go systems that hold a maximum 24-hour charge while many medical alert brands, such as LifeStation and QMedic, offer comparable products that hold a charge for five to seven days.
To learn more about this provider, read my MobileHelp review.
MobileHelp Systems
| System | Monthly Starting Cost | Connection | For Use | Ideal For |
| --- | --- | --- | --- | --- |
| MobileHelp Classic | $19.95 | Cellular | In-Home | Users who stay at home, in their yard, or at a neighbor's place most days but do not own a landline. |
| MobileHelp Wired Home | $24.95 | Landline | In-Home | Individuals who spend most of their time in and around their homes and own a landline. |
| MobileHelp Wired Home | $24.95 | Landline | In-Home | Individuals who spend most of their time in and around their homes and own a landline. |
| MobileHelp Duo | $41.95 | Cellular/GPS | In-Home/On the Go | Active seniors who prefer the flexibility of two separate base stations for their emergency pendant: one they leave at home and a smaller, more portable option for when they're traveling or need to charge their device on the go. |
| MobileHelp Touch Duo | $54.95 | Wi-Fi, Bluetooth, 4G LTE | In-Home/On the Go | Older adults who prefer a more sleek interface equipped with exciting technology extras, say as a rotating picture gallery and cognitive games. |
| Mobile Duo | $44.95 | Cellular, GPS | In-Home/On the Go | Active couples or friends living in the same home who both want coverage. |
| MobileHelp Solo | $37.95 | Cellular, GPS | In-Home/On the Go | Active adults who want constant protection at MobileHelp's lowest price for a system that works at home and on the go. |
Fashion Tip: Medical alerts don't have to cramp your style! With MobileHelp, you can replace the silicone band with a standard watch band of your choice.
What We Love About MobileHelp
30-day risk-free trial
No long-term contracts or hidden fees
FDA registered and FCC certified
A choice between six systems
Two-way talk on all systems
Simple installation
Free lockbox with every order
1,400 foot (nearly four football fields) coverage area (MobileHelp Classic)
What We Don't Love About MobileHelp
Outsourced monitoring
Monitoring costs are not fixed
Several systems require daily charging
Less is More!: If you'd prefer fall detection included in a single emergency button, rather than an extra pendant, try medical alert companies like Alert 1.
LifeStation Overview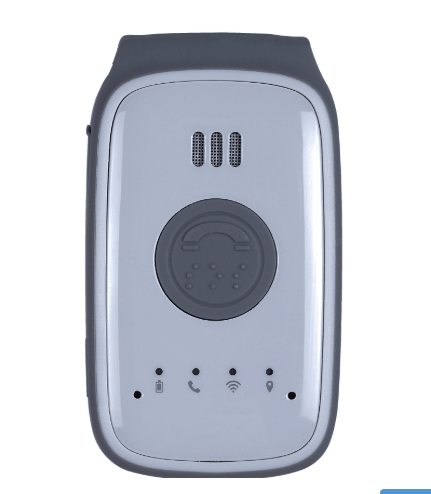 With LifeStation prices running $30-$50 a month, they're pretty affordable, though they are best known for their 20-second average response time and nearly 50 years of reputable experience in the medical industry. LifeStation offers two medical alert system possibilities: At-Home and On-The-Go. Both systems have three plans that customers can subscribe to: Standard, Select, or Supreme. Each includes its own benefit, such as fall detection or an equipment protection plan.
LifeStation's company-owned monitoring centers are also U.S-based and run around-the-clock. Other interesting features and options provided by LifeStation included compatibility with Uber Health, discounts for veterans and AARP members, and spouse monitoring on a system of your choice for only $4 per month.
To learn more about this provider, read my LifeStation review.
| System | Monthly Starting Cost | Connection | For Use | Ideal For |
| --- | --- | --- | --- | --- |
| At Home | $21.95 | Cellular (4G LTE) | In-Home | Older adults who want to maintain their independence at home. |
| On The Go | $37.95 | Cellular (LTE), GPS, Wi-Fi | On the go | Users who want the protection of a medical alert along with the freedom to go wherever they desire. |
What We Love About Lifestation
Choice of in-home or on-the-go system
20-second average response time
Spouse monitoring for $4 per month
Company-owned monitoring centers open 24/7
Lightweight on-the-go system
Amazon Alexa connectivity
No contracts
No hidden fees
What We Don't Love About Lifestation
Only two system choices
Shorter than average in-home range (up to 500 feet)
No landline system
LifeStation and MobileHelp Similarities
MobileHelp and LifeStation both provide waterproof in-home and on-the-go personal systems free of long-term contracts. Each maintains extensively trained monitoring center staff, suggesting positive reputations with customers and the community. Also, they both provide extras such as spouse monitoring.
Some other similarities include:
U.S.-based monitoring centers
Fall detection for an extra fee
Wall-mounted help buttons
Risk-free 30-day trial
Equipment included in the subscription
Cellular and GPS devices
Self-test buttons
Simple installation
MobileHelp and LifeStation Differences
Systems & Devices
While MobileHelp gives customers a choice of six systems, LifeStation only has two systems.
MobileHelp presents in-home users on a budget with the best option financially at $19.95 per month. With that said, LifeStation's At-Home system is $21.95 per month and will only cost you about $24 extra each year. LifeStation also offers discounts for veterans and AARP members, so if you fit one of those categories, you could potentially end up paying less for an in-home system with LifeStation than with MobileHelp.
MobileHelp in-home systems have a range of 600-1,400 feet from the base station, depending on which system you select. In the event of a big storm or other instance where you might lose power, your in-home system's base station will last its remaining charge plus an additional 30 hours on a backup battery. Unfortunately, MobileHelp's on-the-go systems do not include the robust battery life the in-home systems do, lasting a maximum of 24 hours after a charge. As a result, MobileHelp recommends users carry a portable base station when they leave the home. MobileHelp also has a landline option whereas LifeStation does not.
Emergency Response & Call Centers
While LifeStation owns its monitoring center, MobileHelp chooses to hire Rapid Response, a well-known emergency and medical monitoring company. Both companies offer 24/7 U.S-based monitoring with the safety of redundancy. By owning its monitoring centers, LifeStation has more control over the quality of service provided, unique initiatives undertaken, and the qualifications of operators hired to answer emergency calls. LifeStation also promises that your certified care agent will stay on the phone with you until help arrives.
Currently, LifeStation's centers are UL- and CSAA Five Star Certified and maintain the fastest average call response rate in the industry: 20 seconds. LifeStation operators must be college-educated and must pass a rigorous 160-hour in-house training program and have frequent performance reviews. To cater to Spanish-speaking customers, some operators are also fluent in Spanish.
MobileHelp's centers, via Rapid Response, are UL- and FDNY-certified. Operators, who must also have an associate degree or two years of military service, undergo some of the most extensive training in the industry including critical event and adverse situational training and many are EMT/EMS certified. In addition to bilingual English/Spanish monitoring center operators, Rapid Response employs a translation service capable of communicating in over 240 other languages.
User and Caregiver Apps and Services
All MobileHelp users have access to the MobileHelp Connect app at no additional charge. That said, some premium features inside the app do cost extra. MobileConnect is is a suite of online tools to help customers and authorized caregivers, such as family members, actively participate in the subscriber's health and well-being. Popular MobileConnect tools include medication management ($5/month), location tracking (30 free per month), and activity tracking. Location tracking can also be used to help find a missing device.
Added to all mobile systems at no cost, LifeStation's Find My Loved One service lets you locate a loved one at any time with only a text message. This ability to easily check in on your loved one almost immediately gives caregivers peace of mind about a loved one's safety. This tool also doubles as a "find my emergency button" service. Once you make the text or Alexa-based request, you receive a text message response with the address where the emergency button is located and a link to view the location on a map.
Add-Ons
Unless you're set on a specific system, the most significant differences between LifeStation and MobileHelp are in the add-ons.
Fall Detection: Both brands offer fall detection and both require an extra pendant. However, it's $10 per month extra with MobileHelp and only $5 per month extra with LifeStation, a difference of $60 per year.
Wall-Mounted Help Buttons: MobileHelp's voice-activated and wall-mounted emergency buttons can be added to your subscription for $34.95 per year. LifeStation's wall buttons, which must be pushed in order to reach the monitoring center, cost $4 per month, which totals $48 per year.
Lockboxes: One lockbox comes free with your MobileHelp prescription. LifeStation customers can lease a lockbox from the company for $3 per month.
Spouse Monitoring: It costs $3.99 per month to add spouse monitoring to a LifeStatuin system. MobileHelp provides a single system choice for two users in one household. However, beyond that, there are no spouse monitoring discounts.
Telehealth: Telehealth service continues to grow dramatically, and seniors are open to it. During public health scares such as COVID-19, this type of medical service can limit your exposure to environments that could potentially compromise your health. MobileHelp offers the option to add MDLive, a telehealth service that provides customers 24/7 virtual access to a physician with no additional co-pay or insurance required, for $10 per month. LifeStation does not offer this type of service.
Our Favorite
While both MobileHelp and LifeStation offer systems worth exploring for anyone seeking a quality medical alert, the brands certainly have their differences. Generally speaking, we recommend MobileHelp for customers who want more system choices and add-on features and LifeStation for active users who appreciate hands-on customer service and devices you don't need to charge very often.
Luckily, both companies offer 30-day risk-free trials, zero long-term contracts, and extremely
well-qualified monitoring center operators. It's hard to go wrong, regardless of which system you choose.