In the world of hearing aids, two companies stand out as some of the most popular: Phonak and Widex. Both of these companies have decades of experience in the industry, and each of them offers a wide array of hearing solutions.
But which one has the hearing aids for you? Let's take a closer look.
Phonak and Widex Similarities
With both of them being high-tech, national hearing aid brands, Phonak and Widex offer relatively similar technology. Each of these providers offers hearing aids in a variety of styles, with a full range of advanced hearing features such as wind reduction, remote sound adjustments, and streaming capabilities. Here are some other features you can find with both companies:
Smartphone apps
Advanced background noise reduction
TV streamers
Microphones
Bluetooth connectivity
Solutions for profound hearing loss
Phonak Features
When it comes to delivering natural sound quality, Phonak hearing aids truly excel. Their most advanced series, Audéo Paradise features custom noise cancellation, speech understanding, and even voice assistant capabilities. This comes in handy when looking to adjust the volume or other settings. The Audéo Paradise can come in a variety of styles, and it has rechargeable batteries with a case.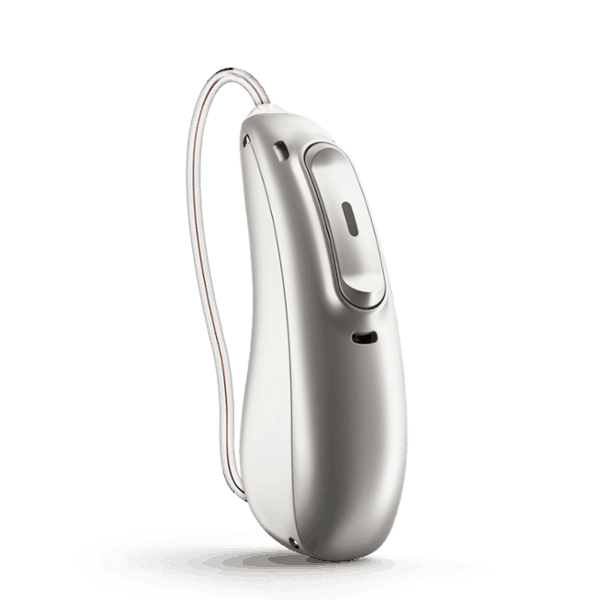 Widex Features
What separates Widex from other hearing aid brands is its ability to create hearing aids with impressively natural sound. Based in Denmark, this brand is known for its made-for-iPhone technology, long-lasting batteries, and tinnitus therapies. Their most recent series, the MOMENT, features advanced sound processing that cuts down on the delay between a sound and the aid's ability to process it. Ultimately, this creates a more natural-sounding hearing experience.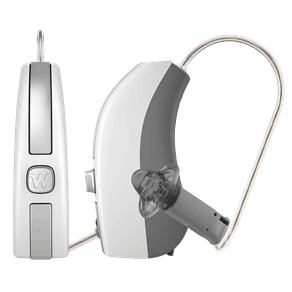 Pricing and Purchasing
Neither Phonak nor Widex retails directly to consumers, meaning you'll have to visit a local retailer in order to be fitted for and to purchase one of their hearing aids. Since every seller is different, the prices for these two brands will vary.
Generally speaking, Phonak aids will run you about $1,400-$3,804 each, while Widex devices will cost about $1,200-$3,500. In terms of pricing, these companies are mostly equivalent.
Our Favorite
When it comes to buying hearing aids, there's hardly a best option; rather, there are options that are best for you and your individual needs.
In terms of hearing aid quality, Widex scores a bit higher than Phonak, due to its advanced streaming features and high-quality batteries. Phonak, on the other hand, offers stellar customer service. To start your search, I'd recommend visiting your local hearing healthcare provider. There, you'll be able to receive the best guidance as it relates to your particular variety of hearing loss.