Our experts share the ins-and-outs of the best meal delivery services for seniors. Here's how to eat delicious and nutritious on any budget.
Best Senior Meal Delivery Service in 2021
While good nutrition matters at any age, it becomes more important in your later years. A healthy diet with plenty of fruits, vegetables, lean meats, and whole-grain starches helps provide you with essential nutrients that fuel your overall health.
With that said, staying healthy and eating well aren't always easy for seniors. Caregivers may find themselves responsible for food shopping and preparation, adding additional struggle to their other duties.
Especially in the age of COVID-19, venturing to the grocery store can pose risks of viral exposure. Now, more than ever, a meal delivery service can really come in handy.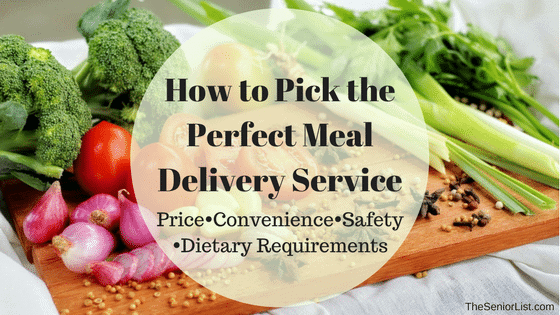 What Should Seniors Look For In A Meal Delivery Service?
Knowing what you need from your meal delivery service makes it easier to choose the best one for you. Here are some things we recommend you consider:
Your budget: Meal delivery services vary in costs, but they generally run about $12 per meal. This means getting a single daily meal for one person –– seven days a week –– will cost around $84. Of course, the cost will rise if you add in lunches and snacks. Knowing your budget helps you figure out if a service is a good fit.
Your diet: If you have a special dietary requirement such as eating vegetarian or following a weight-loss diet, be sure to check that the meal service caters to these needs. Most services offer special dietary plans.
The number of meals: Not everyone needs all meals covered by their service. Perhaps you can cook some meals but can't cope with doing it daily. Or perhaps you have a family member who can assist with meal prep or help prepare meals for the freezer.
Delivery schedules: Every meal service has its own schedule, so make sure to find out how long delivery takes and the cut-off time for orders.
Delivery costs: Most delivery services will offer free shipping when you subscribe, but you'll want to account for any delivery costs to make sure you land within your budget.
The Best Meal Delivery Services For Seniors
We've done some research, so you don't have to! Here is our roundup of the best meal delivery services out there for seniors.
#1

Freshology

- Best Overall Meal Delivery

What We Like Most:

Quick meal preparation
Flexible meal plans
Access to health coaching
Nutrient-rich and portion-controlled

Overview

Freshology makes it much easier to eat a healthy diet. Their menus are designed to be nutritious, delicious, and easy to prepare. Each dietician-designed meal comes packed and ready to heat and eat. You can manage your account online easily, and you're welcome to change plans or pause and restart your service whenever you like.

Cost: A typical plan of two meals a day, five days a week, costs around $12.20 per meal.

Diets: Freshology customers can choose from four plans. Balance is a heart-healthy, calorie-controlled plan that offers balanced nutrition for people of any age. Vegetarian and no-seafood options are also available. Diabetes is designed to make it easier to manage diabetes by providing heart-healthy options that are also designed to keep blood sugar in check. Keto-Carb30 was designed for those who prefer a low-carb option that's fully keto-friendly. Finally, Freshology offers a vegetarian option that eliminates meat in favor of beans, pulses, dairy, and soy.

Ordering: Start by entering your zip code to find out if delivery is available in your area. Then simply pick your plan and how many meals you want to be delivered. The site will let you know how many days your delivery will take to arrive.

Delivery: It depends on your location. When you enter your zip code, you'll see your delivery options. Some locations also offer a free pick-up option.

Pros

Great healthy options
Diabetes and vegetarian options
Flexible meal planning
Straightforward ordering

Cons

A somewhat limited food selection
Delivery fees vary by location

#2

Diet-to-Go

- Best Healthy Meal Delivery

What We Like Most:

No long-term contracts
Portion-controlled meals
Free access to health coach
Vegetarian and seafood-free options

Overview

Diet-To-Go is all about healthy eating. Their meal delivery service makes it easy to enjoy meals that can help with weight management — all straight to your door! Their meals are portion-controlled to help support getting to and staying at a healthy weight. Customers also get free access to a health coach via phone or email for ongoing support. You can pause and resume the service at any time.

Cost: A typical plan of two meals a day, five days a week, costs around $12.20 per meal.

Diets: Diet-To-Go offers four main plans, with some flexibility to choose your favorite meals or swap plans as you go. Balance is a weight control diet that's heart-healthy and low sodium, with controlled fat, sodium, carbs, and cholesterol. Vegetarian and no seafood options are also available. Balance Diabetes offers the same heart-healthy nutrition as Balance, with an extra emphasis on controlling blood sugar. Keto-Carb30 is designed for those who are trying to control carbs and includes meat, cheese, and eggs. Finally, Vegetarian offers all the nutrition of Balance, but with protein from eggs, dairy, beans, and a little soy, instead of meat or seafood.

Ordering: Enter your zip code to check the availability of delivery, then choose your preferred menu and how many meals you would like. There are options for five days or seven days and two or three meals daily.

Delivery: Delivery days and prices vary depending on your location. Enter your zip code on the site to see your options. Some areas also offer a pick-up location so you can pick your food up (or ask someone to get it for you), to save on delivery costs.

Pros

Great for weight loss
An interesting assortment of foods
Blood sugar conscious options
Easy-to-customize meal plans

Cons

Smaller-than-average portions
$20 per week delivery fees

#3

Silver Cuisine

- Best Weekly Specials

What We Like Most:

Easy ordering
No minimum purchase
Senior-specific meal plans
Wide range of dietary options

Overview

Silver Cuisine is a meal delivery service designed specifically for older adults. Rich in nutrients, their meals are created to offer balance for those aged 50 and over.

Cost: Expect to pay around $9 for breakfast and $12 for a lunch or main course.

Diets: Silver Cuisine offers meals for several specialty diets. Customers can choose from gluten-free, low carb, low sodium, heart-healthy, diabetic, menopause-friendly, dairy-free, vegetarian, or Mediterranean-inspired.

Ordering: Choose the meals you'd like online, or call to place an order. There is no subscription required, and meals can be ordered in an on-demand fashion.

Delivery: Orders are shipped Monday through Wednesday and arrive in two-five business days, depending on your location. Shipping is $19.95 for all orders.

Pros

No contracts
Senior-specific
No minimum orders
AARP discounts

Cons

Restricted shipping days
Flat shipping fee of $19.95 on every order

#4

Magic Kitchen

- Best No Contract

What We Like Most:

Restaurant-quality products
Fresh, flash-frozen meals
Choose from a la carte and meal bundles
Ships to Hawaii and Alaska

Overview

Magic Kitchen offers a wide variety of nutritious meals free of artificial preservatives. Customers can choose from an a la carte menu, which means you can mix and match as you please, or you can choose from complete meal bundles which include main dishes and sides. Customers can also set up a meal plan –– one you can start and stop at any time –– to get regular deliveries. Magic Kitchen will choose your meal plan menu based on your preferences.

Cost: Expect to pay around $9-$12 for breakfast and $13-$16 for the main course. Please note that many options are sold in two-serving pairs, so in reality, you pay around $30 for each main course ordered. According to their site, customers on a meal plan can expect to pay around $246 to $275 every seven days, for three meals a day.

Diets: Magic Kitchen caters to diabetic, dairy-free, gluten-free, low carb, low fat, low sodium, and vegetarian diets, and they also offer Weight Watchers-compatible options. They also offer a senior-specific meal plan designed to provide the right nutrition to older adults.

Ordering: With Magic Kitchen, you can order online, by phone, or via email.

Delivery: Shipping costs are determined by the weight of your order and your location. Packages generally arrive within four business days, but customers can opt for a FedEx air delivery option for quicker service. You can also select your exact delivery date if you prefer.

Pros

Wide range of special diets
Options specifically for seniors
Flexible ordering and shipping options
Incredibly tasty food options

Cons

No vegan menu
No salt-free meals available (low sodium is available)
Meal Delivery Service: Would it Work for Your Loved One?
Having meals delivered makes life easier for seniors and their caregivers and ensures seniors get a good, balanced diet. When preparing to age in place, you should look into signing up for a meal delivery service, helping you avoid malnutrition or comparably costly takeout.
There are many senior meal delivery options, but most fall into two main categories: ready-to-cook and ready-to-heat. Let's compare them.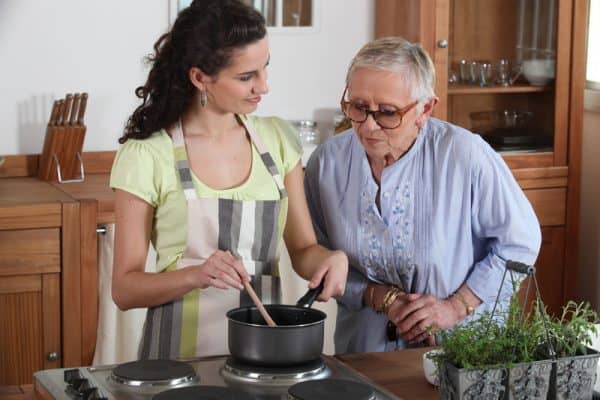 Ready To Cook: Meal Kits
Ready-to-cook services, also known as meal kits, send out packages of fresh, tasty ingredients with instructions on how to turn them into a delicious meal. Meal kit services offer an alternative to the more typical senior meal delivery companies that deliver pre-cooked meals.
Some popular meal kit options that cater to older adults include Diet-to-Go, Silver Cuisine, Magic Kitchen, Blue Apron, HelloFresh, Green Chef, and Plated. Once an account is opened, these services send out all the ingredients to make meals, along with recipe cards explaining what to do.
These services are ideal for seniors who are still independent, active, and well enough to enjoy cooking daily meals or for those who live with a partner or roommate who is healthy and active enough to cook on a daily basis. Meal kits are also great for seniors who have no issue cooking but find getting groceries a challenge. Everything they need comes right to them.
FYI: Elder co-housing is a growing trend that makes it safer to continue living in one's own home.
With that said, meal kits still involve a certain amount of cooking and prep, so they're not ideal for seniors who struggle with cooking. Most meal kit options only cover three or four meals in a week, so they're not suitable for seniors who need every meal taken care of.
Ready To Heat: Meal Delivery
Ready-to-heat meal delivery services offer pre-prepped meals that are ready to go in the oven or microwave. Fresh and healthy delivered meals take the stress out of grocery shopping, meal prep, and cooking, taking a lot of pressure off both seniors and caregivers.
Many of these services are designed especially for seniors or offer senior options on their website. Popular choices include Fresh 'n Lean, Martha's Senior Gourmet, and Healthy Chef Creations. Most services also cater to different dietary needs or have specific programs that focus on nutrition, weight loss, or other specific dietary goals.
Once an account is created, you select how many meals per day you want to be delivered (most services can cover all three meals, plus snacks), and the meals are shipped out once or twice a week. Some need to be kept refrigerated, while others need to be kept frozen. Then it's simply a case of heat up the delivered meals, and enjoy!
These services are ideal for seniors who find it difficult to shop and cook, and who might not be safe in the kitchen, or simply are not able to source and prepare a properly balanced diet without help. Ready to heat senior meal delivery means they can have every meal covered if needed, with no stress or fuss.
Gift-Giving: Ready-to-heat meal plans are one of my favorite gifts to purchase for clients. Just about anyone can appreciate the gift of chef-prepared meals delivered to their door.
These types of services may not suit seniors who still enjoy cooking and shopping. Additionally, these services will be a bit more expensive than meal kits or shopping for groceries on your own.
Why Should Seniors Use Meal Delivery?
Many seniors struggle to cook healthy meals for themselves. There are a host of challenges associated with meal planning and preparation. Getting to the grocery store or carrying groceries home is difficult for people with mobility issues. Additionally, food preparation is challenging for seniors who struggle with issues such as vision or balance problems or arthritic hands.
As a result of these challenges, it's not always easy for seniors to eat regular, healthy meals. This is a cause for concern among careers who want to be sure their senior eats well but don't have the time and resources to see all their meals.
For many, a senior meal delivery service is the answer to these problems.