The medical alert industry has evolved leaps and bounds over the last decade. What once were devices made almost exclusively for the more than 5% of the elderly in the US that are completely homebound, companies now offer a variety of products designed for a number of different senior lifestyles.
Today, I'll be reviewing the On The Go, or MobileElite system from the appropriately named company Medical Alert, a division of Connect America, a healthcare technology company. This portable device can be used as a standard in-home medical alert system but also features a mobile base unit that a senior can take with them on walks, working in their gardens or running errands. I'm going to take a look at what I liked and didn't like about the system, the actual process of using the devices, other offerings from the company, and how Medical Alert fares compared to the rest of the market.
The Pros and Cons of the Medical Alert MobileElite
First and foremost, let's take a bird's eye view of the system as a whole and break down what I was impressed by and what didn't fully click for me.
Medical Alert's Pros:
Reliable Cellular Network and GPS— MobileElite is made to be used on-the-go, which means it relies on a cellular network to communicate with the monitoring service. I was happy with the reliability of the device's AT&T cellular connection, and the GPS location services offered by the device were accurate in keeping emergency personnel and family members informed of a senior's location.
Sleek, Lightweight Hardware— Because this is a mobile device, it's important that it's not cumbersome to carry around. I was impressed by the newly designed hardware; it was lightweight in both the handheld receiver device and the pendant or wrist alert button, which made carrying the device all day less of a burden. The kit also comes with a carrying case, which helped with transporting the unit.
Full, 24/7, Multilingual Monitoring— It goes without saying that having a 24/7, 365-day monitoring call center is essential for a medical alert system. Medical Alert definitely offers that, but one thing I was additionally impressed with was the fact that they also offer multilingual services. The response centers employ native speakers in other languages and also have access and training on the International Language Line, which can offer real-time translation of around 140 languages.
No Fees, Simple Setup— One feature I also appreciated about Medical Alert was that there were no activation or hardware fees with the unit. The pricing was upfront, which meant that the initial investment in the MobileElite system was relatively low. Also, Medical Alert offers a 30-day money-back guarantee, which is a nice vote of confidence in their product and service.
Affordable Pricing— On the spectrum of mobile alert devices, the MobileElite system is in the middle-to-lower end, which makes it a solid, budget-friendly option without sacrificing service.
Some Less-Impressive Features of Medical Alert:
The Button is Just a Button— The activation button can be worn as a pendant or a wristband, but it's just an activation button; meaning, there is no two-way communication from the button itself. This isn't necessarily a dealbreaker, but if a senior is incapacitated outside of the range of the base unit, two-way communication may not be possible.
No Warranty and Slightly Complicated Returns— There is no warranty on the MobileElite device, which isn't in itself the most unheard-of thing with medical alert devices. However, Medical Alert does offer an upgraded Protection Plan for an extra $5 per month which can help cover out-of-pocket expenses on any damaged hardware. Also, when going through a return, no refunds are processed until all of the hardware is returned to the company. This isn't uncommon, but it can be an added inconvenience for the customer.
Pro Tip: Keep an eye on the website for special offers. You may be able to get lower first-month pricing or free shipping on your order depending on which promotions are running.
Buying and Setting Up the MobileElite
Let's begin at the beginning with the MobileElite the way anyone would: by examining the buying process and the ease of setup with the Medical Alert MobileElite system.
First Impressions and the Buying Process
With medical alert system companies, there's a lot to be said about their product selection and how clear their website is. Whether you're a senior buying a device for yourself, or a caregiver doing the shopping, the fact remains that these systems can be complicated, especially when there are multiple product options available. Medical alert systems can also be a big investment, when you're managing a fixed income, making monthly payments for a service can add up over time.
Generally speaking, I found the Medical Alert website to be easy to navigate, and their product pages to be upfront and clear. Granted, the design of the site feels pretty outdated, which doesn't inspire the most confidence; but it's not necessarily fair to assume that a company won't have first-rate tech just because their website is a little old school-looking. When dealing with medical alert systems the reliability of updated technology is key, but I'll get more into that when I describe how I tested out the system for myself.
Medical Alert offers three core products but doesn't necessarily do a lot to inform customers about product selection with extensive buying guides or easily accessible videos. They do prominently feature their phone number, however, which can help you make a decision, and they have a Medical Monitoring Assessment quiz, but you only get results when you give them your contact information. I opted to order the products online, but it was nice to know that I could call them directly if I needed assistance with my order. Instead of more advanced product selection information, products are delineated by who the products are for: are you using the device at home with a landline, at home without a landline, or on the go?
The On The Go option, or the MobileElite model, is straightforward on the product page, with a bulleted list of what comes with the package, and three subscription plan options.
Monthly
Semi-Annually
Annually
Free Shipping

No

Yes

Yes

1 Month Free

No

No

Yes

Montly Price
$37.95
$34.95
$32.04
Total Amount Billed
$37.95
$209.70
$384.48
Total Savings in Billing Period
$0.00
$18
$70.92
Items Included in the Package
-MobileElite Bracelet
-MobileElite Button (Button Only)
-MobileElite Cradle
-MobileElite Lanyard
-MobileElite Pouch
-MobileElite Power Adapter
-MobileElite Bracelet
-MobileElite Button (Button Only)
-MobileElite Cradle
-MobileElite Lanyard
-MobileElite Pouch
-MobileElite Power Adapter
-MobileElite Bracelet
-MobileElite Button (Button Only)
-MobileElite Cradle
-MobileElite Lanyard
-MobileElite Pouch
-MobileElite Power Adapter
-Lockbox
In addition, on checkout, I was given the option to add fall detection for an additional $10 per month, and a Protection Plan for $5 per month, which can help cover out-of-pocket costs if the equipment is damaged or lost. Generally speaking, the buying process with Medical Alert was simple and easy to understand.
Receiving and Setting Up the MobileElite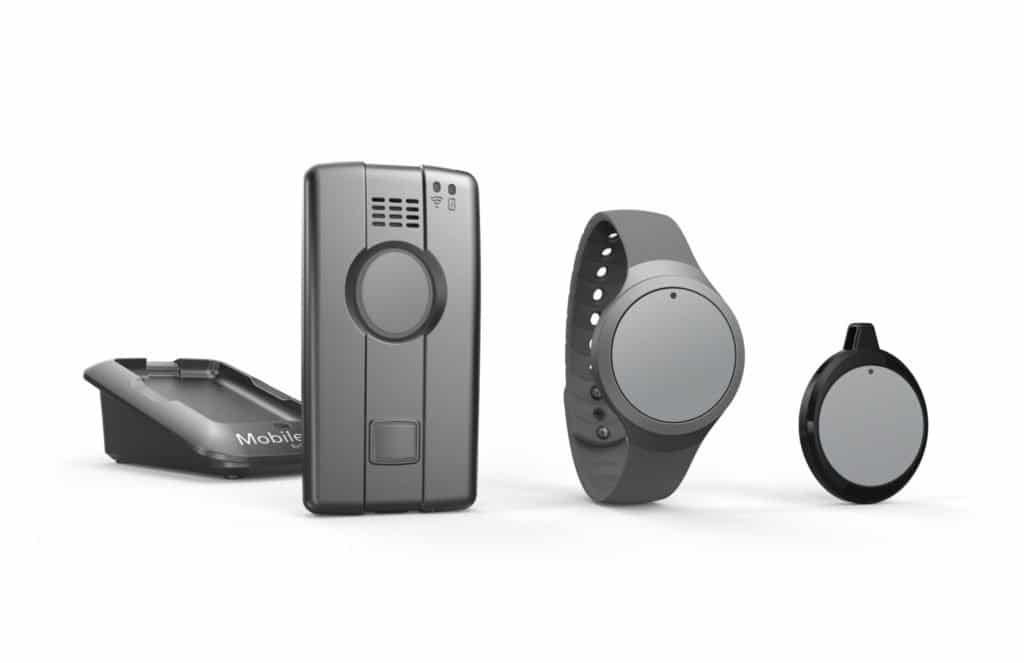 The MobileElite system doesn't have too many components, which makes the setup process relatively simple. In the box, I received the base unit with its charging dock and cable as well as a carrying case, the emergency call button with a pendant and wrist holder, and the instructional manual. I found the manual to be well-organized and easy to understand overall.
The first step in using the system is to plug in the base unit charger and charge the device. Immediately on charging the device, I was greeted with a message to test the unit. After I was instructed to press the emergency button, I was put in contact with an operator, where I confirmed my address and that the system was functioning properly. This call also allowed the operator to test GPS services and confirm that my location was reading properly. And that was it! My unit was functioning properly and was all set to use once it charged fully.
However, Medical Alert also recommends testing the range of the unit. You may have noticed that I haven't brought up communication distance yet, and that's mainly because Medical Alert doesn't list distances. Based on different obstructions like walls and doors as well as the strength of cellular coverage in the area, there can be a pretty wide variance in communication range from home to home, so Medical Alert opts to not even guess what the best range could be for each individual user.
To do a distance test, I needed a second person to stand near the base unit while I went to the farthest point from it in my home and pressed the emergency call button. When the base unit operated normally, it was clear that the device could cover my entire home.
Did You Know: When doing a distance test, make sure that the range covers the most vulnerable points of a home, especially showers or other slippery surfaces which can be major danger areas for seniors.
Overall, the setup process was streamlined and easy to understand, and the company's support materials and videos helped to explain any confusing aspects of the setup.
Using the MobileElite
Our use of MobileElite was the right kind of basic. There weren't a whole lot of hoops to jump through when using it, which made it a solid medical alert system. When I pressed the button, I was connected with a friendly and helpful operator who helped me assess my situation and had the ability to dispatch different types of medical personnel, or my emergency contact. The quick response was everything I'd hope for in an alert system.
The big separating factor that sets this system apart from the others offered is GPS services. There are many times when a senior will fall where they'll be disoriented or confused. They may not even have a firm grasp on where they are. And, with an on-the-go system like the MobileElite, there is a chance that the senior could fall outside of the home and have no idea where they are. By giving the operator the ability to pinpoint the device's location without needing direct confirmation from the senior, it makes the entire emergency response process foolproof, and can potentially save lives.
Weighing the Other Medical Alert Options
As I mentioned earlier, Medical Alert has three unique systems available, as well as some accessories and services that you're able to add to bolster your system. First, let's take a look at the three systems and compare the offerings.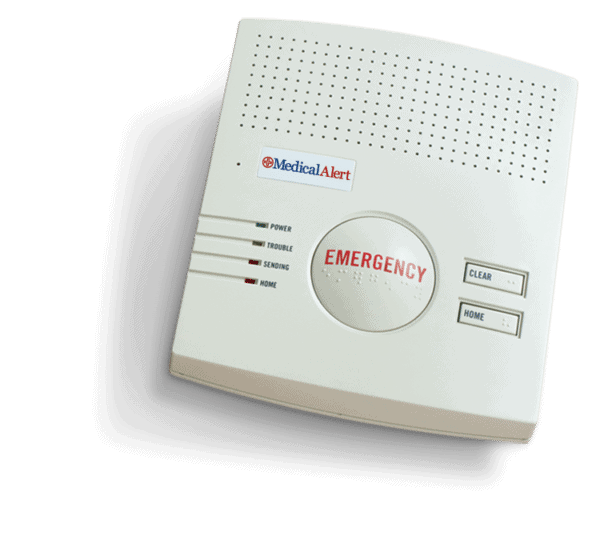 At Home Landline— The At Home Landline model from Medical Alert is the most basic, and most affordable option they offer. This traditional medical alert system comes with a base unit as well as the activation button (with a wrist or pendant option). The service is simple; just press the button on the base unit or pendant to get connected to Medical Alert's monitoring center.
At Home No Landline— Since landlines are starting to phase out in many homes, and the ones that remain costing more and more to operate, many medical alert companies are offering cellular options. The At Home No Landline model of Medical Alert is a completely different device as the At Home Landline but offers the same service. This simple unit includes the base station as well as an activation button and connects a senior to the response operators when the activation buttons are pressed.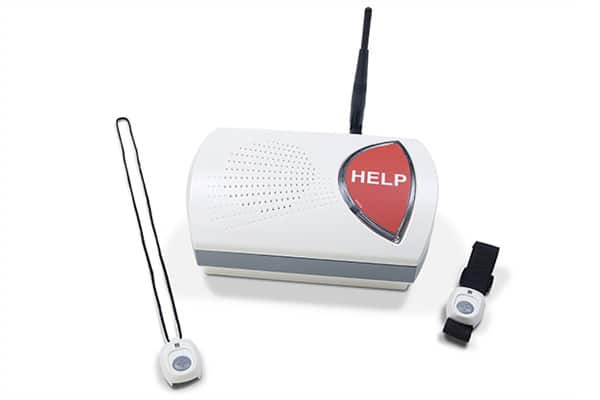 On The Go— The On The Go, or MobileElite, system is Medical Alert's most advanced and expensive option, allowing seniors to take the devices with them wherever they go and alert dispatch personnel to an emergency with the push of a button. Like the At Home No Landline model, the MobileElite works on the AT&T cellular network and includes GPS location services so dispatchers can pinpoint a senior's location in an emergency.
At Home Landline
At Home No Landline
On The Go (MobileElite)
Montly Price
$22.95
$32.95
$37.95
Semi-Annual Monthly Price
$19.95
$29.95
$34.95
Annual Monthly Price
$18.29
$27.45
$32.04
Free Shipping
Annual/Semi-Annual Billing Only
Annual/Semi-Annual Billing Only
Annual/Semi-Annual Billing Only
1 Month Free
Annual Billing Only
Annual Billing Only
Annual Billing Only
Items Included in the Package
-Base Unit
-Activation Button
-Wrist Button Holder
-Prendant Button Holder
-Base Unit
-Activation Button
-Wrist Button Holder
-Prendant Button Holder
-MobileElite Bracelet
-MobileElite Button (Button Only)
-MobileElite Cradle
-MobileElite Lanyard
-MobileElite Pouch
-MobileElite Power Adapter
Accessories and Add-On Services
In addition to the systems themselves, Medical Alert offers some extra services that can be purchased for additional monthly fees to the system. Let's take a look at those offers.
Fall Detection— For an extra $10 per month, any of the systems can be outfitted with a fall sensor, which can detect the presence of most falls and immediately activate the system. The fall sensors are additional buttons that replace the standard activation buttons (though they also feature the button activation).
Protection Pan— As a $5 per month add-on, you can get an Advanced Protection Plan to cover any potential loss or damage to your system hardware. When you factor in that damaged equipment can cost as much as $350 in out-of-pocket expenses, it's a relatively small investment to help cover those costs.
Mobile App— The Medical Alert Connect app is available for both Android and iOS and can help a caregiver keep an eye on the device activity of Medical Alert systems. The app is a great option for caregivers managing multiple seniors because it can be used to track system statuses, get notifications when devices are activated, and track real-time GPS data.
Pro Tip: Some products aren't easily available as add-on purchases on their website (like lockboxes or additional activation buttons); if there's something you want with your system, call the number on the website and speak directly to a customer service team member.
How Does the MobileElite Stack Up?
As a company, Medical Alert provides a simple, streamlined service without too many bells and whistles. Their website is pared down, offering just enough information to make a purchase, but not as many robust features to help delineate the right system for each person. Compared to a company like Medical Guardian, however, their website and buying process leaves a little to be desired. Additionally, adding certain products like additional activation buttons isn't intuitive and needs to be done by calling the company.
On the price front, MobileElite is on the middle or lower end of the spectrum for comparable systems but has many of the same features. For the price, the addition of GPS tracking services is a great way to keep tabs on a senior using the device as they run errands or do other activities away from the home. With more and more medical alert systems offering GPS services, this isn't the most revolutionary feature, but it's still a great addition in an emergency. And generally speaking, their monitoring service and staff are personable and helpful. Overall, their offerings are well worth it for the price.
MobileElite Frequently Asked Questions