If you have significant hearing loss, a medical-grade hearing aid can allow you to rejoin conversations that may otherwise be inaccessible to you. However, shopping for a hearing aid can be less exciting. With so many options, it is hard to know where to start. In this rundown, we'll be taking a look at two of the most popular hearing aid providers: Phonak and Unitron.
Phonak
Phonak is a brand of hearing aids with roots tracing back to 1947. It is one of several brands owned by Sonova Holding AG, a Swiss hearing technology company. Phonak's product catalog includes hearing aids, cochlear implants, and various accessories designed to work with their hearing-enhancing products. Since the company first opened its doors, it has had a reputation for innovation.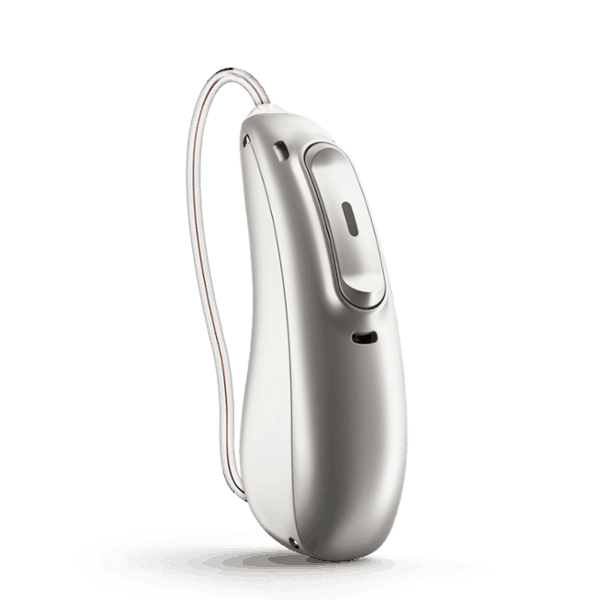 One of Phonak's notable advanced features is its Audéo functionality. This lets Phonak hearing aids work directly with smartphones, including iOS and Android. This makes taking phone calls and streaming media much easier. Furthermore, this direct connection lets Phonak devices provide superior sound quality for streamed content. You can even use your hearing aid's microphone like a Bluetooth headset.
Phonak also offers solutions for tinnitus, in addition to hearing aids designed for those with severe to profound hearing loss. They also offer several AirStream products that let you stream audio from media devices straight to your hearing aids. This makes the sound significantly clearer. For example, you can plug in a transmitter to your stereo and enjoy music streamed from it.
Phonak is a very popular brand for a reason. It offers some high-quality devices and should be considered by anyone in need of hearing enhancement. As with other brands, they use a network of distributors to sell their hearing aids, and to purchase one, you'll have to consult with a hearing health provider.
Unitron
Like Phonak, Unitron is owned by Sonova Holding AG. Unitron is a Canadian company and was founded in 1964. Unitron positions itself as a challenger for the hearing aid industry, despite its lengthy history. Its marketing is geared more toward younger hearing aid users compared to most other hearing technology brands.
Their offerings include the Moxi Fit R. This small and rechargeable hearing aid is intended for easy and discreet use. It comes with a charging base for simple charging such as overnight.
Unitron also offers what it calls the Discover platform. This is focused on finding hearing aids that fit your ear perfectly from the start, provide an audio experience you'll love and then get you back to living life as well as you can. Devices in this program can stream audio from smartphones. There are four available levels of technology, and you can upgrade after your initial purchase to a higher level.
This upgradability is a feature of several of Unitron's models. In fact, flexibility in general is a key selling point that the brand tries to emphasize. They want you to be able to find a hearing aid that works for your life and budget. They also recognize that the right fit may change over time, so Unitron tries to accommodate those changes.
Without a doubt, Unitron is an innovative brand in the hearing technology industry. It is part of one of the largest companies in the industry. However, it provides more forward-thinking hearing aids, even if they aren't as feature-rich as some competitors.
Pricing
The pricing of all hearing aid brands is obfuscated by the complexities of relationships between manufacturers, distributors and insurance. The average selling price for a hearing aid is around $2,300. Both Phonak and Unitron fit into the normal range for aids, with Unitron being a little less expensive in some cases.
Speak with your local hearing aid professional to understand what pricing will be for you. One advantage of Unitron is its flexible technology offerings, so you can find a version of most of the company's devices that will fit your budget.
Recap
Phonak and Unitron are both owned by the same holding company but provide different approaches to hearing aids. Phonak is a strong competitor and one of the most popular brands. It offers hearing aids with great features, and they have some of the most technologically advanced devices on the market.
Unitron, conversely, provides a young and more forward-thinking approach. However, their devices don't always have as many features as some competitors. Nonetheless, the sound quality is excellent. Unitron is a great choice for people with more active lifestyles.
To start the process of buying a hearing aid, I'd recommend consulting with your local hearing health provider. They'll be able to assess your type of hearing loss and suggest the right technology for your needs.