Verizon Medical Alert System

Verizon's medical alert system has been discontinued, but there are better options.
See Our Top Picks
Made by Verizon, the SureResponse medical alert device offered older adults a way to protect themselves both inside and outside their homes. This mobile device, powered by Verizon's industry-leading cellular service, allows you 24/7 access to a professional monitoring center, giving peace of mind to you and your loved ones.
Editor's Note: The SureResponse medical alert device from Verizon has been discontinued; however, you'll find info on comparable devices throughout this rundown.

Verizon SureResponse Pros and Cons
If you're short on time, here's what we liked most about our SureResponse.
What We Liked
On-The-Go Device: As the only medical alert device powered by Verizon's cellular network, SureResponse was able to connect us to help just about anywhere we took it, making it perfect for a person with an active lifestyle.
Location Services: Since this device is designed to be taken outside the home, we appreciated that it had built-in GPS technology. This way, whenever the panic button was pressed, a monitoring specialist would be able to track our location and deploy help accordingly.
Durable Device: Worn as either a pendant or a wristband, the SureResponse help button is built to withstand scuffs and drops. It's even waterproof so that it can be safely worn in the shower and bathroom.
What We Didn't
Long Contract: The SureResponse help button can be purchased either through a one-time payment of $229.99 or through two years of monthly $19.99 payments; however, either payment option requires you to sign a two-year service agreement.
Frequent Charging: In our tests, we found that after one day of use, we needed to recharge this device. While this is not unacceptable, there are mobile units that can last for much longer than this.
No Fall Detection: Especially for a device worn outside the home, it must be able to alert the monitoring center in the event of an emergency. Unfortunately, the SureResponse does not have this feature, meaning that the button will have to be manually pressed to place a distress call.
SureResponse Medical Alert System Details

If you're interested in buying a medical alert system, then SureResponse from Verizon is a great option to consider. Unlike a traditional in-home system, one that requires both a base unit and a help button, SureResponse combines these devices into one portable unit.
You'll see an LCD screen that displays the time, cellular signal strength, and the battery level on the front of this device. Beneath this is the help button. By pressing this button, you'll be connected to Verizon's professional monitoring center, wherein one of their specialists will assess your situation and contact the appropriate assistance.

In addition to the SureResponse itself, you'll also receive a lanyard, wristband, and belt clip, giving you three different ways of wearing your device. You'll also receive a SureResponse docking station. In addition to charging your mobile unit, the docking station can also connect to your home phone (through ethernet or landline) for added protection.
A Note On Charging: While many mobile medical alert systems claim to have batteries that last for days on end, I always recommend charging it every night before you go to bed. This way, you can rest assured that you'll wake up with your device ready to take you throughout your day.
SureResponse Medical Alert Features
Like all mobile medical alert systems, SureResponse acts as a lifeline between the user and a team of emergency response personnel. Should you fall, feel faint, or simply lose track of your location, all you need to do is press the SureResponse help button, and you'll be connected to a team of trained professionals who will speak to you directly through your device. From there, a response will be planned, whether this means contacting an EMT or merely calling a loved one to check on you.

Here are some additional capabilities of SureResponse.
Two-Way Talk
The SureResponse mobile unit has both a built-in microphone and speaker. In terms of communication, it's almost like a cell phone. So whether you're at home or at the grocery store, when you press the help button, you'll be able to communicate effectively with a monitoring agent.
GPS Technology
Since this device is connected through Verizon's cellular network, it can also give the monitoring center your location information. This can come in handy for the more active users, particularly for those who sometimes get lost or disoriented while outside their home. For those who prefer their privacy, you can also disable this feature at any time. When the help button is pressed, a monitoring specialist will receive your location information, allowing them to send help to the right place or simply inform the user of their whereabouts.
Water Resistance
Nearly 10 percent of falls occur when exiting the shower. Thankfully, the SureResponse help button is waterproof, meaning that it can keep you protected, even in this often hazardous environment.
SureResponse Online
With this online platform, a SureResponse user can set up a profile and share their information with their loved ones and caregivers. With this feature, they can check in on the user's location and receive alerts from the device, such as when a distress call is made or when its charge is running low.
Breaking the Agreement: Although SureResponse requires you to lock into a two-year service agreement, you might be eligible to exit this contract if you enter a nursing facility within this time.
Best Alternatives to Verizon Medical Alert Systems
Unfortunately, Verizon's SureResponse was discontinued in 2014, with the accompanying services ending a couple of years after that. Still, there are plenty of solid devices on the market that offer similar, if not better, features.
Medical Guardian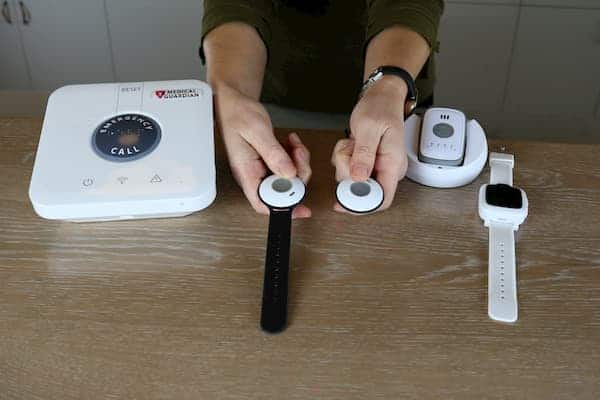 Medical Guardian, one of our favorite medical alert providers, offers several different mobile options. Their Mobile Guardian is a portable medical alert device with a separate wearable help button. The Active Guardian is an all-in-one device with both GPS and Wi-Fi connectivity. They even offer a smartwatch, the Freedom Guardian, which puts a medical alert device in a discreet, wearable package.
Starting at $39.95 monthly, each of these devices gives you instant access to a Medical Guardian monitoring center, in addition to being waterproof and offering fall detection for an additional $10 monthly charge.
Bay Alarm Medical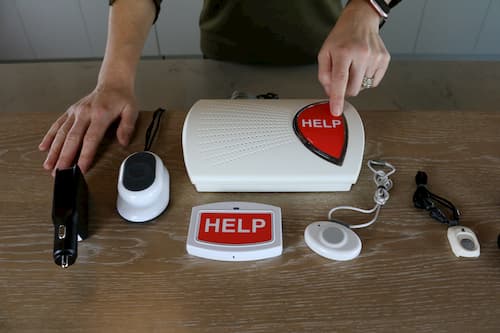 With over 70 years in the business of medical alert technology, Bay Alarm Medical isn't going away any time soon. Their On The Go device is an all-in-one wearable that can be worn either around the neck or on one's belt with an included clip. It features GPS capabilities, cellular connectivity, and the option of fall detection. This device starts at $29.95 monthly, and it requires no long-term contracts.
GreatCall Lively Mobile Plus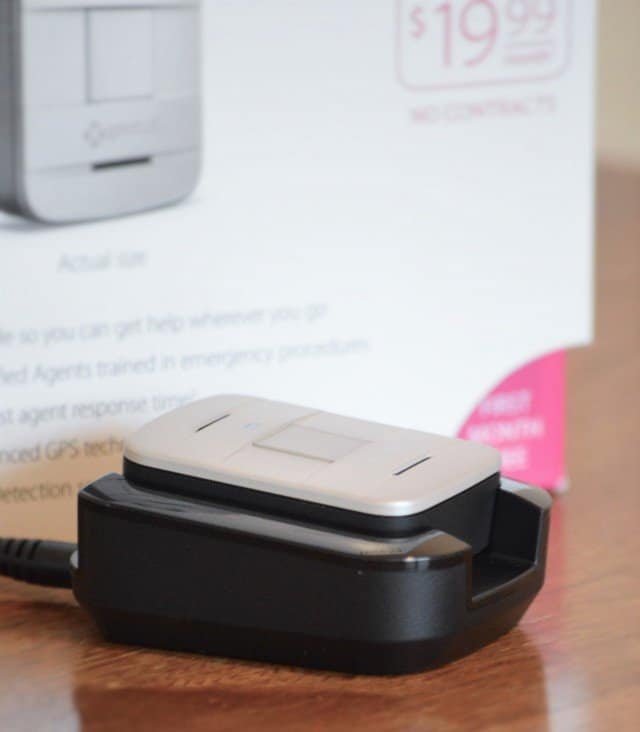 GreatCall, known widely for its senior-friendly line of Jitterbug phones, also offers a mobile medical alert system, the GreatCall Lively. This all-in-one system features two-way-talk, GPS capabilities, and the ability to wear it as a bracelet, pendant, belt clip, or key chain. It's also water-resistant.
Starting at $24.99 per month, GreatCall offers three different care packages that include access to emergency response personnel, direct contact with medical professionals, and fall detection. Finally, no long-term contracts are required.