Medical alert systems - also known as personal emergency response systems (PERS), medical emergency response systems (MERS) and fall buttons, offer peace of mind and a quick and easy way for an individual to get help during an emergency or any medical event that requires an immediate response. Finding the right medical alert system can be overwhelming. Allow us to guide you in making the right decision for you or your loved one.


See Pricing »
What We Like ↓
See Pricing »
What We Like ↓

See Pricing »
What We Like ↓
What is a Medical Alert System?
Medical Alert Systems are life-saving devices that connect a user with help when a button is pressed, or in some cases, when a fall is detected. There are a large number of medical alert companies in the U.S., and they can vary widely in terms of equipment quality and services offered. With seemingly endless options to choose from, it's difficult to know where to start. Rest assured, you're in good hands. Our team of experts leave no stone unturned when testing and reviewing medical alert systems.
Our Highly-Anticipated Annual Lineup of the Best Medical Alert Systems for 2021.
Emergencies happen. That's why a medical alert system is a life-saving investment for any senior. The ability to call and receive help at the touch of a button gives seniors and their loved ones the reassurance and peace of mind they deserve. But how do you know which one is best?
Simply narrowing down your choices can be a daunting task. That's why every year over 250,000 people visit The Senior List for trusted advice and information on the best medical alert systems on the market today. We believe the alert systems on this list deliver the highest overall value to customers. And we think you'll agree.
We Hold Medical Alert Systems to the Highest Standards
Medical alert systems must meet the following four criteria to qualify for our Recommended list:
Equipment works as advertised, or better

Most medical alert equipment on the market today is just "good enough." But our readers deserve better than "good enough." To make our list, medical alert equipment must perform to a high standard.

Great customer service

We look for customer service teams who answer calls in a timely manner, and who are courteous and knowledgeable enough to answer your questions.

Affordable pricing

Most medical alert systems range from $20 – $40 per month for traditional in-home systems, and a little more for cellular capabilities. All of the systems on our list fit this price bracket.

Easy to cancel contracts

If you frequent The Senior List, you know we're very much against long-term contracts. Some companies lock customers into 3 year contracts, which means you're stuck paying if your loved one no longer needs it. All of the companies on our recommended list offer easy cancelation terms with NO long-term contracts.
Ready to choose from a list of the best medical alert systems on the market today? Have a look at our highly-anticipated 2021 lineup.
Additional Medical Alert System Lists
Keeping loved ones safe is a priority for us all.  We hope this list makes it easer to choose the right medical alert system for your lifestyle and budget. You can also take a look at some of our other best medical alert system lists for those who are looking to fulfill a particular need:
The 12 Best Medical Alert Systems
At a glance: Recommended Medical Alert Systems
Our
Rank
Medical Alert
Company
Starting At
Fall
Detection
In Home
Range
Cellular
Provider
#

1

$29.95/mo
$10/mo
1300ft
AT&T
#

2

$19.95/mo
$10/mo
1000ft
AT&T 4G LTE
#

3

$29.99/mo
$10/mo
N/A
AT&T
#

4

$29.95/mo
$5/mo
1300ft
AT&T
#

5

$19.95/mo
$10/mo
400ft
AT&T
#

6

$25.00/mo
$10/mo
1300ft
AT&T
#

7

$29.95/mo
$15/mo
400ft
AT&T
#

8

$24.99/mo
$15/mo
N/A
Verizon
#

9

$19.95/mo
$7/mo
500ft
AT&T
#

10

$29.95/mo
$11.95/mo
600ft
AT&T
#

11

$30.00/mo
N/A
1000ft
AT&T
#

12

$16.95/mo
$11/mo
600ft
AT&T / T-Mobile
*Cellular units do not require wifi or an internet connection. There are no additional cellular contracts required for cellular units.
For additional details about these top rated companies, continue reading!
Our Full List of the Best Medical Alert Systems for 2021
How do I find the best medical alert system for my loved one?
You are in the right place. Our editorial team has been testing and reviewing medical alert equipment for many years, and we update our information frequently. If you take the time to read through our reviews and comments from other visitors, you will gain a good understanding of what each company offers, the related costs, and if they will be a good fit for your loved one.
Our comprehensive list of the best medical alert systems for 2021 wouldn't be complete without a more in-depth look at medical alert devices in general.
Who uses a medical alert system?
Medical alert systems are primarily used by seniors who may need additional support and safety reassurances while living at home. Many medical alert users live alone in their own homes. Couples utilize alert devices as well, especially in situations where one person is at home and the other is out running errands, exercising, or visiting friends.
How do medical alert systems work?
There are several types of medical alert systems used both in and outside of the home.
1. In-Home Medical Alert Systems
In-home traditional: This system is meant to be used inside of the home and requires a working landline to connect with a monitoring center. These systems are easy to install by plugging the alert system into a power outlet and the phone jack. Here are a couple of examples: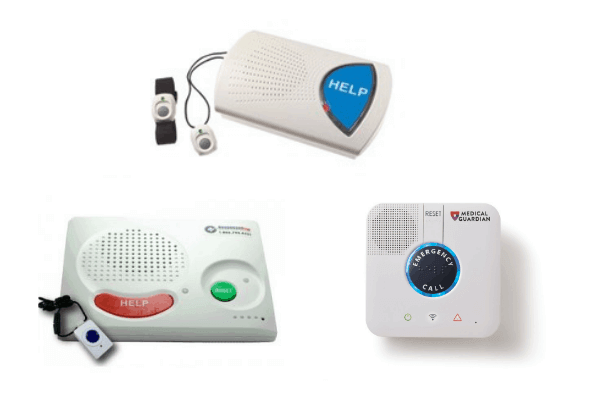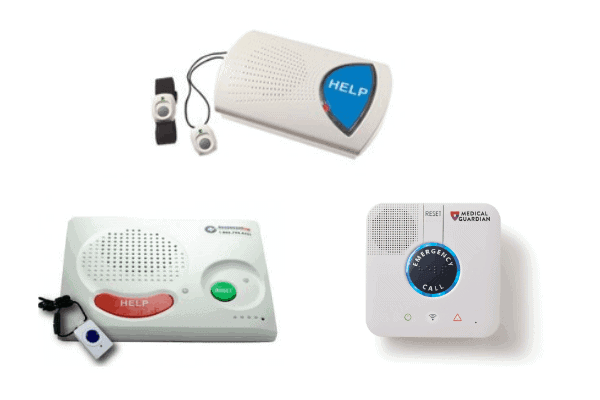 In-home cellular: No landline? No problem. Many medical alert companies offer in-home systems that use a cellular connection to work. Simply plug in the power source and the system initiates installation. Some in-home cellular systems look exactly like their traditional (landline) counterparts. Here are a couple of examples: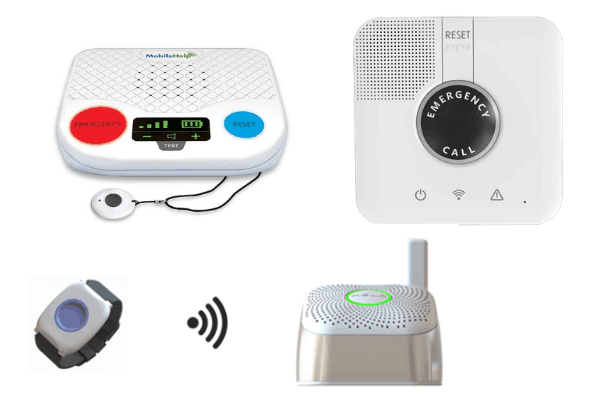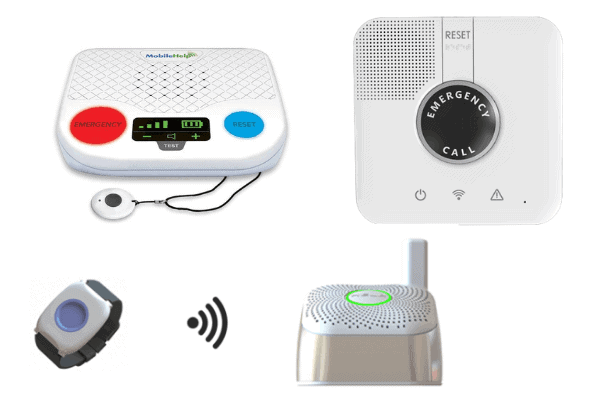 Both in-home and cellular medical alert systems include a stationary base station with a two-way speaker to communicate with trained monitoring personnel, as well as a small button that can be worn around the neck or wrist, depending on the user's choice. Remember to consider the range of the base station and the pendant — some larger homes may need a system with a larger range. Currently, the best systems have a range of up to 1,300 ft. We generally recommend a system that has a range large enough to cover an outdoor area of a home, as many falls occur outside.
2. Mobile Medical Alert Systems
Mobile, on-the-go or cellular medical alert systems are ideal for people who want access to help even if they are away from home. Cellular alert systems feature a two-way speaker with a button to press for help. These compact devices (smaller than a cell phone) use a cell signal to connect to trained monitoring personnel. You'll be glad to know there are no additional charges from cellular providers for cellular medical alert systems. Here are a couple of examples: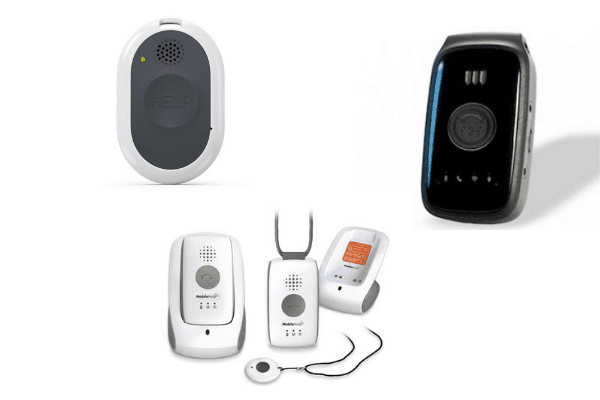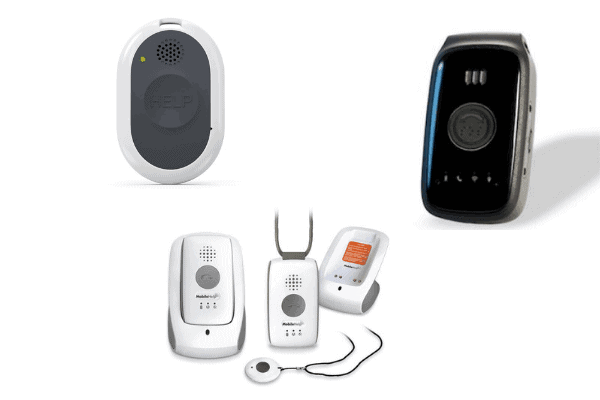 Some mobile medical alerts are GPS enabled. This helpful feature allows monitoring staff to locate users through GPS capabilities in the device. This is important as some users may be unable to verbalize their location if they are hurt, confused, or otherwise experiencing a medical emergency.
3. Medical Alert Smart Watches
The medical alert smartwatch is a recent addition to the medical alert industry.. Geared toward both men and women, these sleek and modern-looking devices ensure that mom or dad remain safe without others even knowing. These systems work independently of a cell phone (with no additional cellular fees) and look like a typical smartwatch. Not only are they discreet, life-saving devices, they also operate as a functional watch, activity tracker, and they can be set up to provide medication reminders and more. Here are a couple of examples: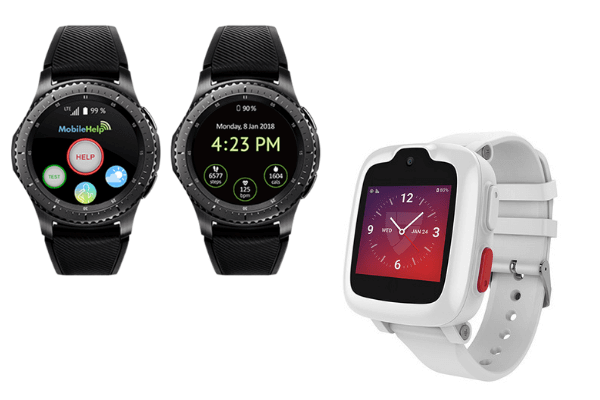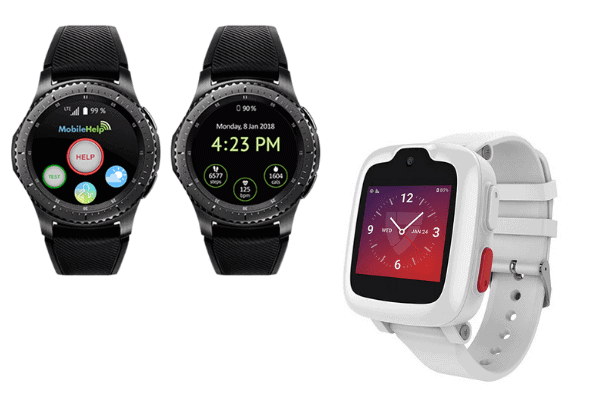 What is automatic fall detection?
As mentioned, automatic fall detection is also a consideration when it comes to choosing a medical alert system. Through sophisticated accelerometer technology, automatic fall detection pendants can detect a fall and automatically place a call to monitoring personnel without the user having to press the button. Keep in mind, this technology is not 100% accurate, and false alerts may occur. However, in the event that a loved one falls (or has a medical emergency) and is unable to press the button on their safety device, there is comfort in knowing that help can still be reached.
Who answers the call when the button is pressed or a fall is detected?
When a user pushes the button on their alert pendant, wrist-worn button, or medical alert smartwatch, the call is answered by a real person in a specialized monitoring center. There are several of these monitoring centers located across the U.S., and it is typical for medical alert companies to contract with these centers. Very few medical alert companies have their own in-house monitoring personnel.
Our editorial team has had the opportunity to visit one of these monitoring centers in Utah. We witnessed first-hand the expertise and knowledge of the highly-trained staff who work in these monitoring centers. Since an average of 80% of button pushes aren't emergency-related, the patient staff field calls from lonely seniors, false alarms, users testing equipment, worried spouses, and other non-emergency situations.
However, in the event of an emergency call, the monitoring personnel stays on the line with the user while contacting emergency responders. They will also connect with family and friends according to the user's notification procedure.
The medical alert industry and long-term contracts
In the early years of the medical alert industry, long-term contracts were the norm. One-, two-, and up to three-year contracts had customers paying for medical alert devices even when they no longer wanted or needed the service. As the industry has grown and become more competitive, we are happy to report that long-term contracts are (mostly) a thing of the past. We do not recommend signing up for any medical alert service that requires more than a 3-month contract. None of the companies on this list require long-term contracts and many offer prorated refunds if a user no longer needs the equipment. Keep in mind, it is standard that the equipment must be returned by the user in good working condition before a refund is issued.
I had no idea what a "medical alert system" was — what else are they called?
Medical alert systems are commonly referred to as personal emergency response systems or PERS by medical professionals. Other common terms include:
Alert button
Personal alert button
Personal safety button
Medical emergency button
Medical pendant
Alert pendant
Medical alert bracelet
Medical alert necklace
Medical alert jewelry
Medical alert watch
Senior alert system
Senior alert
Senior alert device
Senior fall alert
Frequently Asked Questions about Medical Alert Systems
Q: Will a medical alert system keep my mom/dad out of assisted living?
A: While a medical alert device may not solve all of the challenges of remaining at home for seniors, it is an important safety feature to consider if you are concerned about a loved one. In addition to adding an alert system, families may also be researching home care, walk-in tubs, scooters, durable medical equipment, and other in-home modifications to keep a loved one safe at home.
Q: Why is there a monthly fee for medical alert systems?
A: There is a monthly fee for two reasons. 1) Since there are no fees to use the equipment, you are essentially renting it. 2) The monthly fee also pays for the peace of mind of knowing that help is on the way with the press of a button.
Q: What about those medical alert systems with no monthly fee?
A: There are walkie-talkie types of alert systems that do not require a monthly fee — if you press the button, the call goes straight to 911 or a family member. Can you imagine how overloaded 911 dispatch would be every time a button was pressed? Knowing that the majority of button presses are not for emergencies, calling 911 every time someone decides to test their unit or has a question doesn't seem like a good idea.
Q: What happens if my loved one won't wear the medical alert device I paid for?
A: It can be frustrating to spend the time, energy, and money on a safety device for your loved one, only to find out they aren't even wearing it! First, find out what their reason is for not wearing it. Is it uncomfortable? Are they embarrassed? Are they simply forgetting to put it on? If one device is uncomfortable, perhaps another device might be more accommodating. Many medical alert companies give users the option of wearing the button around their neck on a lanyard, or on the wrist with a wrist-watch type band. If they are embarrassed to be seen wearing the system, talk about discreet ways it can be worn under clothing. Or, perhaps your loved one would be more comfortable with a smartwatch medical alert system? If they don't want to wear the button around the house, check with the alert company to see if they offer wall buttons that can be placed in high-risk fall areas throughout the home.
Q: I don't want to be locked into a long-term contract — how do I avoid that?
A: We don't want you to be locked into a long-term contract either. If you choose any of the companies on this list, you will never be locked into a long-term contract. If you go elsewhere, always read the fine print and make sure you are comfortable with the language in the contract. As a last resort, have your attorney review the contract to ensure you are protected.
Q: Mom is on a very limited budget — how do I know her monthly fee won't increase?
A: Many of the companies on this list guarantee that the price you pay when you sign up will never increase. Be sure to ask about a price-lock guarantee.
Q: I don't want to micro-manage my dad's care — how can a medical alert system help me to keep track of him without being intrusive?
A: If your loved one is using a mobile medical alert system with GPS, that's one easy way to check in periodically to see where they are located. Some medical alert companies also offer daily check-ins, medication reminders, and proactive activity notifications as an add-on service.
Q: Why is a medical alert system better than a cell phone?
A: In the event of an emergency, a cell phone can be difficult to navigate or may not be in close proximity to make a call. With an alert system, it only takes the simple push of a button to reach help.
Q: We are snowbirds — can I take my medical alert system with me when I travel?
A: Absolutely. Simply call your provider and let them know you are traveling. You will give them your new address, and they will take care of the rest.
Q: We no longer need the medical alert system — do we have to keep paying for it?
A: If you are with a company that doesn't require a long-term contract, simply call customer service, let them know you won't be needing the equipment anymore, and receive the return instructions. You must return the equipment in good working order or there may be a fee charged to your account for the equipment.
Q: Mom needs this, but I'm concerned she won't wear it because it looks like a medical alert unit.
A: Ladies rejoice! There are now jewelry and watch options to disguise alert buttons. Add it to your list of questions to ask when shopping around for a medical alert system.
Q: Are there other options to keep my loved one safe that don't require them to wear a button?
A: Yes. Many companies offer wall units that can be placed throughout the home. Some of them are voice-activated and do not require a user to be wearing a button to call for help.
Q: How do first responders enter the home if my loved one is unresponsive?
A: A lockbox is the easiest way to provide first responders access to the home if your loved one is unable to open the door. Most medical alert companies offer lockboxes for a nominal fee when you sign up.
Q: Dad has a pacemaker — is it safe for him to wear a medical alert device?
A: There is no easy answer to this question, as alert systems run on different frequencies. Talk to your loved one's physician about the specific pacemaker and medical alert system you are considering.
How much do medical alert systems cost?
Depending on the type of medical alert system you are looking for, prices can range anywhere from $19 to $65 per month. A traditional in-home landline system is the least expensive, while mobile + GPS units tend to be the most expensive. Additional fall detection will cost anywhere from $5-$15 extra per month.
Does Medicare pay for medical alert systems?
Unfortunately, Medicare does not cover medical alert systems at this time. It is something that is frequently discussed in the industry, and many alert companies are advocating for the change. However, some health insurers do cover the systems for their members, so be sure to check with yours.
Final Words
Our medical alert experts love what they do, and they take great pride in creating helpful resources like this one. After all, there's often someone (maybe you or your loved one) who needs a reliable alert system now more than ever. So it's our pleasure to stand in the gap and provide unbiased reviews and rankings to help you on your way.
Like we said from the start, there's a lot to know about medical alert systems. And the process of finding the right match can get overwhelming pretty quick. With that in mind, we hope this guide to the best Medical Alert Systems has helped to simplify your search.
If you're still undecided, that's perfectly fine. It can take time. So feel free to dig deeper by reading our in-depth reviews of each of the companies we listed.
And remember our four standards: The equipment must work as advertised or better; the company must provide great customer service; the system must be affordable; and the service must be easy to cancel.
Well, we hope you've enjoyed the journey as much as we have. Please leave a comment below with any questions, comments, or concerns. We'd love to hear from you.