I'm especially tuned in to TV and radio commercials about senior care.  Whenever I hear Joan Lunden (A Place For Mom), John Walsh (Great Call) or Cindy Williams (Visiting Angels), my ears perk up to hear what they have to say about the companies they represent.
It's refreshing to see the commercials, I believe it continues to raise awareness among the general public about companies who serve seniors and it's a nice break from beer and beauty ads.  Usually, they pull on my heartstrings and make me want to cry.
Then I saw a senior care commercial that broke my heart.  It targets the guilt-ridden families and spouses who have ever considered or had to make the difficult decision to place a loved one in a senior care community.
The commercial starts out with the adult daughter talking about how mom had started to become more confused and that it was time to navigate the world of home care.  It goes on to laud the accreditations the home care company earns and the level of services that can be adjusted to keep up with mom's needs.
And then, the punch line is dropped to seal the deal.  "Because Dad made us promise we'd keep Mom at home."
Really?  So instead of leaving it at "we are a great company, have lots of accolades and we hire excellent people" we are playing on the painful emotions that people have to grapple with because of a promise made when the loved one is not ill or cognitively impaired?  And keep mom at home from what?  Fantastic assisted living, adult care homes, or memory care communities that are really good at what they do?  I understand that people have this idea of what they think community-based senior care (assisted living, adult care homes, etc…) is really about, but they don't (especially if the last time they experienced it was in the '80s in grandma's nursing home).
I'm not upset at Bright Star specifically, they just happened to make the commercial.  Here are my concerns about home care companies making assisted living (substitute any level of senior care facility) the enemy.
Who would you rather be: Spouse or Caregiver/ Child or Caregiver?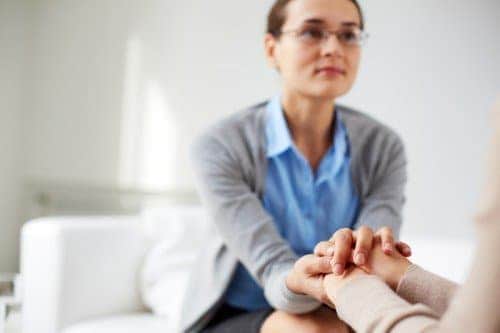 There are many cases where keeping mom (or dad) at home is simply no longer an option.  Sometimes keeping a loved one at home is risking the health and wellbeing of the family caregiver or spouse.  In my previous life helping families find care for a loved one, by the time those families found their way to me, it was clear that the mental and physical stress had taken its irreversible toll on that caregiver (who was often a spouse in their 70's or 80's).
In addition, the resentment had built and the "promise to keep mom at home" had lost its luster and well-intentioned meaning.  If I had a dime for every time an adult child said: "I just want to go back to being her daughter"…
Cost Comparison: Home Care vs Assisted Living
According to Genworth, the national median monthly cost of an in-home care aide is $3520 for 44 hours of care per week.  In comparison, an assisted living community runs $3600 per month.  At the same rate, full-time in-home care would cost $13,440 per month.
So, if someone needs part-time care, financially, in-home care makes sense up to a certain point.  For most families and older adults, full-time in-home care is cost prohibitive.
True or False: In-Home Care can handle anything
The video asserts that as care needs change, so can the services provided by in-home care. The reality is that most aides are not certified nurses assistants (CNA's) although they may be overseen by an RN.
Some home care companies can't even provide medication management services unless they receive approval from state licensing agencies (state dependent). I have personally seen difficulties arise when in-home clients need more than stand-by assistance for transfers, have behavioral issues or are exit seeking because the caregivers are simply not equipped to handle these types of care needs.
Home Care Companies are NOT the only Solution
I'll finish my rant by repeating something I have said to families for years.
There are options, there is no silver bullet in the world of senior care and every situation is different.
If you have made the promise to "never put me in a home"- please don't beat yourself up.  If the time comes and it's your family's best option to find a quality senior care option, so be it.  If you never have to go through the process of finding a care setting for a loved one, I'm happy for you (and you're extremely fortunate).
In the meantime, I implore all companies that serve seniors to give these families a break-  Stay away from the guilt trips and stick to the heartstrings.