Find out which medical alert system is best for you…
1)
Who are you shopping for?
Regular readers of The Senior List® know that we are enthusiastic advocates for medical alert systems. A medical alert system gives you the peace of mind that comes from knowing that should your loved one have an accident or need help, assistance is just one button press away.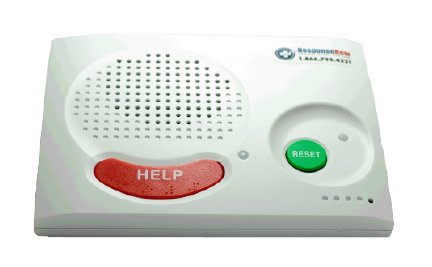 However, as with any technology, even medical alert systems have their limits. This fact was demonstrated with stark clarity in May of this year when a Connecticut woman brought a court case against the medical alert company Lifeline regarding the death of her sister.
In this sad case, the claimant's sister had pressed her alert button, but because her phone was off the hook, the alarm was not transmitted to the call center, and so no help was dispatched. The claimant put forward that since the alert system did not call for help under those circumstances, the manufacturer was responsible for her sister's death.
The court ruled that there was not enough evidence to suggest the lack of response from the alert contributed to loss of life. Still, this case reminds us of the fact that even the most reliable of medical alert systems is not without flaws.
Let's take a look at some of the risks and limits associated with medical alert systems, and what you can do to mitigate those risks.
What Are Some Of The Risks And Limits Of Medical Alert Systems?
Medical alert systems are generally very reliable and are invaluable to many older people and their families. However, there are some risks and limits to be aware of:
The unit becoming disconnected from the phone line
Phone lines being down or off the hook
A run-down battery
System malfunctions
Pendants being taken off or left behind
The wearer going out of range of the base unit
Power outages
Many of these risks can be reduced with a few simple steps. It also helps to be mindful of them when choosing a medical alert system. Let's examine what can be done to mitigate risk when buying a medical alert system:
What Can Be Done To Lessen The Risk Of A Medical Alert Not Working?
There are several things that can be done to minimize potential risks with medical alert systems:
Consider cellular options. If you're concerned about landline outages, the phone being off the hook, or the unit becoming disconnected from the landline, you might look into medical alerts that provide a cellular option. These work through the wearer's mobile phone network, so there is no worry about a landline become disconnected or left off the hook. However, even with cellular there is always the risk of running out of charge or being left behind.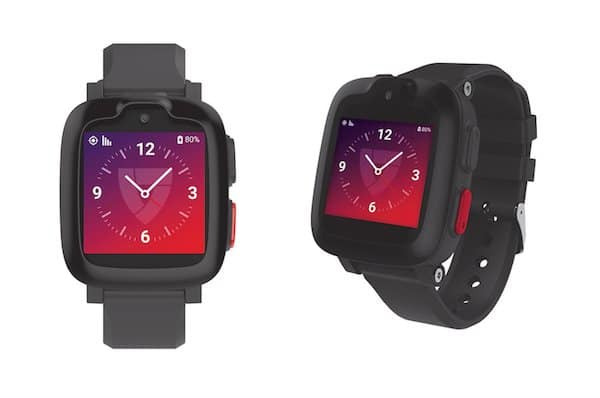 Whether your loved one opts for a cellular or landline option, talk to them about the importance of keeping their phone line up and running. It's a good idea to ask caregivers or other regular visitors to check that everything is in good working order.
Make sure the system is tested regularly. Most providers carry out a "is it working correctly?" test with new customers when the system is installed. Some providers also carry out regular tests as part of their service, so it's worth reading the fine print carefully or putting in a call to get some more info.
If you're worried about system malfunctions or batteries running down, get into the habit of regular tests. If you live nearby you can carry out these tests for your loved one, or if you don't live close, ask a trustworthy friend, neighbor or caregiver to do so. It's a good idea to test systems once a month.
Choose a waterproof system. The bath or shower is unfortunately a prime location for slip and fall accidents. Yet many users take their pendant or bracelet off to make sure it doesn't get wet, leaving them without it when they need it most. Guard against this by choosing a waterproof system for your loved one. They'll never need to take it off, which means they'll be protected round the clock, even in the bath or shower.
Consider whether to go for a bracelet or pendant. Some people prefer pendants and are more likely to wear those, but some users find it easier to simply slip on a bracelet and forget about it. Think about your loved one's preferences and consider whether they're more likely to wear a pendant or a bracelet consistently.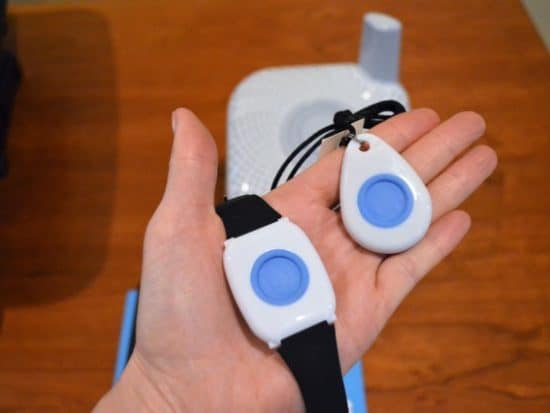 Check the range of system before you buy. Base unit ranges can go from 600 feet all the way to 1500 feet, so there is quite a variation in what's available. You want to be sure that the range on the alert system covers your loved one's home, and preferably the garden and driveway too.
If the range isn't good enough or your loved one is generally quite active, you might want to consider a cellular option, which works through cell phone networks and keeps the wearer protected wherever they go so long as they have cell phone coverage.
Choose a system with emergency battery backup. This protects your loved one in the case of power outages. If the information isn't freely available on the provider's website, put in a quick call or email before purchase just to be sure emergency backup is available.
Check that the call center is 24/7. Most call centers these days are, but having help available around the clock is vital, so it's important to double check.
Opt for a pendant that has fall detection. There are some cases where your loved one may not want to press the button, or might struggle to press their button if they fall unconscious. Choosing a system with fall detection built in means that help will arrive if the wearer falls, even if the button is not actually pressed.
If you want an in-depth look at the different medical alert devices available today, check out our list of top rated medical alerts.
Medical alert systems bring peace of mind to you and your loved ones. Research your choice beforehand to make sure you're getting the safest and most reliable system for your needs.